16 January, 2014
Malabar Mutton Biryani – Kerala Cuisine – with Video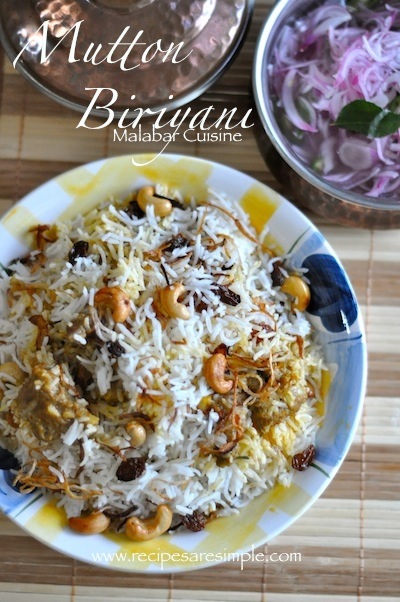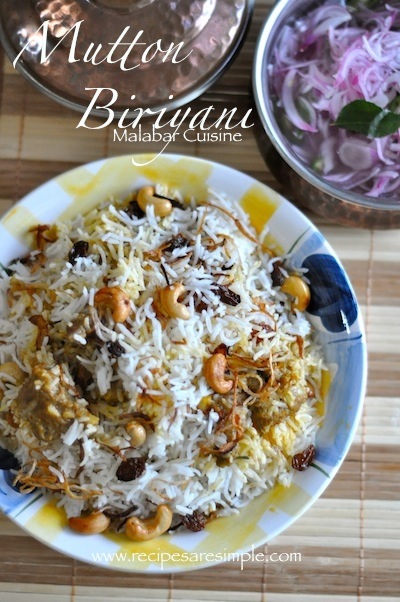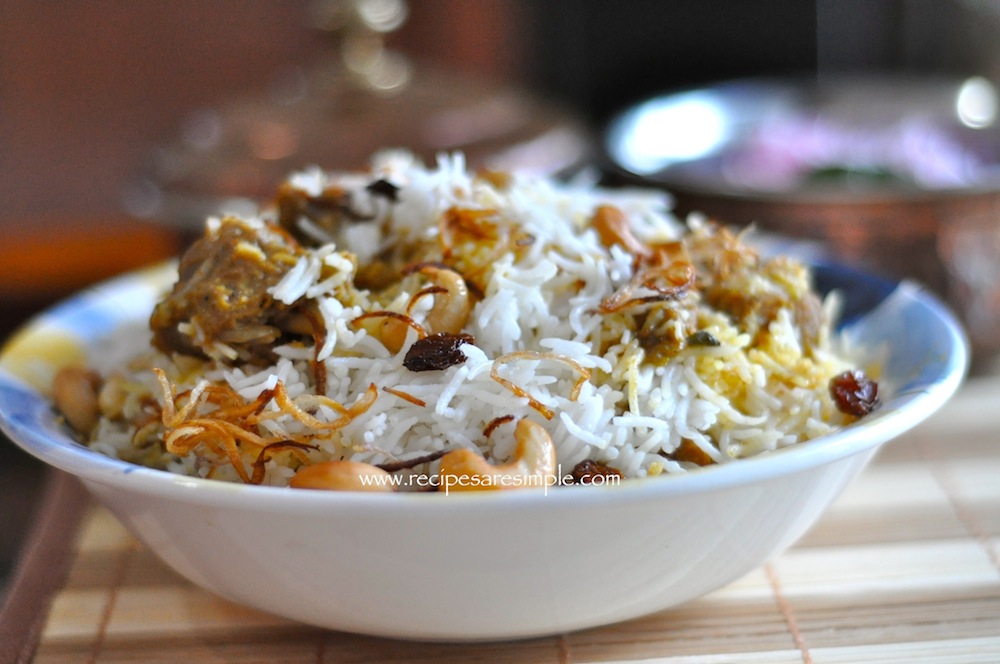 You are here: Home > Beef/Mutton Dishes > Mutton Biryani
Malabar Mutton Biryani – Kerala Cuisine – with Video 
I received many requests for this Recipe. Sorry it took so long. A great Malabar Mutton Biryani. This Biriyani is served at most Muslim Weddings in the Malabar Region and is widely appreciated.  Please use only the best MUTTON (Goat)and don't substitute lamb as it just isn't the same.
There's nothing like a good Malabar Mutton Biryani on the weekends with your family. You will feel like taking a nap afterwards out of contentment. Black Tea 'Suleimani' is often requested after this meal.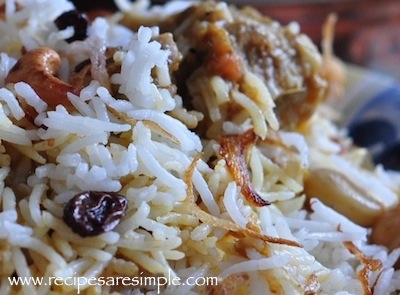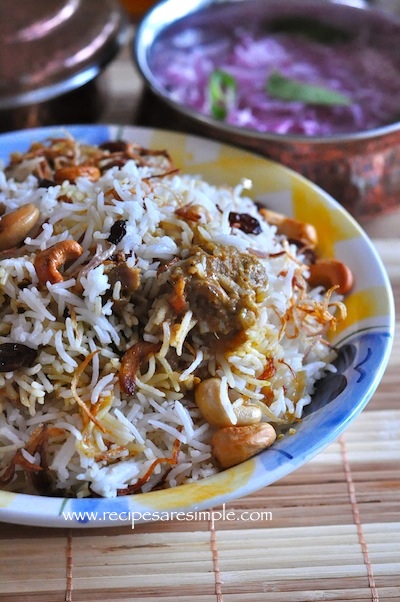 Malabar Mutton Biryani – Kerala Cuisine – with Video

Ingredients: (Malabar Mutton Biryani )
750- 800 gms good MUTTON (Goat) Only – I like to have some bone as well
750 gms / 4 cups  Basmati Rice
300 gms / 2 ½ cups sliced red onion
250 gms / 2 cups FINELY sliced onions – to fry (I use my Mandoline Slicer)
50 gms / 2 Tbsp Garlic
50 gms / 2 Tbsp freshly peeled ginger
5-8 small green chillies
15 gms / 1 Tbsp Kerala Garam Masala

powder

– See Recipe
3 tsp Mild Chili Powder
3 tsp Coriander Powder
¾ + ¼ tsp Turmeric
½ Tbsp Fennel seed powder
¼ – ½ tsp black pepper powder
¾ cup fresh cashew nuts – to be ground to a paste with very little water
45 gms / ½ cup Fresh Juicy Pineapple , diced
225 gms / 1 ½ cups Tomatoes, diced
25 gms each of fresh coriander and mint leaves
A handful of extra Cashews as well as Golden Raisins (Kismis) each – for the garnish
½ – ¾ cup sunflower oil for frying the garnish
5-6 Rounded Tbsp of Ghee (clarified butter) (divided into 2 Tbsp + 4 Tbsp)
30 gms / 2 Tbsp

Whole

Garam Masala (Cardamom, Cloves and Cinnamon) – Use fresh spices
2 ½ Tbsp Fresh Lime Juice
3 Tbsp Rose water – Good Quality rose water will taste fresh and have no bitter taste
1 tsp saffron
Salt to taste  (About 3 tsp for the rice, and 1 tsp for the masala)
Method: (Malabar Mutton Biryani )
The onions for the garnish should be sliced finer than for the masala – use a mandolin  slicer.
The ginger, garlic and green chili should be crushed – separately or together to a paste. Using a stone pestle and mortar is best for this.
Grind the (¾ cup) cashews to a fine paste, adding just a small amount of water.
Rinse the Rice well and drain.
Cook the cleaned, rinsed mutton in ¾ tsp turmeric and salt to taste (About 1 tsp) in just enough water to cook the mutton in a pressure cooker.  Cook till the Mutton is tender but firm. It takes about 6 steam whistles in my cooker.
Drain the mutton. Set aside and reserve the soup/gravy.
To cook the Rice:
Bring 6 cups of water in a pot to boil. Add the rice.
Bring back to a simmer and add the whole spices (cardamom, cloves and cinnamon).
Add salt to taste – about 3 tsp.
Add 2 Tbsp Freshly squeezed lime juice and 2 Rounded Tbsp of the ghee . Stir well.
Close and cook on low till the water is absorbed and the rice is very fluffy.

(I find, my rice cooker is perfect for this. I switch off the power when the light switches to 'WARM' and allow the rice to sit a while before opening.

)
While the rice cooks, heat the sunflower oil in a small wok.
Add the FINELY sliced onions in batches and fry to a golden color.

(The onions will take some time to START turning golden, but once they are golden, they will quickly turn black if you don't keep an eye on them. Turn the heat to LOW and drain from the oil as soon as they are golden)

Drain on paper towels. Soon after they are drained they turn very crispy.
In the same oil, fry the cashew nuts and raisins(kismis) for garnish, separately and drain on paper towels as well.
To make the Masala:
To a pressure cooker, add some of the oil used for frying the onions (about ¼ cup) as well as the remaining ghee (4 Tbsp).
When hot, add the sliced onions and saute till nicely softened. Then add the crushed ginger, garlic and green chili and saute well.
Add all the spice powders ( garam masala, chili powder, coriander powder, turmeric, fennel and black pepper) next and stir well till aromatic.
Next add the smooth cashew paste and stir well till thoroughly mixed and oil separates from the sides.
Sprinkle a little salt to taste.
Add tomatoes and Pineapple. Stir and cook down briefly.
Add some chopped coriander and mint leaves.
Add the pre cooked Mutton to the masala and toss well to coat with all the ingredients.
Crush a big handful of the crisply fried onions and add to the Mutton Masala.
Add just enough of the gravy from cooking the mutton earlier to the cooker now, stirring the masala well from the bottom of the pot. Add just enough gravy to get all of the masala 'wet' and prevent the spices from burning. We want a thick gravy.
Taste and add salt if required. ( We added salt to the mutton and also a

little

to the masala- the rice also has salt so keep this all in mind. Too much or too little salt can ruin a Biriyani!)
Close the cooker and cook on low- medium heat for a single steam whistle. (If not using a pressure cooker, just cook till tender).
Place the Masala on the bottom of an Oven proof dish or a disposable aluminum tray.
Sprinkle some fried onions, cashew and raisins,

reserving more for the top and individual plates.

Top with fluffed up rice to the top, pressing gently.

Reserve some rice for later.

Mix the rose water and saffron together and drizzle all over the rice.
Sprinkle some of the fried garnish over the top.
Seal the tray with foil paper and bake  in a PREHEATED 200 ºc oven for 10 minutes and turn off the oven.
Alternatively, you can use the 'Dum' Method : Layer the rice in the same way in a wide pot with lid and seal the lid  by making a dough out of plain flour and water and forming into a rope to line all around the rim of the pot. Place the lid on the 'dough – rim' and press gently. Cook on indirect heat (On top of a flat pan that has been preheated on the stove)  and cook for 10 minutes on a low flame. Allow to rest before cracking the dough seal.

(Placing 'Hot coals' on top of the lid is recommended if you can manage that.)

Gently toss the rice with the masala, without over mixing the masala into the rice.

(Fold it in)

.
Sprinkle a layer of the reserved white rice over the platter of rice OR on each serving of biriyani. This makes the rice more appealing.
Garnish each plate with a little fried onion, raisins and cashews also.
Serve with a 'Raita'  –

Yoghurt Based salad with onions, tomatoes, salt, green chili and fresh coriander (You can add diced cucumber and carrot as well). 

Or 'Challaas' – Pickled Onion.  See Recipe below.
 Challaas : Pickled Onion Salad – goes well with Malabar Mutton Biryani 
3 medium- large red onions, FINELY sliced- use a slicer.
1 large green chili or 3 small hot ones, diagonally sliced.
6 Tbsp distiled white vinegar
10 Tbsp Water
about ½ tsp salt
a few curry leaves
Method:
Combine all together in a bowl. Get your Disposable gloves on.
Now mix the ingredients with your hands,

crushing

the onion , chillies and curry leaves thoroughly as you do so.
Cover and allow to sit for some time. The 'Challaas' will turn a deep rosy color . (It's so pretty)
Malabar Mutton Biryani – Kerala Cuisine – with Video
Notes: 
Some like boiled eggs as a garnish on their Malabar Mutton Biryani .
When cooking the Mutton masala for Malabar Mutton Biryani , use a medium flame and do not overcook. The addition of the cashew paste means you have to be careful it does not stick to the bottom. If you have time, you can cook  on low heat stirring occasionally till the mutton is cooked tender.
You can serve it with Lime Pickle –

See Recipe

Here are various types of famous biryani that you should try!
Try it and let us know – Malabar Mutton Biryani.

Key Ingredients (Malabar Mutton Biryani ): Mutton, Basmati rice, Onion, Garlic, Ginger, Green chili, Oil, Ghee, Tomato, Pineapple, Cashew-nut, Mint, Coriander, Spices, Sultanas.
If you liked Malabar Mutton Biryani ,