20 October, 2013
Malabar Fish Curry – Curried Fish with Thick Gravy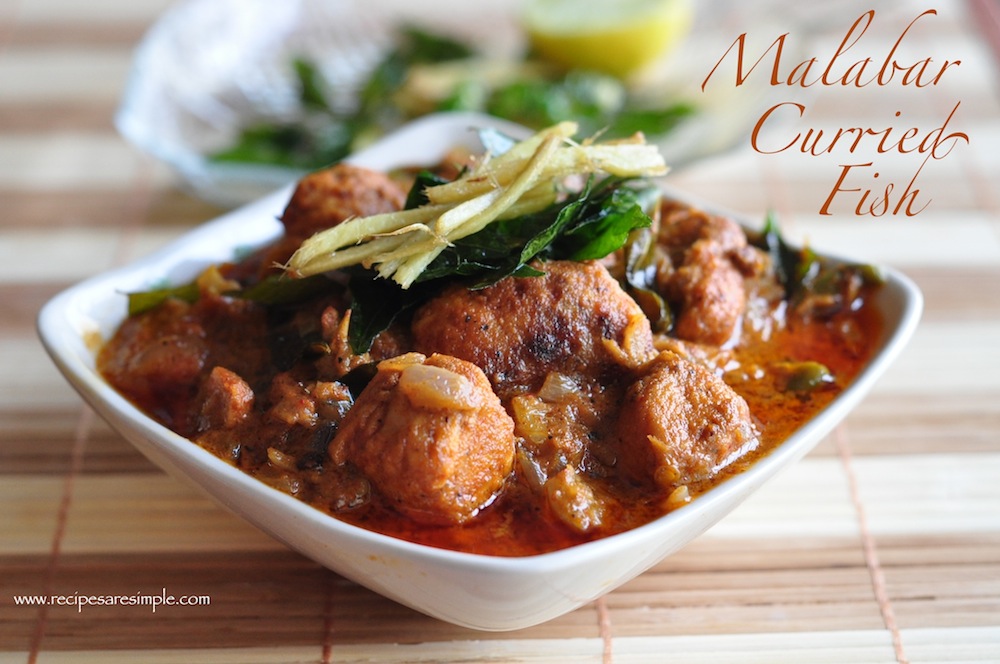 Malabar Fish Curry – Curried Fish with Thick Gravy
This is a fantastic Curried Fish Dish. Classic Malabar Fish Curry with a thick gravy. Mildly spiced. It is beyond delicious!
Follow my recipe exactly and you will get perfect results every time! A thick gravy smoothly covers the fish which is lightly fried first and then stewed in the Seasoned Coconut Milk Gravy.
Malabar Fish Curry – Curried Fish with Thick Gravy
Author: Recipes 'R' Simple
Prep time: 
Cook time: 
Total time: 
Serves: 4
Ingredients:
½ kg /Just over a pound white fish, boneless, skinless ; cut in cubes
2 onions, chopped finely
2 long,mild green chillies, sliced
2 stalks of curry leaves
2 tsp Mild Chili Powder
2 tsp coriander powder
¼ tsp Turmeric
2- 2½ cups coconut milk
Sunflower oil for shallow frying; about ¼ cup
3 Tbsp Coconut oil
For the Marinade:
½ Tbsp Finely Crushed Fresh Ginger
Juice of one small yellow lemon
2 ½ Tbsp mild chili powder
1 tsp pepper powder
1 tsp salt
Method:
To the washed and drianed cubes of fish, add the ingredients for the 'Marinade' and rub gently into the fish.
Marinate at room temperature for 30 minutes. In the meantime, chop up the required ingredients.
Heat up a pan with vegetable oil or Sunflower oil to shallow fry the fish.
Add the pieces, spaced evenly and fry very lightly on both sides.
While the fish is being fried, add coconut oil to another pot.
When hot, Add the onion, green chilli and curry leaves.
Saute well on medium heat, stirring till the onion is just changing color and softened.
Add the spice powders : chili, coriander and turmeric.
Stir till nicely aromatic, sprinkling a little water if needed so that the masala does not burn.
Add the fried fish pieces and toss with the masala, gently.
Now add the coconut milk ( just enough to cover up the fish). The milk should not be too thick and not too thin.
Bring to simmer. Cover and cook for 10 minutes or so till the gravy is thickened and reduced.
Add a tiny amount of loose coconut milk if it  the gravy has become overly dry and just heat up once more.
Allow to rest for some time before serving with HOT Rice! So yummy!
Malabar Fish Curry – Curried Fish with Thick Gravy
Did you enjoy our Malabar Fish Curry – Curried Fish with Thick Gravy ?
The fish must be extremely fresh for this delicious dish. Also make sure to use skinless, boneless pieces only.
You can also use  fish steaks with bones for ease of frying. But I prefer to remove the bones before adding to the gravy.