30 July, 2013
Chicken Kurma – Malabar Style – Simply YUM!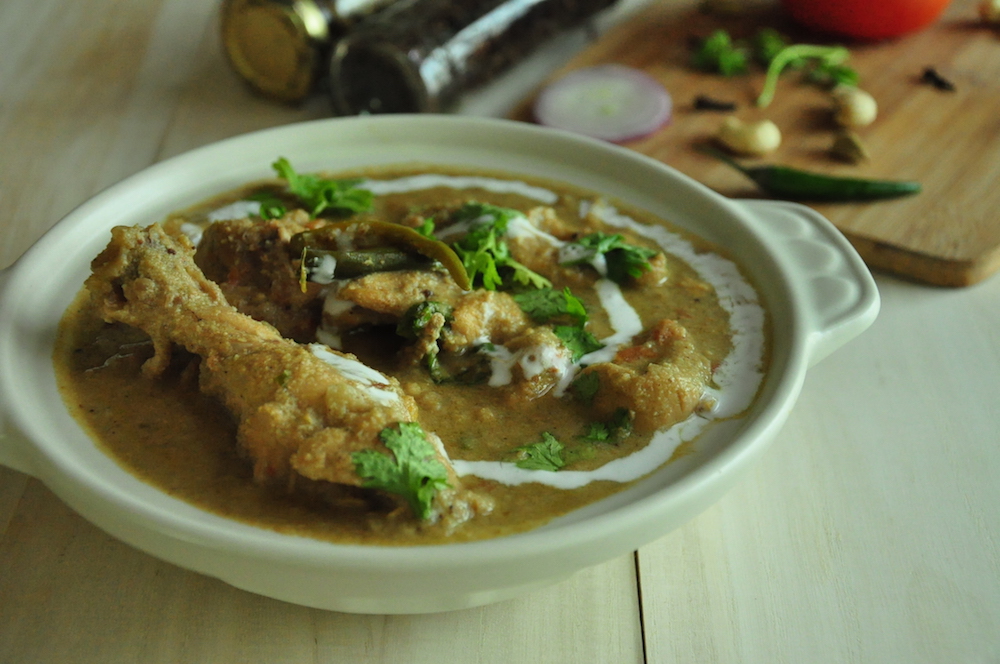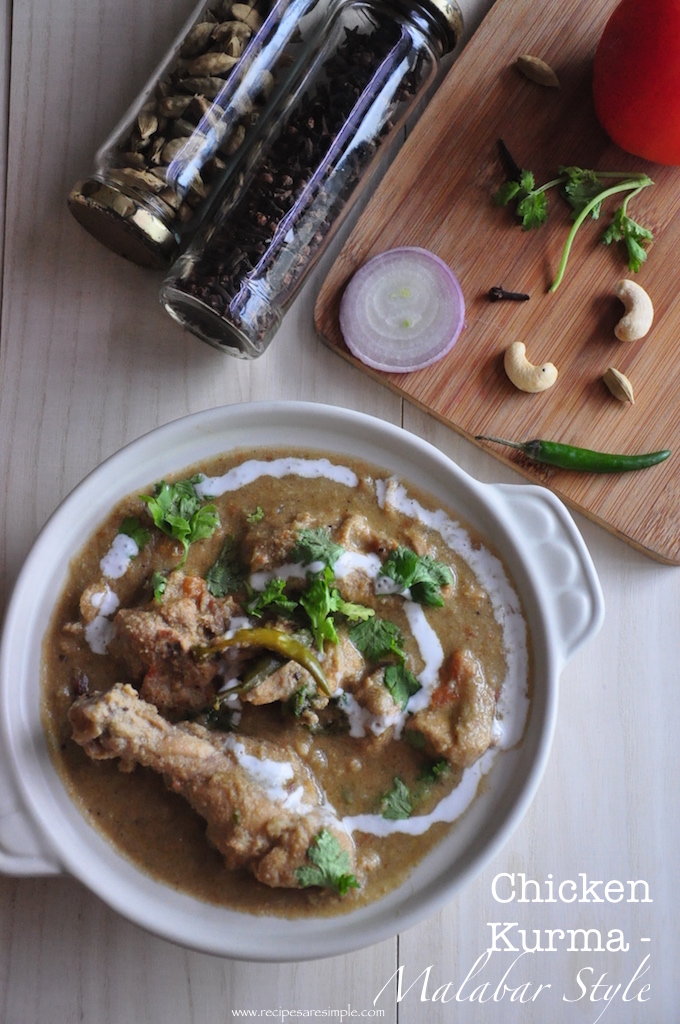 This is our Classic Chicken Kurma – Malabar Style , that does not use yoghurt. Its really Yum!!!! And it goes well with just about anything!  Serve with Rice, Rice Hoppers(Appam), String hoppers(Idiappam), Paratta or even Steamed Rice Cakes(Puttu). A lovely coconut cashew based thick gravy coats the succulent pieces of chicken.
The word Kurma OR Korma is a derivation of the Turkish word Kavurma, literally meaning ," cooked meat". It is a meat or veg dish that is usually  braised in a spiced sauce made with yoghurt, cream and a nut or seed paste. In this Malabar version, the yoghurt and cream is replaced by the creaminess of the ground coconut and the nuts used are cashew nuts. Do try this delicious recipe. Take care while cooking. Do not turn the heat up cause this can cause the spice/ paste mixture to burn on to the bottom of your pot. Use a heavy based pot for cooking and sprinkle a little water if you feel your paste is sticking to the pot. 
Chicken Kurma – Malabar Style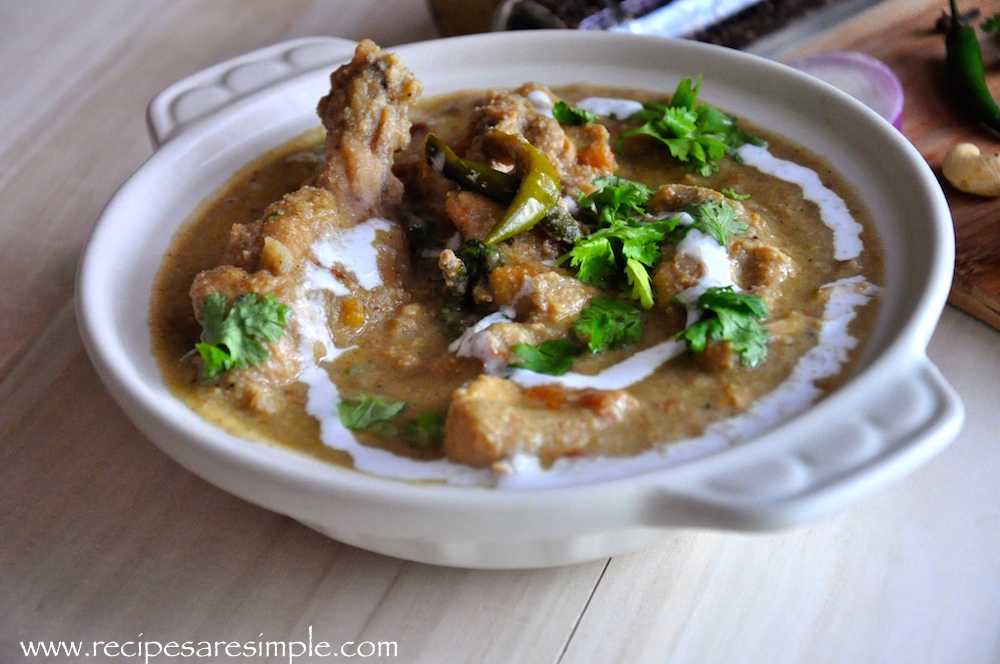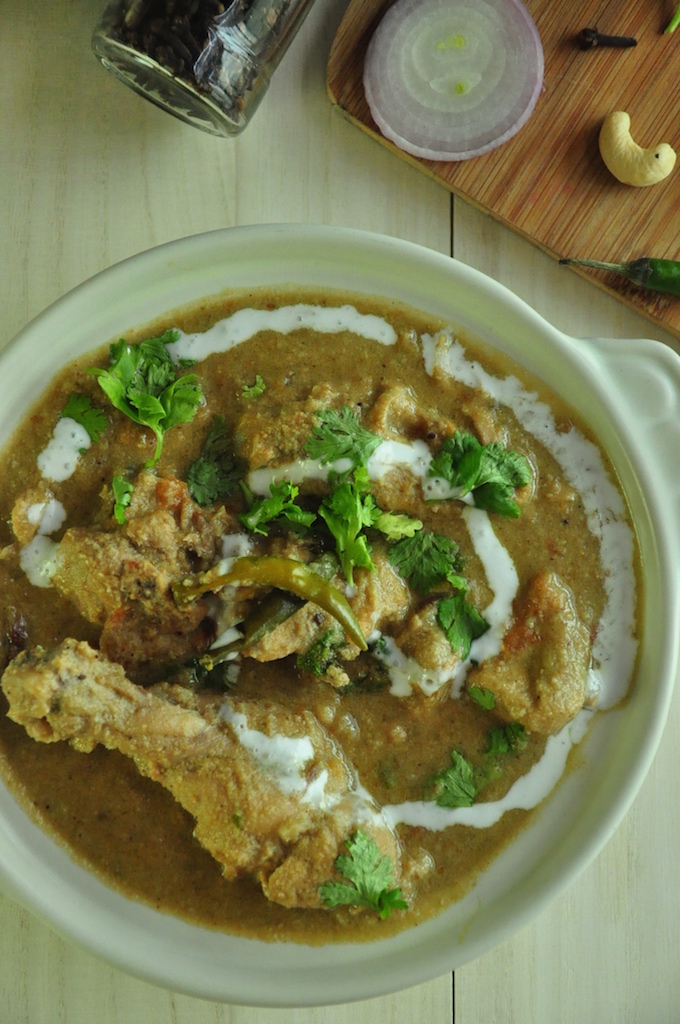 You are here: Home > Chicken Recipes > Malabar Chicken Kurma
 

Recipe Name: Chicken Kurma – Malabar Style

Recipe Type: Chicken / Main / Curry

Author: Shana c/o Recipes 'R' Simple
Chicken Kurma – Malabar Style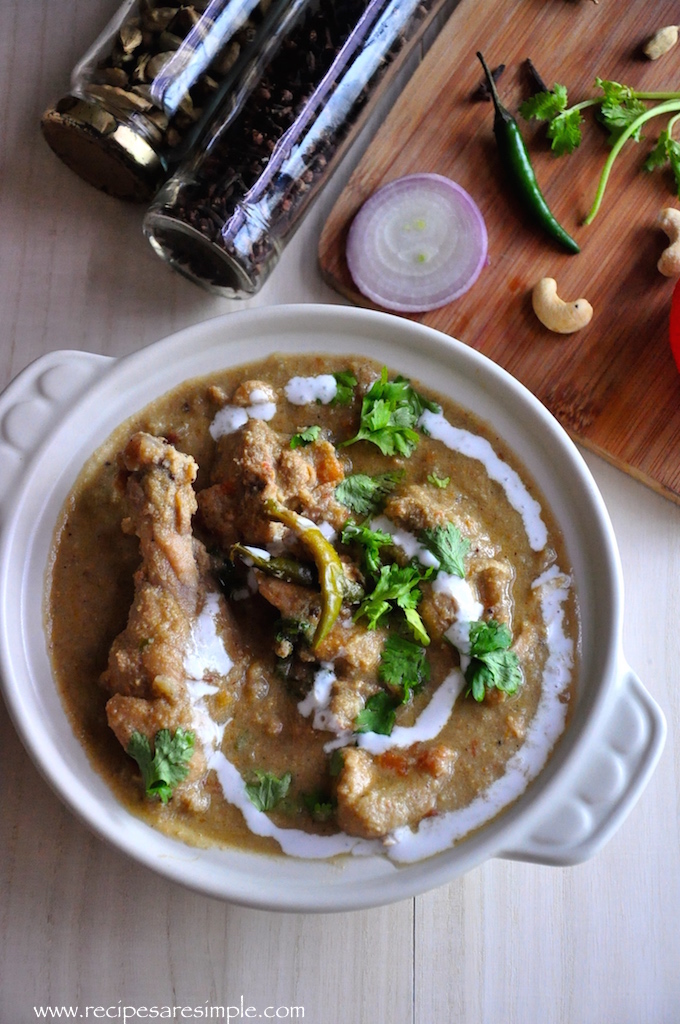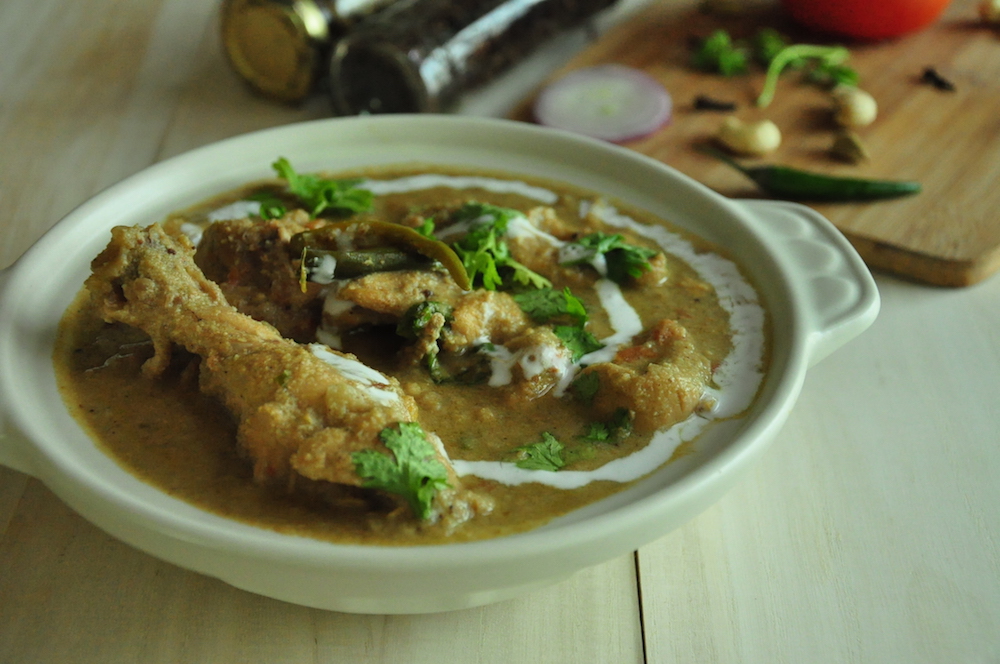 Ingredients:
1 kg /2.2046 lbs Chicken cut into medium pieces (No skin).
¼ tsp turmeric powder.
2 Onions, finely chopped.
2-3 Tbsp cooking oil.
2 Tomatoes, chopped into small pieces.
2-5 whole green chillies (small variety)
2-3 Tbsp chopped coriander leaves (cilantro)
 The Spice grind:
4 cloves.
4 cardamom pods.
small stick of cinnamon.
1 tsp fennel/aniseed.
Coconut paste:
1 cup grated coconut – fresh or frozen.
½ cup cashew nuts.
1 Tbsp Poppy Seeds (Kasakasa).
3 or more green chillies – use hot or mild according to taste.
Ginger Garlic Paste:
2 Tbsp garlic.
1 Tbsp ginger.
Method:
Marinate the chicken with turmeric and about 1 tsp salt.   Set aside for 15 -20 minutes.
For the spice grind, warm all the whole spices gently in a small frying pan and then grind to a powder. Set aside.
Grind the ingredients for the coconut paste, adding just enough water necessary to a make a smooth paste.  Set aside.
Grind the ginger and garlic together also to a smooth paste.  Set aside
Heat oil in a heavy bottomed pot.
Add the chopped onions and saute well, stirring continuously till brownish;  2 – 3  minutes.
Next add the ginger-garlic paste  and saute well, stirring till aromatic and well incorporated.  Stir continuously about 2 minutes. Careful not to burn.
Now add the marinated chicken and another 1 tsp salt  ; stir fry with a wooden ladle, along with the onion garlic and ginger mixture till the chicken is well coated and turns white all over. (No more pink).
To this, add the coconut paste and stir to combine. Cook till oil separates.
At this point add the powdered spice grind, followed by the chopped tomatoes. Stir  to combine.
Add 2-5 whole green chillies at this point. (More or less according to taste).
Once the chicken is nicely coated with all the ingredients, add about 3 cups of water.
Bring to a simmer (Never Boil). Avoid bringing the curry to a boil at all times.
Simmer gently like this, covered for 15-30 minutes on a low flame.(Do not Pressure cook)
Garnish with coriander leaves.
Chicken Kurma – Malabar Style
Never boil this curry on high flame. The cashew paste will stick to the bottom if high heat is used.
While the chicken is being cooked, remove the lid occasionally and discard the vapor that has collected under the lid. Do not let this vapor to fall back into the curry too much. Since ground coconut is used, this can cause the curry to spoil faster. I don't know if this is like an old wives tale, but I find it to be true.
Key Ingredients: Chicken, Coconut, Cashew nuts, Onion, Ginger, Garlic, Green Chillies, Mild Spices, Oil, Coriander Leaves, Salt
Let us know if you tried it – Chicken Kurma – Malabar Style  . Comments from you provide motivation to keep up the driving force behind this blog, bringing you more delicious and perfected recipes regularly. Please do leave a comment. We love to hear from you.