26 February, 2013
Malabar Chicken Biryani Recipe – Simple and Delicious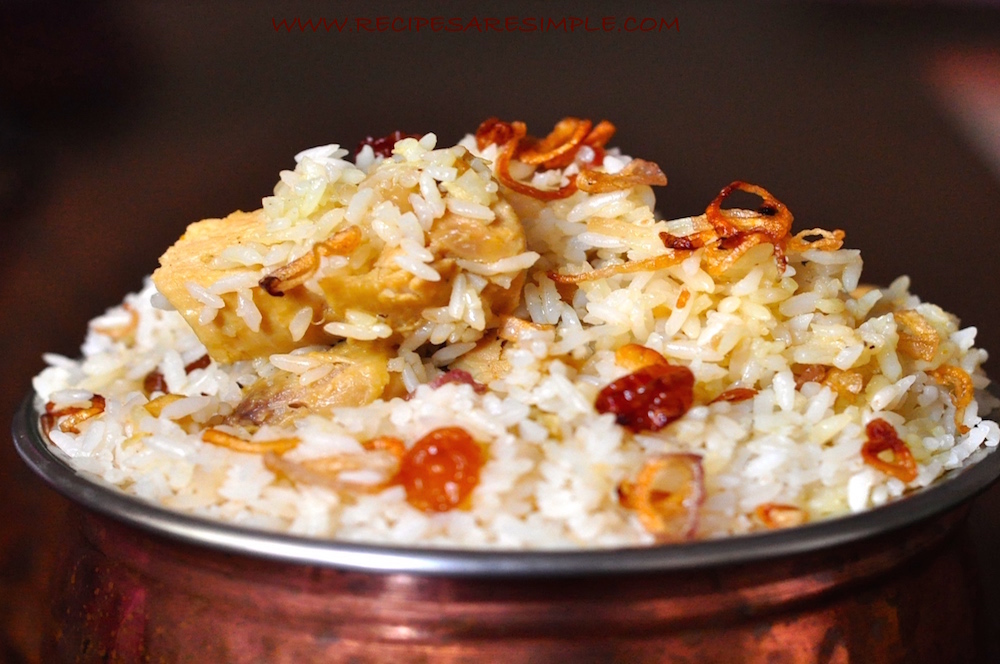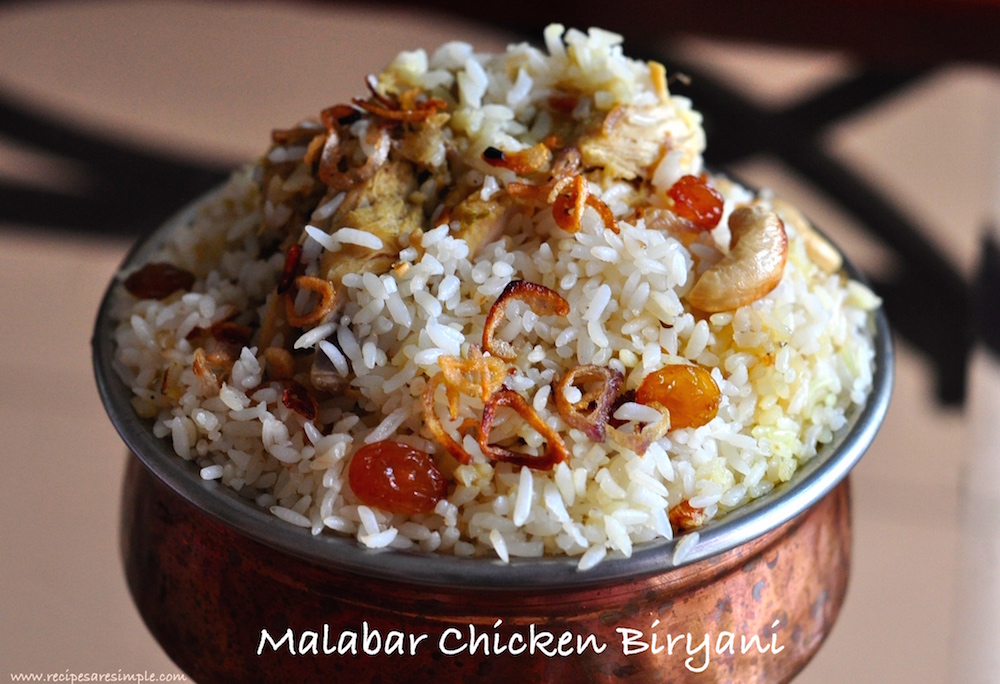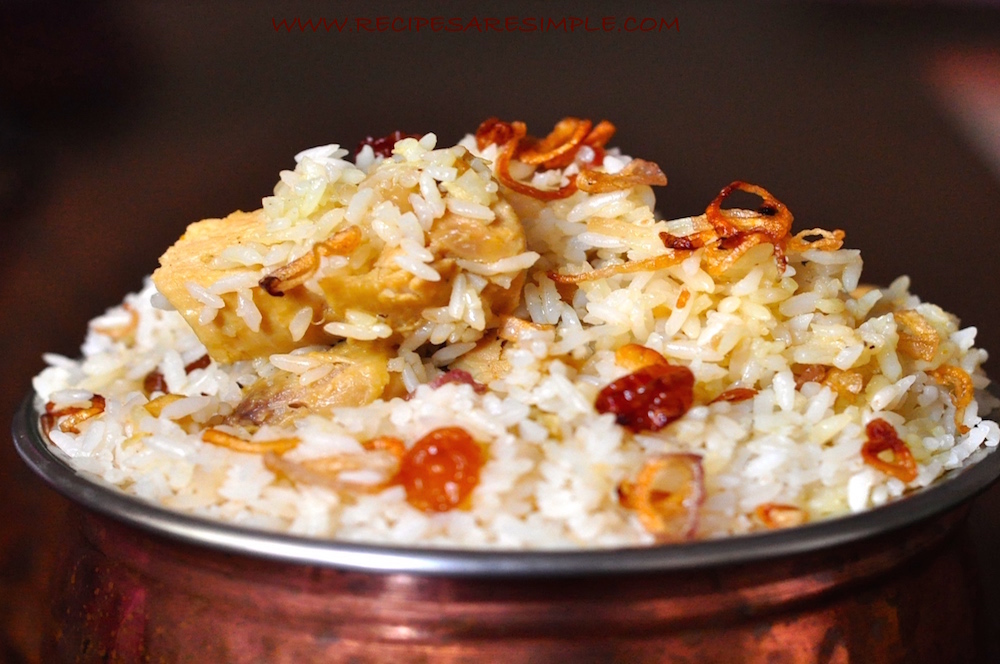 Malabar Chicken Biryani Recipe
This bejeweled rice is  the favorite of many! A delicious Malabar Chicken Biryani! Although the 'Hyderabadi Dum Biriyani' may be tagged as "The most famous Biriyani ", I know many Kerala food enthusiasts will make a good argument to the contrary. Kannur, Thallessery, Kozhikode Biriyanis are indeed sought after and devoured with passion. Recipes are varied but this one is a keeper! A delicious and fulfilling recipe!
A favorite in our home!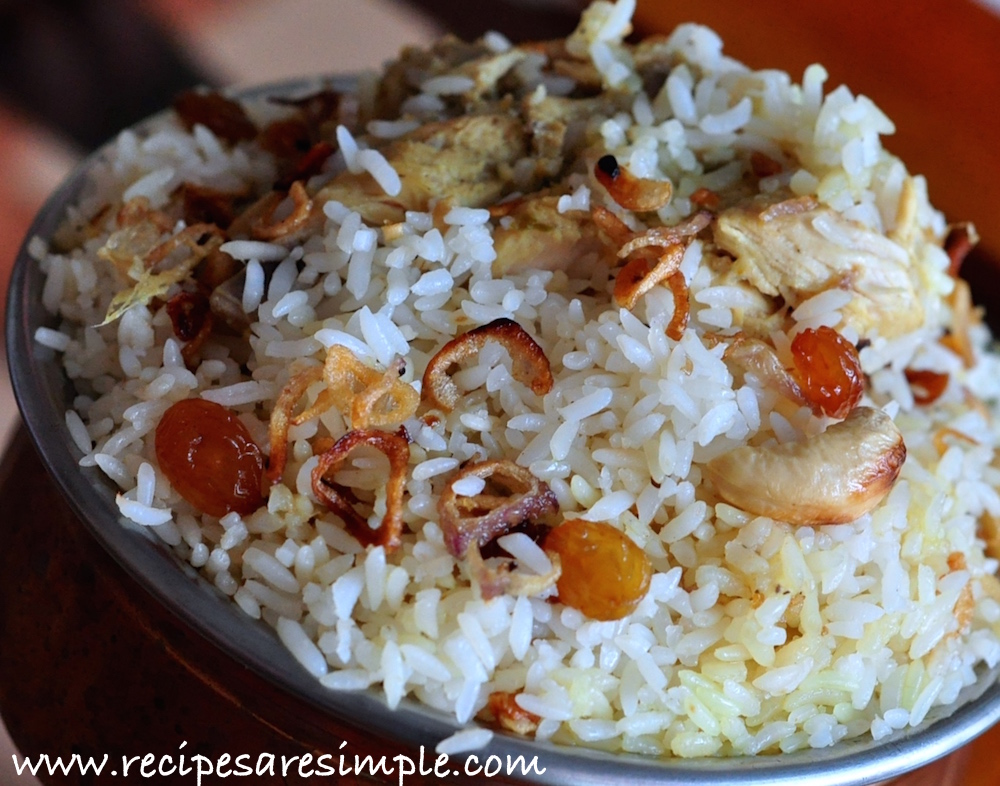 Malabar Chicken Biryani Recipe
You are here: Home > Rice Dishes  > Malabar Chicken Biryani Recipe
 

Recipe Name:  Malabar Chicken Biryani 

Recipe Type: Rice / Chicken

Author: Shana c/o Recipes 'R' Simple
Ingredients:
1 ½ kg Chicken cut into medium to large pieces. Washed & Drained
2 Tbsp thick Yogurt (greek style)
100 gm / 3 ¾ oz Dalda & Half that amount  Ghee
3 Tbsp  dalda and ghee combined  for Masala
250 gm /4 medium Onions sliced finely (for the garnish)
4  large onion sliced (for the masala)
50 gm /about 2 oz or ¼ cup kismis/golden sultanas or raisins
50 gm/about 2 oz or ¼ cup cashewnuts
Whole spices (2 tsp cardomom pods crushed, 2 tsp cloves,  2 tsp cinamon sticks)
1 ½ kg or 5 cups rice Kaima OR Basmati Rice
1 ¼ litre or 7 cups of water
50 gm /1 ¼ large bulb garlic & same amount fresh ginger, crushed to form a paste
5-6 green chilies

(I recommend the smaller variety for the distinct flavor it imparts. It has more heat: you may de-seed for less heat) 

– also crushed to a paste
3 medium – large firm tomato, chopped
2 tsp lime juice
½ tsp Garam Masala (Malabar Garam Masala Recipe)
Handful each of chopped mint and coriander leaves
4 Tbsp milk
2 Tbsp rose water




Method:
Marinate the chicken with 1 tsp salt and Yogurt and 2 tsp each of the ginger and garlic paste.15 – 30 minutes.
Heat large saute pan or pot, Heat dalda and ghee.
Fry the onions till crisp golden( keep your eyes on this, it may seem to take time at the begining but they burn very quickly).Remove with slotted spoon &  set aside.
Next fry kismis/sultanas  till plump- set aside.
Fry cashews till golden- set aside.
The rice:
Remove any grits from the ghee left in the pan. Remove all but 4-5 Tbsp ghee.
To this, add the whole spices and fry lightly.
Add 7 cups previously boiled water and bring to boil again.
Add 4 – 4 ½ salt  (to taste) and washed  rice.
Stir and cook covered on medium heat till water runs dry and you can fluff up the rice.
The Masala:
In another deep pot. Heat ghee and dalda.
Add remaining ginger & garlic pastes along with the green chilly paste.
Sauté  gently to a nice light golden color.
Add onion and a dash of salt and continue sautéing, till softened and just  changing color.
Add chicken and stir fry well on high heat. Stir fry till the chicken becomes white.
Add the mint, coriander leaves and garam masala (see note).
Add tomato and stir-cook till liquid runs dry and the tomatoes are reduced to a pulp.
Stir in some of the fried onion to this (about ¼ cup loosely packed).
Mix in the  lime juice/yoghurt. Stir till combined.
Cook covered, on low till chicken is done and liquids evaporate.
The layers of "dum"  – baking layers:
Transfer  the chiken masala to the 'Dum' pot or baking dish.
Layer half of the rice over this.
Over this layer, sprinkle milk and rose water mixed together, some  coriander, mint and garam masala.
Then layer the rest of the rice followed by some more garam masala, fried onions , cashews and raisins.
Cover and seal  the lid, either with a kneaded dough  making sure the steam can not escape.
Place  pot on a flat griddle pan and cook on stove top on low-medium heat for about 20 minutes.

Alternatively, cover with aluminum foil and bake for 20- 30 minutes at 190 °c /375° F. Turn off the heat source. Leave undisturbed for at least 30 minutes.

Spoon out the rice carefully first and set aside in a large plate.
Next, transfer the chicken pieced gently to a serving dish.
Return half the rice to the masala on the bottom and gently toss to coat the rice with chicken masala.
Add the remaining white rice on top just folding over masala a few times so that the rice stays a nice white color. Serve with the chicken pieces and the fried garnish. Yummy!
Malabar Chicken Biryani Recipe
Notes: 
Garam Masala – A powdered spice blend of Cloves, Cardamom, Cinnamon, Fennel, Nutmeg, Star Anise, Mace, Black pepper, Shah jeera(black cumin)
You may choose to use ghee alone instead of the combination of dalda and ghee,Or you may use refined oil. Ghee makes the Biriyani better tasting.
Find different types of Biryani Rice
Key Ingredients: Chicken, Rice, Spices, Onion, Ginger, Garlic, Tomatoes, Herbs, Yoghurt, Salt, Rose water, Milk
Let us know if you tried it – Malabar Chicken Biryani Recipe . Comments from you provide motivation to keep up the driving force behind this blog, bringing you more delicious and perfected recipes regularly. Please do leave a comment. We love to hear from you.