7 May, 2016
Makki ki Roti Sarson ka Saag | Punjabi Maize Flour Flatbread and Mixed Greens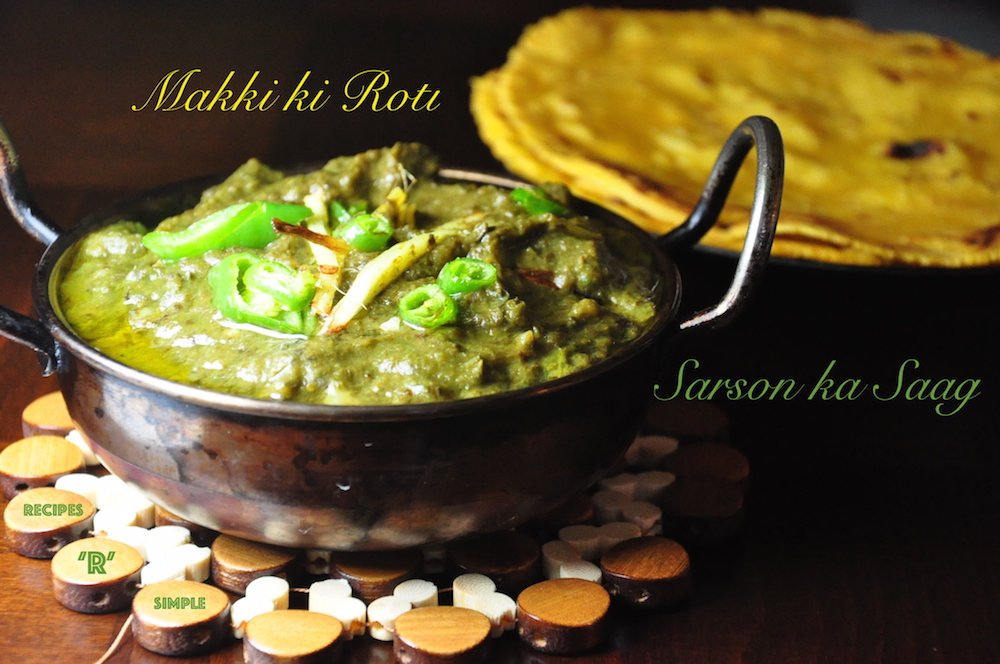 Makki ki Roti Sarson ka Saag | Punjabi Cornmeal Flatbread and Mustard Greens
Makki ki Roti Sarson ka Saag, a traditional duo in the Cuisine of Punjab, often makes its way to the dining table in the Colder Months. 'Makki ki Roti' is flatbread made from Maize flour or Indian Cornmeal. It is yellow in color and slightly finer than regular cornmeal. 'Sarson' refers to Mustard Greens which is one of the three green leafy vegetables used in this highly nutritious dish. Along with Sarson, 'Bathua Leaves' are used as well. These are the leaves of a weedy plant, which have a waxy coating. Both the Sarson Leaves and Bathua Leaves need a good scrubbing and rinsing. The stems of Sarson may be used but must be de-stringed, the way you de-string string beans before chopping. The leaves may be chopped up coarsely and rinsed several times to remove all the earthy undertones that could ruin the dish if not washed thoroughly. Same with the Bathua Leaves, they must be scrubbed to remove the waxy layer under the leaves, in a basin of water  with some effort before rinsing well in a colander. If you can not find the Bathua Leaves you can combine the Sarson with 'Palak' (Indian Spinach) which is more common.
The freshly made hot Makki ki Rotis served with the Mixed Greens Side, Onion Rings, and Home made White Butter… I feel like I am on one of my road trips through India again…There is something so enjoyable about the rustic and humble regional dishes that makes you appreciate how simple life could actually be if you wanted it to be.
Makki ki Roti Sarson ka Saag
You are here: Home > Vegetarian  > Makki ki Roti Sarson ka Saag
 

Recipe Name: Makki ki Roti Sarson ka Saag 

Author: Shana c/o Recipes 'R' Simple
Ingredients:
1 large bunch/ 900 gms of mustard greens (sarson)
250  gms of bathua leaves or palak
4 small cloves of garlic, chopped
1 small piece of ginger, chopped
1 green chili, chopped
2 Tbsp maize flour ( makki ka atta)
2 tsp powdered jaggery (brown palm sugar)
salt to taste – be careful not to add too much
For tempering:
3 Tbsp ghee (clarified butter)
2 green chillies, julienned or sliced
a small knob of ginger,  julienned
½ tsp red chilli powder
¹/8 tsp asafoetida
Makki ki Roti:
2 cups Maize flour (Makki ka Atta)
Hot water to knead the dough – about 1 cup – use with discretion
¼ tsp salt
ghee for roasting
Method: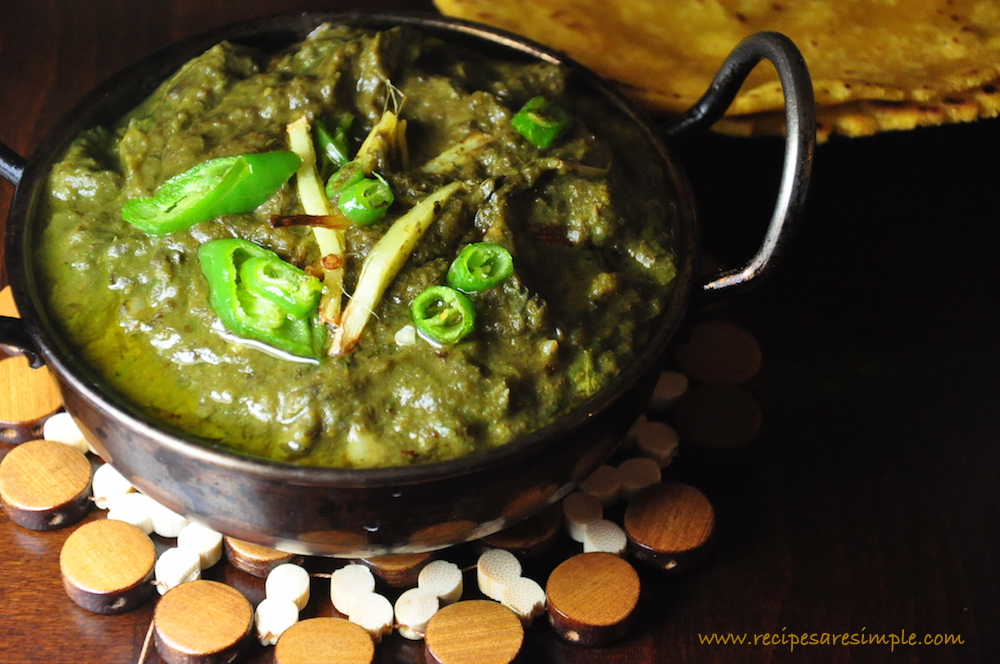 Sarson ka Saag:
Wash and rinse the greens thoroughly. Important: De- string the stems of the sarson before chopping. Scrub the Bathua leaves well, if using. Rinse several times. Roughly chop the greens.
Add to a pot with about ½ cup water. Add the chopped garlic, ginger and green chili as well as salt and bring to a boil.
Reduce heat t low and simmer, covered for 20 minutes.
Remove from heat, Allow to cool and blend

(I use a hand blender)

the mixture to a course texture.

(We don't want a puree).

Return the mixture to heat, stirring in the maize flour. Simmer again for another 15 minutes.
To temper, heat the ghee and lightly fry the ginger and green chillies. Add the chill powder and asafoetida right at the end and immediately pour over the mixture.
Makki ki Roti:
Sift the maize flour with salt into a bowl.
Stir in just enough water to hold the dough together.
Knead the dough into a large ball, then divide into around 8 large balls. Once kneaded the dough must rolled quickly. The dough will not be as bouncy a regular flour or wheat flour. Rolling it can cause cracks.
To get good rotis , I reccomend using a chapati press. Use two sheets of waxed/ baking paper to press the balls into thick rotis. Even if rolling with a regular rolling pin, use the paper to help keep the roti from cracking.
 gently peel away the top waxed paper and drop the roti onto a hot pan.
Add ghee and roast both sides, till you see puffed and brown spots all over.
Serve hot with the Saag and Homemade Butter!!! Simple, Nutritious Goodness!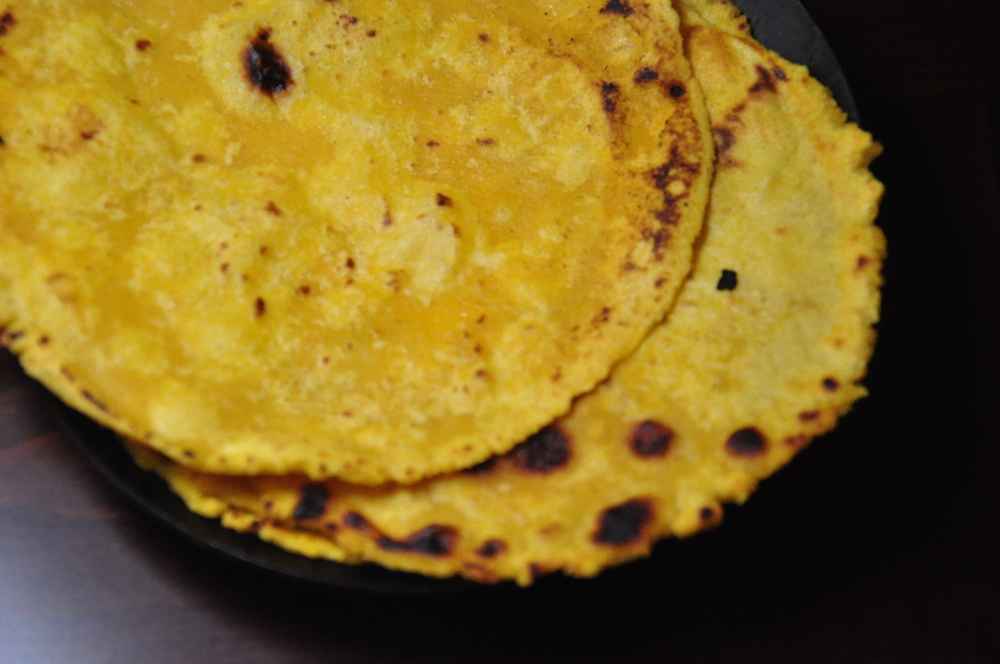 Makki ki Roti Sarson ka Saag | Punjabi Cornmeal Flatbread and Mustard Greens
Adding the stems of Sarson makes the dish tastier but you MUST remove the strings before chopping.
Key Ingredients: Cornmeal (Makki ka Atta), Mustard Leaves, Mixed Greens
Leave a comment if you tried – Makki ki Roti Sarson ka Saag | Punjabi Cornmeal Flatbread and Mustard Greens.