4 April, 2013
Lime / Key Lime Pie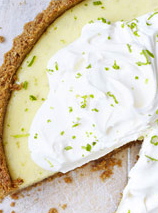 Lime / Key Lime Pie
I have tried a dozen different recipes for lime or key lime pies and the amount of lemon juice and sweetened condensed milk that is called for doesnt sit well with my taste buds. It's often way too sour or sweet .
Try my version. Neither the tartness nor the sweetness should be overpowering imho. Key lime is not available everywhere but the taste is unique and reminds me of summer fun. You can use regular limes. Just make sure they are fresh and juicy and have a good smell to them.

Lime / Key Lime Pie



Ingredients:
For the Crust:
Either
¾ lb /340 gms /abt 36 Nos ; graham crackers
4 Tbsp granulated sugar
1 stick/100 gms melted butter
¼ tsp sea salt
Or
300g packet Hob Nobs or Ginger Snaps
¾ stick/75 gms butter , melted
The Filling:
 13 oz tin /380g of evaporated milk
¼ cup /50 gms sugar
3 medium egg yolks
juice of 2 limes/ ¹⁄3 cup
2 Tbsp finely grated zest; make sure you grate the green rind only as the white pith (the white layer between the rind and the pulp)  will be bitter if added
The Whipped Cream:
1 ¹⁄3 cups/ 300ml chilled — double cream/whipping cream
1 Tbsp icing sugar
1 tsp vanilla extract.
pinch of cream of tartar
extra lime zest, to decorate




Method:
Crust:
Heat the oven to 325°F/ 160°C

Process the Cracker/Biscuits to a crumb.Add the butter and pulse till combined.

Press into the base of a 9 "/22 cm pie/tart pan with a detachable bottom. 

Bake for 10 minutes.Remove from oven and cool.
 Filling:
While crust is resting,  in an electric mixer with the wire whisk attachment, whip egg yolks with sugar and lime zest till fluffy about 3 minutes.
Gradually Add the evaporated milk and whisk for another 2 minutes till thick.
Lower the mixer speed and slowly add the lime juice until incorporated.
Taste test the filling.
Pour the filling into the cooled crust and return to oven to bake for 15 minutes or till the centre is just set. Remove from oven and allow to cool.
Chill for

at least 3 hours.
 Whipped Cream Topping:
To make the whipped cream:
Chill your whisk and bowl in freezer for 20 minutes
If warm climate; place bowl in another basin of iced water while whipping.
Add whipping cream, icing sugar and whip till soft peaks form.
Add cream of tartar and whip till stiff.
To serve carefully remove the pie from the detachable pan and dollop or pipe  the whipped cream onto pie and garnish with extra lime zest.
You may like to place in freezer 15 minutes prior to serving.
Lime / Key Lime Pie
You May Also Like Excellent Apple Pie  , Delicious Pumpkin Pie