29 April, 2015
Lentil and Barley Soup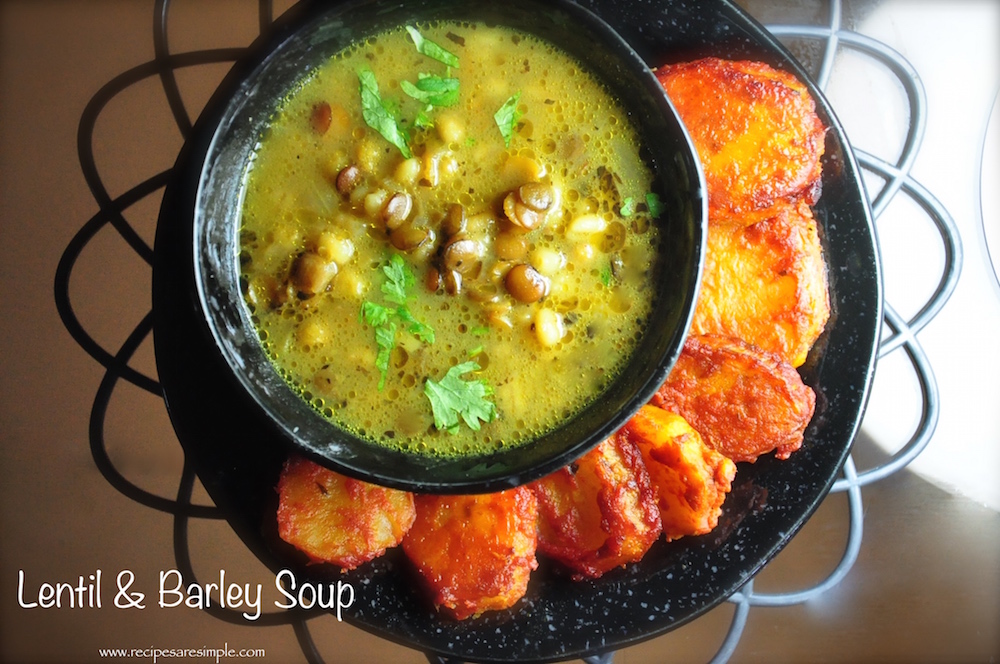 Lentil and Barley Soup
A lovely Lentil and Barley Soup from the Middle East. Lentils are a staple of Middle Eastern Cuisine. Once considered the poor mans food, lentils are now considered Comfort Food. The combination of Lentils and Barley in this soup, provides for a very hearty and almost meaty texture.  It can be a meal on its own, or served with salads, dips and flatbreads.



You are here: Home > Soups & Stews  > Lentil and Barley Soup
 

Recipe Name: Lentil and Barley Soup 

Recipe Type: Soups & Stews

Author: Shana c/o Recipes 'R' Simple
Lentil and Barley Soup
Ingredients:
¼ cup dry green or brown lentils
¼ cup dry pearl barley
1 large onion, finely chopped
5 cloves garlic, bruised and roughly chopped
2 Tbsp fresh cilantro / coriander leaves and more to garnish
¼ tsp dried basil
¼ tsp coriander powder
¹/3 tsp turmeric powder
½ tsp cayenne
½ tsp black pepper
5 cups water
1 tsp salt or to taste
1 Tbsp oil
Method:
Heat the oil in a non stick / stock pot with lid.
Add the chopped onion and sauce on low heat, stirring occasionally for 8 minutes. The onions should be very soft and light gold in color.

(Keep the heat to low to ensure that the onions do not turn brown and burn).

Add the garlic, cilantro and saute for another 2 minutes, still on low heat.
Rinse the lentils and barley thoroughly in cool water. Drain.
Add the lentils and spices and  stir cook for 1 minute.
Now add the water and increase the heat till boiled.
Add salt and cover the pot with lid.
Lower heat to simmer and cook for 1 hour , checking occasionally.
Taste seasoning. Add a little more pepper or cayenne is desired.
Add a pinch of sugar to balance.
Add 1 cup or more boiled water to achieve desired consistency.
Garnish with some fresh cilantro.
Serve warm.
Lentil and Barley Soup
You can make the soup with lentils only too.
You can also add cooked/ canned chick peas at the end if you like.
Key Ingredients: Lentils, Barley, Spices, Onion, Garlic, Coriander, Salt
: ) Do leave and comment if you tried it – Lentil and Barley Soup . Comments from you provide motivation to keep up the driving force behind this blog, bringing you more delicious and perfected recipes regularly. Please do leave a comment. Love to hear from you.