14 October, 2016
Lamb Chops with Cherry Sauce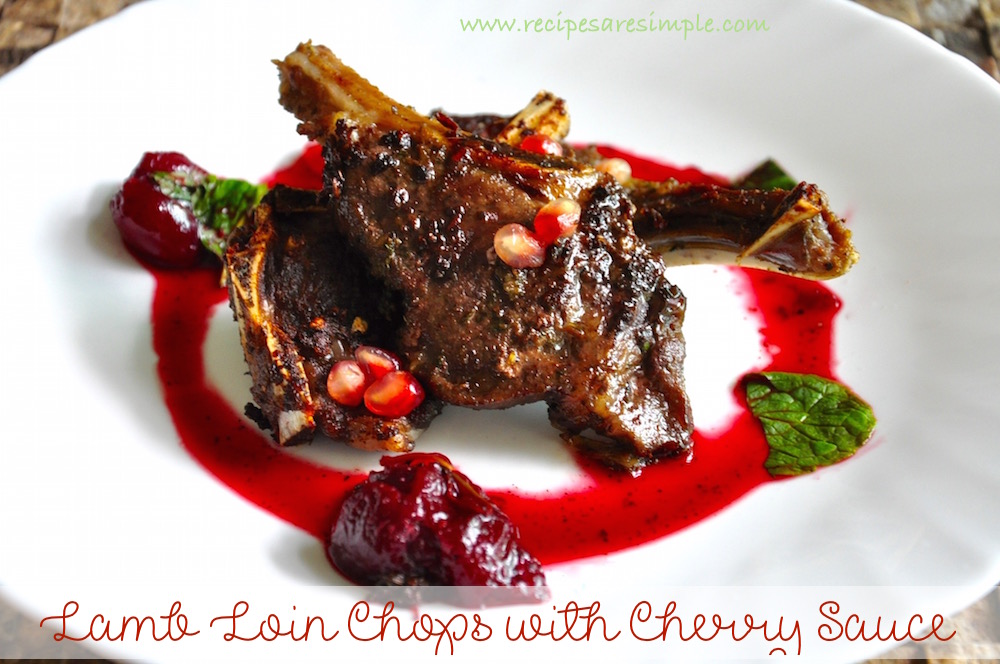 Lamb Chops with Cherry Sauce
Lamb Chops with Cherry sauce.  These savory chops with sweet and sour sauce are perfect for entertaining or on special occasions. I used lamb loin chops. Quite the 'Fancy but Simple meal', as I call it; served with a Mesclun Salad and Mashed Peas.
Lamb Chops with Cherry Sauce
You are here: Home > Lamb/ Mutton  > Lamb Chops with Cherry Sauce
 

Recipe Name: Lamb Chops with Cherry Sauce

Author: Shana c/o Recipes 'R' Simple

Marinate: 1 hour
Ingredients:
8 lamb loin chops, trimmed of extra fat (about 700 gms)
4 large cloves garlic
¼ cup FRESH cilantro/coriander leaves
½ tsp cloves
½ tsp cinnamon
½ tsp cumin
½ tsp all spice / Baharat Spice
 ½ tsp salt
½ tsp pepper
3 Tbsp Olive oil
Pomegranate Seeds  & Fresh Mint Leaves to garnish
For the Cherry Sauce:
2 cups dried cherries
¼ cup honey
juice of one lemon ( I used turkish lemon, the size of a pingpong ball- about ¼ cups juice) – taste as you go use as much juice as needed
½ cup water or more if needed
1 large clove garlic, finely chopped
1  shallot, finely chopped
½ cup FRESH mint leaves
2 Tbsp olive oil
Method:
Start with lamb loin chops at room temperature.
In a small grinder, powder all the spices together with the coriander, garlic, salt and pepper, with a tiny bit of water to make a course paste.
Marinate the chops for at least 1 hour.
Heat olive oil in a large cast iron pan on medium high heat.
When the pan is hot, place the chops on the pan, fat side down. Slowly caramelize the fat (medium heat, no more or the fat can burn) Do not move the chops. Once fat is rendered and chops are browned,  turn to cook the other side. Brown the sides as well if needed.  Leave space between the chops, do not crowd the pan.  Rendering the fat well on the first side, means the chops will be quite well done by the end of cooking the second side. (I cooked mine roughly 4-5 minutes per side).
Make the Cherry Sauce:
To a small sauce pan, add the cherries, honey, lemon juice, water and cinamon and bring to boil.
Lower heat and simmer for 5 minutes, mashing the cherries lightly. Set aside.
In another small non stick pan, heat olive oil.
Sauté the garlic and shallots till light golden. Add the hot cherry mixture to this and bring to simmer again till slightly thickened and tender. You can add a little water and adjust some ingredients as desired.
Add salt and pepper to taste and add the fresh mint last. Remove from heat.
Serve the loin chops garnished with pomegranate and mint leaves. Serve with the sauce. I like to serve with a Mesclun Salad and Mashed Peas.
Lamb Chops with Cherry Sauce
Key Ingredients: Lamb Loin Chops, Garlic, Olive Oil, Coriander, Dried Cherry, Lemon, Honey, Salt, Pepper.
Leave a comment if you tried – Lamb Chops with Cherry Sauce .