1 January, 2015
Kuttanadan Fish Curry /Boatman Fish Curry – Kumarakom – Kerala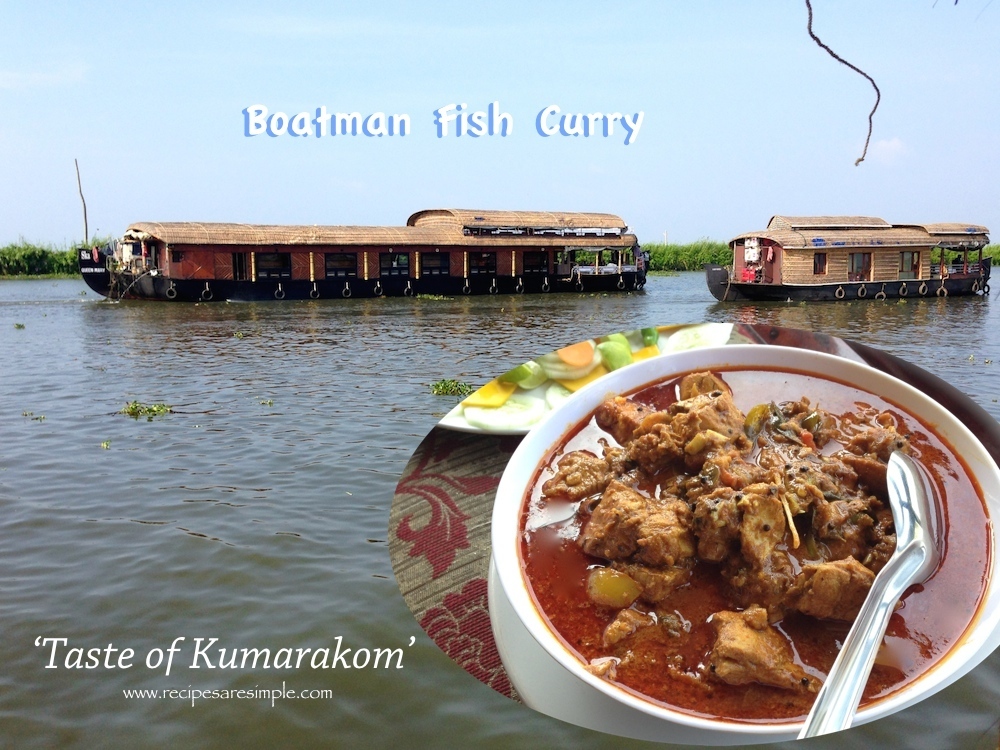 Boatman Fish Curry – Kumarakom – Kerala
  Kerala is known for its beautiful panoramic backwater stretches, lavish green paddy fields, highlands and beaches. One major backwater location is in the Kottayam district, where a network of rivers and canals empty into the great body of water called the Vembanad Lake. Located at Kumarakom, the Vembanad Lake, an enchanting picnic spot and a popular house boating and  tourism destination, offers boating, fishing and sight seeing experiences perfect for a restful holiday.
Each houseboat is equipped with bath attached rooms, a dining setting and a kitchen with chef included!  The fresh daily catch ensures a deliciously mouth watering preparation of seafood. The chefs quick and easy recipe is perfect for my needs as well. I got the recipe from Chef Unni and I am sure you will enjoy this delicious Kuttanadan Fish Curry as much as we did!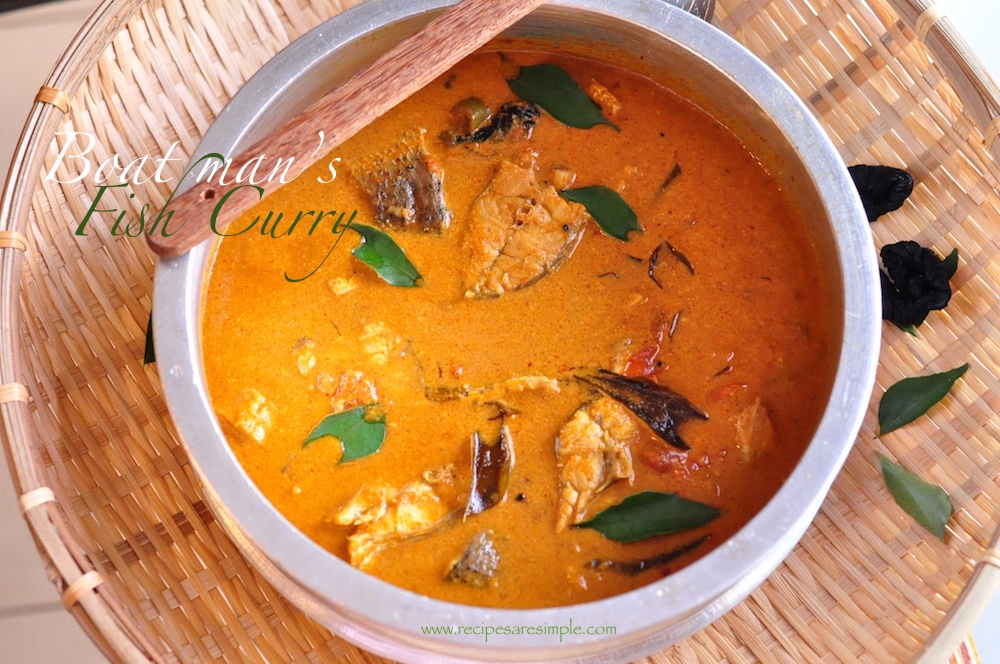 Scroll down for Video..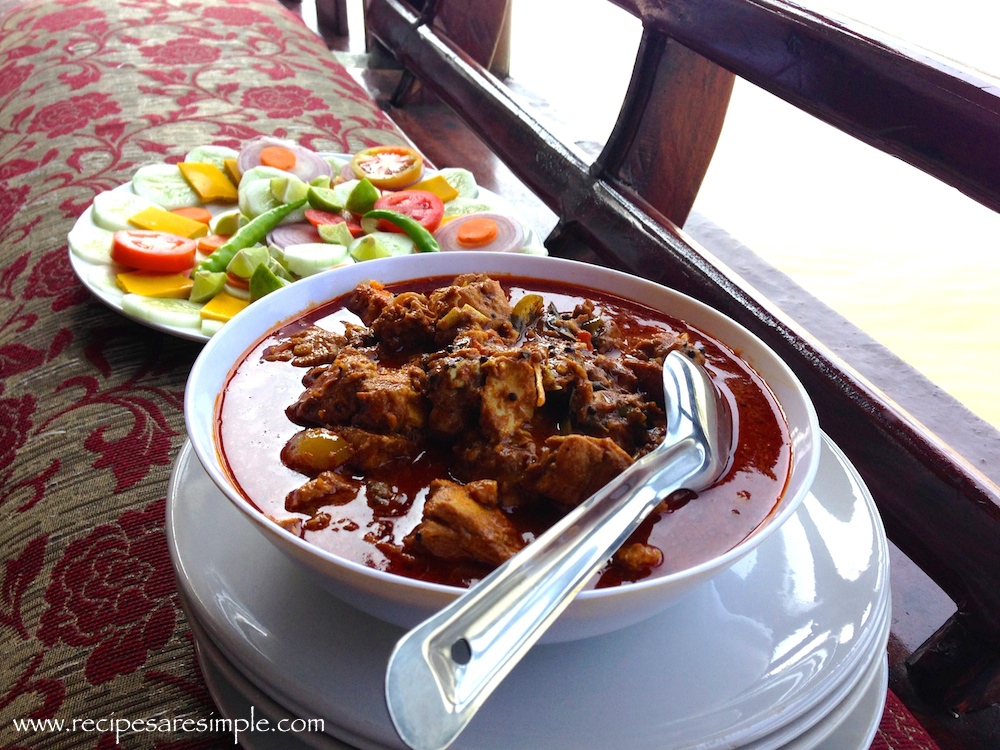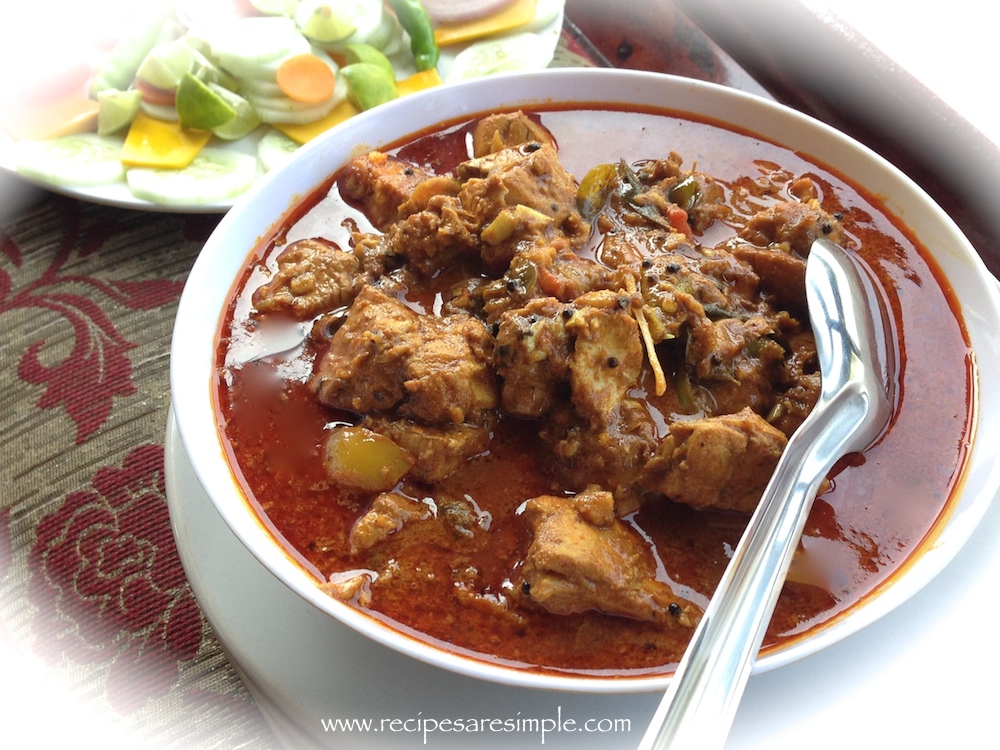 Kuttanadan Fish Curry – Kumarakom – Kerala
Recipe Type: Fish & Seafood

Author: Recipes 'R' Simple

Prep time: 20

Cook time: 30

Total time: 50

Serves: 6 – 8
Ingredients:
1 ½ kg firm fleshed white fish, cleaned and cut into small slices (bone intact)
½ cup garlic , crushed or made into paste
½ cup ginger , crushed or made into paste
¼ cup long ( mild) green chili, sliced
large handful of fresh curry leaves
6 small segments of fish tamarind ( kudampuli)

,  washed and pre – soaked in water

1- 2 small tomatoes, chopped
¼ tsp mustard seeds
¹⁄8 tsp fenugreek seeds
¼ cup coconut oil
3 Tbsp Kashmir chilli powder
3 Tbsp coriander powder ( Nirapara brand)
1 ½ Tbsp Fish Masala powder ( Eastern Fish Masala)
¾ Tbsp Turmeric powder
2½ – 3 tsp salt ( to taste)
1st and 2nd extraction of coconut milk extracted from 250 gms fresh grated coconut . See Video on how to extract Coconut Milk.
1 ½ – 2 cups water plus more for washing out spices
Method:
Clean the fish well. Cut into pieces of desired size with bone intact. Scrub the fish well with salt, especially over the skin before slicing. Rinse well and keep drained. 

The houseboat chef, cut the fish into rather small pieces because we had kids on board. I would make neater, thiner slices. 

In a heavy bottomed, wide mouthed pot ( uruli ), add and heat coconut oil.
When the oil is hot, add the mustard seeds and allow to pop.
Only once the mustard seeds have stopped popping, add the fenugreek seeds and allow to turn golden.
Now add the crushed ginger and garlic. Sauté briefly.

( see notes ).

Add the curry leaves and green chilly.
Sauté everything patiently on medium heat, stirring till the ginger and garlic turns nice and golden brown,

slightly crisped without going dark.

While the ginger and garlic is getting cooked, add all the spice powders to a small bowl. Add just enough water  (½ cup should do) and stir the powders to a paste.
Once the ginger and garlic has reached the desired color, add the prepared wet spice paste and stir well to cook. Stir till the spices smell cooked and no longer raw. Also be careful not to burn the spices. Wash out the spice bowl with some more water and add to the pot a little at a time till the paste is cooked thoroughly along with the ginger and garlic and the aroma is really nice!
Remove the fish tamarind from the water in which it was soaked and add to the pot.

(Reserve the soaking water – see notes)

Add salt.
Also add the chopped tomatoes along with water (1 ½ – 2 cups) and bring to a simmer.
Now add the cleaned and drained fish pieces into the simmering curry. Bring back to a boil after adding all the fish.
Cover and cook on low heat for 10 minutes.
In the meantime, extract coconut milk – 1 cup of thick first pressed milk and 2 cups of thinner, second pressed milk.
When the fish is cooked, taste and add salt if needed.
Add the thinner, second extraction of coconut milk. Bring back to a simmer.
Add the thick , first extraction last. Bring back to a boil on low heat. Turn off heat.
Serve hot over rice with vegetable side dishes.
Kuttanadan Fish Curry – Kumarakom – Kerala
Try it and let us know – Kuttanadan Fish Curry – Kumarakom – Kerala
 Instead of crushed ginger and garlic, which will give the curry more texture, you can have a smoother less gritty curry by using the paste of ginger and garlic. However, extra care must be taken while sautéing the paste, stirring continuously and sprinkling water so that it does not burn.
Don't add all the coconut milk in one go. Add half and taste to see if it needs all of the extracted milk. For the first extraction of coconut milk, add little or no water to squeeze out the pure milk. For the second extraction add some water to get a thinner strain.
At home,  a earthen pot can replace the Uruli, but I like to use this heavy bottomed pot sometimes when making larger batches of curry. The curry doesn't reduce and thicken upon being left to cool like it sometimes tends to do in earthen pots.
Reserve the water used for soaking the fish tamarind. As different varieties offer a different level of sour taste, you might like to taste the curry after the fish has cooked a while and add some of the soaking water if you need the curry a bit more sour. This water can be saved in the fridge for curries to be made later as well.
I have tried this curry with great success at home using fish such as snapper and sea bass.