10 August, 2015
Kung Pao Chicken – Szechuan Chicken with Chillies and Nuts [宫保雞丁]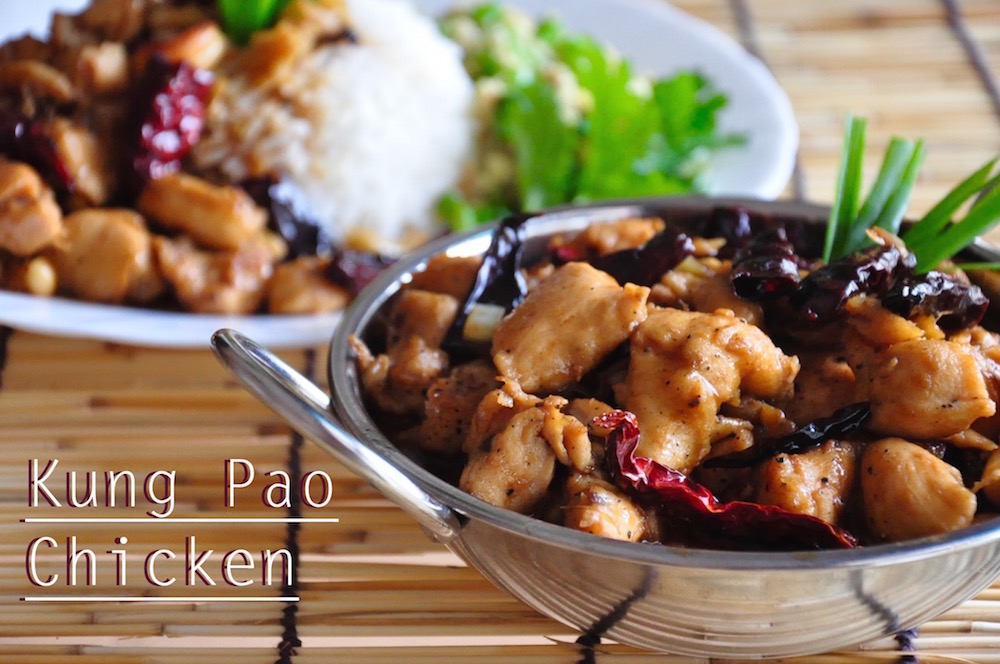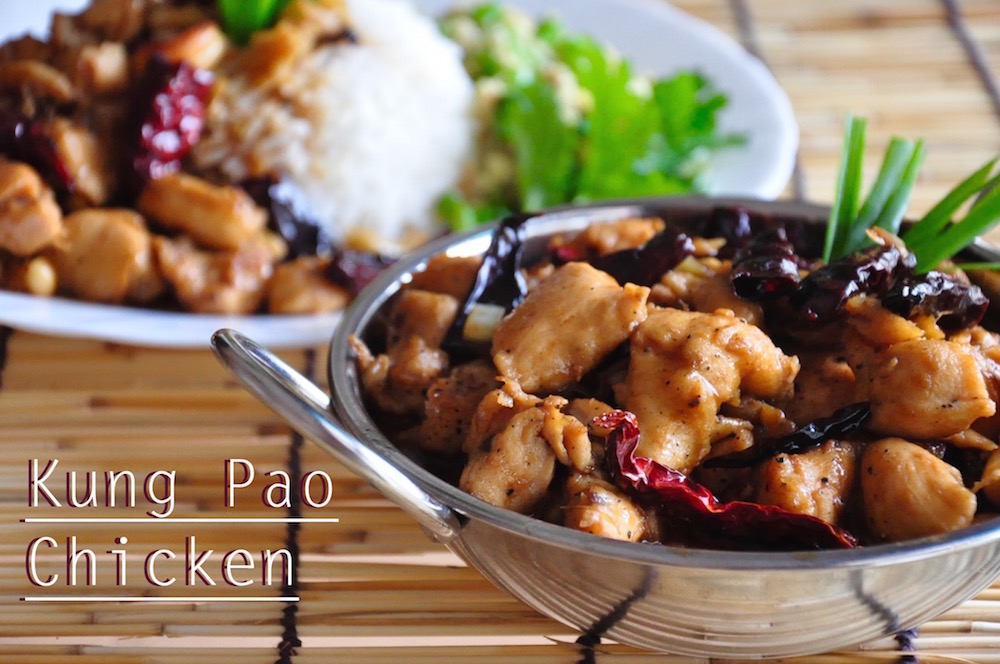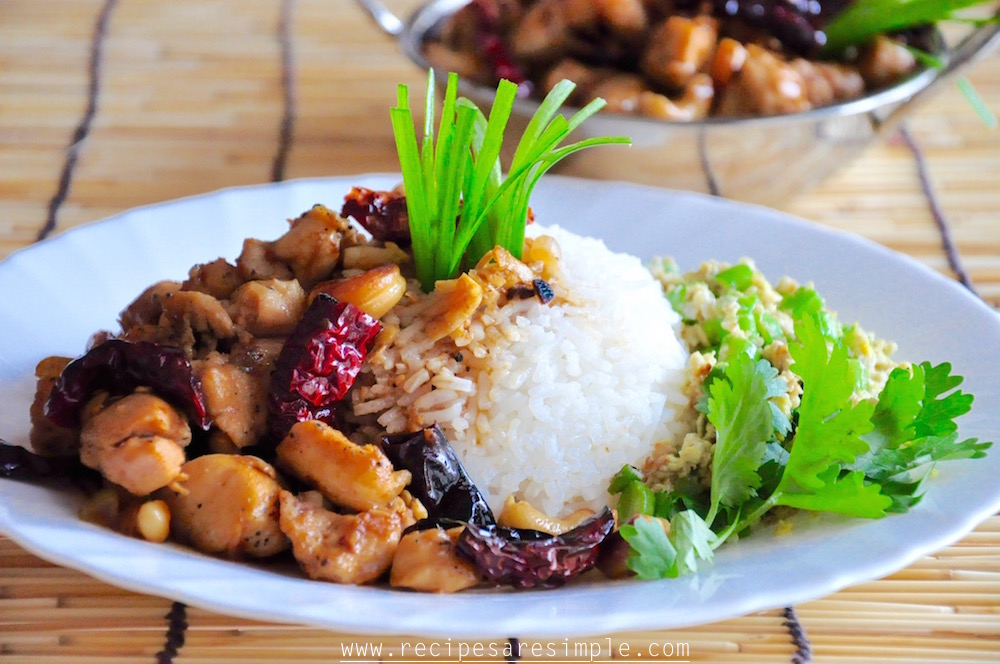 Kung Pao Chicken –  Szechuan Chicken with Chillies and Nuts
Kung Pao Chicken also known as Kung Po or 'Gong Bao Ji Ding' is a very popular Szechuan Style Chicken Stir-Fry. The original recipe uses a liberal amount of Sichuan peppercorns, for its numbing heat. There are, however so many variants of the original. Western recipes even incorporate all sorts of veggies. Here, I try to keep close to the original method. However the heat is reduced for my taste and the taste of my little ones.
Sometimes, when I am in the mood the, I will kick up the intensity with more dried chillies and more sichuan peppercorns.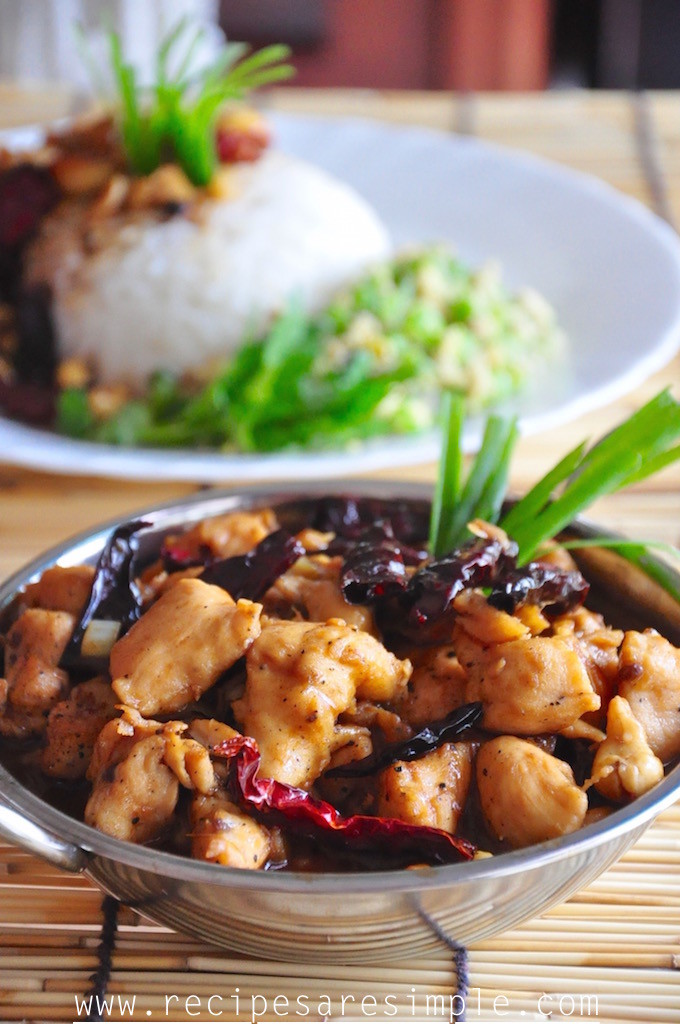 Kung Pao Chicken –  Szechuan Chicken with Chillies and Nuts
You are here: Home > Chicken Recipes  > Kung Pao Chicken (宫保雞丁)
Recipe Name: Kung Pao Chicken
Recipe Type: Chicken / Chinese
Author: Shana c/o Recipes 'R' Simple
Prep time: 10 min
Marination time: 1 hour
Cook time: 10 min
Total time: 1 hour 20 min
Yield: 4-5 servings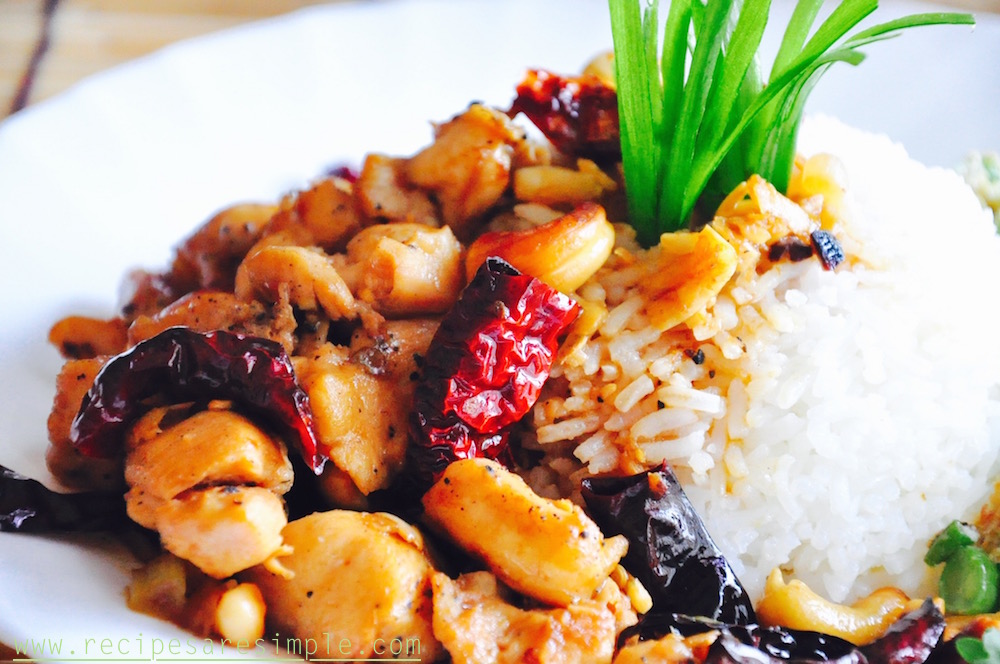 Ingredients:
600 gms chicken tenders, fillet or boneless leg
10 -15 cloves of garlic
2 ¾ Tbsp fresh ginger slices
3 Tbsp spring onion ( just the white bulb portion), sliced
Around 25 long dried red chillies. 

Here, I use the long shriveled variety which is milder. If you are using the shinier and hotter variety, you might want to reduce the amount.

¹⁄3 cup skinless raw peanuts OR ½ cup raw cashew nuts

– I prefer cashew, although peanut is the original choice. 

1 ¾ tsp Worcester / Worcestershire  sauce
2 tsp light soya sauce
2 -3  tsp dark soya sauce
Cornflower Solution : 1 Tbsp cornflour mixed in 2 ½ Tbsp water
pinch of sugar, if needed to balance flavor
Peanut oil as needed for frying. (Preferred, but you can use sunflower oil too).
Optional: spring onion greens or cilantro to garnish.
To Marinate the Chicken:
1 ¾ Tbsp cornflour
1 ¾ tsp light soy sauce
¾ tsp sesame oil
 ¾ tsp black pepper powder
¾ tsp sichuan pepper corns, pounded to a course powder.  

This offers a unique numbing heat. This amount offers a subtle flavoring without being too spicy. Increase if you lean towards 'fiery'. If you can't get Sichuan pepper corn, just omit it, it still tastes great!

½ tsp salt
Method:
Cut the chicken, across the grain to thin, bite size strips.
Rinse well and pat dry.

Marinate the chicken: 

Rub the chicken well with ingredients listed for marinating.
Set aside for 30 minutes.
Meanwhile, add the garlic and ginger  to a mortar and crush to a course paste.
Cut the dried chillies, each into 3 segments. As you do so, the seeds will fall out. You can discard these to reduce heat.
 

Prepare the sauce ingredients:

Add the worcester  sauce, light soy sauce and dark soy sauce to ¾ cup water. Set aside.

Prepare the cornflour solution:

by mixing the cornflour and water in a small cup. Set aside.
Now we need to

par-fry the marinated chicken.

You can choose one of the following methods to do so. 1: Deep fry the marinated chicken in batches, BRIEFLY. Add the chicken to hot oil. Leave undisturbed for 30 seconds on high heat. Then gently turn and separate the pieces. Fry till light golden for 30 seconds or 1 minute more. Strain from oil and set aside 2: Stir fry in little oil (3 – 4 Tbsp only), in a very hot wok. Remove from the wok and set aside.

The chicken should not be fully fried or crisp, just achieve a bouncy texture and golden color. It will be cooked further in the sauce.

Once the chicken is par-fried,  remove all but 1 Tbsp of oil from the wok.
Add the chill segments and fry briefly. Do not allow chillies to turn black. Remove the fried chillies and set aside.
To remaining oil, add the peanuts or cashew nuts.
Fry briefly till golden. Set aside.
Add one more Tbsp of oil to the wok if needed. (If you deep fried the chicken earlier, use this oil).
Add the ginger and garlic to the oil and sauté till fragrant and soft. Do not allow to change color.
Add the sliced spring onion whites( bulb). Sauté 30 seconds more.
Now return the par-fried chicken and toss well in the mixture. Allow the fragrance of the ginger, garlic and scallions to be absorbed by the chicken, making sure there is no darkening of the ginger and garlic.
Now add the

prepared sauce ingredients.

(water, light soya, dark soya, worcester sauce).
Bring to a simmer.
Cook till chicken is tender.
Add the

prepared cornflour solution

now. Stir and allow to thicken.
Return the fried chillies and nuts.
Optional: Garnish with
Serve hot with steamed white rice.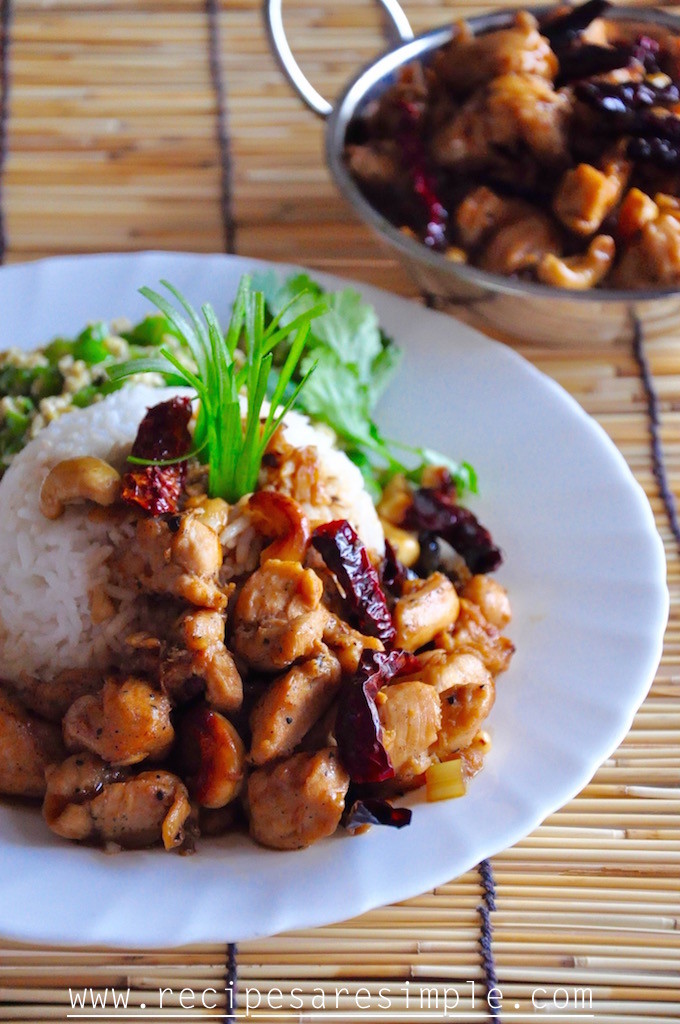 Kung Pao Chicken –  Szechuan Chicken with Chillies and Nuts  [宫保雞丁]
It is very important that you not over fry the chillies or the nuts.  Nuts will continue to gain crispness after frying. Remove them immediately once golden.
As different brands of dark and light soya sauce have different levels of salt and sodium adjust accordingly.
DARK SOY SAUCE,  differs from thick sweet soy sauce.
Key Ingredients: Chicken, Dried Chillies, Peanuts/ Cashew nuts, Peanut oil, Sichuan Pepper Corns, Light Soy Sauce, Dark Soy Sauce, Sesame Oil, Corn flour, Garlic, Ginger, Shallots/Scallion, Salt & Pepper.
Let us know if you tried it – Kung Pao Chicken –  Szechuan Chicken with Chillies and Nuts  [宫保雞丁] . Comments from you provide motivation to keep up the driving force behind this blog, bringing you more delicious and perfected recipes regularly. Please do leave a comment. We love to hear from you 🙂