11 August, 2013
Sweet Rice Ball Dumplings – Kozhukkata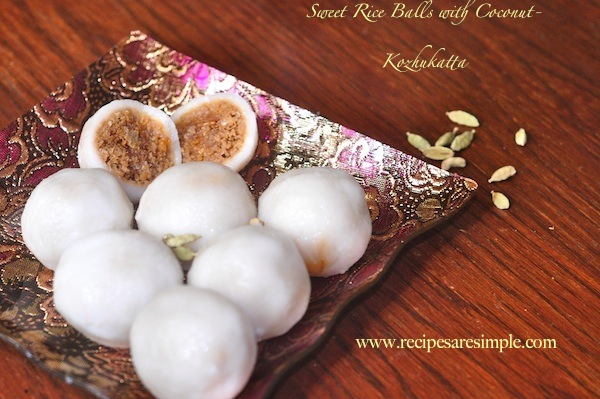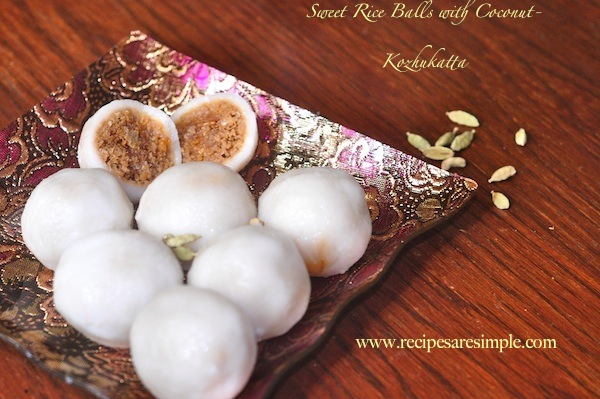 Sweet Rice Ball Dumplings – Kozhukkata
by Jyothi S.
Kozhukkata – These sweet little dumplings are steamed while delicately casing a sugared, caramelized coconut filling with a hint of spice. They can be made using attractive dumpling moulds if you have them. They can also be made flattened and steamed in banana leaves. A Sweet Treat from Coastal India.
This recipe was an entry in the Onam 2013 Contest.
Sweet Rice Ball Dumplings – Kozhukkata
Author:
Prep time:
Cook time:
Total time:
Ingredients:
1 cup unroasted fine rice flour
2 cups water
2 tsp sunflower oil
¼ tsp salt
1 cup grated coconut- fresh or frozen
½ cup brown sugar /Jaggery  or as desired
¼ tsp cardamom powder




Method:
To a small sauce pan, add the jaggery with just enough water to melt it into a thick syrup. It should not be watery.
Add the coconut and mix, just to heat through. Add cardamom powder. →Set aside
Add water, salt and oil to a wide mouthed, pot. Bring to boil.
Add the flour slowly, stirring. When the water is absorbed, cover the pot. Turn off heat and allow to sit for a few minutes.
Knead well till smooth. Best done while hot.
Divide into 9 portions and roll into smooth balls.
Flatten each ball in the palm of your hands and place some filling in each flattened disc.
Bring up the edges to cover the filling and pinch into a ball.Then gently roll to smoothen the ball.
Steam covered for 7 minutes or till cooked through.
Variation: Instead of forming the kneaded dough into balls, press on a piece of banana leaf and then place some coconut filling. fold over the banana leaf and steam. Remove the leaf to  serve.
Sweet Rice Ball Dumplings – Kozhukkata
Did you enjoy our Sweet Rice Ball Dumplings – Kozhukkata ?