6 January, 2017
Kozhi Ada | Mini Fried Chicken Dumplings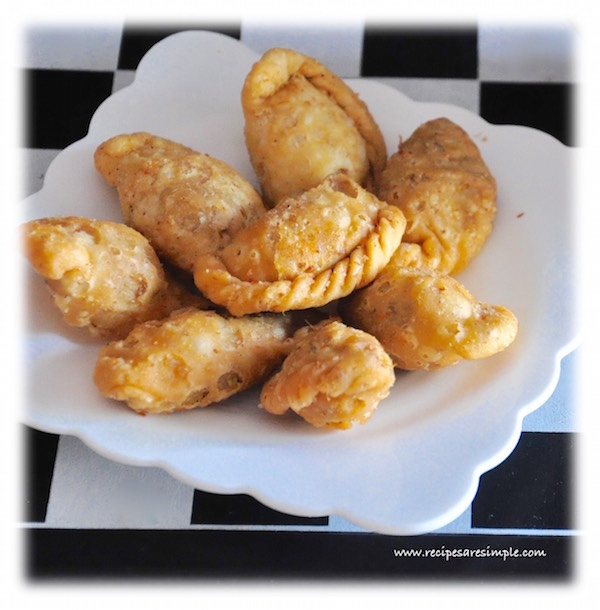 Kozhi Ada | Mini Fried Chicken Dumplings
Hi everyone! Let me take this opportunity to wish you all a very HAPPY NEW YEAR. Thank you to all my blog readers who sent in comments and wishes.. I have been away for over a month and sadly had no access  ( or time) to post regularly.
I am now back and life has returned to it's daily routines, but I might be a little slow to pick up on the recipes and videos.. you know one gets lazy after a long vacation. Today, I dusted off my laptop and decided to do a quick post just in case you are wondering where I have gone!
I will try to reply to all the comments asap on here and on my youtube channel asap!
So I was back in India for a very long vacation. We had a road trip through Bangalore, Mysore and Ooty, after which we had a bunch of weddings and lots of 'busy' happenings in Kerala. My whole family was there after a very long time. It was great, but now it seems like a dream.
Todays recipe, is a very popular Malabar Snack – KOZHI ADA and it goes great with your afternoon tea! These little bite sized fried dumplings are made with a spiced chicken filling. Quite easy to make, if you fancy something different today 🙂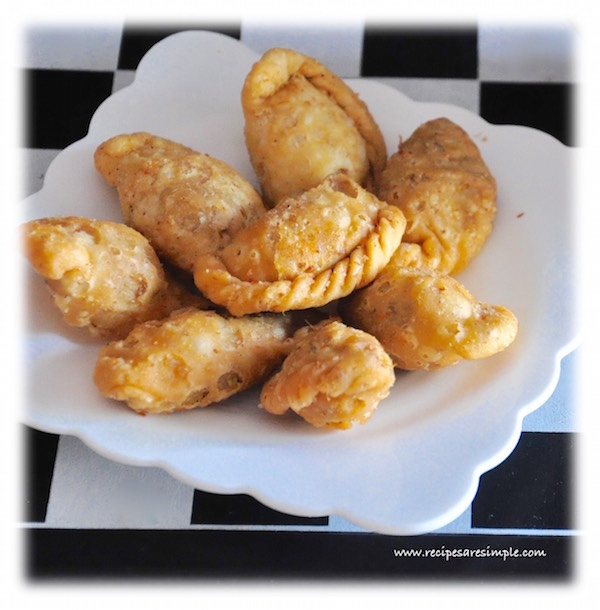 Kozhi Ada | Mini Fried Chicken Dumplings
You are here: Home > Snacks  > Kozhi Ada (Snack)
 

Recipe Name: Kozhi Ada | Mini Fried Chicken Dumplings

Recipe Type: Snacks / Savories

Author: Shana c/o Recipes 'R' Simple
Ingredients:
For the filling:
250 gms boneless chicken thigh/ breast, cut into chunks
1 tsp chilli powder
¼ tsp turmeric powder
¼ tsp salt
4 red onions  ( medum sized), sliced finely
1 tsp ginger, finely chopped
1 tsp garlic, finely chopped
a few curry leaves, chopped finely
oil for deep frying
For the dough:
2 ½ cups plain flour
3 tsp ghee
salt to taste
water as required
Method:
Rub the chicken pieces with the chilli powder, turmeric powder and salt.
Add to a pan with just a little water to cook the chicken till it is no longer pink. (Make sure note to overcook the chicken here).
Allow to cool slightly and use a processor to shred the cooked chicken. Set aside.
Combine the dough ingredients with just enough water to make a  bouncy dough. Knead and allow to rest, covered with a damp cloth while you prepare the filling.
Heat 3 Tbsp of oil in a wok/pan and add the onion. Sauté till translucent.
Add the ginger, garlic and chopped curry leaves. Sauté  till lightly golden.
Now add the shredded chicken and a little more oil if needed. Reduce the heat to low and cook covered with occasional stirring for 5-8 minutes or so till the chicken is golden brown.

(I use a cast iron skillet for this).

Set aside the 'browned' chicken filling.
Divide the dough into small lime sized balls. Roll them out into thin rounds.
Add a small amount of filling to the centre. Fold over the circle to seal the edges by pressing all around with your index finger.
Now, create a roped pleat edge by pressing a  small petal shape with your index finger from one edge and then folding in the petal using your thumb and index fingers. Continue all around the edge, pressing and folding inwards till you reach the other end.
Heat oil for deep frying till a small pinch of dough floats up easily.
Deep fry in batches till golden brown. Drain on paper towels. These dumplings keep for 1 day in an airtight container.
Kozhi Ada | Mini Fried Chicken Dumplings
Key Ingredients: Chicken, Flour, Onion, Ginger, Garlic, Oil, Salt, Spice, Ghee.
Leave a comment if you tried – Kozhi Ada | Mini Fried Chicken Dumplings .