20 December, 2013
Korean Beef Bulgogi Made in Cast Iron Wok / Skillet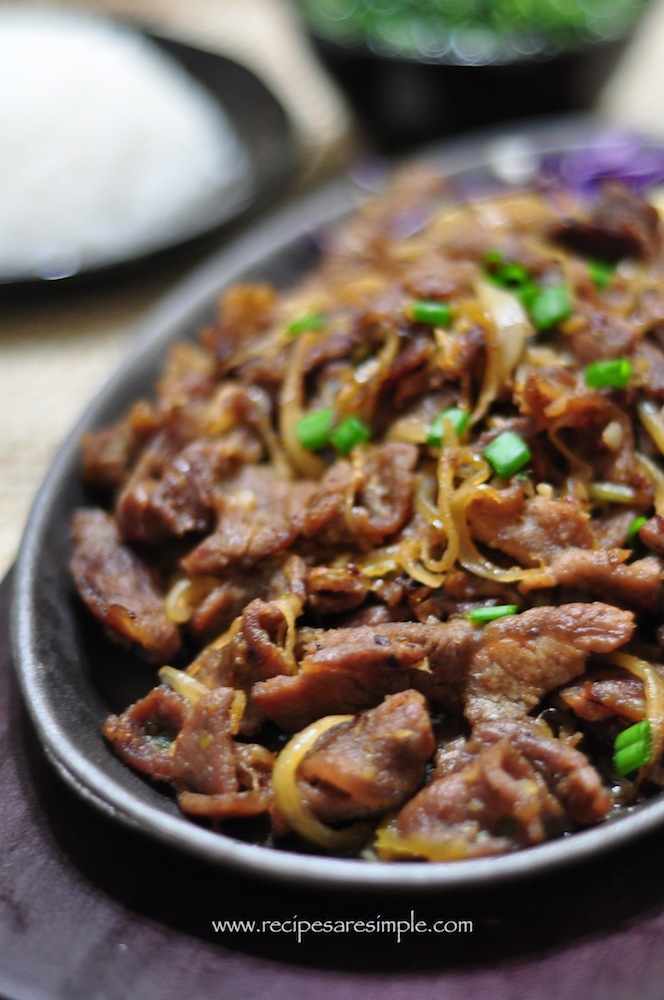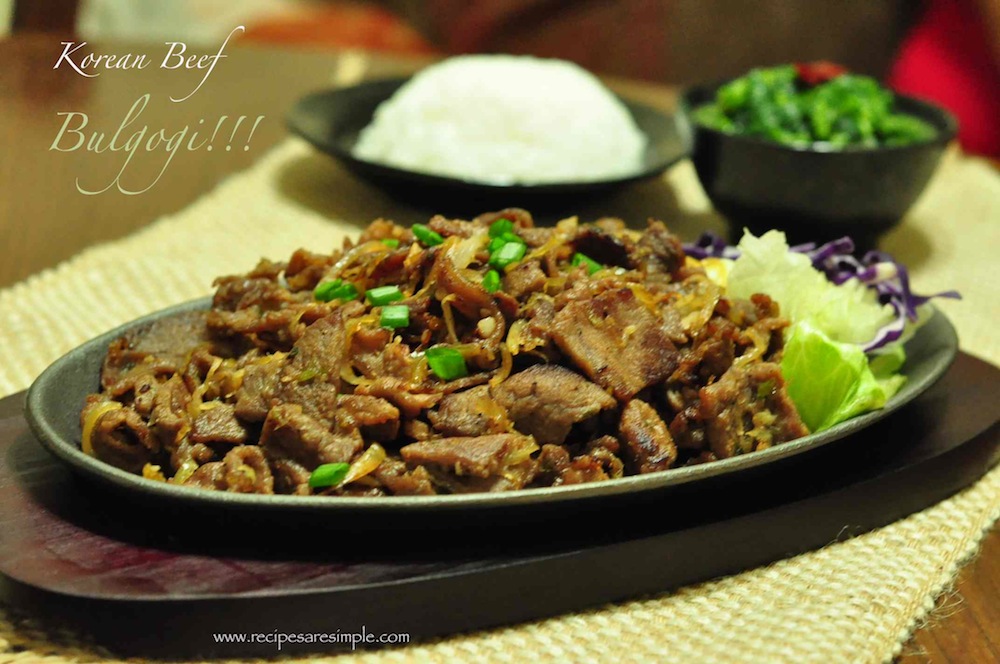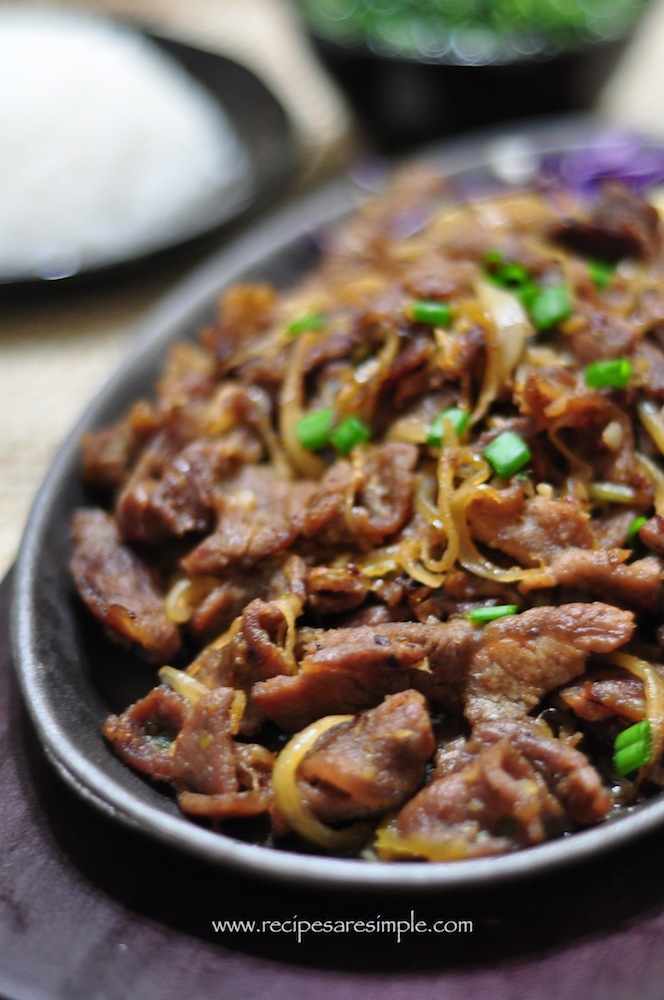 Korean Beef Bulgogi
 In 2011, CNN declared Bulgogi as No. 23 in the 50 most delicious foods based on Readers Poll.
After  Kimchi, the Korean dish that enjoys the most worldwide popularity  is Bulgogi – or Marinated Grilled Beef! Literally , Bulgogi means "Fire Meat".   The  beef is traditionally barbecued or grilled in a korean style indoor grill.
I love Bulgogi!  It is eaten wrapped in lettuce leaves with kimchi or other additions, and also with plain white rice and some greens.  For an international palate, I suggest eating with steamed white rice and some cooked Baby Spinach.. The combination is Yum!  The beef is packed with flavor and so tender!  The best thing about this is that it can be made so easily!!!   For those without a bbq grill, not to worry  – Bulgogi can be made just as delicious using a griddle pan or what I like to use is a Cast Iron Wok or Skillet, deep enough to be able to stir around well.   Here's how I make Delicious Korean Beef Bulgogi!

Korean Beef Bulgogi
Ingredients:
600 gms beef (sirloin or tenderloin) – any good cuts that can be cut into thin pieces
4 Tbsp light soy sauce
2 Tbsp caster sugar
1 Tbsp Organic honey
1 Tbsp spring onion whites, diced
2 Tbsp garlic, minced
1 Tbsp white sesame seeds – I sometimes omit this.
½ tsp freshly cracked black pepper powder
the juice of half a korean pear – If you can't find this I found that using ¼ cup Raw Papaya juice  or 1 tsp Raw Papaya powder works just as well. 
2 Tbsp Korean Sesame oil
1 Yellow or White Onion, sliced thinly
Lettuce or Cabbage leaves for serving.
Oil for brushing cast iron pan
Method:
Pat the beef with a cloth to remove blood.
I rinse my beef very well with a spoon of vinegar to remove any beefy smells. Drain well and pat dry.
Cut away any of the tough portions and fatty layers.
Proceed to cut

against the grain

– If you look closely at the beef you can see the direction in which the fine lines run over the beef. We want to cut across or against these lines and not with them. This ensures that our meat will be more tender.
Cut into 5 by 4 cm  rectangle pieces, that are 3 cm thick , no more.
Marinate the beef slices with all the ingredients except the sliced onion. Toss well.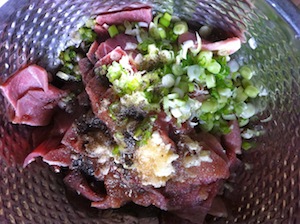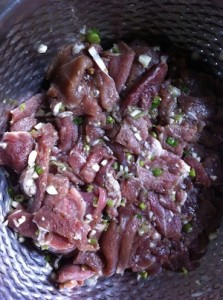 Marinate covered – 3 hours or overnight in fridge.
Slice the onions very thinly. Add to the meat before cooking and toss well with the marinade.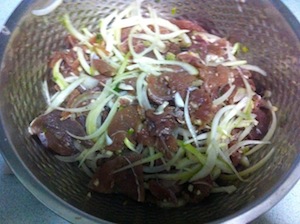 Heat the pan/skillet/wok. Lightly oil the surface with vegetable oil.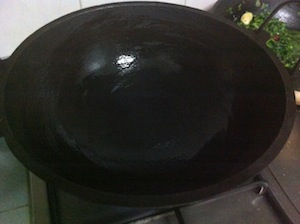 When very hot, add the marinated beef and onion.
Allow to cook, stirring. The juices will be released from the meat.
Cook on high, stirring/tossing, till the juices run dry and the beef is cooked tender  with a few char marks.
(This does not take too long because the beef is already tender)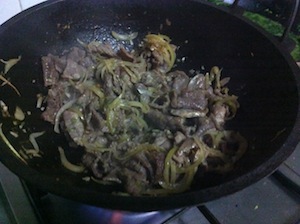 To serve, Preheat an oven to very high and place a sizzler plate on the bottom rack for 20 minutes. Carefully place on wooden tray.  Brush with a little oil, so the beef wont stick. Add lettuce leaves and beef on to tray and  place a small knob of butter or margerine under the leaf and this creates a sizzling effect as you bring to to the table! Isn't that awesome?
Korean Beef Bulgogi
Try and let us know – Korean Beef Bulgogi.