10 March, 2015
Koorka Irachi – Beef Curry with Chinese Potatoes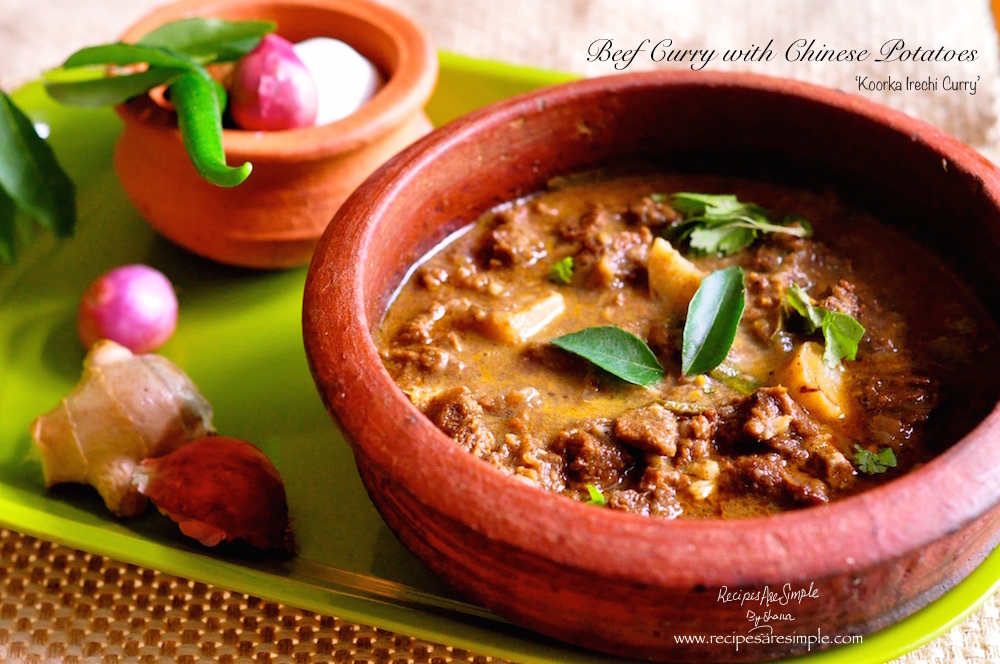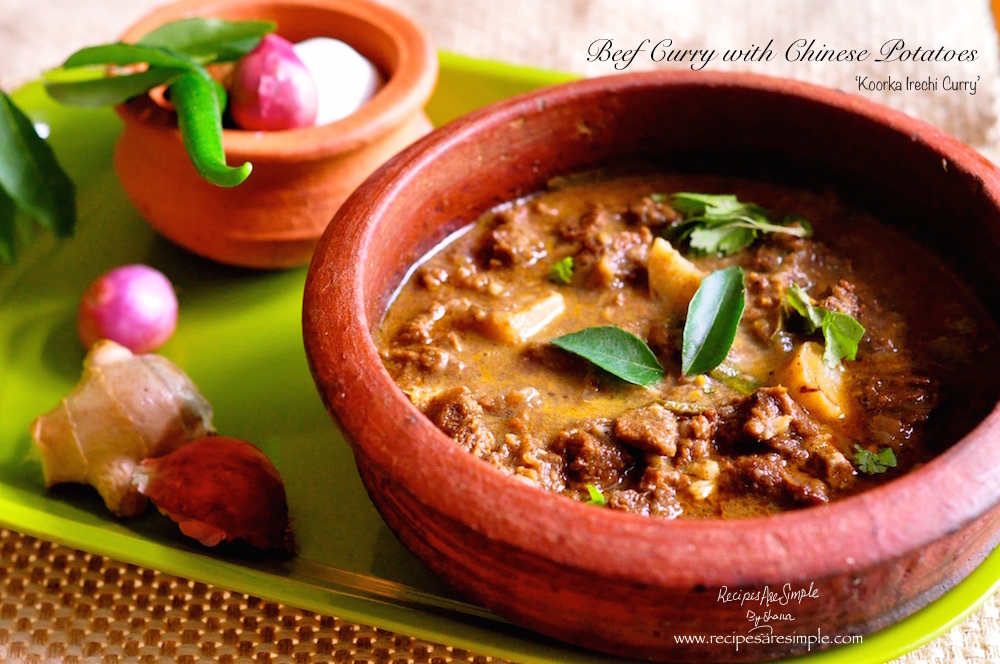 Koorka Irachi
A peppery Beef Curry with the addition of these earthy bites ( Koorka) or Chinese potatoes. Koorka Irechi is great served with Paratta or Rice. The color is darker, without the red tinge of chili powder. The taste, reminiscent of a beef or mutton soup. Different and Yummy!



You are here: Home > Beef and Mutton Recipes  > Koorka Irachi
 

Recipe Name: Koorka Irachi 

Author: Shana @ Recipes 'R' Simple 
Koorka Irachi
Ingredients:
800- 850 gms beef, cut into small bite size pieces
¾ cup, peeled, rinsed chinese potato / koorka cut into bite sized pieces
1 up shallots
2 Tbsp garlic
2 Tbsp ginger
2 small green chillies or 1 long green chili, sliced
2-3 stalks of curry leaves
salt to taste  – roughly 1 tsp
1 tsp black pepper powder
1 tsp plus ¼ tsp garam masala powder
½ tsp plus ¼ tsp turmeric powder
1 tsp mild chilli powder
3 tsp coriander powder
4-5 Tbsp coconut oil
3-4 Tbsp, fresh, chopped coriander
Method:
Rinse the beef pieces thoroughly. Leave to drain.
Add the beef to a pressure cooker with

the  black pepper powder
1 tsp of the garam masala powder
½ tsp of the turmeric powder
1 stalk of curry leaves
salt

Rub the ingredients into the beef well with hands. Allow to marinate for 20 minutes. Meanwhile chop up remaining ingredients.
Add the ginger and garlic to a small food processor and chop semi- finely. Remove and set aside. Next add the shallots and chop similarly.
Once the beef  has marinated, add just a small quantity of water and cook the beef in the pressure cooker on high with the weight placed o the steam vent.
When you hear the first steam whistle, reduce heat to medium and cook for another 8 steam whistles.
 Manually cool the cooker under running water and open. If there is any water left, return to stove and cook till the water runs dry without burning.
Remove the beef to a plate and rinse out the cooker.
Return to stove. Add oil and heat.
 Add the chopped ginger and garlic first. When soft, add the shallots, green chili and curry leaves. Sauté till the onions are lightly colored.
Add the coriander powder, chili powder and remaining turmeric and garam masala. Toss till aromatic.
Add the partially cooked beef and turn up the heat. Toss continuously till the beef is coated with the sautéed ingredients.
Add in the chopped chinese potatoes now.
Also add a small quantity (¼ cup or so) of hot water and place the lid and pressure regulator back on. Cook for a further 3-4 steams. (This varies depending on the initial tenderness of the once cooked beef. Use discretion).
The beef should be tender and the 'koorka' must be tender with some bite.
Garnish with some fresh coriander leaves.
Koorka Irachi
Key Ingredients: Beef, Chinese Potatoes, Onion, Garlic, Ginger, Green Chillies, Curry Leaves, Oil, Spices, Salt.
Have you tried our – Koorka Irachi Recipe? Comments from you provide motivation to keep up the driving force behind this blog, bringing you more delicious and perfected recipes regularly. Please do leave a comment. We love to hear from you.