28 February, 2015
Kofta Meatball Curry – Simple Delicious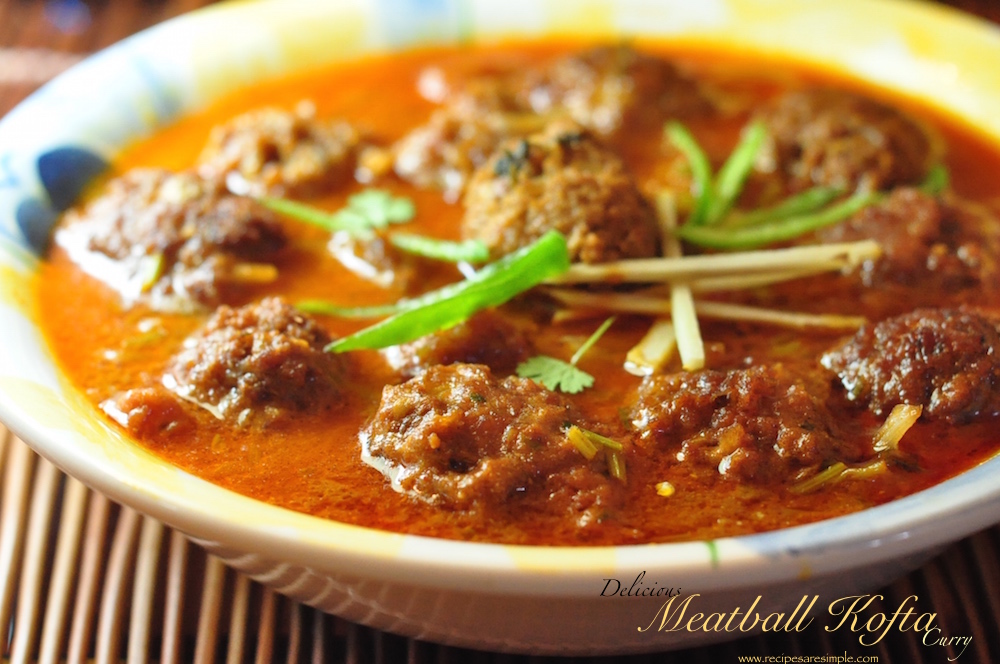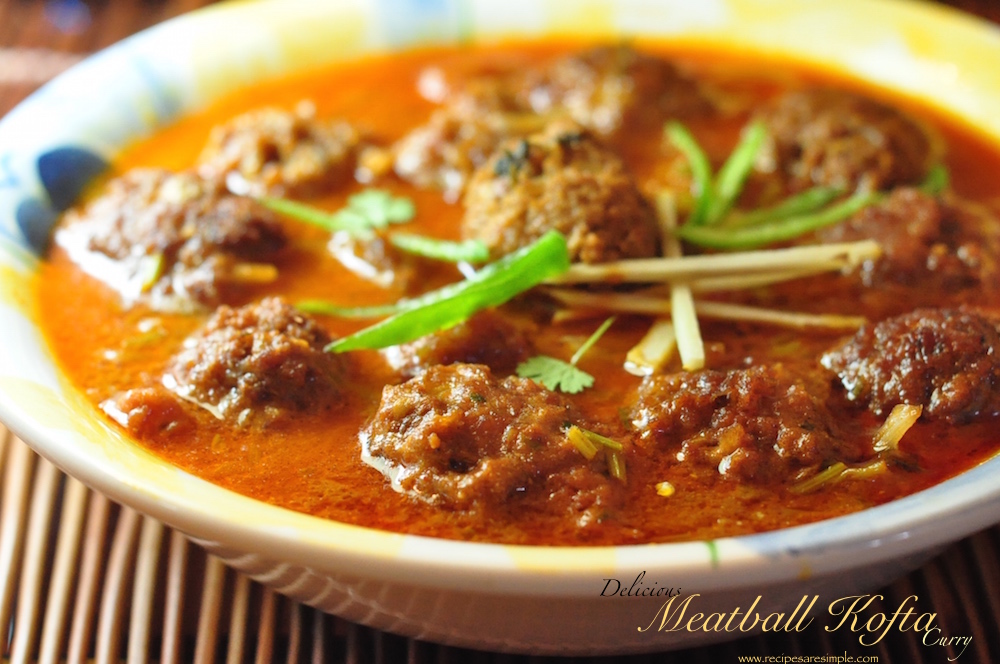 This is an absolutely delicious, melt in your mouth kind of kofta meatball curry. The meatballs can be made of minced mutton or beef. The flavors are subtle and mouth watering. I love to use grape cherry tomatoes for the gravy, blanched and peeled. I don't know why but I think they give better results than larger tomatoes for this curry. They seem less acidic.  The meatballs fall apart and melt in your mouth!! Yum! And the best thing is this curry is so easy to make. Great – served with Rice or Flatbreads. I love it with Chapathi.
Kofta Meatball Curry – Simple Delicious
You are here: Home > Beef / Mutton  > Kofta MeatBall Curry
 

Recipe Name: Kofta Meatball Curry

Recipe Type: Curry / Main

Author: Shana c/o Recipes 'R' Simple

Yield: 1 family sized bowl.12-14 meatballs (4 servings).
Kofta Meatball Curry – Simple Delicious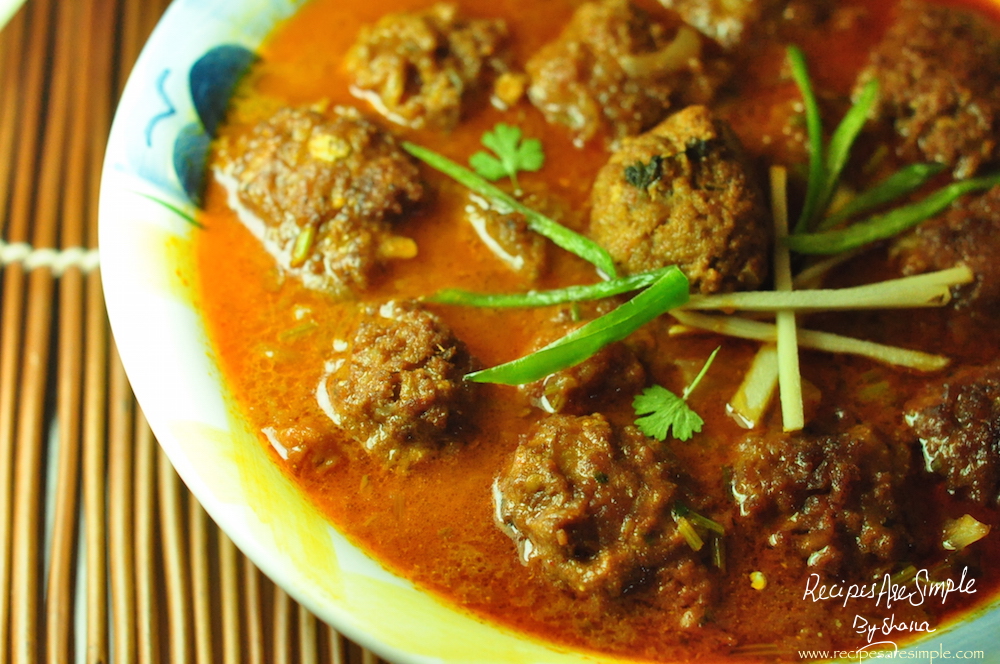 Ingredients:
For the Meatballs (Kofta):
300 gms minced beef or mutton

– I use beef

2 Tbsp vinegar for rinsing
1 ½ Tbsp puffed chana dal

( see notes)

2 small onions, diced finely

– should yield about ¾ cup

1 tsp fresh ginger
1 tsp fresh green chili

– use mild or hot according to taste

1 tsp kashmiri (mild) chilli powder
¾ tsp coriander powder
¼ tsp cumin powder
¼ tsp garam masala (see my recipe for garam masala)
¹/3 tsp dried mint

( use2 tsp fresh if you can not find dried mint)

1 egg
¼ tsp salt

(according to taste)

Oil for frying

(¾ cup oil is sufficient if frying in small batches in small wok)
For the Gravy :
2 Tbsp oil
2 small onion, sliced thinly
1 cup

grape cherry tomatoes

(160 gms approx). These tomatoes give the best flavor to this curry. If unavailable, use deep red, very firm tomatoes.
1 tsp ginger
1 tsp garlic
½ tsp chilli powder
¼ tsp coriander powder
¼ tsp turmeric powder
¼ tsp garam masala
salt to taste (about ½ tsp)
3 Tbsp yoghurt, whisked
2 -3 cups of water – to be adjusted.
1 tsp cream
For garnish:
ginger and green chili sliced julienne
Chopped, fresh coriander (cilantro)
Method:
Prepare the Meatballs.
Place the mince in cool water for 10 minutes. Use a (fine hole) colander to rinse once.
Sprinkle vinegar over the mince and leave for 1 minute. Rinse again with a slight scrubbing action, allowing some fat and the vinegar to be rinsed out through the colander.

(This helps to remove any unimpressive odor the mince may have). 

Press the mince over the holes in the colander to squeeze out the water. Careful not to press the mince through.

Add the puffed chana dal to a small dry pan and heat till they smell nice and nutty / buttery.
Add this to a small grinder jar along with the ginger, green chili and spices (cumin , kashmir chilli powder, coriander powder and garam masala).
Grind to a course powder.
Add the minced meat to a bowl along with the ground spice powder, the diced onion, dried mint, egg and salt. Mix with hands till you get a nicely distributed smooth mixture.
Roll into tight balls, about the size of a small lime, squeezing out any liquid as you do so.
Place the meatballs on a tray and refrigerate for 2 hours.

(Meanwhile you can boil and peel the tomatoes and prepare ingredients for the gravy).
When it is time to fry, add the meat balls into hot oil. Maintain a constant strong sizzle in the pot without turning up the heat to high.
Once the meatballs are added, do not stir for about a minute. Then roll over gently to fry the other side. Remove with slotted spoon/ strainer from the oil when they are golden brown and stay intact.

When you start frying meatballs you can get started with the gravy on a separate burner.
For the gravy:
Add the grape cherry tomatoes to a sauce pan of water and boil for 5 minutes.
Allow to cool in the water and easily peel off the skin. Use the pulp and squeeze the peeled skins together to get any juice. Set aside.
To the same grinder jar used earlier (wiped clean), add the ginger, garlic and all the spices. Grind till you get a paste, adding a little water if needed.
Heat oil in a non stick wok / pan with lid.
Add the onion and saute till softened.
Now add the peeled, cooked tomato with its juices and cook down, mashing  lightly with a wooden ladle.
Add the ground paste and cook till the tomatoes are saucy.
Add the the whisked yoghurt and stir continuously to prevent any curdling.
Add 1- 1½ cups water and salt to taste (about ½ tsp).
Bring to a boil Then cover and reduce heat. Allow to simmer of 30 minutes.
By now  the Kofta Meatballs should be ready.

Add the fried meatballs

to the simmered sauce and

add another cup of water.

Swirl the pan.
Bring to a boil and cover agin, reducing heat and simmering for another 20 – 30 minutes on very low heat, till gravy is nice and reduced. It should coat the meatballs nicely, not be watery and achieve a bright red color.
At the very end, add the cream and swirl the pot to incorporate.
Garnish with

ginger

and

green chili

sliced julienne and  the

chopped coriander

. Serve hot with rice or roti.
Do not add water to the dish to give more gravy, this will dilute and ruin the expected flavors.. The curry is meant to have a thick gravy.
Kofta Meatball Curry – Simple Delicious
Puffed Chana dal, is the skinned and split peas that have been roasted. They come from the Indian Brown Chick Peas. Also known as Roasted Gram Dal, Pottukadalai, Buna Chana, Chutney Dal, Split Daria…
You can double this recipe.
Use leftover meatballs to mix with some lightly buttered pasta and peppers. Or use in cheese sliders or wraps.
If preparing ahead of time, make the meatballs up until frying and freeze or refrigerate them. Also make the gravy up until first simmer. Cool and refrigerate. When its time to cook fry  the meatballs and add to the sauce and cook for the remaining 20 to 30 minutes either on stove top or in microwave.
I make the chapatis while the meatballs are being simmered. That way I can serve my hot hot chapatis with the hot, delicious meatball curry!
Key Ingredients: Beef, Cherry Tomato, Onion, Ginger Chana dal, Spices, Yoghurt, Oil, Cream, Herbs, Salt
Let us know if you tried it – Kofta Meatball Curry. Comments from you provide motivation to keep up the driving force behind this blog, bringing you more delicious and perfected recipes regularly. Please do leave a comment. We love to hear from you.