24 March, 2013
Banana Flower Stir-Fry (Vazhapoo / Kodappan Thoran)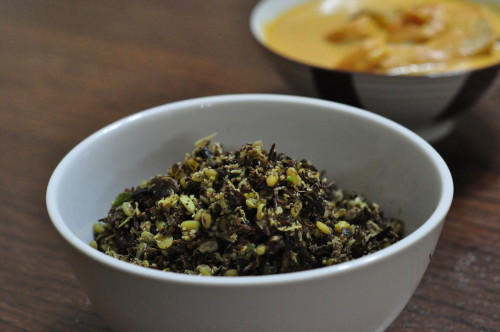 Kodappan Thoran
For those of us who don't know about the Benefits of the splendrous Banana Tree: Practically every part of this tree is edible;the bananas;raw or ripe, the stalk, the flower and the leaves have other uses and can be used for serving food or using as baking packets.The fibers are used in making threads and course textile as well as banana paper!
The flower or"Vazhapoo/Kodappan" is often made with a little coconut into this healthy Kerala vegetable dish 'Kodappan Thoran".
Along with dietary fibers, proteins and unsaturated fatty acids, banana flowers are also rich in vitamin E and flavonoids. They are part of many cuisines in the world

Kodappan Thoran



Ingredients:
1 Banana Flower
¼ cup grated coconut
2 green chillies ,slit
4 shallots chopped
¼ tsp turmeric powder
½ tsp mustard seeds
2-4 Tbsp Coconut oil
a handful of curry leaves
Optional: green gram dal or tuvar dal or any dal of your choice.(precooked to aldente)




Method:
Cook and set aside the dal if using.
Peel off the outer petals of the banana flower to reveal a white inner flower.
Apply Coconut oil on hands before you begin to prevents banana glue stains.
Chop finely as shown and toss into a bowl of water till the whole flower is chopped.(All parts of the flower can be chopped up together).
Strain out of the water using your oiled hands and squeeze out the water.
Pour 1 Tbsp more oil and mix well with hands rubbing the chopped flower between your palms.
As you rub you will see the 'webby' fibers. Allow the  the cleaned portions to fall into a bowl as you continue rubbing.
You will be left with a small portion that is sticky with a web like fiber.Discard this portion.→Set aside.
Add 2 shallots to the grated coconut and Pound together.→Set aside.
Heat 1-2 Tbsp Coconut oil in a wok and splutter the mustard seeds.
Add curry leaves,2 sliced shallots and green chilly till aromatic.
Add the Prepared banana flower and stir fry for a couple of minutes.
Move to the sides of your wok,created a well in the centre.
Add a tiny amount of oil to which you add the coconut-shallot mix.
Cover up with the banana flower from the sides and cover the wok to steam for a minute.
Open and stir-fry all together, adding  salt. the cooked dal if using.
Cover and cook on low for 5-10 minutes.
Kodappan Thoran
Did you enjoy our Kodappan Thoran ?
Notes:
If you like the flavor of cumin, you can pound it with the coconut and shallots.
You May Also Like : Mildly Spiced,Slow Fried Chinese Potatoes – Koorka Mezhukkupuratti