20 April, 2016
Khandvi | Gujrati Besan Roll Snack Recipe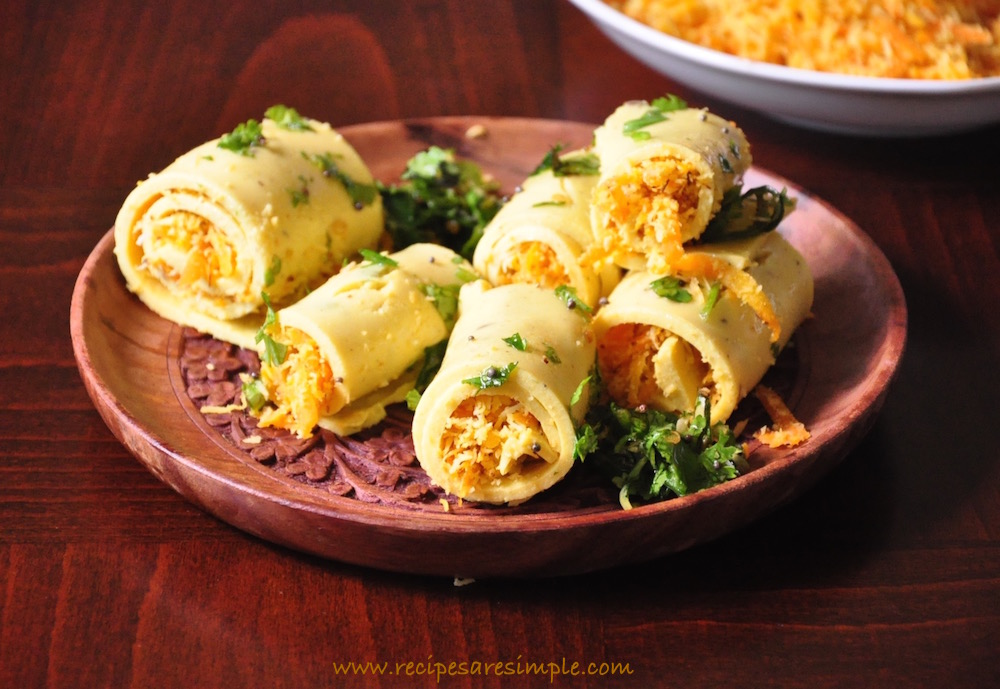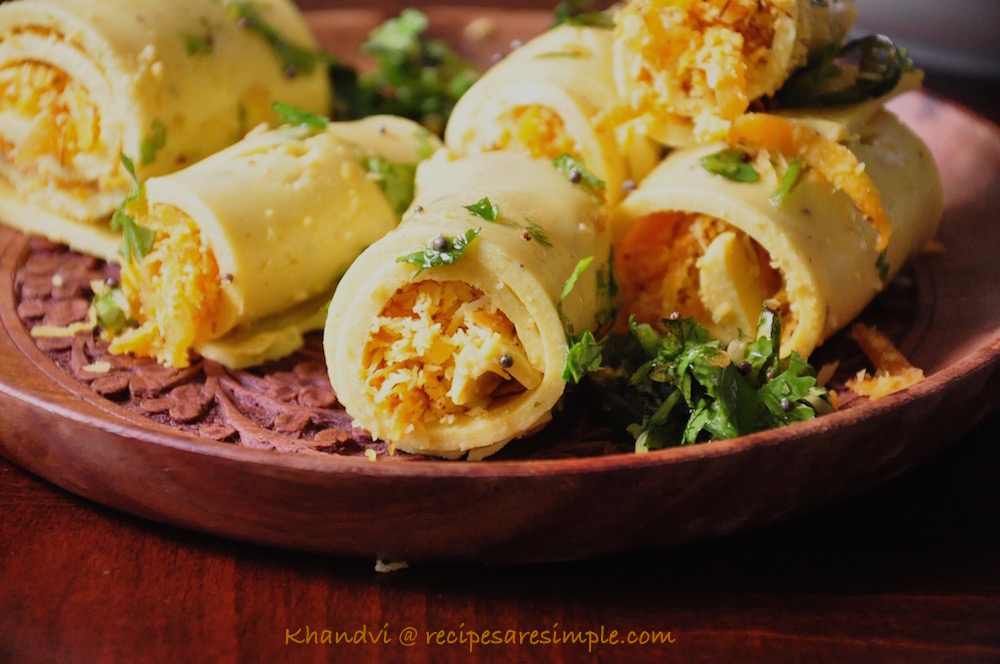 Khandvi | Gujrati Besan Roll Snack
Khandvi is a a Gujarati Snack Roll made of Chickpea Flour (Besan) and Buttermilk. It is really easy to make,  The super smooth rolls are filled with savory or sweet coconut filling and seasoned lightly. I love how smooth and soft the rolls are. They just 'dissolve' in your mouth! And the best thing is this recipe requires very little oil.. so you can add it to your list  of Healthy Snacks!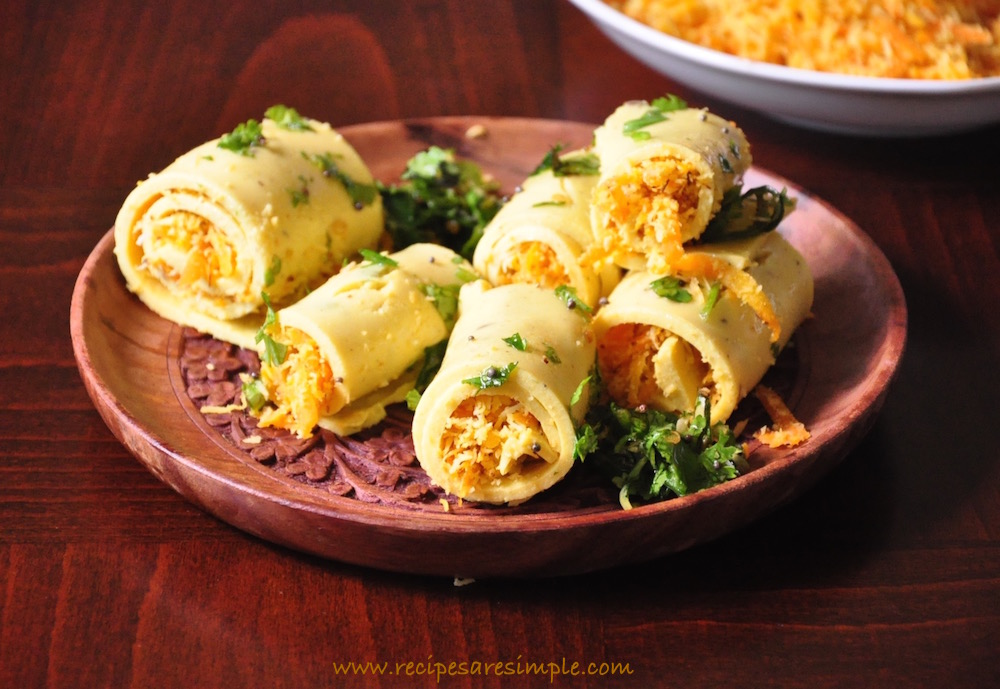 Khandvi | Gujrati Besan Roll Snack
You are here: Home > Snacks > Khandvi | Gujrati Besan Roll Snack
 

Recipe Name: Khandvi |Gujrati Besan Roll Snack

Author: Shana c/o Recipes 'R' Simple
Ingredients:
Batter:
½ cup chicken pea flour (besan) – use the finest quality fresh flour
1 ¾ cups buttermilk. (The buttermilk should be nice and thick and not too sour).
½ tsp coriander powder
¼ tsp turmeric powder
¼ tsp cumin seeds
¹/8 tsp asafoetida (hing)
1 tsp sugar
1 tsp salt
½ tsp ginger paste
½ tsp green chili paste
Filling:
1 carrot grated
½ cup grated coconut
¼ tsp cardamom powder
1 tsp dark brown sugar
pinch of salt
1 Tbsp oil
Tempering:
½ tsp mustard seeds
3 Tbsp chopped mild green chili (or to taste)
10 curry leaves
2 Tbsp chopped coriander leaves
1 ½ Tbsp oil
You will need 2-3 round thali (plates with flat bottom) or you can use a flat bottom large steel tray.




Method:
Add the chick pea flour  and buttermilk to a saucepan.
Whisk till smooth.
Make sure there is no batter sticking to the bottom of the saucepan.
Once smooth place on the stove and stir till you just start to see bubbles along the sides of the pan. Switch off the heat.
Now add all other ingredients listed under 'Batter'.
Return to heat, with constant stirring on medium heat for about 10 minutes, till nice and thick. Stir without beating up the batter to much, or it will burn on the sides of the pan. Smooth circular movements are best. Keep stirring from the bottom of the saucepan to prevent batter from sticking to the bottom as well.
You want to get a nice thick batter without lumps.
Grease the bottom of 2-3  thalis (steel plates) or large tray.
Take a small amount of the batter first to check if its ready.
Spread a small amount of batter on the greased that underside.
Allow to cool slightly (I put i near a table fan). And then check to see if the sides roll up with a finger. If it doesn't roll from the sides and is still sticky.. Keep cooking for another 2 ors o minutes and then check again.
Below the batter is still too sticky and not rolling up.
Spread the batter when read smoothly with a flat steel spatula (katori), that has also been greased.
Spread the batter and thinly as possible while staying even. Use all the batter at the same time on 2-3 thali's. Once dry they will cause the sheet to be too lumpy.
Allow to cool  thoroughly. When read to be rolled, cut the sheet into even sized strips.
Meanwhile, make the filling:
Heat the oil in a non stick pan and cook the grated carrot with the coconut for about a minute. Add cardamom powder, brown sugar and a pinch of salt.
When the spread batter has cooled enough to be rolled, cut vertically intto equal sized strips.
Place a small amount of the filling on the edge of each strip.
Now, using gentle fingers, roll the strips up one by one. Use gentle pressure only so that the rolls do not break.
If you want very small rolls, you can cut half way and add filling for the next roll.
(I prefer to roll 1 strip into 1 roll).
Place all the rolls gently on serving platter.
Tempering: Heat  oil in same non stick pan used earlier. Splutter the mustard seeds. Add the green chillies and curry leaves.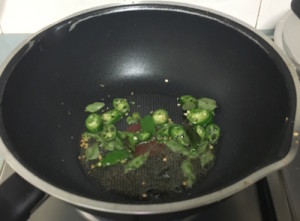 When everything  has spluttered, turn off the heat and add the coriander leaves.
Pour over the rolls to season them.. and you are ready to enjoy these deliciously simple rolls!
Khandvi | Gujrati Besan Roll Snack
Incase you do not have Buttermilk, you can use ¾ cup yoghurt, whisked with 1 cup water.
Key Ingredients: d
Leave a comment if you tried – Khandvi | Gujrati Besan Roll Snack.