1 July, 2014
Kerala Chicken Curry – Thattukada Chicken Curry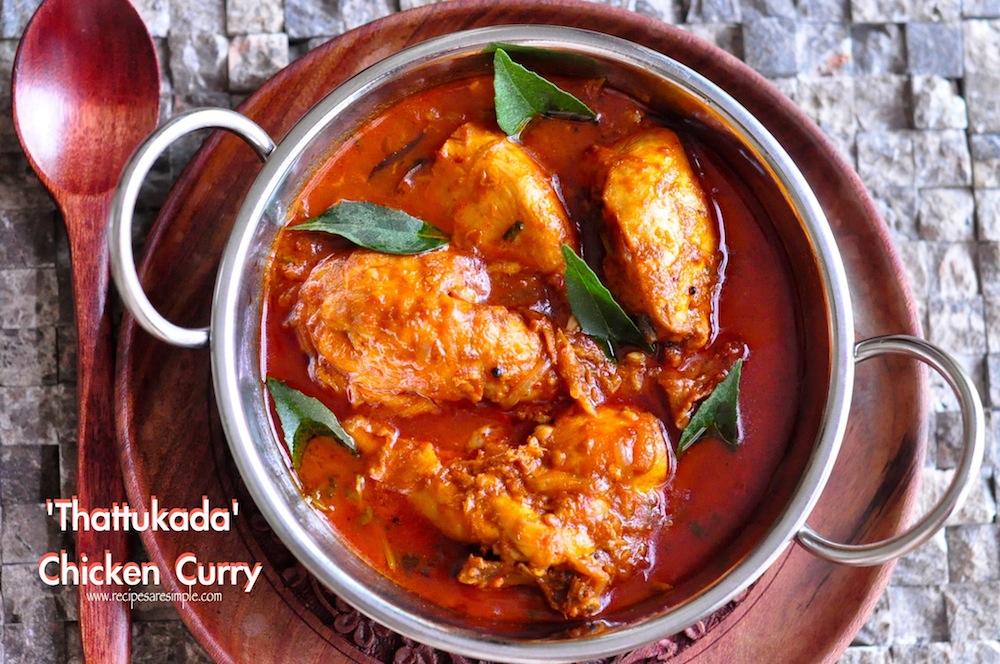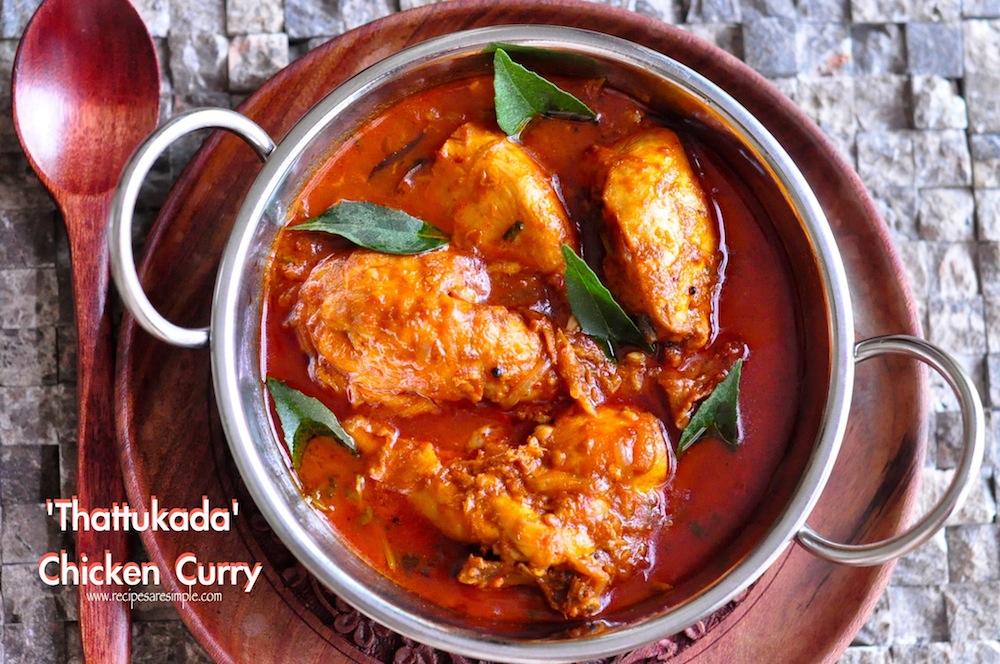 Kerala Chicken Curry –  'ThattuKada Chicken Curry'
  This is a nice and spicy Kerala Nadan Chicken Curry. You can make it as spicy as you like or cut down on the chilli flakes to keep the heat to a medium. My recipe for Thattuakada Chicken Curry is only moderately spiced. 'Thattukada'– The typical Street Hawkers of Kerala often fry the chicken that has been marinating the night before lightly before making their curries.  Thattukada Curries and dishes are often soo tasty!  I have only been lucky to try these dishes a few times in my life, while I was younger and traveling. If you do get the chance to travel to Kerala, I urge you to take a chance on the Humble 'Thattukada' and not to be too prissy about it! :). Scroll down for Video.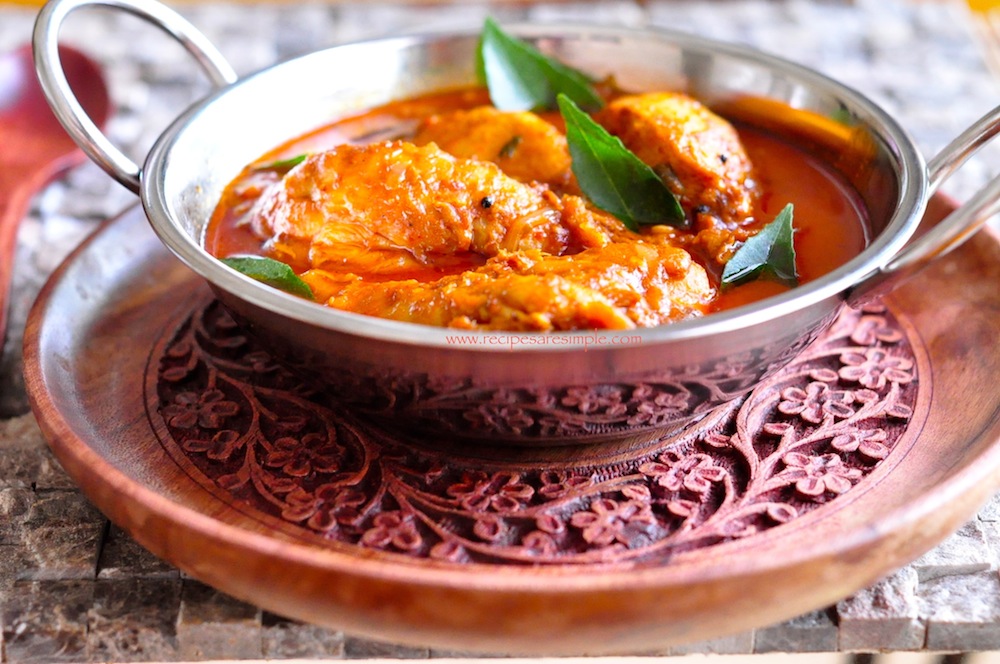 Kerala Chicken Curry –  ' ThattuKada Chicken Curry '
Recipe Type: Curry / Chicken / Kerala

Author: Recipes 'R' Simple

Prep time: 

Cook time: 30

Total time: 1hour

Serves: 6
Ingredients for Thattukada Chicken Curry:
1 kg chicken, skin removed, cut into small  pieces on the bone
Oil for frying the chicken in batches plus for making the masala. (For authenticity, coconut oil is best)
For marinating the chicken:
2 Tbsp finely crushed ginger / ginger paste
1 Tbsp vinegar
1 tsp salt
1 tsp Chicken Masala or Meat Masala powder of choice (Like Nirapara Brand Meat Masala)
1 tsp Turmeric powder
½ tsp Garam Masala ( see our Kerala Garam Masala Recipe)
1 Tbsp or more if you like it spicy – Finely crushed Dried Chilli Flakes
For the masala:
¼ tsp mustard seeds

pinch of fenugreek seeds

2 Tbsp crushed ginger
2 Tbsp crushed garlic
2 Tbsp, sliced green chilli (mild)
2 Tbsp curry leaves
4 medium onions, sliced
2 medium tomatoes, chopped
2 Tbsp coriander powder
1½ – 2 Tbsp mild chilli powder (bright red)
salt to taste (1 – 2 tsp)
1 -2 cups hot (boiled) water
2 handfuls of coriander, chopped
a dash of black pepper powder for final seasoning
Method: Thattukada Chicken Curry
Rinse the cleaned chicken pieces well. Drain till all water is removed.
Marinate the chicken – first with the vinegar, ginger and salt. Allow to sit for 15 minutes.
Now add the remaining marinade ingredients (turmeric,meat masala,garam masala and dried chilli flakes. Rub well into the chicken and allow to sit for another 15 minutes. 

While the chicken is marinating, chop up all other ingredients.

Place a wok or pan on one burner of your stove and fill enough oil to fry the chicken in 3-4 batches. Place another pot (urulli) on another burner to make the masala.
When the oil for frying is hot enough, add chicken in batches without overcrowding. Leave the chicken breast portions  till the last batch. Fry the other parts first.

( chicken breasts cook faster so it's better to fry them together ,separately). 

We do not want to completely cook the chicken, only to get a nice golden brown skin and partially cook the chicken. set aside the half fried chicken and continue with remaining batches.

(Set the fried chicken in a plate – do not drain- we want too use any drippings that are released from the fried chicken).

Meanwhile, heat around 3 Tbsp of oil in the 'uruli'. Add the mustard seeds and fenugreek once the oil is hot. Allow to crackle.
Add the ginger, garlic, green chilli and curry leaves. Allow to soften without changing color.
Add the sliced onions now. Saute slowly, patiently on medium heat till the onions are reduced considerably to a golden, soft mixture.
Add the tomatoes now and allow to cook down as well.
Add the coriander powder and chilli powder to a small bowl. Add enough water to make a smooth paste. Stir well.
Add this to the cooked  onion tomato masala and stir well till cooked, splashing a little water as needed to prevent any browning.
Wash out the bowl of spice powder and add the boiled hot water.
Allow to boil. Then simmer. The oil will separate and appear on top.
Add salt to taste.
The first few batches of chicken should be fried and kept aside by now. Add this to the simmering curry. (Along with any accumulated juices from the fried chicken)
Only add the fried breast portions of the chicken 5 minutes after the other portions have been simmering.
Once all chicken is added, cover and turn heat down to medium low.
Simmer and cook gently for 10 minutes.
Open. Add coriander leaves and a dash of pepper last.
Keep covered for at least 30 minutes before serving.
The color of the curry deepens after it has rested a while.
Kerala Chicken Curry –  ' ThattuKada Chicken Curry '
Try it and let us know – Kerala Chicken Curry –  ' ThattuKada Chicken Curry ' .
 Dried Chilli Flakes are available in the spice section or you supermarket. You can also make your own. Dry roast dried red chillies (I like the milder variety) for 2 minutes, stirring constantly and then grind in the small jar of your mixer to a fine flaky texture.
Thattukada chicken curry is often quite spicy. Add chilli flakes as desired.