5 May, 2014
Kudampuli Meen Curry – Kerala Fish Curry with Gambooge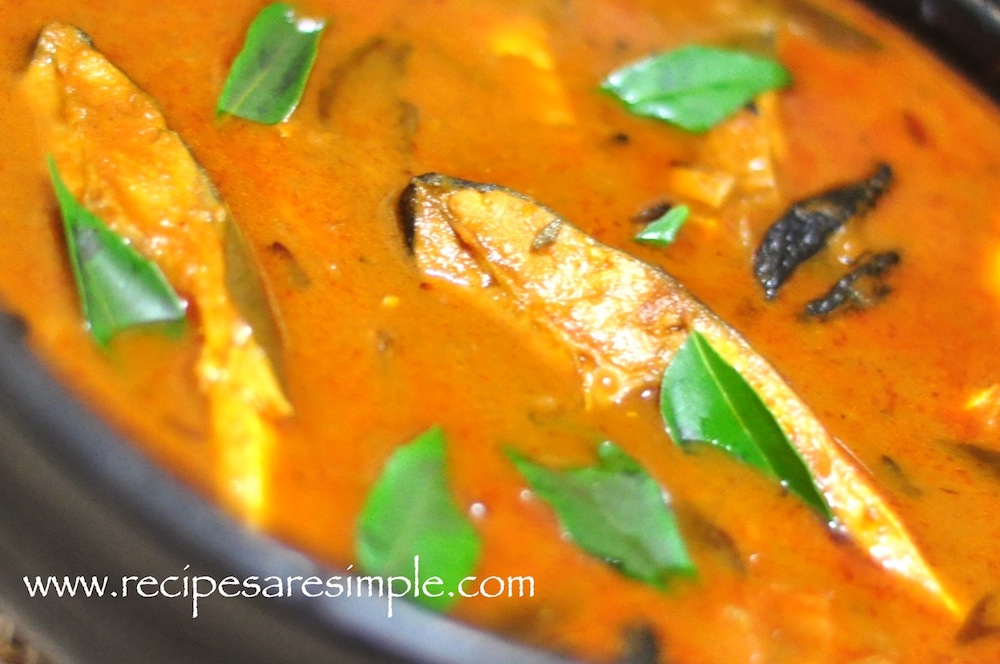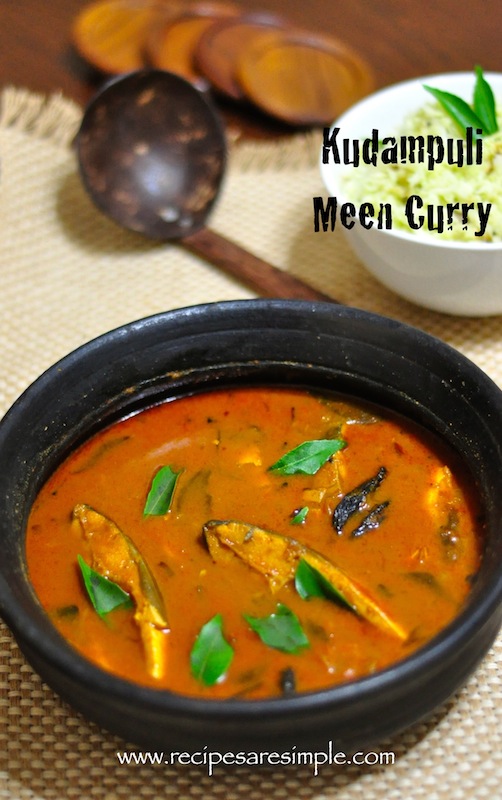 Kerala Fish Curry with Gambooge – Kudampuli Meen Curry
'Ayala porichathundu, Karimeen varuthathundu Kudampuli ittu vecha Nalla Chemmeen Curry Undu…..'
These lines from an old Malayalam song are enough to get any Keralite craving for a Mouth Watering Fish or Prawn Curry. This  Kudampuli Meen Curry  is made delicious with  spices and the smoky, sour taste of the 'Gambooge' , ' Fish Tamarind' or 'Kudampuli'- translated – 'Pot Tamarind'.
This fruit, which is dried by smoking, adds a depth and aroma to Kerala  fish curry that is irreplaceable. Tamarind is also used for the 'sour factor' in fish curry and can be replaced if you do not have this. This curry is a home style Kerala Fish Curry that always satisfies. It's quite easy to prepare once you have peeled a bowl full of shallots – yes lots of shallots! I just had this for lunch with rice and Cabbage Thoran and was feeling particularly fulfilled and content. Everyone helped themselves to seconds and my Clay Pot – 'Kudam' was left empty. I was rather hoping for some to be left over to have with Puttu in the morning. Oh well! 🙂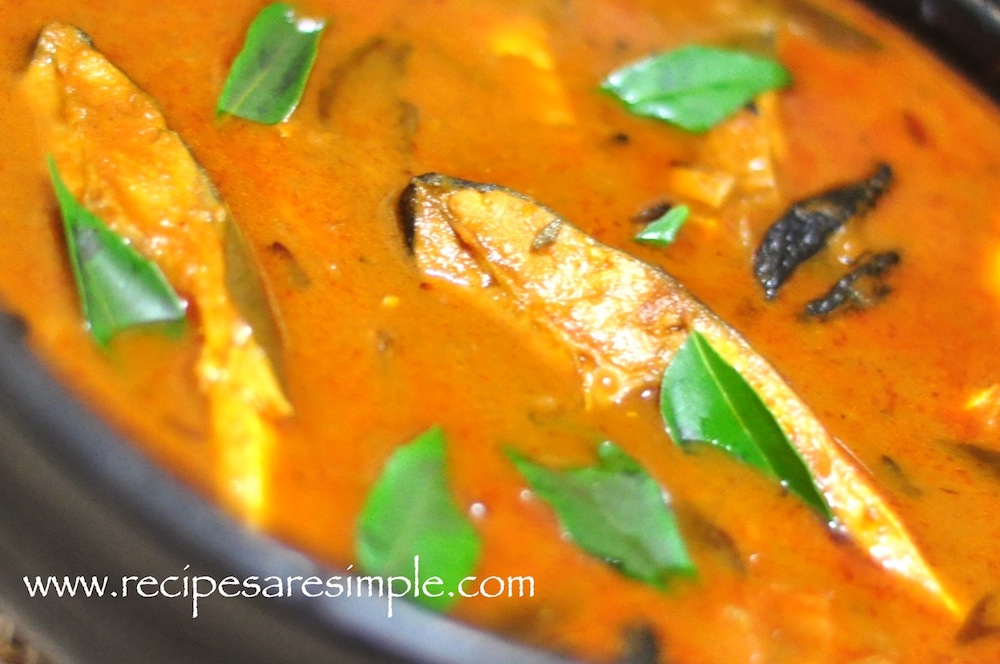 Kerala Fish Curry with Gambooge – Kudampuli Meen Curry
Recipe Type: Fish/ Seafood Curry /Kerala

Author: Recipes 'R' Simple

Prep time: 20

Cook time: 20 

Total time: 40

Serves: 5
Ingredients for kudampuli meen curry:
5 -8 fillets of good firm fish like King Fish. (Around 800 gms)
1 ¼ cup shallots
1 Tbsp garlic, sliced
1 Tbsp ginger, sliced
1 large handfull of curry leaves
2 tsp hot chilli powder ( Cayenne)
1 tsp mild chilli powder (Kashmir)
½ tsp turmeric powder
a pinch of fenugreek (methi seeds)
2 pieces (segments) of Kudampuli / Fish Tamarind
¼ cup oil – Authentic curry would require coconut oil
salt to taste – around 1 ½ tsp
¼ tsp sugar for balancing
2½ – 3 cups water
Method:
Peel the shallots, garlic and ginger. wash all and drain. Slice ½ the amount of Shallots.
Roughly chop the remaining shallots, garlic and ginger –

these will be ground to a paste later. 

Rinse the fish tamarind. Soak in a bowl of hot water.
Scale fish. Clean thoroughly and cut into nice fillets of ¾ " or so.
Scrub the fish with a good amount of salt. Then rinse well again.

This helps to remove the fishy odor as well as slimy texture.

Leave to drain.
To a small grinder jar, add the garlic and ginger and a dash of water. Grind to a paste.
Once the ginger and garlic is ground well, add the remaining ½  of the the shallots and grind again, adding a dash of water if needed.  Also add the chilli , turmeric powders ad grind to a smooth wet paste. You can a dash of water at a time to aid in the grinding process but do not add too much water  from the start.
Add the coconut oil or oil of choice to a clean earthen pot –

'man chatty' and heat. 

Add the fenugreek seeds and when they sizzle, add the sliced shallots.  Stir and cook on medium heat till the shallots are beginning to become golden.

I usually grind the ginger, garlic and shallot paste while these shallots are cooking.

Add the smooth, ground paste and stir. Stir well for a good 2-3 minutes on low- medium heat. The spices should not burn. But the raw smell should dissipate slowly. When the oil separates and appears on top and the paste moves together in one mass in the pot, the paste is cooked well. This can take 3-4 minutes.
Now add the curry leaves, – a good amount- and stir till you can smell the curry leaves distinctly.
Add water and fish tamarind and bring to boil. Add salt.
Next add the fish pieces and bring back to a boil.
Add sugar. – this helps to balance the flavors.
Cover the pot, leaving the lid slightly open on one side and cook on low to medium  continuous simmer for 10 minutes or till the fish is cooked and the curry thickens.
Cover completely with the lid and turn off heat. Leave like this for at least 30 minutes.

(Very Important!)

Then open, crush a couple of curry leaves and add to the curry as well .
 Serve with hot rice and your choice of vegetables.
Kerala Fish Curry with Gambooge – Kudampuli Meen Curry
Try it and let us know – Kerala Fish Curry with Gambooge – Kudampuli Meen Curry .
Notes on kudampuli meen curry: 
Same curry can be made with Prawns as well.
Kudampuli Meen Curry tastes even better the next day.
The earthen pot is great because you can store this fish curry in it, without refrigeration till the next day. Since no coconut milk is used, the curry will not go bad. Simply reheat and simmer  before serving.
The most important step in cooking this curry is the cooking of the ground paste. Be patient. You need to ensure the paste is thoroughly and perfectly cooked without any hint of burnt flavor, so keep the heat to a medium always.