5 July, 2013
Kerala Chicken Roast – Chicken Roasted with Mild Chilly Powder- Molagu Chertha Kozhi Roast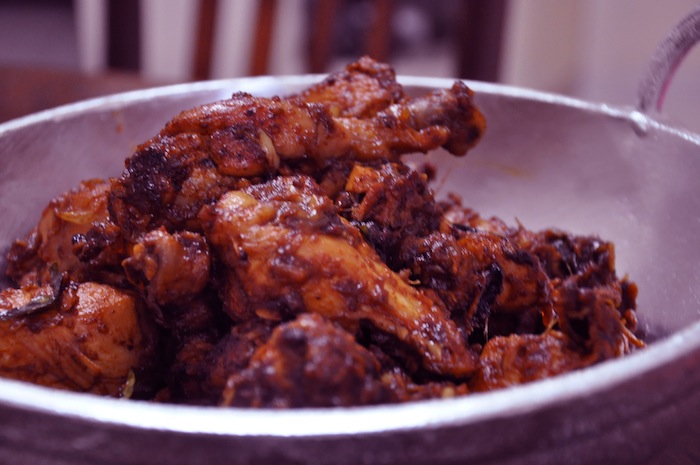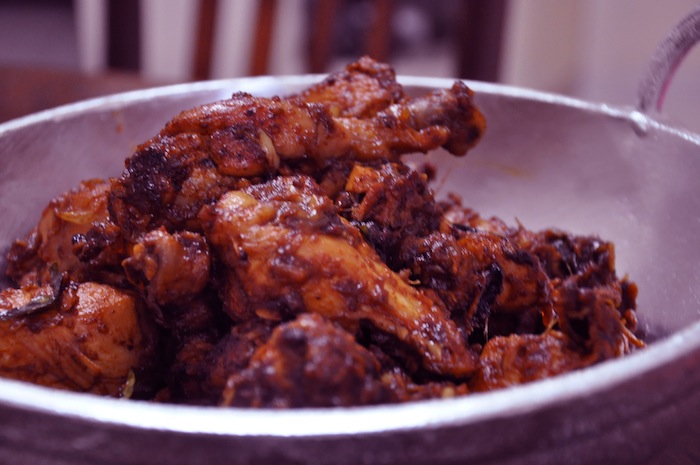 Kerala Chicken Roast
Chicken Roasted with shallots, garlic, ginger and Kashmir Chilly Powder (less heat than Cayenne).
Slowly roasted over low heat. This semi dry preparation of chicken is so tender and delicious.
Serve with rice, roti and any curried gravy of your choice .
The same method can be used for beef. Just cook the beef with the marinate ingredients first, allow the water to evaporate and then continue to roast as for chicken.

Kerala Chicken Roast
Cuisine: Indian
Author: Recipes 'R' Simple
Marination/ Resting Time : 1 hour 15 minutes
Prep time: 
Cook time: 
Total time: 
Serves: 4
Ingredients:
1 Kg Chicken cut into small to medium pieces
1 cup shallots, roughly crushed in a mortar or chopped
½ cup garlic, roughly crushed
1 large knob of ginger, peeled and roughly crushed
2-3 stalks curry leaves
3 Tbsp + 4 tsp +1 tsp Kashmir Chilly Powder( mild heat); to be added at 3 different stages.
Coocnut Oil, Salt to taste




Method:
Take 2 tsp each of the crushed shallots and garlic and grind to a paste.
Marinate the chicken with this paste as well as 1 tsp salt, 4 tsp Kashmir chilly powder,  2 tsp of the crushed shallots,1 tsp of the crushed garlic and 1 tsp of the crushed ginger→ 1 hour.
In a heavy bottomed pot,skillet or wok, heat enough coconut oil to saute the remaining shallots, garlic and ginger well without burning.
Add the ginger then garlic → saute 5 seconds till softened.
Add shallots and saute well stirring, till you get a nice thickened golden mixture (2- 5 minutes).
Add curry leaves and stir.
Now add the marinated chicken and stir  well till nicely coated with the sautéed ingredients.
Cover and allow to cook on medium low heat. Open every 2- 4 minutes and give it a good stir. The moisture will come out from the chicken. Keep repeating the procedure

(cooking covered, stirring every 2-4 minutes)

till the extra water evaporates.
Add 3 Tbsp of the Kashmir chilly powder and stir well again. Cook till the spice is aromatic and the semi-dry gravy remains somewhat moist.

(Do not over cook and dry out the chicken)

Turn off flame.
Heat 1 Tbsp Coconut oil in another small pan. Sprinkle 1 tsp Kashmir chilly powder – allow to sizzle and quickly add to the cooked chicken. Keep covered for 10 minutes before serving. Yum!
Did you enjoy our Kerala Chicken Roast ?
Kerala Chicken Roast Goes well with Pathiri (Kerala Rice flour Roti) and Coconut Milk