23 October, 2013
Kerala Chicken Curry For Appam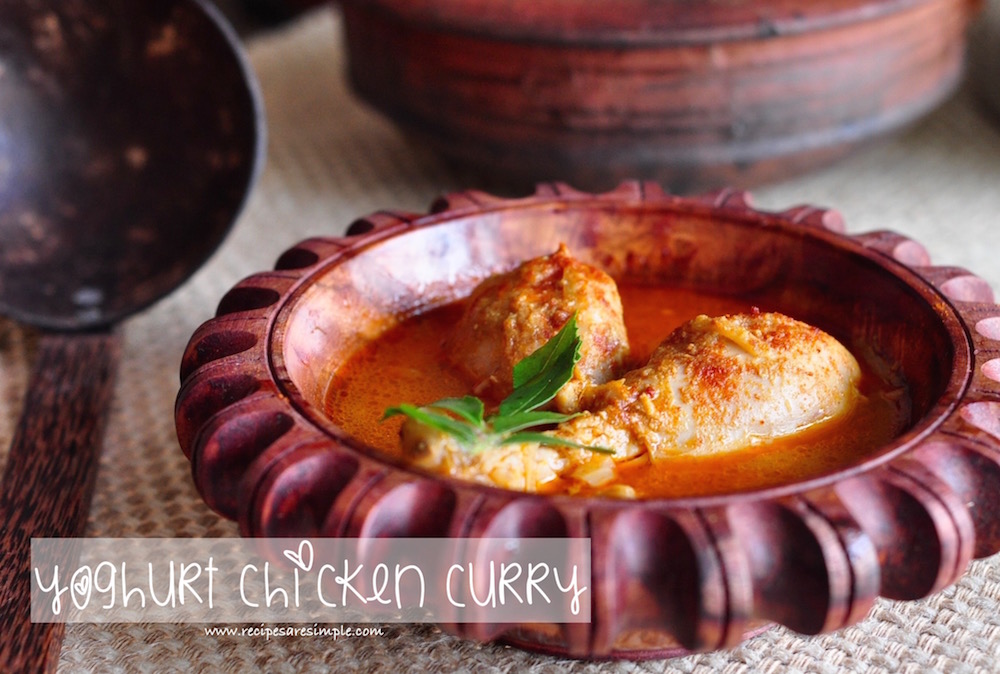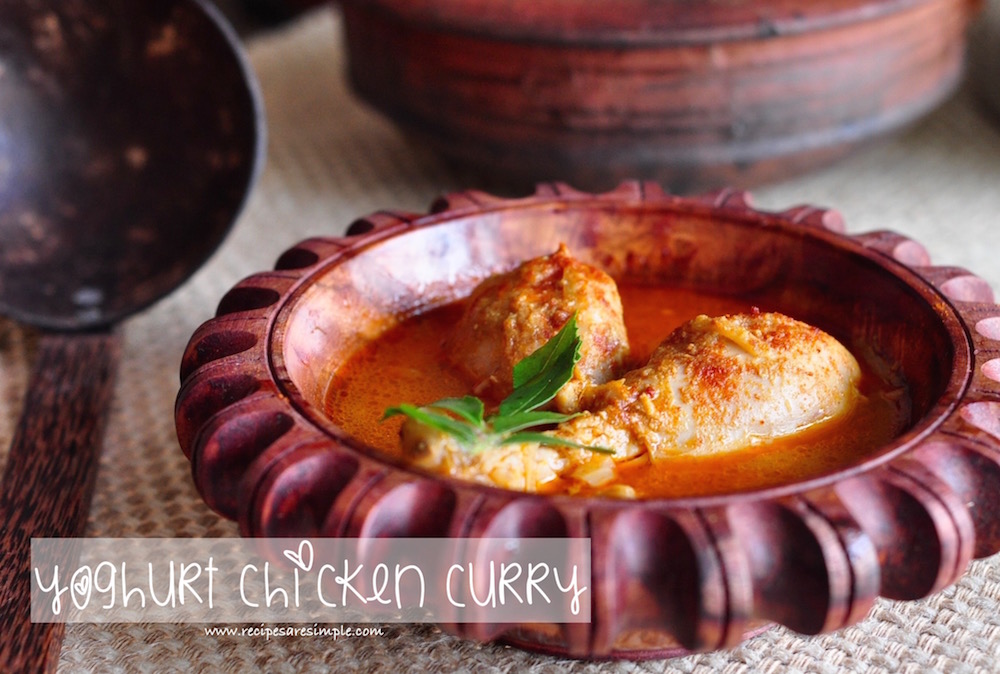 Kerala Chicken Curry For Appam
This is a lovely light chicken curry. No coconut milk, no heavy spices. The addition of some yoghurt for the 'Sour Factor' & fragrance lent by the  coriander powder and  fenugreek is all it takes to make this curry which is a perfect combination for Kerala Appam. This recipe is my adapted version from a friend who has been with me for a long time in this journey called life – Rejin Mathew. 





Kerala Chicken Curry For Appam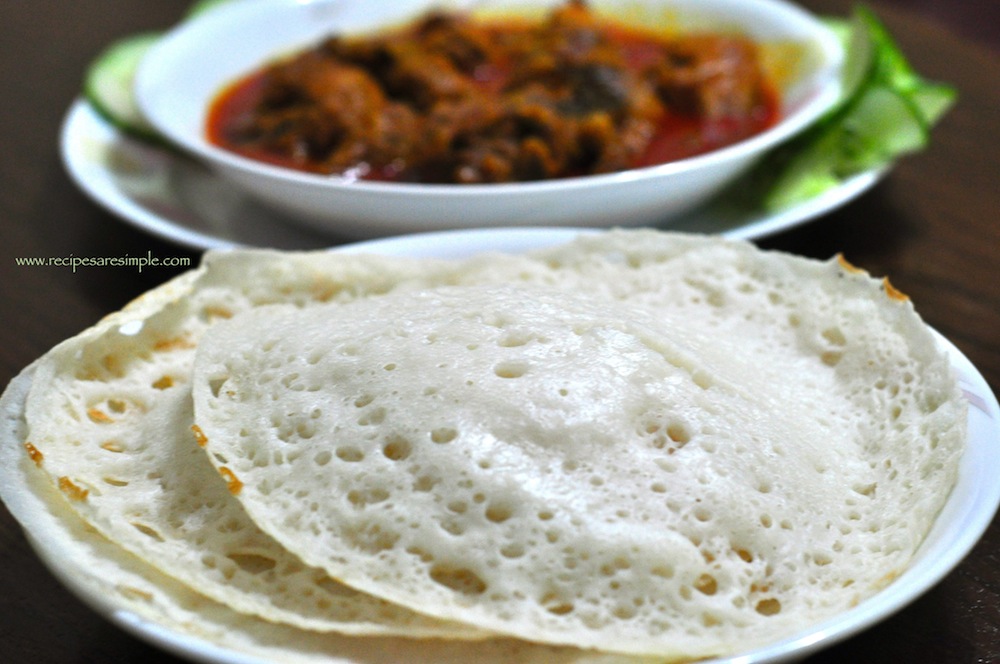 Author:
Prep time:
Cook time:
Total time: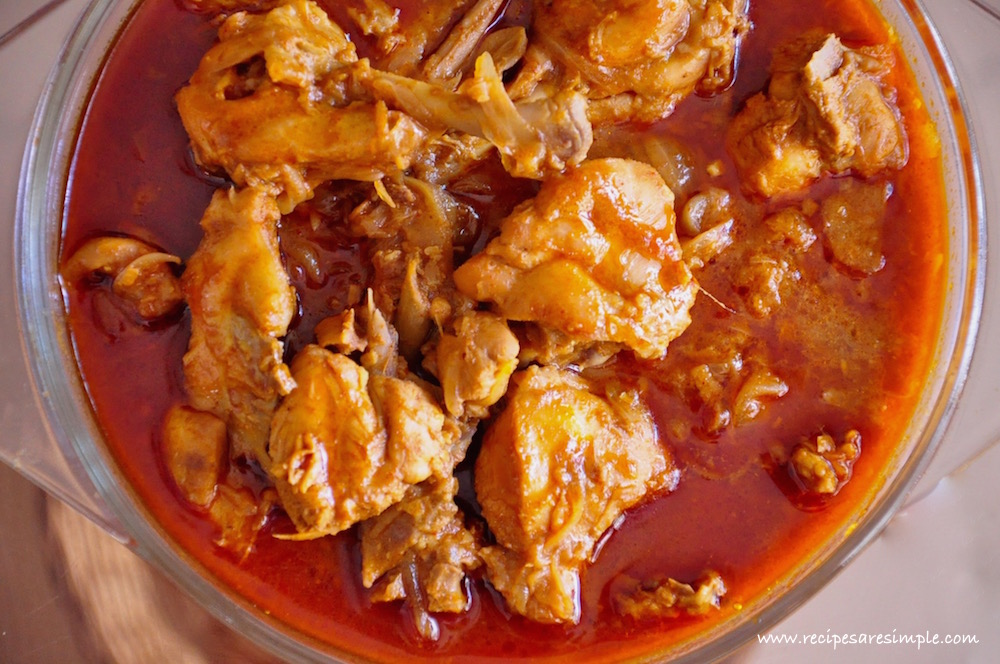 Ingredients:
Marinate:
1 kg  Chicken, skinned ; cut into medium sized pieces
¼ –  ½ cup yoghurt
1 tsp salt
Grind to a fine spice powder:
2 Tbsp Coriander Powder+ more as desired
1 Tbsp Chili Powder  + more as desired
¾ tsp fenugreek seeds
5-6 cashewnuts
Other:
3 Tbsp Ginger Garlic Paste – (1 1/2 Tbsp each of ginger and garlic, pounded together to a course paste)
3 – 5 Tbsp Oil
4 large onions, sliced finely
½ tsp turmeric powder
¼ cup yoghurt, whisked
Method:
Marinate the cleaned, rinsed and drained chicken with the yoghurt and salt  while you prepare all the other ingredients.
Grind the dry spices first: Coriander powder, Chili Powder, Fenugreek Seeds and cashew nuts to a fine powder and set aside.
In the same grinder jar, Grind the ginger and garlic to a smooth paste. Set aside in a non-metallic plate. (OR POUND the ginger and garlic using pestle and mortar for better results).
I like to mix together the ginger garlic paste and the spice mixture, adding 1/4 cup of water to make a nice smoother paste.
Add oil to a heavy bottomed cooker/pot and add the onions. Add turmeric powder and saute well till the onions are soft and translucent.
Next , on medium flame add the ginger garlic paste  (OR THE MIXED PASTE) and saute well, stirring continuously, till the raw smell of garlic is no more.
Now add the spice powder and stir well, sprinkling a little water so that the spices do not burn. Cook till aromatic.
Add the marinated chicken and toss well in the spice mixture and fry for or few minutes, gently tossing to coat evenly.
Add more salt to taste as needed, and curry leaves (optional).
Bring to a boil. At this point I will add some more chili powder and coriander powder till I get a good color and consitency 1 – 2 Tbsp as desired. Add a 1/4 cup beaten yoghurt and mix well.
 (You could cover and cook on low till chicken is cooked. This would require additional water).
But I prefer to pressure cook. Cook on high till first steam whistle. Lower heat and then turn off flame BEFORE the third steam whistle. Leave to cool completely before opening. This keep the chicken nice and moist, while retaining maximum gravy.
Kerala Chicken Curry For Appam
Did you enjoy our Kerala Chicken Curry For Appam ?
 This curry needs to sit a while IN THE CLOSED COOKER for the flavors to combine and the curry to thicken a bit.
I like to fry the chicken and onions in the spice mixture in a wider pan initially, before adding it the pressure cooker. (Refer Video).