18 May, 2015
Kerala Beef Cutlet Recipe – Beef Tikki – Beef Croquette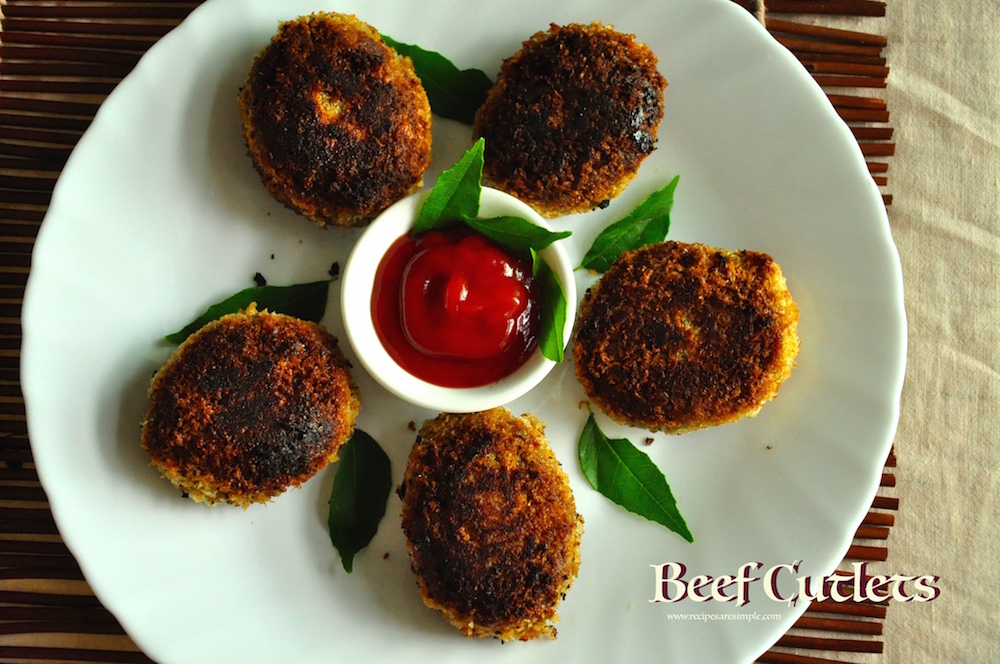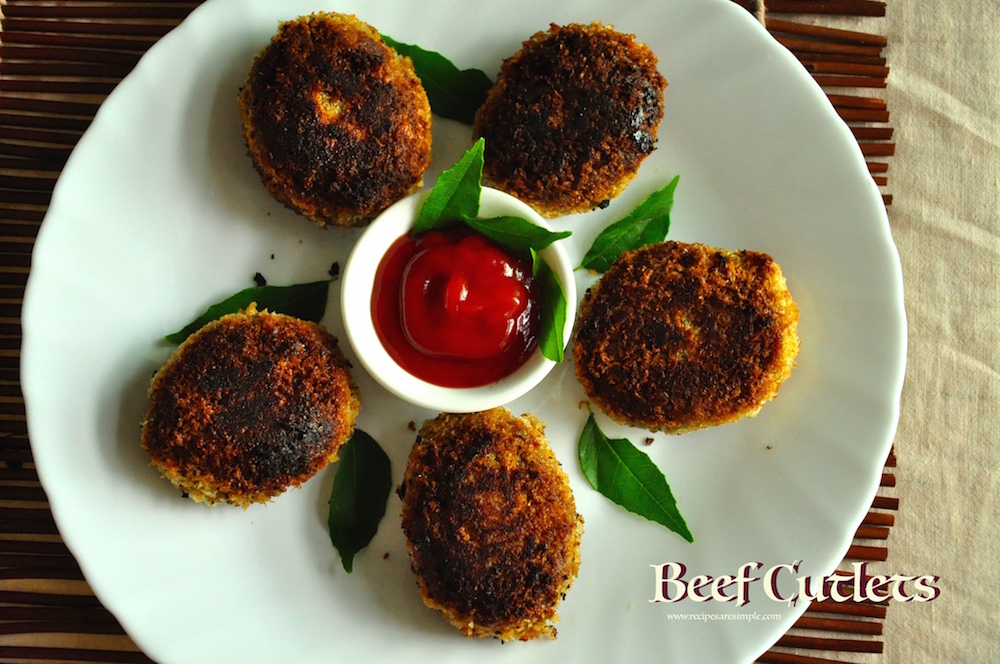 Kerala Beef Cutlet Recipe – Beef Tikki –  Beef Croquette
One of the most popular finger foods in the gorgeous State of Kerala –  Beef Cutlet, is often served at tea time with some tomato sauce or hot sauce. It is even great for lunch along side rice! You may know a cutlet by other names like Tikki's and Croquette's. This is the delicious Kerala Style Cutlet – A crisp crumb coating encases an almost fluffy an light beef and potato 'mash up'.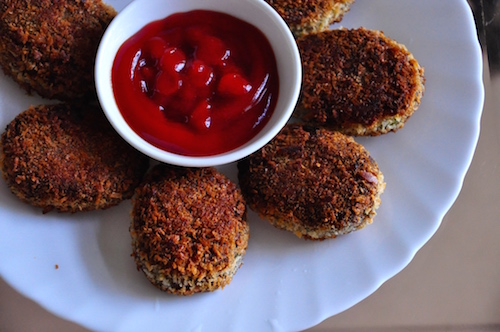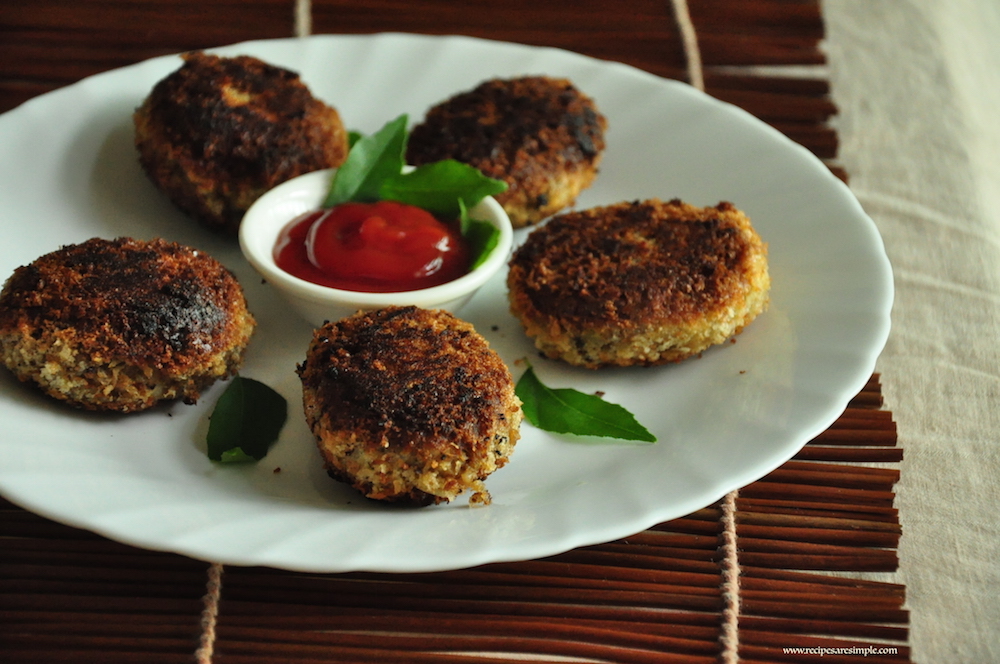 You are here: Home > Beef & Mutton  > Kerala Beef Cutlet Recipe
 

Recipe Name:Kerala Beef Cutlet Recipe – Beef Tikki –  Beef Croquette

Recipe Type: Beef / Appetizers / Snacks

Author: Shana c/o Recipes 'R' Simple
Kerala Beef Cutlet Recipe – Beef Tikki –  Beef Croquette



Ingredients:
400 gms beef cubes
4 large potatos – don't use the sweeter potato varieties
1 egg or 2 egg whites
3 – 4 Tbsp coconut oil
1 cup fresh bread crumbs made from 4 slices of white bread
Oil for shallow frying (about a quarter cup)
(To cook the beef)
1 tsp coriander powder
1 tsp chili powder (mild)
1 tsp garam masala powder (see my garam masala recipe)
½ tsp turmeric powder
¼ tsp pepper powder
¼ tsp aniseed powder / perumjeerakam
½ tsp salt
To prepare the filling:
¾ cup shallots, chopped finely
3 Tbsp ginger, chopped finely
1 ½ Tbsp garlic, chopped finely
2 long green chillies or more if you like

(I prefer to deseed them)

1 Tbsp (scant) curry leaves, finely chopped
2 Tbsp Coriander leaves, finely chopped
2 tsp chili powder (mild)
3 ½ tsp garam masala
½ tsp aniseed / perumjeerakam
¼ tsp turmeric
¼ tsp pepper

 

½ tsp salt or to taste
Method:
Rinse the beef thoroughly.
Add all ingredients for cooking the beef to a pressure cooker with around ½ cup water.
Pressure cook for 15 steam whistles. Cool under running water and open the cooker.
Check if the beef is cooked.
Continue to cook, uncovered till the water runs dry.
Process fresh white bread slices briefly to get fine crumbs.
Use a processor or small grinder and pulse – process till you get fine  fluffy shreds  like floss or wool.

Do not over process or you is making meat paste.

 Wash out the pressure cooker, add the potatoes and pressure cook till tender cooked and mashable. About 8 steam whistles. Drain for a while to remove all water.
Mash well. Set aside.
Beat egg well. Set aside
Heat coconut oil.
Add shallots, ginger, garlic and green chili.
Saute well till the ingredients are softened. and just turning brown.
Add chili powder, garam masala, turmeric, pepper and aniseed powders, still till coked and aromatic –

briefly, to avoid burnt smell of spices.

Add the meat floss.
Add the mashed potato and mix well. I like using two woden forks to do this. (Also add more salt to taste).
Add the fresh coriander leaves and chopped curry leaves now. Stir to mix.
Note the that potatoes should not have any water in them.  It should come together in  a tight mixture.
Wet hands lightly and form small patties / cutlets.
Dip each cutlet in egg mixture.
 Coat in breadcrumbs 

– using one hand for dipping and the other for coating. This prevents a clotted crumb coating

.
Place on a tray in the freezer for 10 minutes or so till slightly firm.

(You can choose to freeze them completely at this stage as well. Once frozen, remove the cutlets from the tray easily and put them in a freezer bag for later use. See notes)

After the cutlets are slightly firm, add oil to a shallow frying pan.
Place the cutlets in the oil before it gets too hot.
Cook on a medium sizzle till the bottom is a dark golden brown.
Carefully turn each cutlet and repeat on other side.
Drain on kitchen paper towels. Serve with  chili sauce or ketchup!
Kerala Beef Cutlet Recipe – Beef Tikki –  Beef Croquette
 If you do not have egg, you can also mix cornflour with water to a loos paste like consistency and use this to dip the cutlet, before breading.
Although I use coconut oil for sautéing the filing, i prefer sunflower oil or bran oil for shallow frying.
If you are freezing the cutlets or a portion of cutlets for further use, there is no need to defrost them. Heat oil gently in pan. Add the cutlets before the oil is too hot and cook them on a low heat with a constant gentle sizzle. Turn over and repeat on the other side. Keep the heat on low so that th
Key Ingredients: Beef, Potato Shallots, Ginger, Garlic, Spices,Coconut oil, Curry leaves, Coriander leaves
Let us know if you tried it – Kerala Beef Cutlet Recipe – Beef Tikki –  Beef Croquette . Comments from you provide motivation to keep up the driving force behind this blog, bringing you more delicious and perfected recipes regularly. Please do leave a comment. We love to hear from you.