19 April, 2016
Karikku Pudding | Tender Coconut Pudding Recipe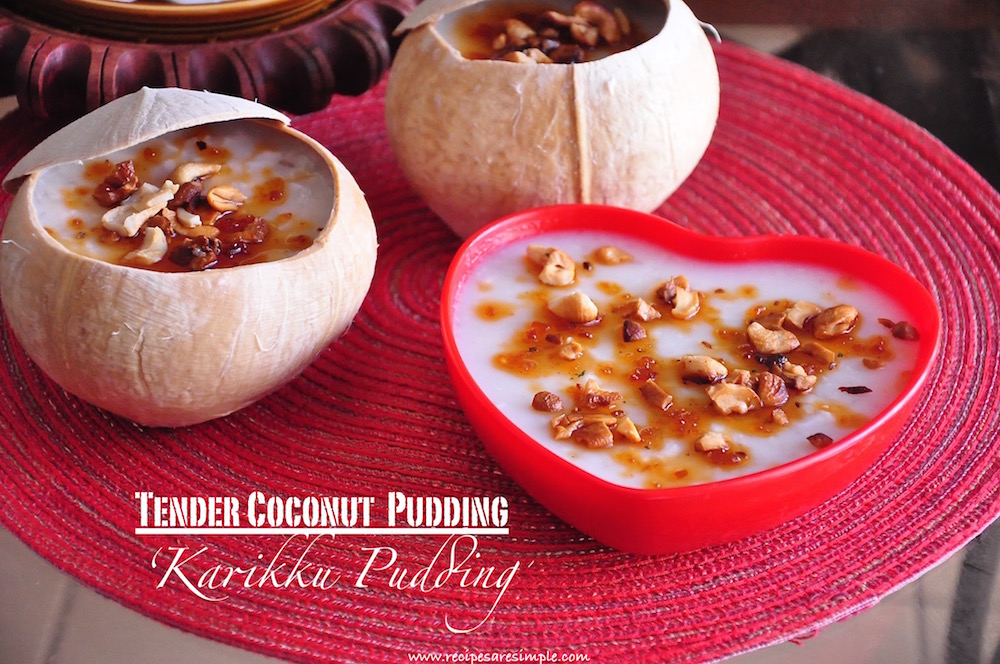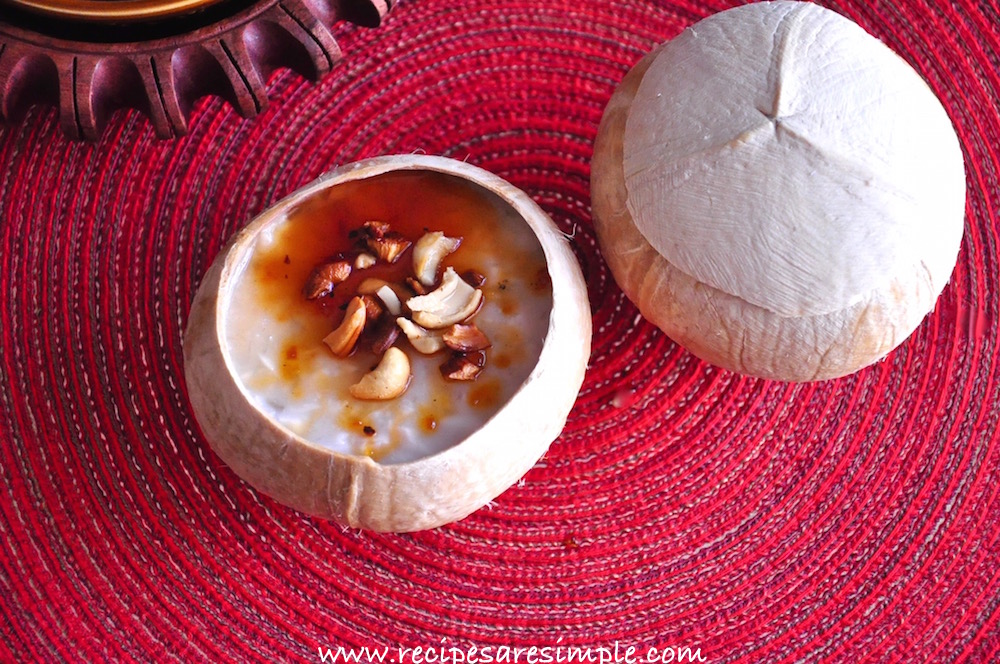 Karikku Pudding | Tender Coconut Pudding Recipe
When the going gets Hot! The hot get Pudding! This ' Karikku Pudding '  or Tender Coconut Pudding is the perfect dessert for the hot weather we are experiencing in my part of the world right now! Chilled, Smooth Deliciously Coco-nutty and Creamy Pudding!
Personally, I am not too happy when the weather is extremely hot and humid. I get moody and irritable..and if it's a day when the girls are not co-operative, I tend to go crazy and then some!
So today, I decided I would have this pudding with the girls when they came home from school. It was chilled the previous night. After lunch, we had the pudding together and the two enjoyed the smooth chilled dessert happily. Just what I needed too, to cool down!
This is my mom's recipe, which is always a hit when she makes it. I think, I called her a dozen times with various doubts while making it. Thank you Umma!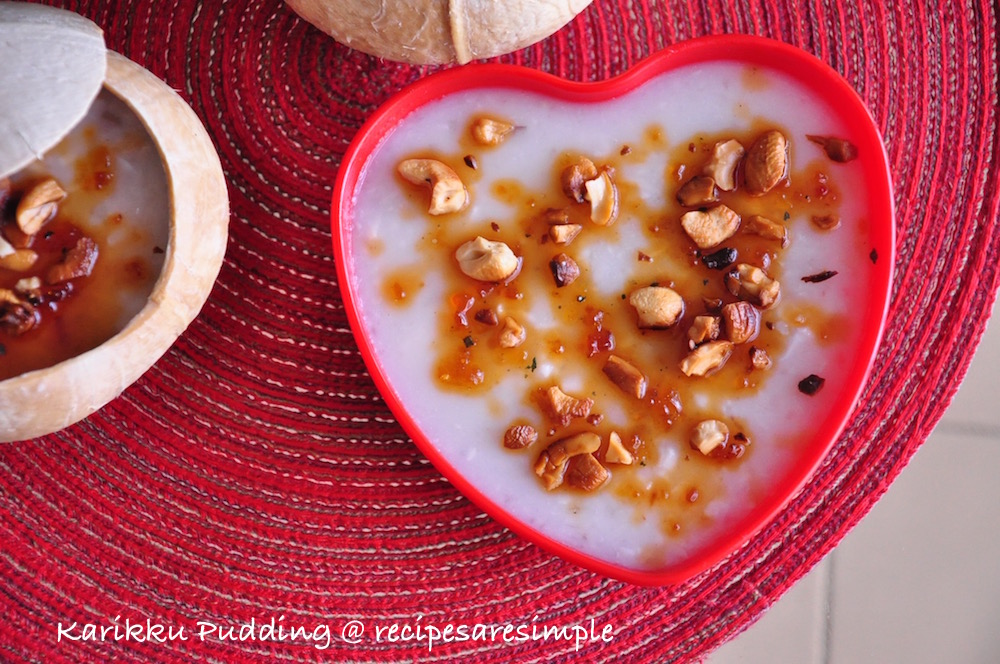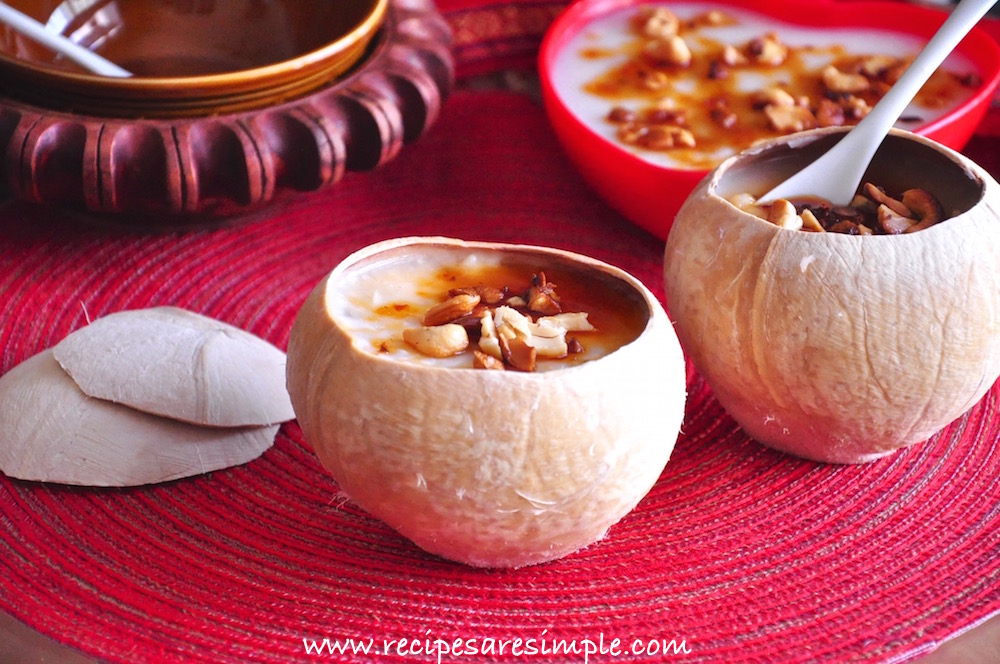 Karikku Pudding | Tender Coconut Pudding Recipe
You are here: Home > Desserts  > Karikku / Tender Coconut Pudding
 

Recipe Name: Karikku Pudding | Tender Coconut Pudding Recipe

Author: Shana c/o Recipes 'R' Simple

Soaking time: 3 hours

Chill time: 3 hours – overnight

Total time: 20 minutes plus soaking and chilling
Ingredients:
5 Tbsp rice – I use Jeerakasala rice
2 small tender coconuts / young coconut – we need the water and the tender flesh. I find that Indian Coconuts have the best flavor.
1 cup fresh milk
2 cups water
2 ½ Tbsp agar agar/ china gras – cut up
2 Tbsp good quality gelatin powder
4 Tbsp sugar
optional: 3 Tbsp thick coconut milk
Topping:
2 Tbsp of sugar
1 Tbsp oil
¹/3 cups chopped cashew nuts
Method:
Wash / Rinse the rice thoroughly and then soak in cool water for 3 hours.
Once soaked, grind this rice with just enough water to give you a perfectly smooth

paste.

Pour the water from the coconut into a bowl.
Extract all the tender flesh and add to a blender.
Also add  ¼ cup (approximately) of the coconut water to the blender.
Blend all the tender coconut flesh so that it is semi smooth i.e. you have tiny bits of flesh in a smooth creamy mixture.
The coconut water and ground coconut flesh, together should give you about 2 cups together. Below, I mixed the ground coconut flesh with the water.
Soak the gelatin in water  at room temperature till it is completely dissolved.
Add the water (2 cups) and milk (1 cup) to a saucepan.
Add the ground smoothly ground rice paste to this and bring to a simmer.
Cook slowly with constant stirring till the mixture thickens into a ' custard like 'pouring consistency.
(Meanwhile, on another burner )Add the cut-up china grass/ agar agar strips to a small saucepan with ½ cup of water and  heat till all the china grass melts. Set aside
Microwave the soaked gelatin for 30 seconds only OR you can place the cup containing the gelatin into a pan of simmering water for the same amount of time.
Once the rice-milk solution has thickened, add the sugar, add the melted china grass as well as the melted gelatin mixtures.
Stir well till evenly mixed in.

Remove from heat

and allow to cool slightly, but do not allow to set.
Now add the reserved coconut water AND blended coconut flesh.
Mix through.
Optional: Only if you like the flavor of coconut milk in the pudding : Add the thick coconut milk / cream to this mixture now. It should not be added earlier. Mix well
Pour into individual serving cups or a single large one, according to preference. (I used the shells, for some fun).
Chill for several hours or overnight to set.
The pudding should be soft, yet set firmly.
For topping:
Add the sugar to a small nonstick pan and heat till caramelized and melted.
Pour quickly into a plate and allow to cool down.
Use a table knife to lift and crack the sugar into small glass like pieces and then crush with the help of a stone or the back of a glass.
In the same pan, heat the oil and fry the broken cashew nuts till golden. Drain on paper towels.
Use both of these to top the puddings before serving.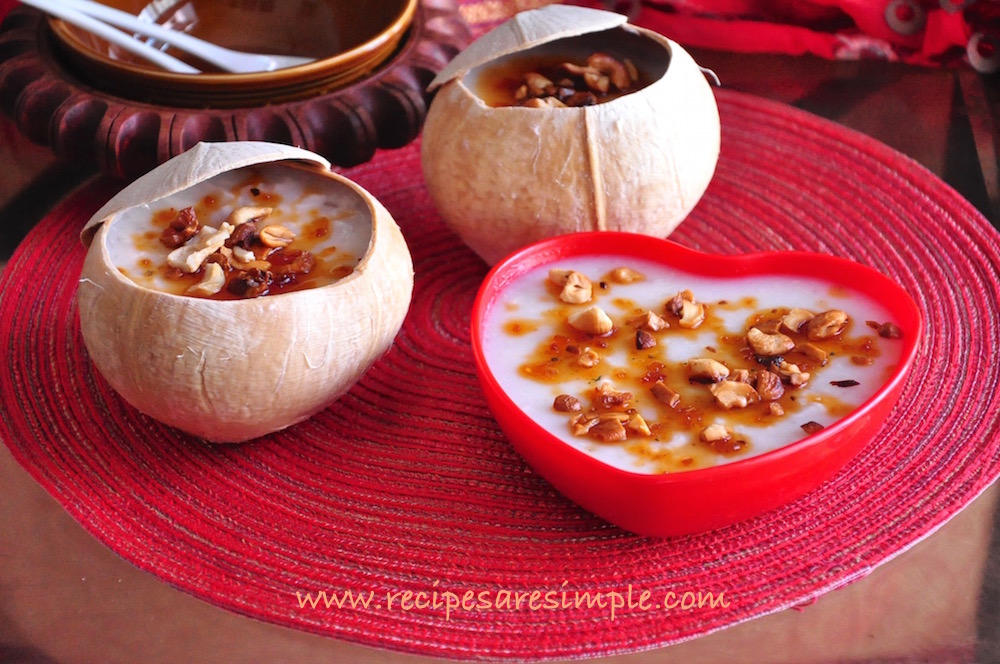 Karikku Pudding | Tender Coconut Pudding Recipe
The combination of china grass with gelatin gives this pudding the perfect texture without influencing the taste of the Karikku Pudding .
If you are using the powdered version of china grass, use about 1 Tbsp.
Make sure you select fresh coconut that is heavy. Indian coconuts have the best flavor. Thai coconuts may be used although they have the scent of hay to them.
Some varieties of gelatin, have a very strong scent. Do not use these as it will clash with the mild scent of the tender coconut.
Key Ingredients: Coconut, Rice, Milk, Sugar, Gelatin, China Grass, Cashewnuts
Leave a comment if you tried –  Karikku Pudding | Tender Coconut Pudding Recipe.