11 September, 2014
Kara Kuzhambu – Spicy Tangy South Indian Gravy with Vegetables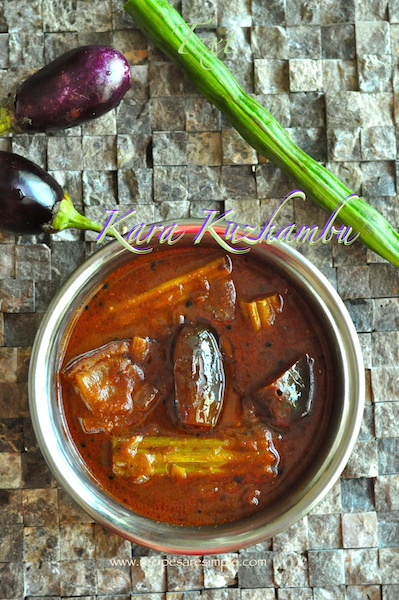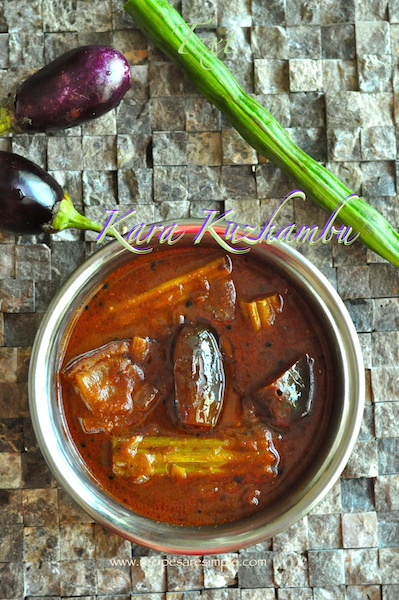 Kara Kuzhambu – Spicy Tangy South Indian Gravy with Vegetables
Kara Kuzhambu  (Kulambu) is a spicy thick gravy similar to Sambar. Unlike sambar, it usually contains 1-2 vegetables and not more. The combination of vegetables are varied. Tamarind is soaked ahead of time to get the sour juice extraction. This is combined with jaggery to provide a sweet and sour gravy. Sambar Powder or home made masala powder is added to make it nice and spicy. I like  Kara Kuzhambu with eggplant, potato or shallots. In the picture drumsticks are used but I find the drumsticks can sometimes turn too sour if left for a while. This is a very simple and versatile Kara Kuuzhambu recipe and provides a quick fix when you need something extra with rice, idli etc.
What is your favorite combination?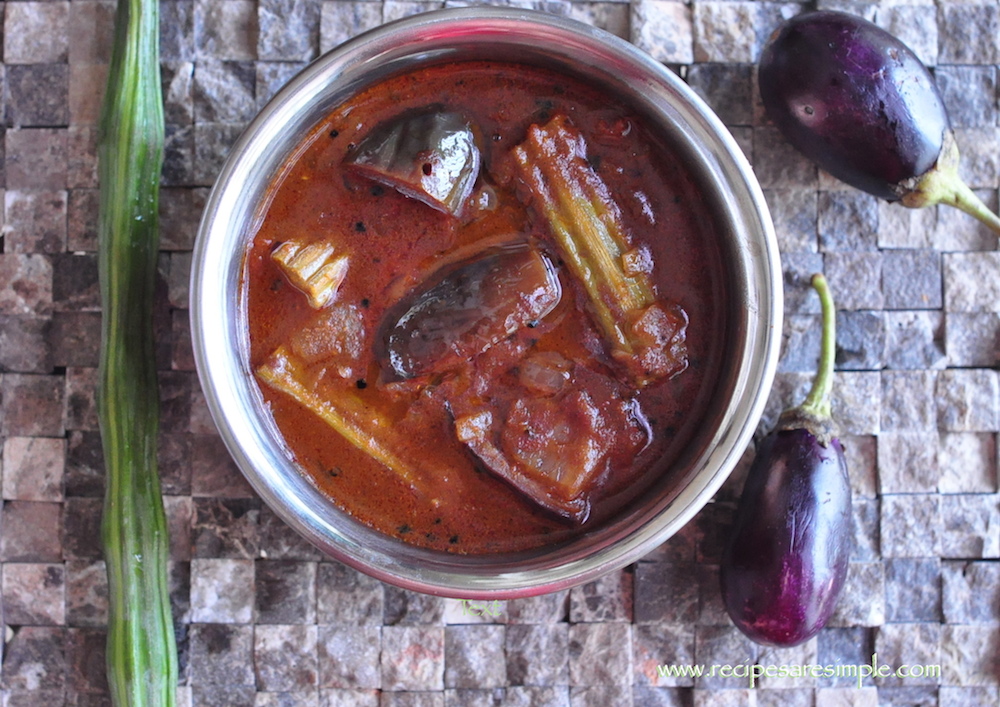 Kara Kuzhambu – Spicy Tangy South Indian Gravy with Vegetables
Recipe Type: Vegetarian / South Indian

Author: Recipes 'R' Simple

Prep time: 10

Cook time: 20

Total time: 

Serves: 4
Ingredients:
4-5 smal eggplants (brinjal), cut into 2 or 3 pieces
1- 2 potatoes cut into large cubes OR 1 drumstick scraped and cut into  3 " length pieces.

(You can use your  favorite combo of vegetables)

1 small piece of tamarind ( about a tsp) soaked in 1½ cups of hot water ahead of time
1 medium onion, chopped finely
1 medium tomato chopped finely
2- 3 tsp sambar powder
1 piece of fresh asafetida, crushed to a powder
1- 2 tsp powdered jaggery or jaggery solution
½ tsp mustard seeds
¹⁄8 tsp fenugreek seeds
1 tsp cumin seeds
1-2 dried chillies
a small handful of curry leaves
5 small cloves of garlic  (2 tsp, sliced)
2 tsp of sesame oil ( gingelly)
3 Tbsp oil
3 tsp coconut cream
salt to taste
Method:
Keep the chopped vegetables in a bowl of water, to prevent any discoloration.
Heat the oil in a medium sized wok. Add the mustard seeds and allow to splutter. Next : add the fenugreek seeds, cumin seeds, dried chillies, curry leaves and asafetida. Fry briefly till nice and aromatic without any burning.
Add the garlic. Stir a few seconds.
Add and sauté the onions till nicely softened.
Next add the tomato and chopped vegetables.
Fry on high till the tomatoes are softened and the vegetables are slightly crisped or golden on the outside.
Squeeze the tamarind in the water solution and strain out the pulp. Discard it. You are left with a dark sour solution. Add this along with some water as needed. Bring to a simmer.
Add the sambar powder. Simmer. Taste and add more asafetida powder if needed. Add salt.
Allow the gravy to simmer well till the vegetables are cooked and the gravy  has thickened. (Add water if you need to cook the vegetables)
Lastly, add the powdered jaggery or jaggery solution and coconut cream.
Stir till well mixed and remove from heat.
Pour the sesame /gingelly oil over the top.
Kara Kuzhambu – Spicy Tangy South Indian Gravy with Vegetables
Try it and let us know – Kara Kuzhambu – Spicy Tangy South Indian Gravy with Vegetables .
If you like the gravy tangier, use more tamarind. I prefer a mild tanginess. The trick is is to balance the tang,sweet and spiciness levels just right so add a little more of this or that to you own tastes.