4 March, 2016
Kanda Poha|Quick Indian Breakfast with Pressed Rice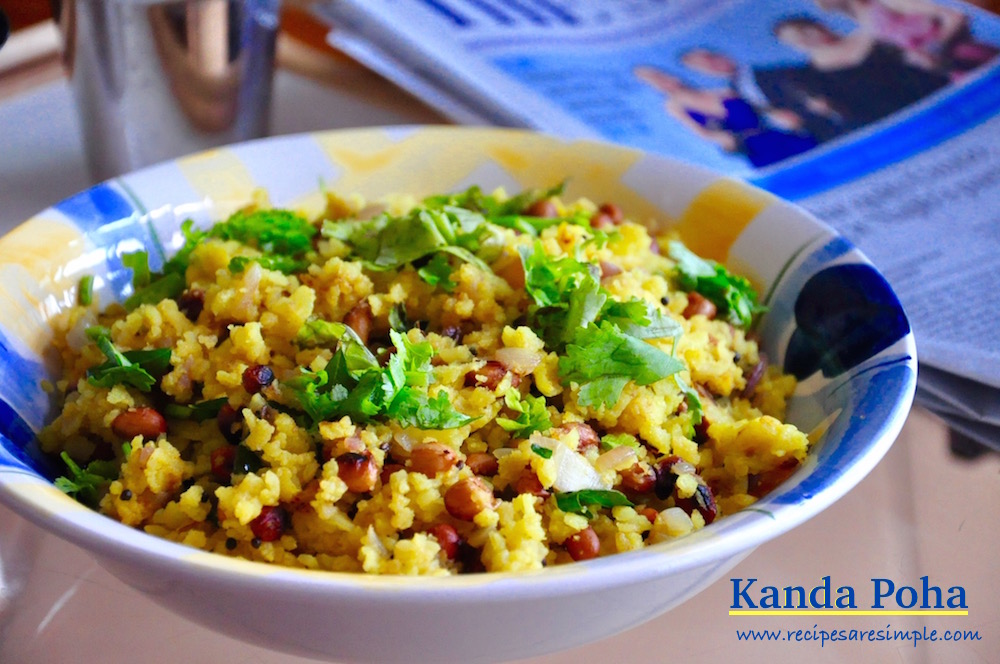 Kanda Poha | Quick Indian Breakfast with Pressed Rice (Rice Flakes)
Kanda Poha is a quick and nutritious breakfast made with pressed rice. It is an absolute breeze to prepare and you can have a nice, hot and savory breakfast in a jiffy! Kanda refers to the chopped onions used in this dish. Potatos are often added to the dish as well, but I often skip this step if I am in a hurry. I tried cashews, peanuts and almonds for this recipe. I prefer the taste of peanuts. Although this is a staple Breakfast item, it makes for a great tea time snack as well!
Poha in other languages :(Poha – पोहा/Chivda -चिवड़ा/ Aval- அவல்/അവൽ)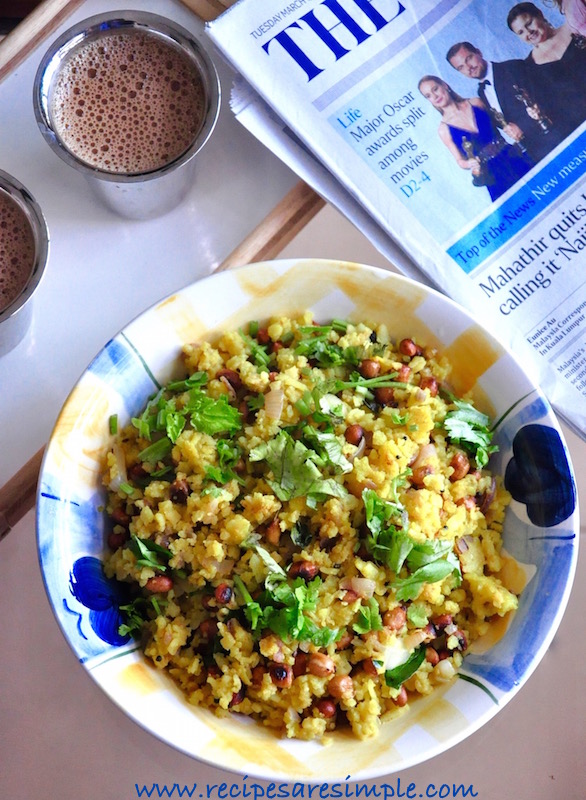 Kanda Poha | Quick Indian Breakfast with Pressed Rice
You are here: Home > Bread and Breakfast  > Kanda Poha
| | |
| --- | --- |
|   | Author: Shana c/o Recipes 'R' Simple |
Ingredients:
1½ cups poha / pressed rice/ aval
½ tsp turmeric powder
½ tsp sugar
¹⁄3 tsp salt
¼ tsp cumin seeds
¼ tsp black pepper corns, crushed
1 onion, chopped
1 Tbsp chopped green chili (I use mild green chili)
6-8 curry leaves
¼ cup peanuts
1 boiled potato, cut into cubes- optional
2 tsp lime juice
4 Tbsp chopped fresh coriander
2 Tbsp oil
Method:
Boil the potatoes (if using), beforehand. Peel, cut into cubes and pan fry in a little bit of oil till golden. Set aside.
Roast the peanuts in a dry pan. Roast till they start smelling roasted and become slightly oily on the surface. Keep stirring to avoid burning. Allow the roasted peanuts to cool down. As they cool they become crunchy.
Put the Poha (pressed rice) into a colander.  rinse gently under running water. Make sure the Poha is soaked thoroughly in the rinsing process.
Leave the Poha in the colander to drain off excess water. In about 5 minutes you should see that the flakes have been rehydrated.

Do not soak the Poha in water, this can cause the dish to go mushy,

Add the turmeric, sugar and salt to the Poha.
Mix well gently, without breaking the flakes.
Heat oil in a non stick pan/ skillet. Add the cumin seeds and allow to sizzle.
Next add the crushed black pepper, followed by the chopped onion, green chili and curry leaves.
When the onion are sautéed well and just turning golden, add the peanuts.
Stir fry the peanuts for 1 minute and then add the Poha and fried potato ( if using)
Gently toss altogether till nicely combined and the Poha is heated through.
Lastly, stir in the lime juice and garnish with coriander leaves.
Serve with a cup of 'Chai' !
Kanda Poha | Quick Indian Breakfast with Pressed Rice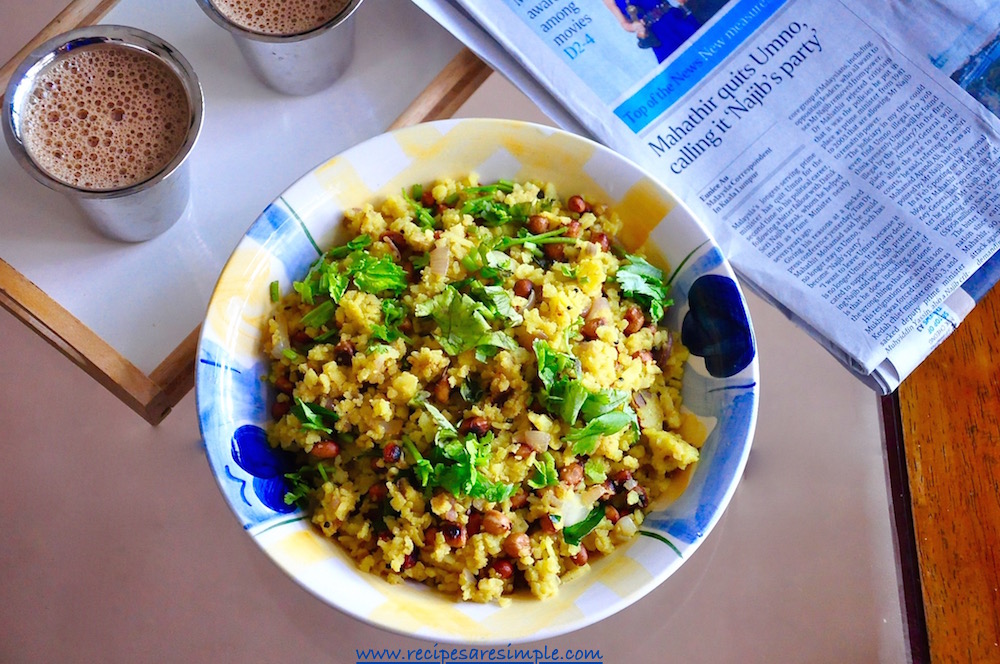 When buying the Poha (Rice flakes), choose thicker flakes and not the super thin variety. They tend too be rather mushy when prepared.
Adding the turmeric to the soaked poha, rather than to the pan makes it easier for the turmeric color and flavor to be evenly distributed.
Lime juice is essential in this dish to bring out the flavor. Do not omit.
Key Ingredients: Pressed Rice Flakes (POHA), peanuts  onion, spices, salt, sugar, lime juice, oil, and coriander.
Leave a comment if you tried – Kanda Poha. Comments from you provides motivation to keep up the driving force behind this blog, bringing you more delicious and perfected recipes regularly.  Help us to Keep On Keepin' On (: !