26 May, 2015
Kale Fried Rice made with Brown Rice, Egg and Mushrooms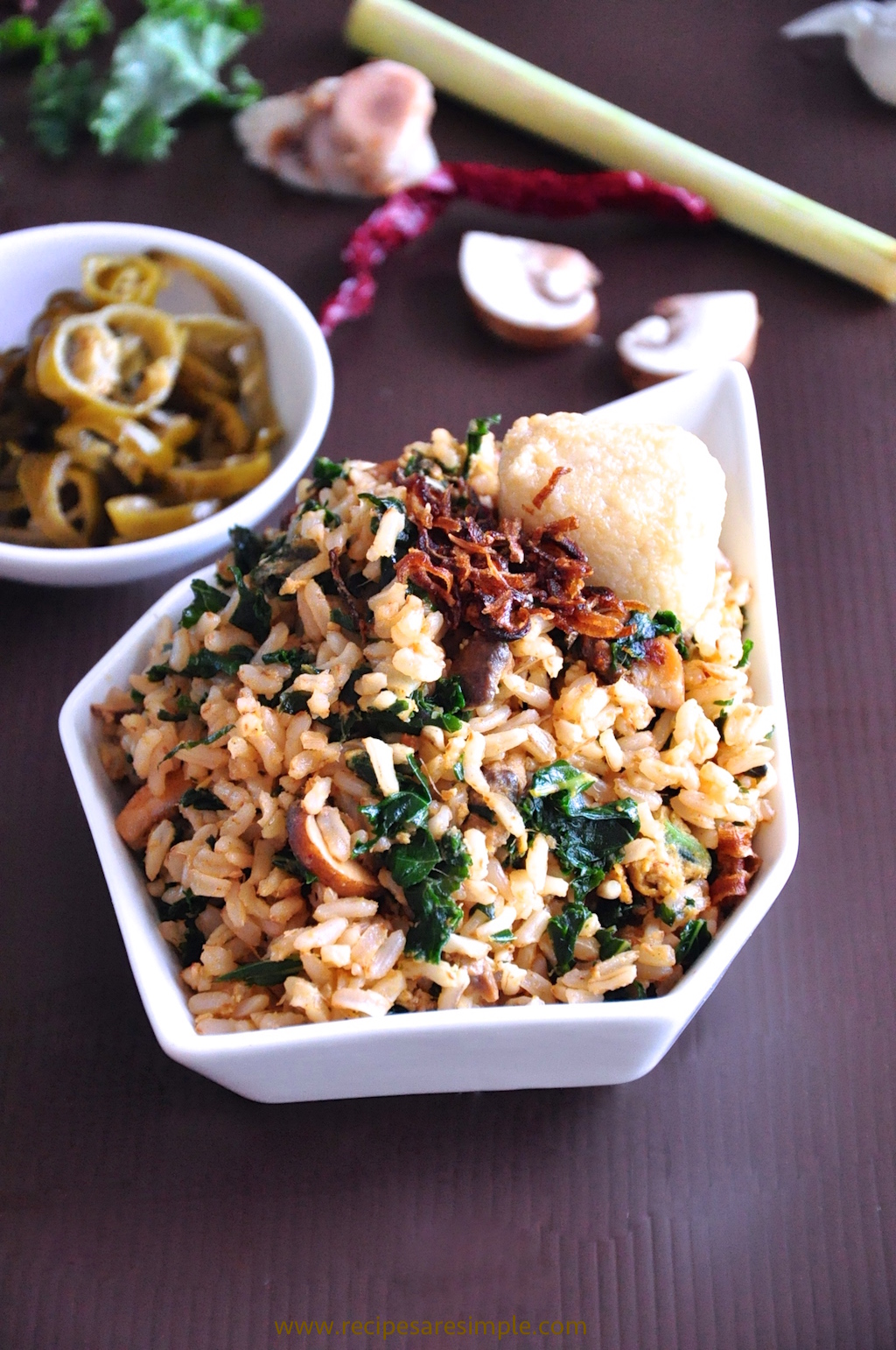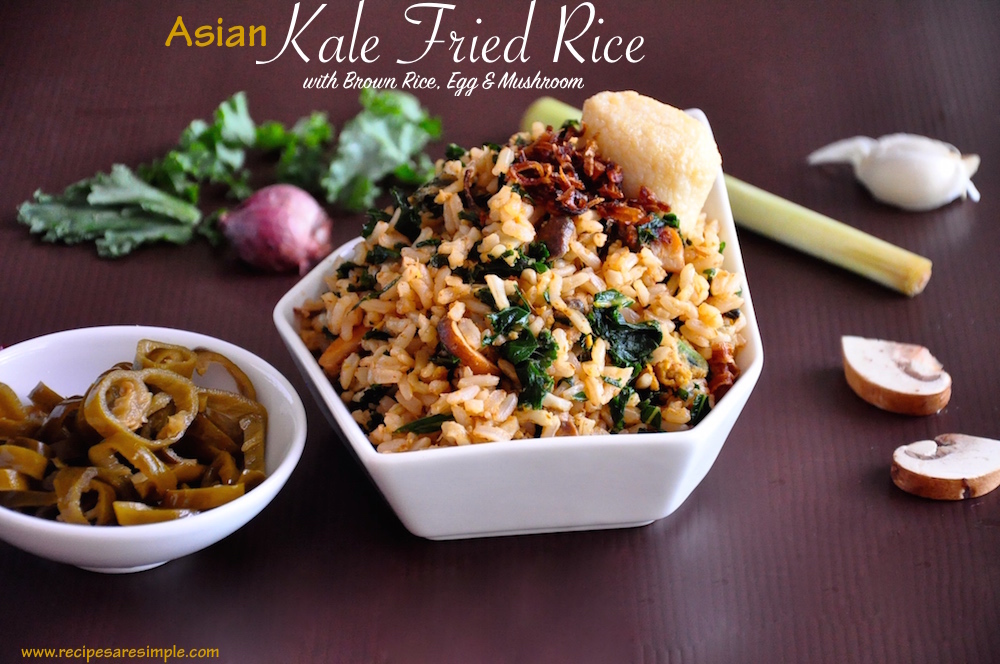 Kale Fried Rice with Egg and Mushroom (Asian Style)
I made this Asian Style Kale Fried Rice, in an attempt to add Kale to my families diet. It is packed with nutrients and full of flavor too.
Kale has been around since the Roma times, but is more popular now than ever! Labeled one the the' Super Foods', Kale is packed with vitamins and minerals and is low in calories. The leafy green vegetables is a member of the cabbage family, which also includes broccoli, cauliflower and collards. Kale can come in a few types, varying in color and texture too.
And how about brown rice? We all know that brown rice is healthier than white rice. Brown Rice is rice that still has the bran and side hull. It may seem chewier, but in fact it is easier to digest and easier on the stomach. If you are looking to loose weight, change to brown rice!
So this dish incorporates the two with some egg and mushroom to make a simple, nutritious and flavorsome Brown Rice and Kale Fried Rice.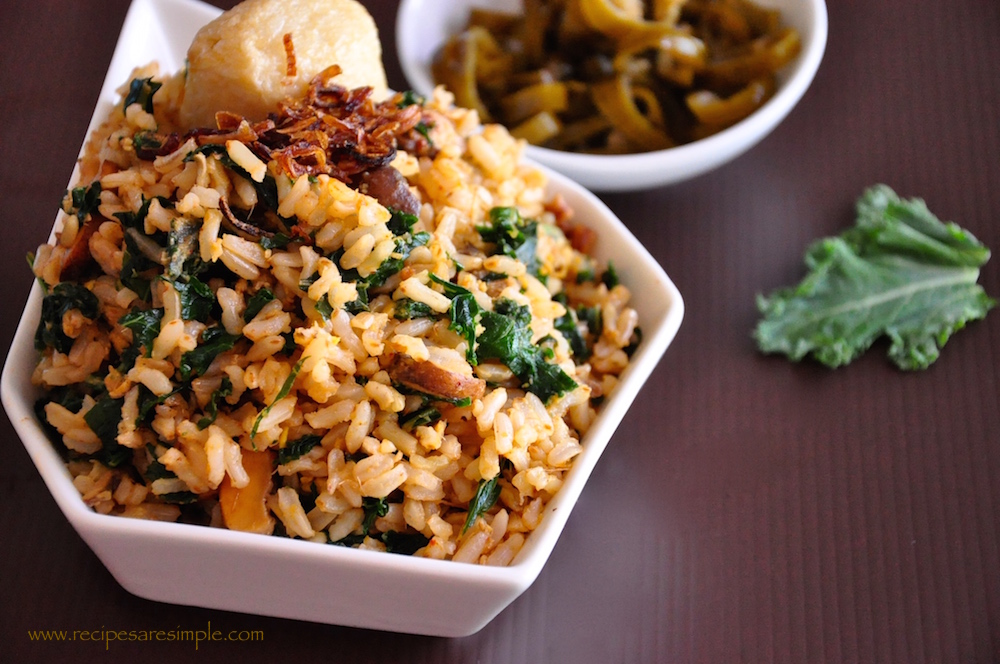 You are here: Home > Rice Dishes  > Kale Fried Rice
 

Recipe Name: Kale Fried Rice with Egg and Mushroom

Author: Shana c/o Recipes 'R' Simple
Kale Fried Rice with Egg and Mushroom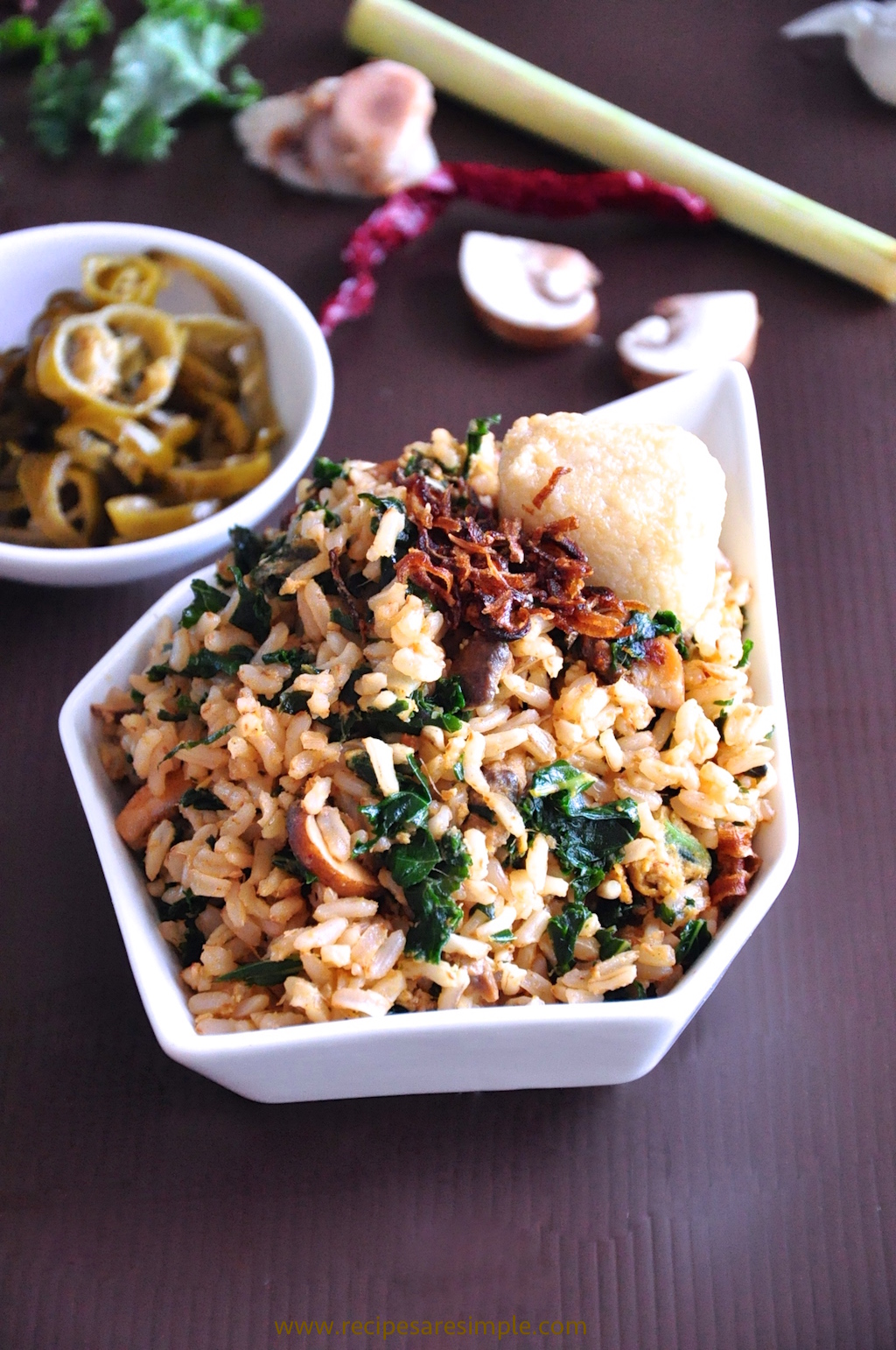 Ingredients:
300 gms kale
3 cups long grain brown rice
6 cups water
2 eggs, beaten
10 swiss brown or white button mushrooms, stem removed & sliced
½ tsp salt
1 tsp lemon juice
2 Tbsp light soy sauce
1 Tbsp sweet sauce like chili or plum sauce
¼ cup rice bran oil
For Spice Paste:
4-5 dried red chillies
5 shallots
5 cloves garlic
1 piece of galangal or ginger ( about 2 Tbsp)
2 Tbsp sliced lemongrass
Method:
 Cook the rinsed rice with water and 1 Tbsp oil in a rice cooker or on the stovetop on medium heat till all the water is absorbed and the rice is tender.
If the rice is crunchy, add a little bit more water and cook a while longer.
Spread on a large tray to cool off.
Rinse the Kale thoroughly. fold lengthwise and cut off the hard stem and discard.
Roll the leaf up tightly and chop as small as possible. Set aside.
Crush the shallots, garlic, galangal and lemon grass for the spice paste using a pestle and mortar.
Heat oil in a small wok. Add the dried chillies first,  allow to get fragrant and golden. Remove from oil
Add the shallots next and remove when golden and fragrant as well. Repeat with garlic, galangal and lemongrass. Do not let any of the ingredients burn.
Add the fried ingredients to a small mixer jar and allow to cool off. Meanwhile slice the mushrooms.
Grind the fried ingredients with some of the frying oil if needed to a smooth paste. (As smooth as possible.)
Heat 2 Tbsp oil in a wok and heat.
Add the spice paste and stir till nice and aromatic.
Add the mushroom and stir fry till coated in the spice paste. Also add the salt.
Next, add the kale.
Add a little at a time, whilst stirring till all the kale is added.
Stir fry till the Kale reduces in volume and is cooked.
Move the kale to the sides of the wok and add the egg.
Allow to set briefly. Then scramble the eggs.
 Add the cooled rice and toss continuously  till heated through and coated with the kale and egg.
 Add the lime juice, soy sauce and sweet sauce and stir through.
Serve with Baked chicken or fish balls… and you have a nutritious and yummy meal.
Kale Fried Rice with Egg and Mushroom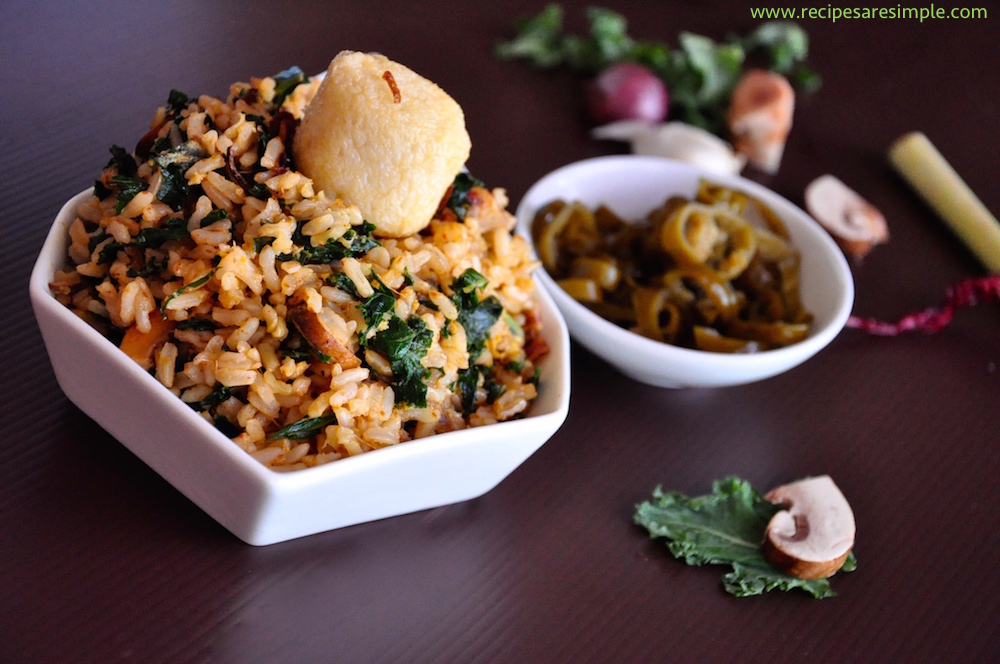 You can substitute brown rice with white.
Key Ingredients: Kale, Brown Rice, Egg, Mushroom, Shallots, Garlic, Galangal, Dried Chili, Lemon grass, Lime juice, Oil, 
Let us know if you tried it – Kale Fried Rice with Egg and Mushroom . Comments from you provide motivation to keep up the driving force behind this blog, bringing you more delicious and perfected recipes regularly. Please do leave a comment. We love to hear from you.