16 February, 2015
Kaju Gobi – Cauliflower Stew with Cashew nuts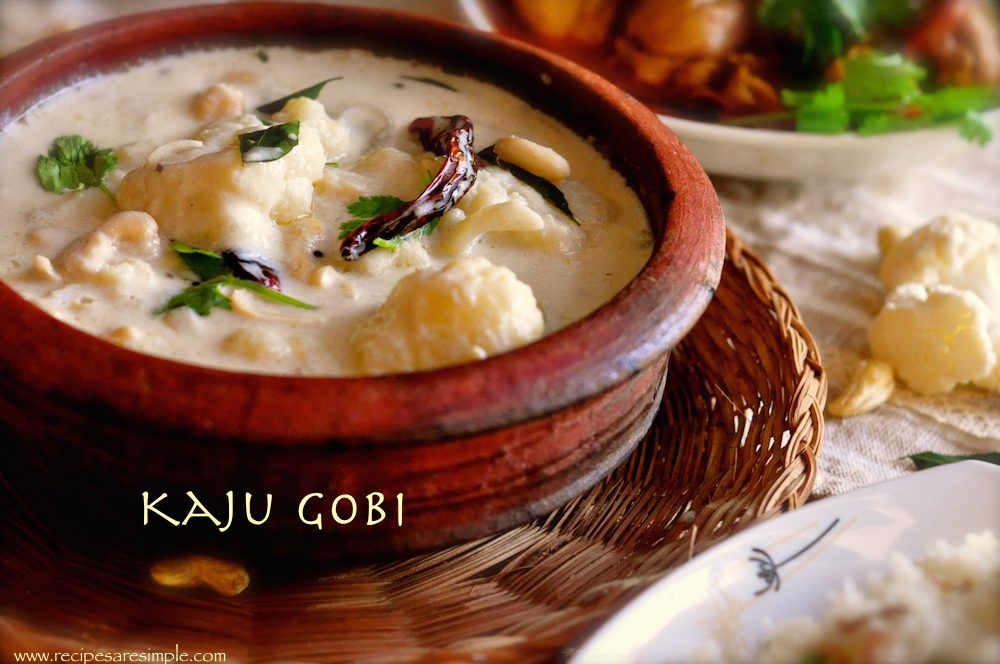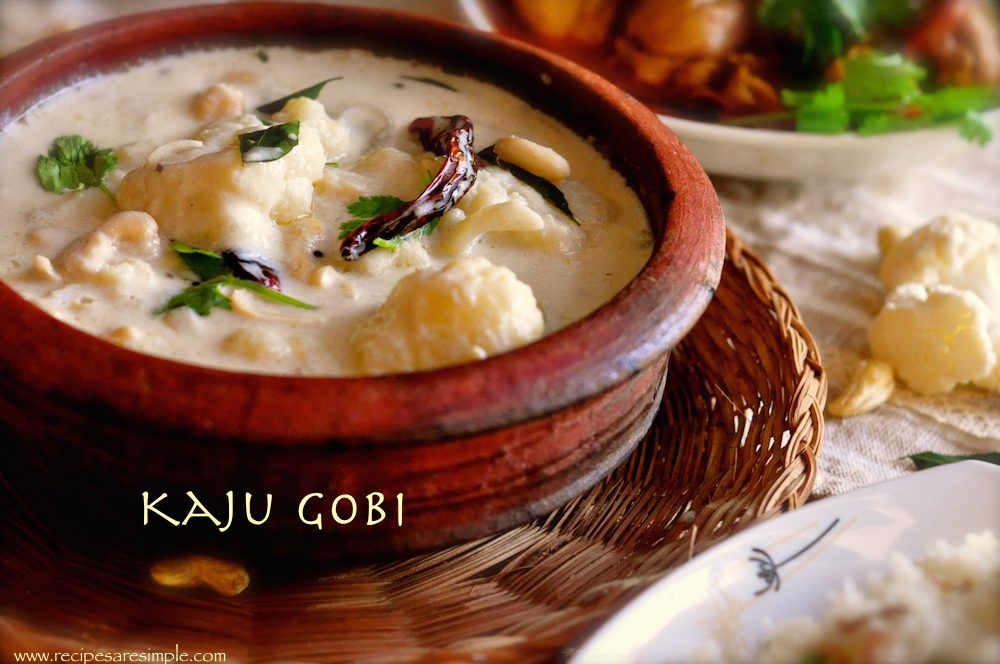 Kaju Gobi – Cauliflower Stew with Cashew nuts
Cauliflower, cooked tender in a cashew – coconut based stew with simple flavors makes for a rich and delightful, creamy stew.



You are here: Home > Vegetarian & Egg Recipes > Kaju Gobi
 

Recipe Type: Vegetarian / Curry

Author: Shana c/o Recipes 'R' Simple
Kaju Gobi – Cauliflower Stew with Cashew nuts
Ingredients:
400 gms cauliflower, cut into large florets
2 cups thin coconut milk
¼ cup thicker coconut milk – OPTIONAL
2 Tbsp Oil
1 large onion, sliced thinly
¼ cup whole cashew nuts
¼ cup cashew nuts for grinding to a paste
2 ½ Tbsp garlic paste

(ground or crushed to a paste)

2 Tbsp ginger paste

(ground or crushed to a paste)

2 tsp, fresh grated zest of lemon
¼ tsp black pepper powder
For Tempering:
2 tsp oil of choice
½ tsp mustard seeds
½ tsp cumin seeds
3 long mild green chillies, seeded and chopped finely. See notes.
3 dried chillies
2 stalks curry leaves
1 tsp coriander powder
For garnish:
2  shallots, sliced into thin rounds fried in a little oil ahead of time till crisp.
Fresh Coriander
Method:
Add the cashew nuts for 'grinding' into a small mixer and add just enough water to grind into a smooth, silky paste. Set aside.
Heat a wok with oil of choice.
Add the onions a little bit of the chopped green chil. Sauté for an instant.
Add cauliflower – florets , ginger and garlic pastes and the whole cashew nuts.
Toss well on medium heat till the cauliflower is slightly tenderized. Make sure the ginger and garlic do not burn. (About 2 minutes).
Add salt and the thin coconut milk. Cook on low heat till the cauliflower is delicately cooked.
Now stir in the cashew nut paste. Also add the thick coconut milk if you want it extremely creamy.
Cook for another 5 minutes.
Remove from heat and stir in the black pepper powder and lemon zest.
Tempering:
Heat oil for tempering in a pan. Crack the mustard seeds.
Add the finely chopped green chillies, curry leaves and dried chillies and sauce well till the green chili is nice and golden.
Sprinkle the coriander powder into the hot tempered ingredients and remove from heat after 5 seconds.
Add  to  the stew. Do not stir. Cover and allow to rest for 30 minutes before serving.
Garnish with  some chopped, fresh coriander leaves.
Kaju Gobi – Cauliflower Stew with Cashew nuts
 While tempering I like to use lots of mild green chili, that has been seeded and chopped finely. This gives a good balance to the stew which would be too sweet from the coconut milk and cashews otherwise.
When grating lemon zest, ensure that you only grate the yellow peel and none of the white 'under-skin'. This may cause a bitter taste.
Key Ingredients: Cauliflower, Cashw nuts, Coconut milk, Oil, Ginger, Garlic, Onion, Chillies, spices, salt.
Let us know if you tried it – Kaju Gobi  . Comments from you provide motivation to keep up the driving force behind this blog, bringing you more delicious and perfected recipes regularly. Please do leave a comment. We love to hear from you.