22 July, 2014
Kai Pathiri – with grated Coconut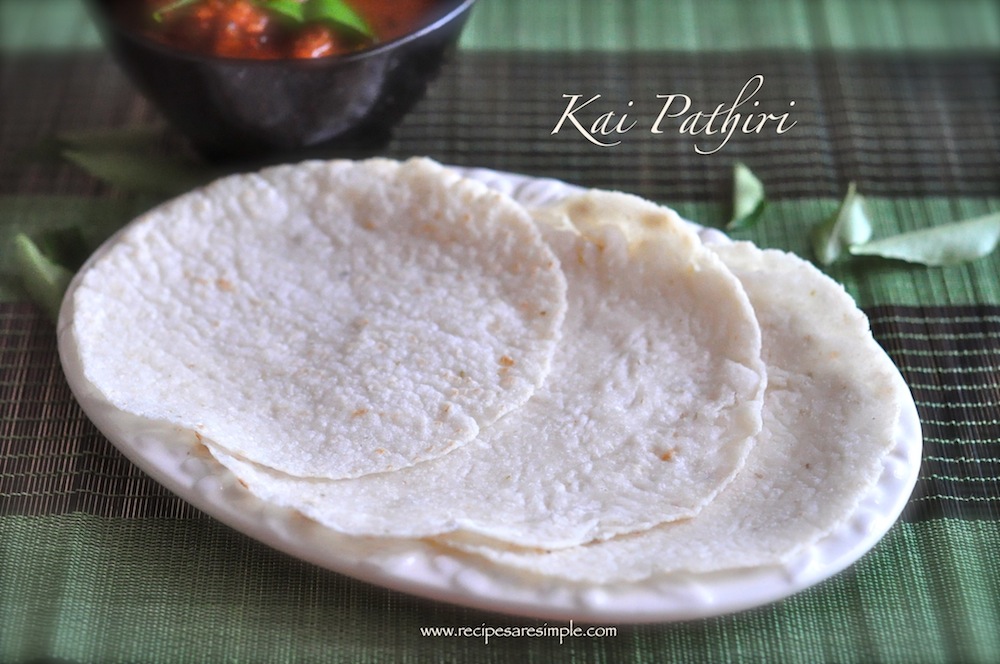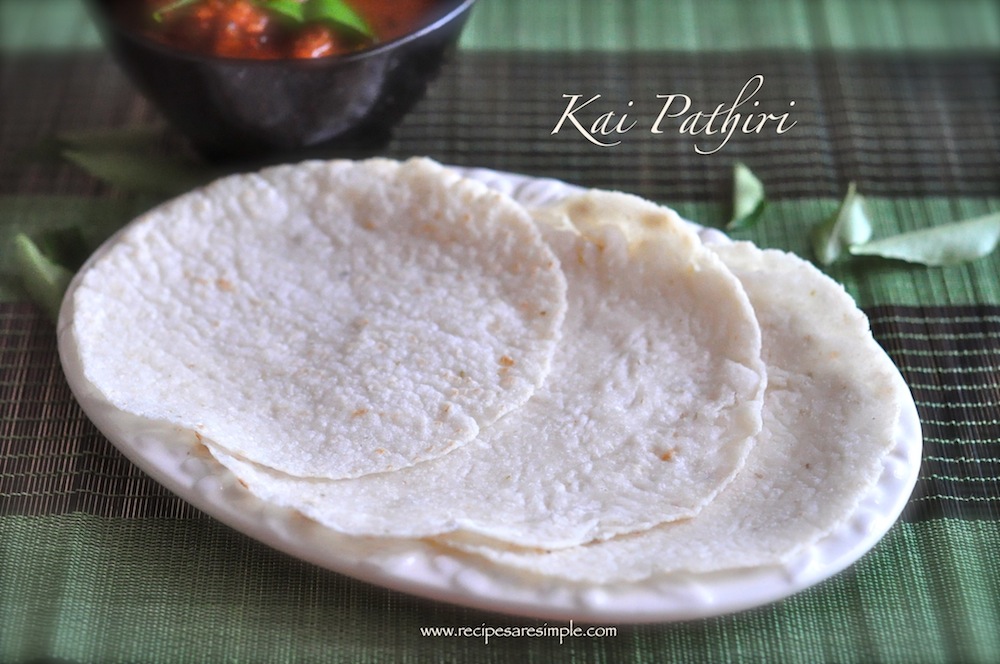 Kai Pathiri – with grated Coconut
  Kai Pathiri is a traditionally made version of Rice Pathiri which incorporates the flavors of fresh coconut, shallots and fennel seeds.  It is hand pressed  by flipping a small disk of the dough between the palms, till stretched, flattened and forms a circular roti shape. It is then roasted on both sides in an earthen pot. In modern day it can be gently pressed using a chapathi press and then roasted on a non stick or cast iron tawa. Unlike the fine Rice Pathiri ( see Pathiri Recipe) Kai Pathiri does not  need to be rolled using a pin. However it still remains very soft  and puffs  perfectly.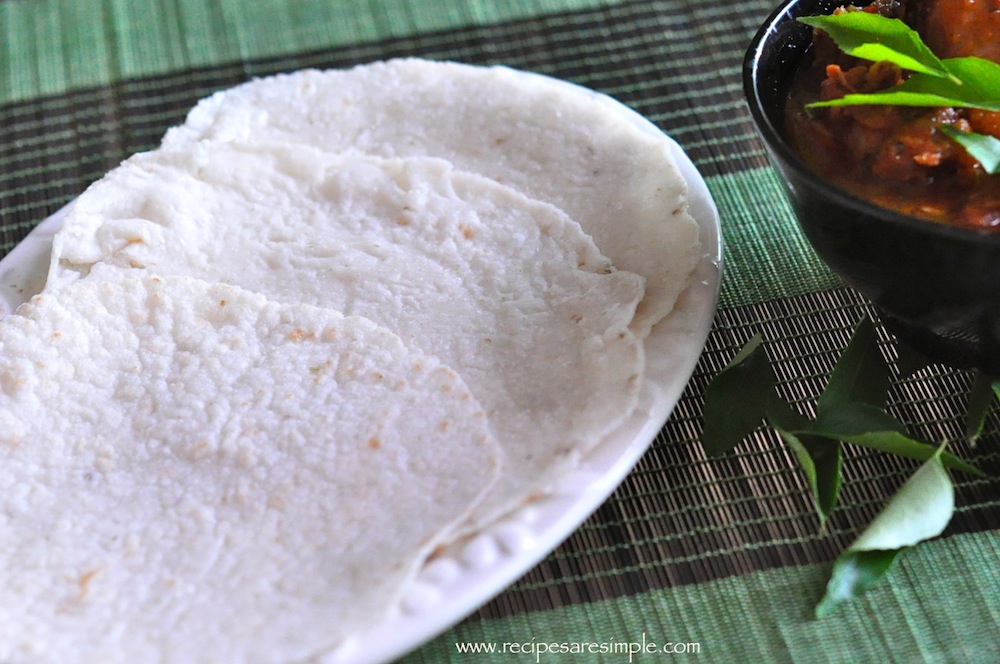 Kai Pathiri – with grated Coconut
Recipe Type: Bread and Breakfast / Traditional

Author: Recipes 'R' Simple

Prep time: 20

Cook time: 20 

Total time: 40

Serves: 4
Ingredients:  (You will need a Chapathi Press and 2 sheets of Grease Proof / Wax/ Butter Paper)
1 ½ cups fine rice flour
1 ½ cup coconut
¾ tsp fennel seeds
4 small shallots
2 cups  water
salt to taste
Method:
Grind the coconut, shallots and fennel to a  paste. This can be semi course or fine, depending on your taste. You can add a tiny bit of the water if needed. 

I like my pathiri softer so I grind it smoother.

Add water, salt and a drop of oil to a large mouth pot (uruli). Bring the water to a boil.
Add the coconut paste and stir.
Now add the rice flour, a little at a time with one hand while stirring with the other.
As this batter thickens into a dough, stir well to get all the dry, loose flour moistened. Cover  the pot for 5 minutes.
Dump the dough into a heat proof ziploc bag.
Knead inside the bag using a towel to protect your hands from the heat.
Knead till you a get a soft smooth dough.
 (Using the heat proof bag, helps to speed up this process and get great results)
Divide into large lime sized balls.
Flatten into smooth disks. Then press between hands OR using a chapthi press. (Lay the butter paper below and on top of the disk and press gently but firmly.)
You will get a nice smooth, flat, circular roti.
Heat an earthen pot or  non stick pan, and roast till you see tiny bubbles on one side.
Turn over and cook the other side. Help the Kai Pathiri to puff up by pressing gently on the pathiri with a plastic spatula.
Place in a casserole dish and repeat with remaining discs.
Serve with Chicken Curry.
Kai Pathiri – with grated Coconut
Try it and let us know – Kai Pathiri – with grated Coconut .
Some Rice flour brands specifically for pathiri, may contain salt so add accordingly.
Make sure when you are making the disks, that they are smooth to begin with or the edges will be cracked.
Using the butter paper helps to remove the Kai Pathiri from the press easily. Do not apply too much pressure on the chappathi press or the Kai pathiri will be stretched too thin.