12 October, 2014
Kadai Prawns – Creamy Wok Cooked Shrimp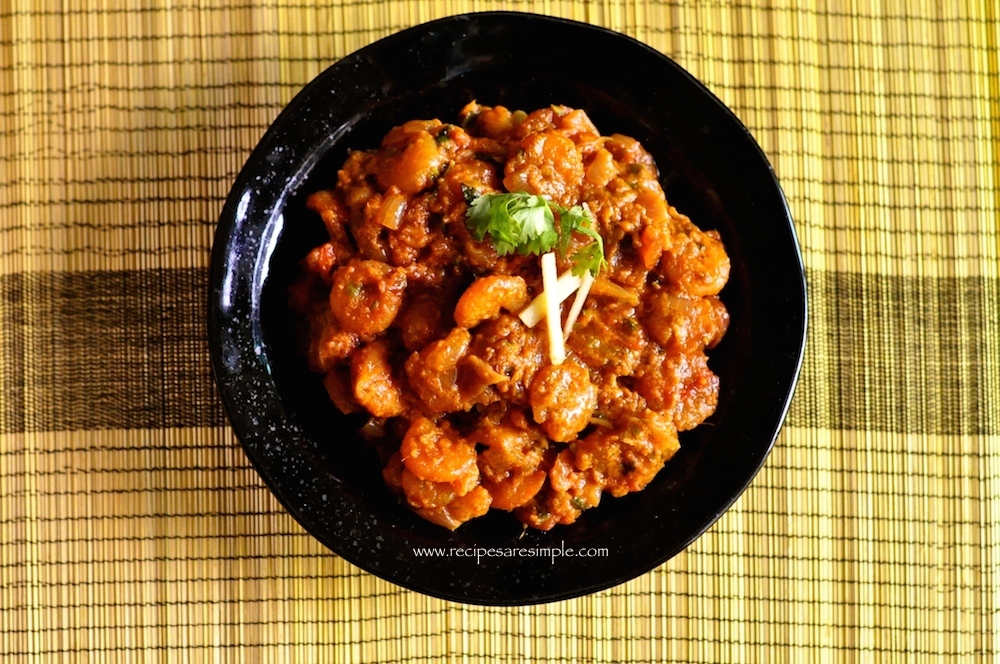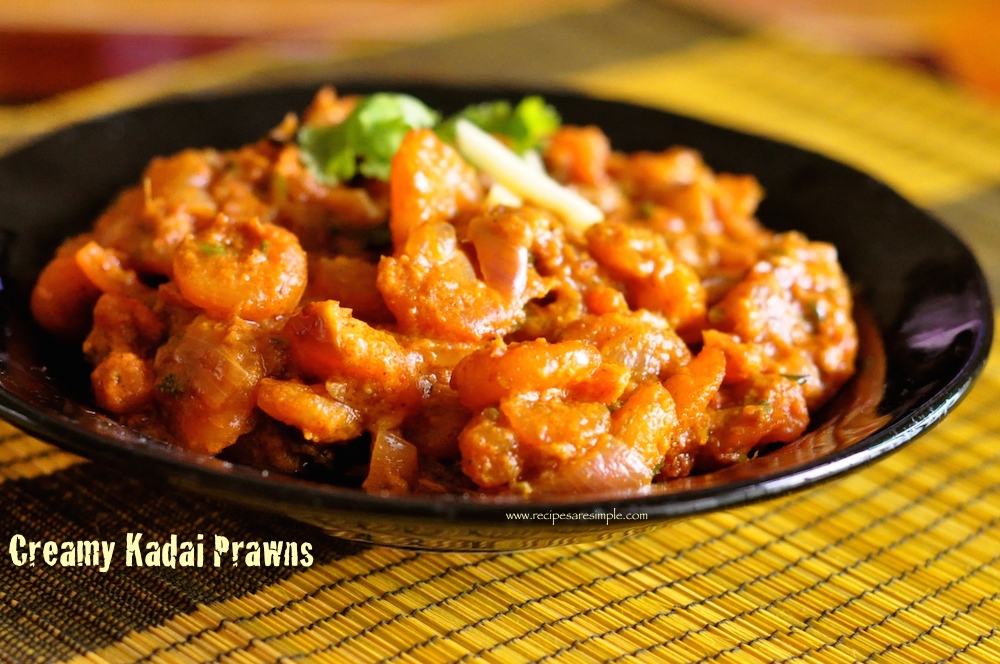 Kadai Prawns – Creamy Wok Cooked Shrimp
  Creamy Yummy Kadai Prawns. This tasty prawns / shrimp dish is so easy to make. A very creamy, lip smacking gravy coats the prawns to make a very tasty dish indeed. My family enjoyed my last minute idea for a late Sunday Lunch. Serve with steamed rice or chapati.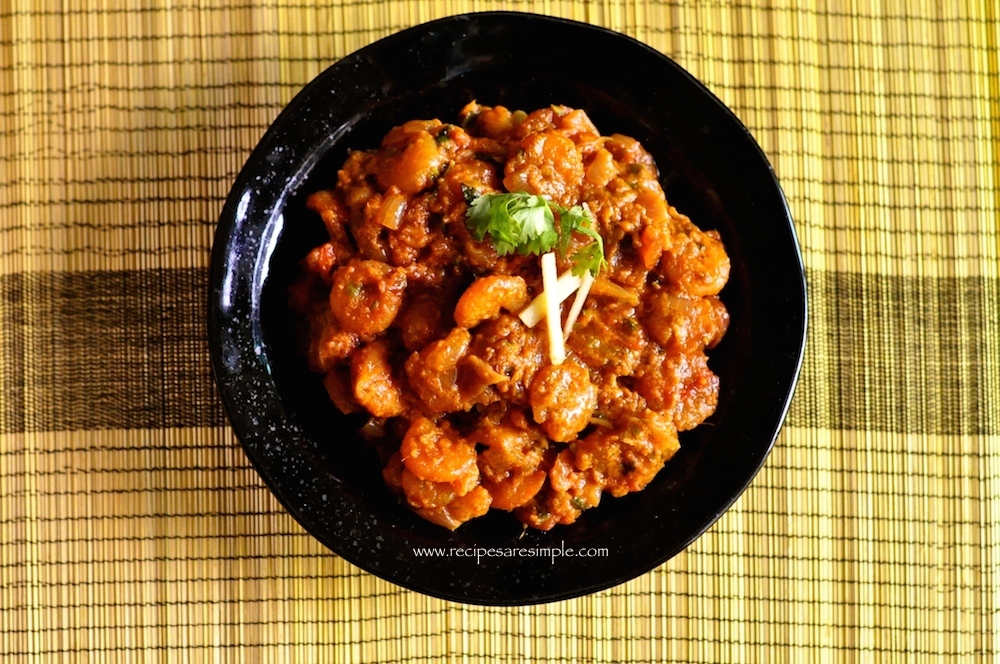 Kadai Prawns – Creamy Wok Cooked Shrimp
Recipe Type: Fish and Seafood

Author: Recipes 'R' Simple

Prep time: 15

Cook time: 15

Total time: 

Serves: 4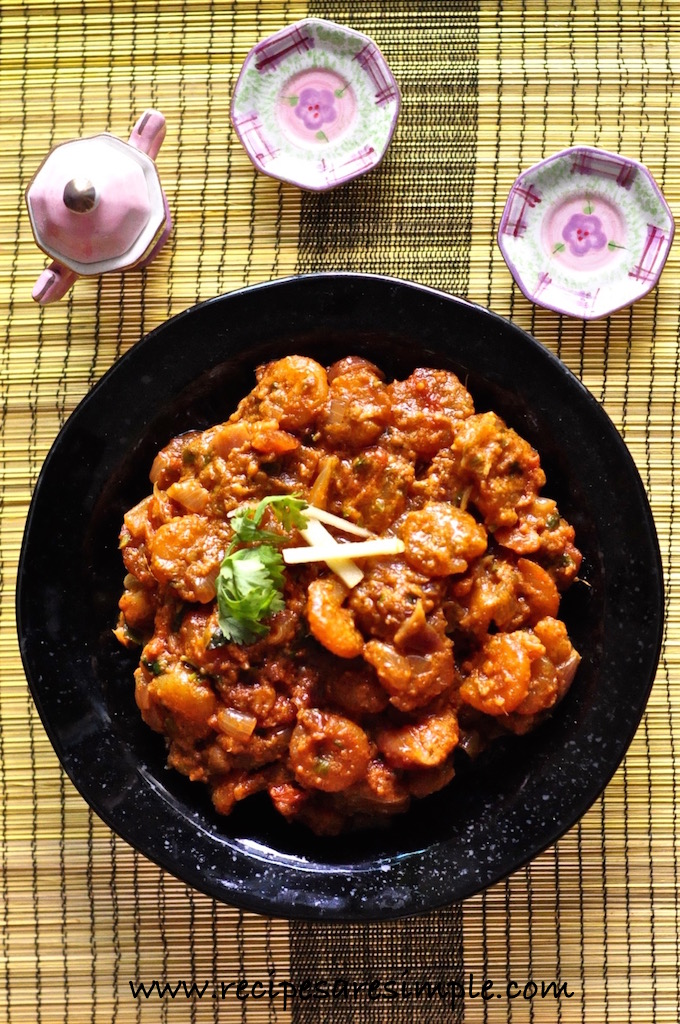 Ingredients:
500 gms peeled and deveined small to medium sized prawns (shrimp) –

(weight after cleaning)

1 onion, diced

4 Tbsp ginger garlic paste

( equal quantities of ginger and garlic paste, ground to a paste without water)

1 long green chili, deseeded and chopped very finely
2 tomatoes, chopped
¹⁄3 cup yoghurt, beaten
¹⁄3 cup cream, beaten
1 tsp coriander powder
½ tsp mild chilli powder
½ tsp cumin powder
¼ tsp garam masala –

I use my

garam masala recipe
1 ½ tsp freshly squeezed lime juice or to taste
¼ cup rice bran oil or sunflower oil
salt to taste – about ¼ tsp
finely chopped coriander leaves and ginger julienne for garnish
And for marinating the prawns:
2 tsp mild chilli powder, 1 tsp turmeric powder, 1 tsp salt
Method:
Rub the cleaned and drained prawns with the spices and salt for  'marinade' and set aside.
Allow the prawns to marinate while you chop up the ingredients required.
Heat oil in a deep sided wok (kadai). Add the prawns and fry.
Fry the prawns till tender and just lightly crisped.

(Some moisture may be released from the prawns. Allow this to evaporate before the prawns can become lightly crisped)

Remove the prawns with a slotted spoon/spatula. Set aside.
In the same oil, add the ginger garlic paste and stir fry till the ginger and garlic is aromatic and looses its pungency.
Before the ginger garlic changes color, add the chopped onions.
Saute,stirring continuously till the onions are softened and reduced.
Add the tomatoes and green chillies.
 Allow to cook again till the tomatoes are mushy and tender.
Add the coriander, chili, cumin and turmeric powders. Cook till fragrant without burning.
Add the lightly beaten/whisked yoghurt and cream and stir to incorporate.
Cook on low heat, stirring continuously till the oil separates.
Now return the lightly fried prawns and toss to coat with the creamy masala.
Add the lime juice and garam masala last. Stir to mix through lightly.
Now cover and allow to cook for 5 minutes on low heat.
Lastly sprinkle the finely chopped coriander leaves. Garnish with ginger julienne.
Kadai Prawns – Creamy Wok Cooked Shrimp
Try it and let us know – Kadai Prawns – Creamy Wok Cooked Shrimp .
 Replace the green chillies and chili powder in this recipe for black pepper corns and black pepper powder for a Black Pepper Kadai Prawns.
Do try our other tasty and easy shrimp dishes as well. 🙂