21 November, 2013
Kadai Chicken or Chicken Karahi – Melts in your mouth!!! So Good!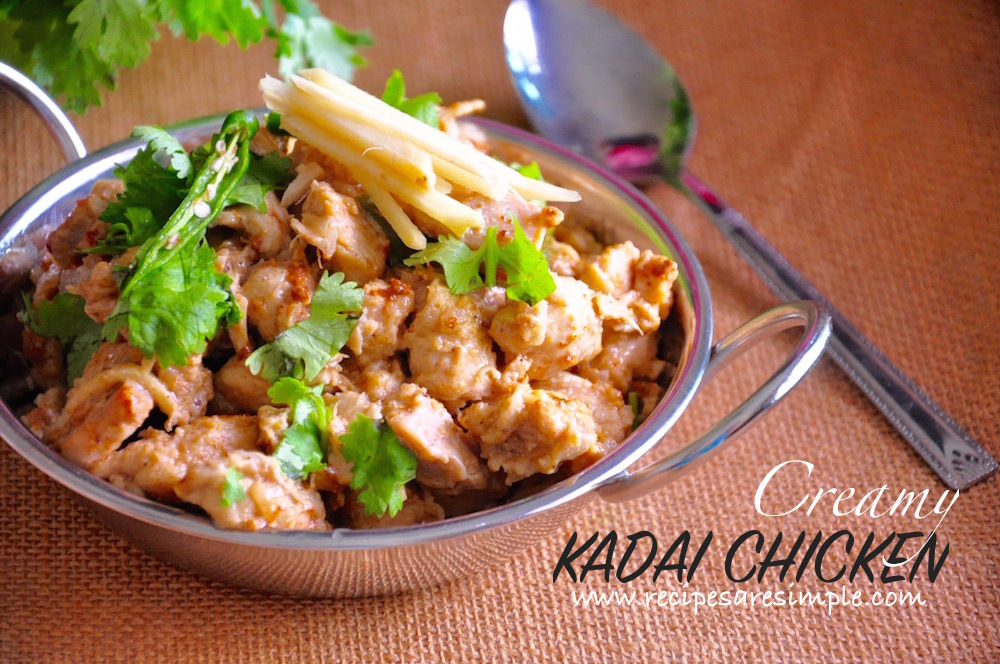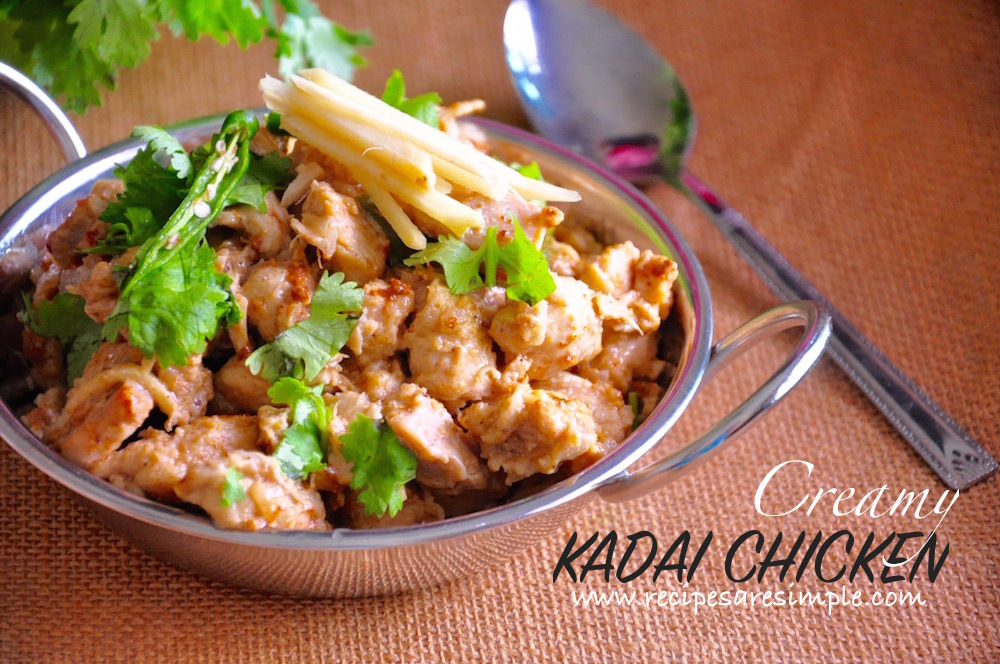 Kadai Chicken
Karahi or Kadai Chicken. This North Indian and Pakistani delicious dish is a staple at most restaurants that serves Indo Continental foods. Kadai Chicken comes in various styles, spicy with capsicum or light and creamy.

My favorite is this DELICIOUS… Creamy Chicken Karahi, that uses yoghurt and cream There is no Chili powder or turmeric so it remains light in color.  The thing that suits every chef about a Kadai Chicken is that is makes use of a single cooking utensil – A 'Kadai' or  deep sided WOK!  The chicken is cooked till it is 'fall off the bone' tender in a covered wok till it just oozes yumminess! So here's how I make it. Oh and did I forget to mention, its delicious? 🙂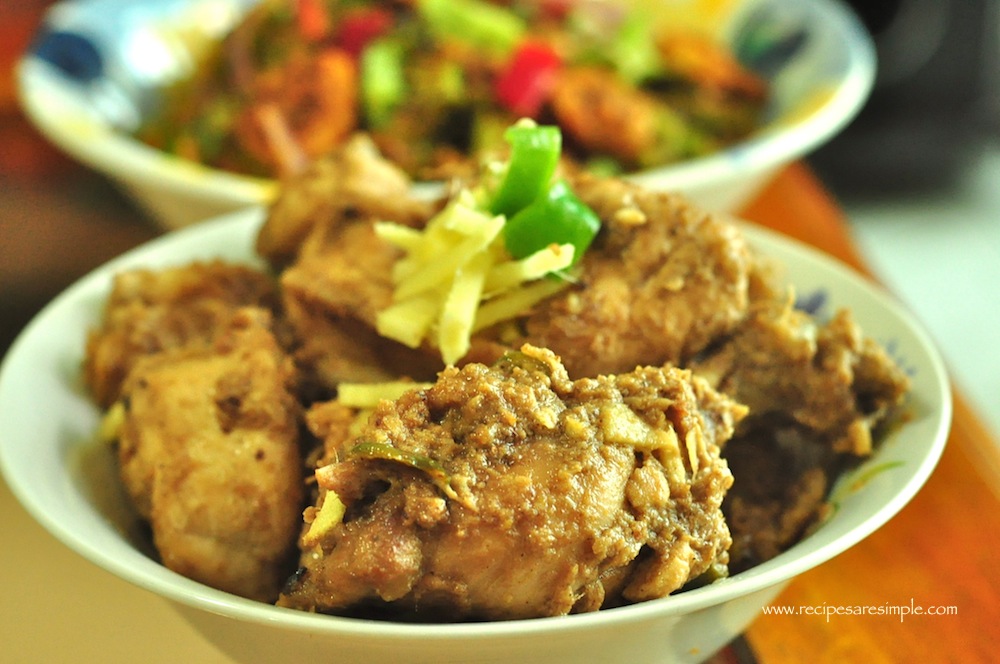 Kadai Chicken 
Author:
Prep time:
Cook time:
Total time:
Ingredients:
1 kg /2.20 lb chicken, skinless – washed and drained.
1 whole bulb of garlic & same amount of ginger.
1 large onion, diced.
8 small green chilies (for spicy chicken)  Or 2 long milder green chillies (fOR milder Chicken) –

I use the mild ones.

½ cup yoghurt, whipped well.
¹⁄3 cup cream. I used Alaska Cream.

Use a pouring cream/fresh cream. Do not use the tinned stuff.

1 tsp Garam Masala. My Garam Masala.
¼ cup freshly squeezed lemon juice.
1 tsp Coriander Powder.
1 tsp White pepper powder.
2 tsp Cumin Powder –

Normally I am not fond of cumin in chicken, but this dish is enhanced by cumin. do not omit!

Salt, about 1 tsp plus  to taste.
2 Tbsp Ginger Julienne cut.
¼ cup vegetable or sunflower oil.
Method:
Wash, clean and drain the chicken.
Grind the ginger and garlic to a smooth paste without water.
Marinate the chicken with this paste and 1 tsp salt for about 20 minutes, while you prepare the remaining ingredients.
Heat  oil in a large wok with a tight fitting lid.
Add the diced onion. Allow to sweat a little – Do not brown.
Add the marinated chicken to the wok and toss well. Toss till the chicken is evenly colored – white.
Cover the wok for 5 – 10 minutes on low- medium heat, till the liquids are released from the chicken.
Do not add water.
Open and add the well whipped yoghurt. Mix quickly to combine. Cover the wok again and time it for about 10 more minutes.

(Adjust the heat so that the chicken does not stick to your wok)

The gravy should be thick and no longer runny.
Add the green chillies. Taste and ad salt if needed.
Add the cream and garam masala. Stir to combine.
Add the Coriander powder, White pepper powder and Cumin. Stir well on low heat.
Add the Lemon juice.

(Add half the lemon juice first, and taste before you add all of it. Only use freshly squeezed lemon juice)

Add the Ginger, reserving some for garnish. Allow the gravy to thicken slightly.
Add a 1 or 2 Tbsp of extra cream if your desire more creaminess.
Serve hot with

Sheermal

(Saffron Scented Bread) or other flatbreads
Kadai Chicken 
Did you enjoy our Kadai Chicken  ? Let us know.
This chicken is light in color but packed with a loads of flavor!
The use a a large wok, ensures that the chicken is cooked so tender within the specified time. Dont forget to cover during some of the cooking process. The cooking process must not be interrupted.