22 April, 2016
Kadai Chana Masala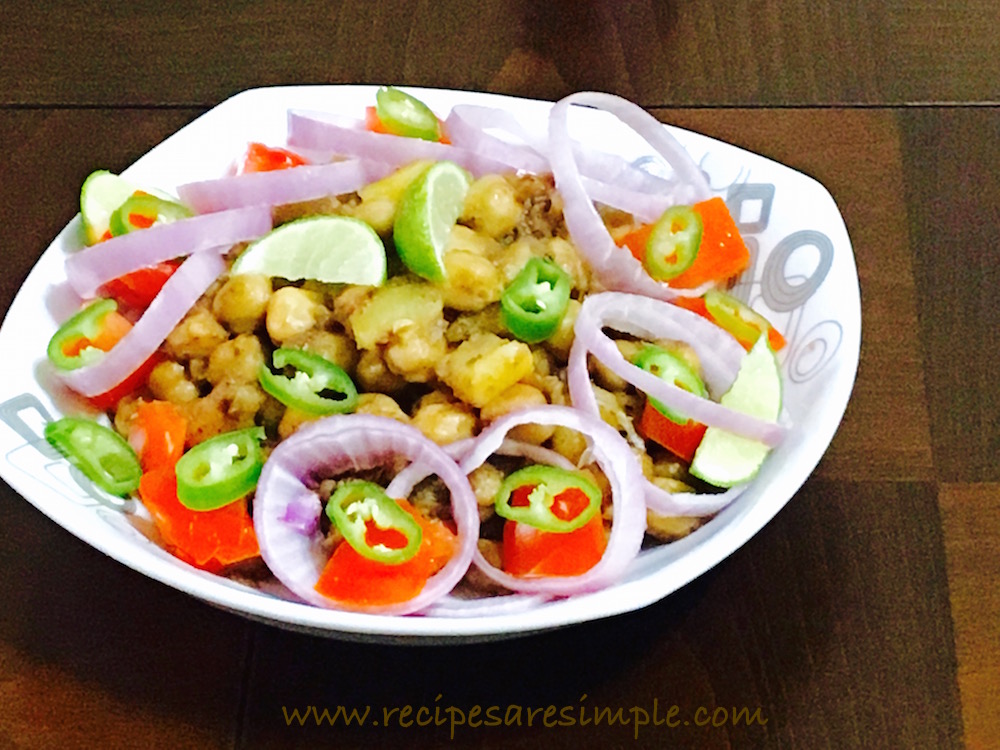 Kadai Chana Masala
This version of Kadai Chana Masala is variation on the tradional recipe. Very tasty and very simple to make. It has a rustic flavor that is so popular in the Indian  fixed menu items. It may be served as an appetizer with Aloo Tikki or Samosas. It can also be served along with Puri.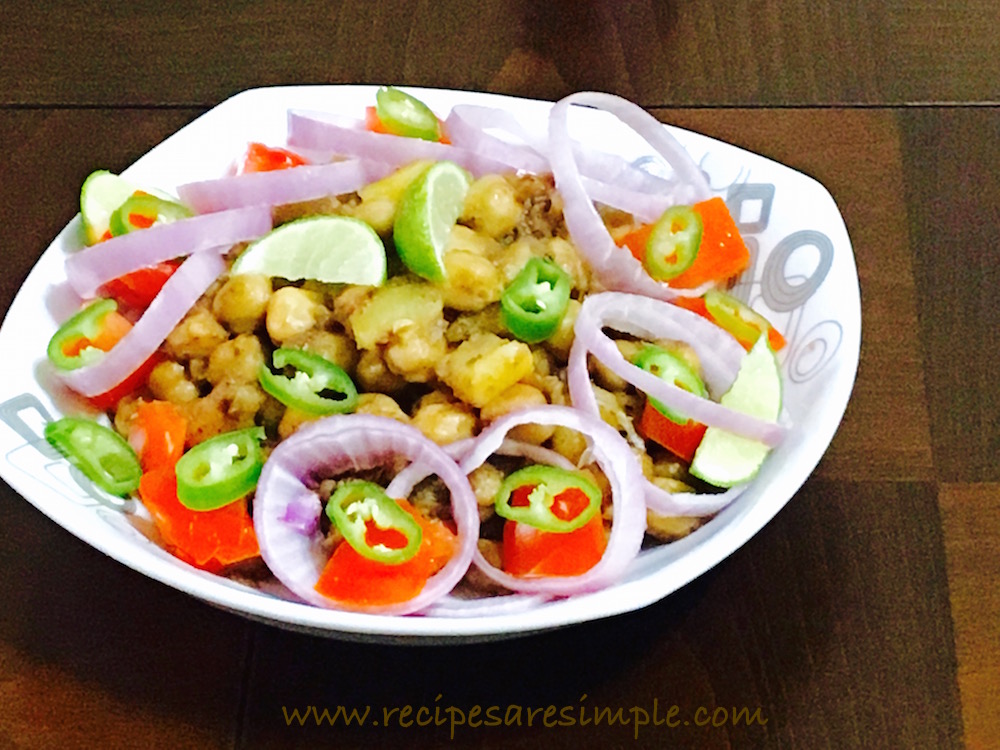 Kadai Chana Masala
You are here: Home > Snacks/ Appetizers  > Kadai Chana Masala
 

Recipe Name: Kadai Chana Masala

Recipe Type: Appetizers / Snacks

Author: Shana c/o Recipes 'R' Simple
Ingredients:
(The chick peas require overnight soaking)
1 cup dried chick peas (kabuli chana)
½ tsp salt
1 large potato
3 tsp vegetable oil
½ Tbsp ghee
Marinade:
 ½ Tbsp coriander powder
½ Tbsp pomegranate seed powder (anardana)
½ tsp chilli powder
¼ tsp garam masala (I use Everest)
½ Tbsp cumin seeds
1 tsp ginger paste
½ tsp salt
Garnish: 
3 Tbsp clicked green chili (I use mild chillies) – use as per taste
1 medium tomato, chopped
1 onion, chopped
1 lime, cut into wedges
Method:
Wash the chick peas well.

Add salt

and cover with water. Keep soaked overnight.
Drain the water and rinse several time under running water.
Add the chick peas to a pressure cooker with enough water and pressure cook for about 10 steam whistles.
Allow to cool.
Drain and reserve the cooking liquid.
Add all the ingredients listed under 'marinade'  to a bowl.
Also add the cooled and drained chickpeas,  oil and boiled, diced  potato. Toss to mix well.
Taste for salt. Add more if needed. Mix and set aside (refrigerate) for at least 3 hours.
Transfer the marinated chick peas to a wok or 'kadai .
Over low heat, add the  reserved cooking liquid (½ cup or so).
Simmer gently till the liquid runs dry – tossing gently, occasionally.
Move the contents of the wok to the sides. Add the ghee in the centre and turn up the heat. Once the ghee is hot, toss again once.
Put into serving bowl and garnish with chopped tomato, onion and green chili!
Place lime wedges on the side for squeezing to taste.
Yum.. Off you go… try it!
Kadai Chana Masala
You could use black chick peas for a different flavor.
Key Ingredients: Chick Peas, Spices, Potato, Tomato, Onion, Oil, Ghee,
Leave a comment if you tried – Kadai Chana Masala