2 March, 2013
Kacchi Biryani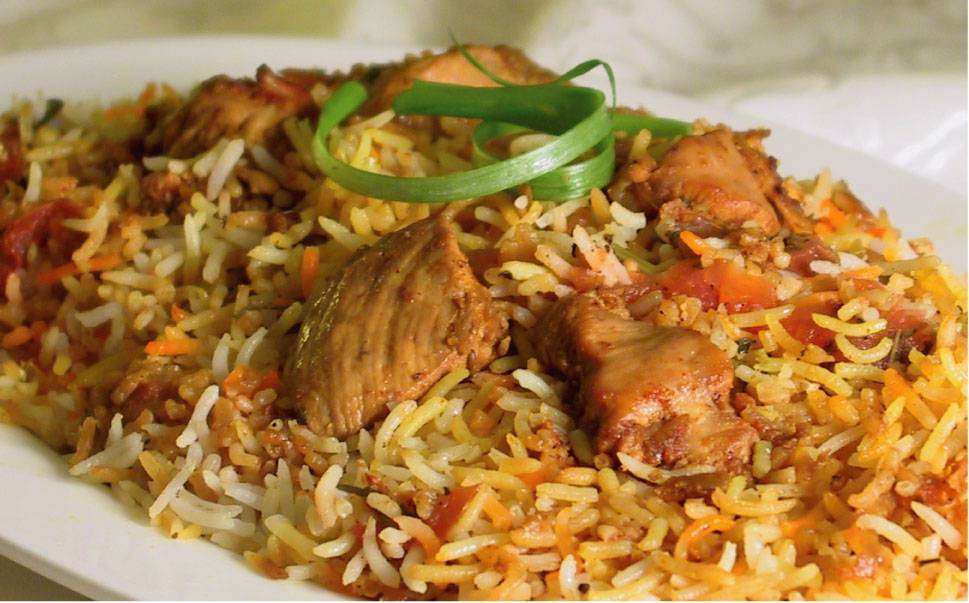 Kacchi Biryani
The flavour and aroma are one of a kind. Delicious! Another Authentic Biriyani of Hyderabadi origin.
The term 'Kacchi Biryani', refers to the meat being marinated in yogurt and cooked along with the  rice in a sealed pot.
Whereas another method,termed the 'Pakki' Biryani, means the meat masala is cooked first and  and then combined together with rice in a sealed pot for the → dum' → Whats that?

Kacchi Biryani
1 kg Chicken(or Mutton)
1 Cup Yoghurt
2 Tomatoes Chopped
3 green chilly sliced
1 handful  each of corriander leaves and mint leaves chopped
2 tsp Chilli Powder
1 tsp Garam Masala powder
1 tsp Paste Of raw Papaya(this is a natural meat tenderizer)
4 red onions sliced finely (to fry)
1 tsp salt
 Rice and other ingredients:
1 kg/4 cups Rice
1/2  – 1 cup oil to fry the onions
1/2 cup ghee
1 tsp Kewra Essence (screwpine)
1/2 Cup Milk




Method:
Fry the onions in oil till a nice golden brown. Drain and add all but ½ a cup of this to the chicken with all the other marinade ingredients→ 4-5 hours.
Soak the rice → ½hours
Bring a large pot with 10-12 cups of water to a boil. Add whole spices cinnamon, cardamom and cloves and enough salt to season our boiling water(taste test  the water).
Add the washed rice and allow to cook to al-dente(¾ cooked). Stir occasionally and check for doneness.
It is important that you don't cook the rice  all the way at this stage or the biriyani will end up mushy.
When the rice is ¾ cooked-  it will look cooked,there will be a bite left and it will crumble easily.
Spread the marinated chicken in a large deep pan .
Now with a slotted spoon, layer the rice over the marinated chicken allowing a little of the rice stock to be added as well as you spoon over the rice( this will help to keep the biriyani moist). Add ½ the rice.Spread evenly.
Sprinkle  ¼-½ cup of ghee, kewra essence and milk mixed with saffron all over the top
Kacchi Biryani
Did you enjoy our Kacchi Biryani Recipe ?
The Dum:(the sealed cooking method)
Mix the flour with enough water  and knead too a smooth pliable dough.Roll into a piping and cover the rim of the Biriyani pot all the way around.Press lightly with fingers.
Now place the lid  atop this dough rimming.
Cook on lowor about 15 minutes.. till a steady steam shoots through any small opening in this 'dough rim'
Then lower the heat and cook for another 10 minutes.(you may place a heated grill pan below the biriyani pot at this stage to ensure that the bottom layer does not burn and cok a little longer for mutton)
Lift off the top and carefully scoop the rice from the bottom on one side to check doneness!!
Serve hot!
You may also like:
Hyderabadi Chicken Biriyani and Malabar Chicken Biriyani.