4 July, 2015
Jeeraka Kanji – Simple Cumin Rice Porridge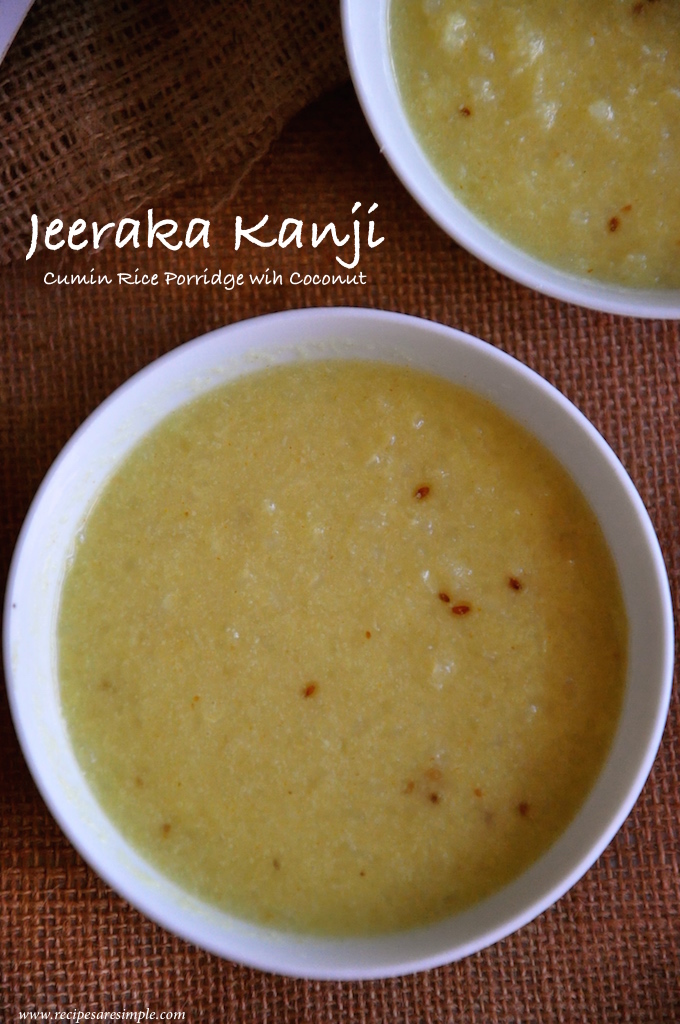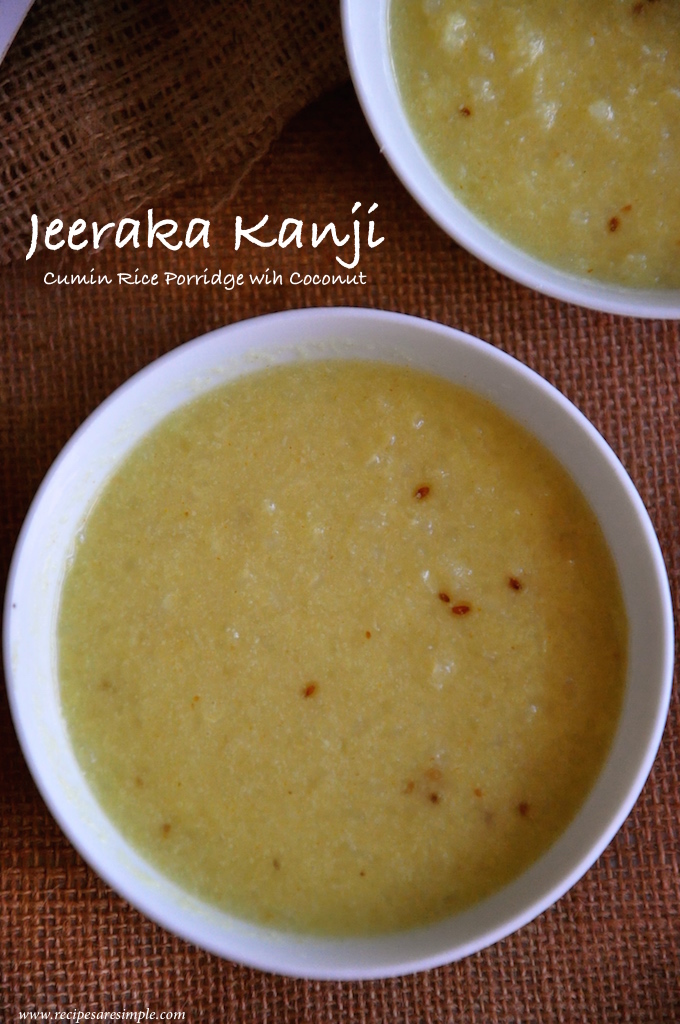 Jeeraka Kanji – Simple Cumin Rice Porridge
Jeeraka Kanji or Cumin Rice Porridge is a staple in many homes during the month of Ramadan. It goes down so easily. Soothing and filling at the same time.
There is a more spiced version of this porridge made with chicken. This is served in Singapore and Malaysia at the mosques during Ramadan. In India, there is a version containing meat and vegetables too. I much prefer this lighter, simpler version which we make regularly. It can be made more savory by adding some crisply fried shallots or onion on top. I don't bother with that either. Plain Simple Jeeraka Kanji is my favorite.
It's a great option for the Suhūr (Pre-Dawn Meal) during Ramadan too.
When someone at home has the flu or has lost appetite for some reason this is the perfect nutritional dish to prepare. My girls also had this often during their first year, after they started solid foods.
You are here: Home > Rice Dishes  > Jeeraka Kanji
 

Recipe Name: Jeeraka Kanji

Recipe Type: Rice / Porridge

Author: Shana c/o Recipes 'R' Simple
Jeeraka Kanji
Ingredients:
1 cup broken rice or raw rice

 ¹/3 tsp fenugreek seeds

1 tsp ashali seeds (garden cress / common cress seeds)
1 cup grated fresh coconut (loosely packed)
1 ¹/8 tsp cumin seeds
1 – 2 tsp coriander powder
¼ tsp turmeric
2 tsp salt  or to taste
Optional :
 ½ cup thinly sliced onion or shallots,
½ cup raw cashew nuts
¹/8 cup golden raisins or sultanas
ghee/ oil for frying
chopped coriander leaves for garnish
Method:
Rinse the broken rice thoroughly.
Add to a pressure cooker with the fenugreek seeds and ashali seeds. Also add sufficient water.
Pressure cook till you hear 6-7 steams. Check if the rice is cooked.

( Watch the cooker carefully. The addition of fenugreek seeds, sometimes causes splatter. If you see any seeds have come out of the vent, remove from heat, cool under running water and open the cooker. Rinse the lid of the pressure cooker and make sure the vent is clear of any seeds that my be causing blockage.)

Grind the coconut, cumin and coriander powder together adding just a little water to make a course paste.
Return the cooked porridge to heat.
Add turmeric and salt as it begins to boil.
Add the ground coconut paste now.
Stir the porridge.

At this stage I will taste and add more coriander powder if needed.

Bring to boil once more.
Optional – Fry the onions, cashew and raisins in ghee or oil and add over the top. Add chopped coriander leaves as fresh garnish.
Jeeraka Kanji
Key Ingredients: Broken rice, Coconut, Cumin, Water, Coriander powder, Fenugreek seeds, Garden Cress Seeds.
Let me know if you tried – Jeeraka Kanji. Comments from you provide motivation to keep up the driving force behind this blog, bringing you more delicious and perfected recipes regularly. Please do leave a comment. Love to hear from you.