24 June, 2014
Jackfruit Fritters – Chakkapazham Pori – Cempedak Goreng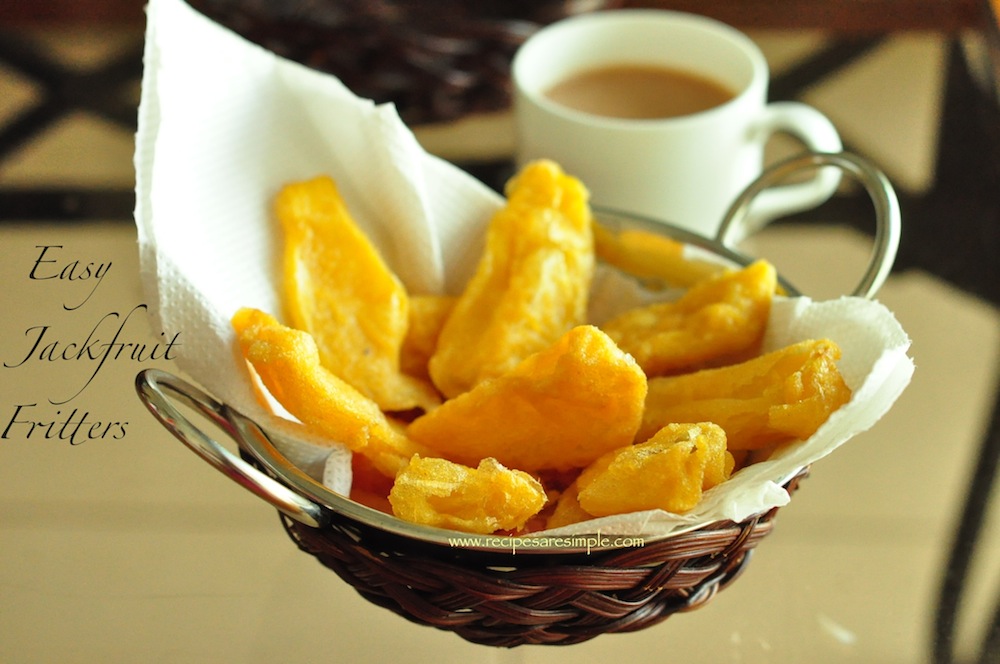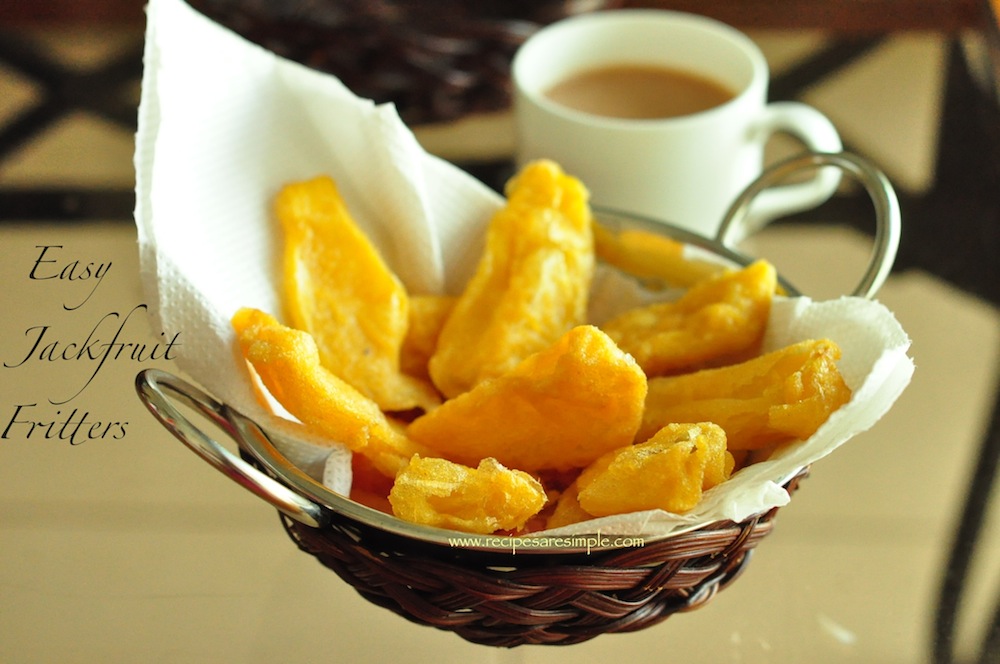 Jackfruit Fritters
  My husband happens to be a great fan of the Dubai Radio Station, 'HIT 96.7FM'. He was listening to a segment where the RJ's were discussing a particular day when one of the RJ's (Nimmy's) mom had made them some Jackfruit Fritters. Apparently, everyone loved them to pieces.
Intrigued, my husband told me about it and asked me to make them for him. So a very simple batter was made and the slit pieces of the jackfruit were dipped and deep fried quickly. The result was a very tasty tea time snack that is made in 10 minutes! Thanks to 96.7FM for the inspiration.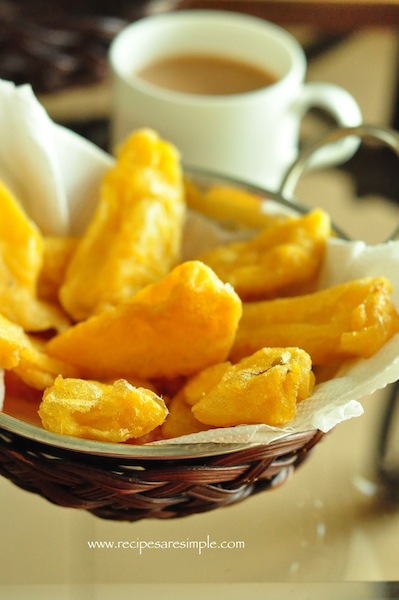 Jackfruit Fritters
Recipe Type: Snacks/ Sweet Snacks

Author: Recipes 'R' Simple

Prep time: 5

Cook time: 5

Total time: 10

Serves: 4-6
Ingredients:
8- 10 ripe but firm Jackfruit Segments / Pods / Bulbs. Rinsed and patted dry.
½ cup plain flour
¼ cup corn flour
¼ tsp mild chilli powder
¼ tsp salt
¹⁄8 tsp turmeric powder
¹⁄8 tsp sugar
Oil for deep frying
Method:
Make the batter by mixing the flours, salt, sugar, turmeric and chilli powder with about ½ cup water to get batter that is not too thick nor too thin

(something like a pancake batter)

Add oil to a small wok or pan for deep frying. Heat slowly.
Mean while, remove the seeds from each section of jackfruit.
Slit in half and then slit again so that you have 8 pieces per segment.
When a piece is dipped in the batter the batter should adhere to the surface.
Add all the slices into the batter.
Check if the oil is hot enough by dropping in the smallest slice. It should sizzle instantly.
Deep fry in batches – do not overcrowd.
Fry for just under a minute till the batter is light golden.
Drain on paper towels and allow to cool slightly and then serve immediately with Tea! They are good! Yes they are!
Jackfruit Fritters
Try it and let us know – Jackfruit Fritters .
You could also add a hint of spice, like powdered nutmeg to the batter.