11 April, 2013
Indian Chilli Chicken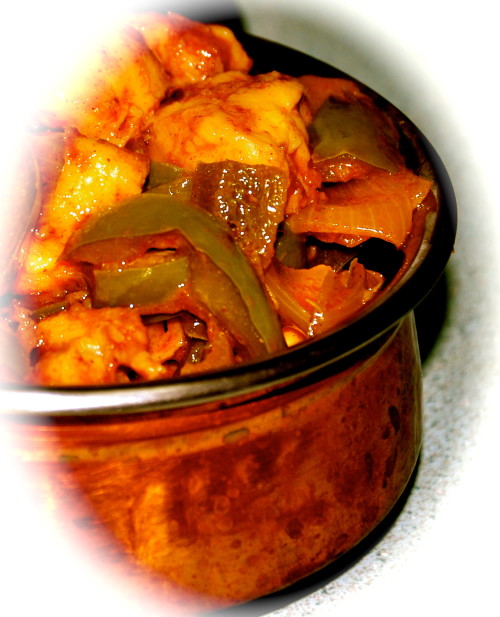 Chilli Chicken 
Another hugely requested recipe in the Indo Chinese Series. Served with some flat bread or rice, Chilli Chicken can be very mildly spiced to very hot depending on whether  you use really hot or mild chilly powder and deseeded green chillies. If you don't like heat , don't let the name deter you.

Chilli Chicken 
 Ingredients:
1 kg chicken pieces( with bone is better)
1 Tbsp finely chopped celery ( the thin stems and leaves)
2 tsp vinegar
1 tsp + 1 Tbsp light soya sauce
3 Tbsp  tsp cornflour
1 egg
2 tsp garlic , just crushed with the skin intact
1 Tbsp green chilly seeded and sliced into rounds
2 onions sliced or chopped to squares
optional- red food color, celery leaves, spring onions, capsicum for garnish




Method:
Cut the boneless chicken pieces into 1 " cubes.
Add to a sauce pan with the celery, vinegar, soya sauce, salt to taste and just enough water to cook the chicken half way (around ½-1 cup). 

Allow the water to evaporate

To a bowl add  1 Tbsp soya sauce, 3 tbsp corn flour and egg. Mix well to combine. Coat  the drained chicken pieces in the this mixture .
Heat oil and deep fry  at  medium high till golden brown.

Drain .

Heat 1 Tbsp oil in another wok. Add garlic and fry. Remove and discard.
To this garlic infused oil, add and stir-fry the green chillies retaining the green color.

(just a few seconds)

Add onion and saute till just turning golden brown.
Add chilly powder and stir well.
Now add the fried chcken pieces and toss well to coat.
If the chicken is not red enough you may add a bit of red food coloring.(optional)
Stir fry  just until any liquids evaporate and the chicken remains moist. Do not over fry. Add salt to taste.
Garnish either with celery, capsicum, green chilly, spring onions or fried ginger or a combination.
Chilli Chicken 
Did you enjoy our Indo Chinese Chilli Chicken  ?
You may also like:
General Tso's Chicken, Chicken Manchurian