14 January, 2015
Indian Beef Roast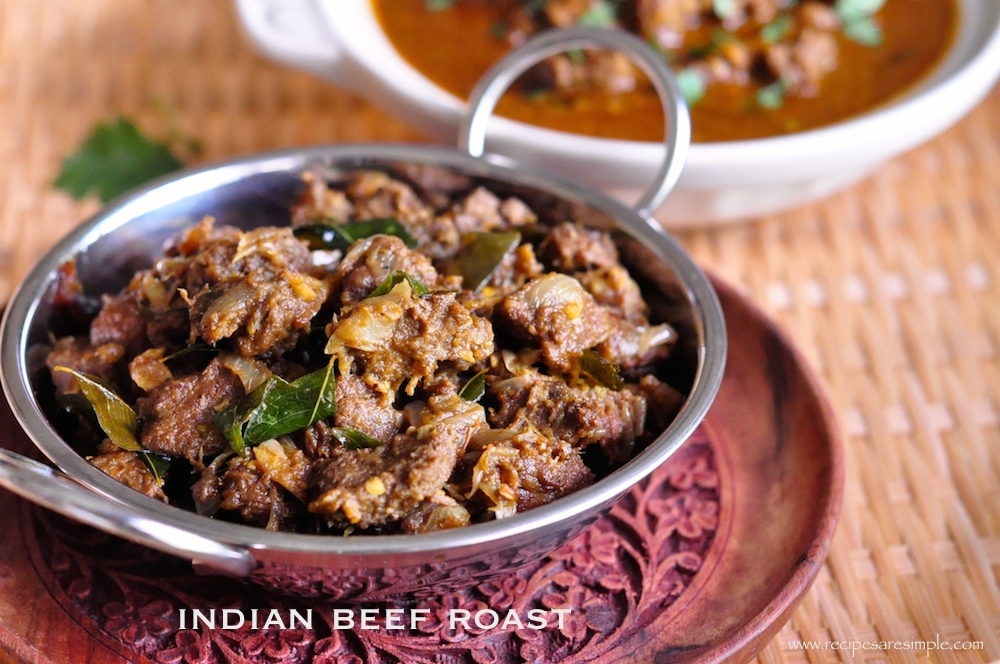 Indian Beef Roast
Succulent Beef Cooked in Aromatic spices and Shallots before being stir fried with Onions Garlic and Ginger to perfection. Finger Licking Good!
Indian Beef Roast
You are here: Home > Beef & Mutton  > Indian Beef Roast
Recipe Type: Beef

Author: Recipes 'R' Simple

Prep time: 30

Cook time: 30

Total time: 1 hour

Serves: 6
Ingredients:
1 kg beef, cut against the grain to small bite size pieces
1 generous cup shallots

(plus 1 Tbsp)

, chopped
½ cup garlic

(plus 1 Tbsp)

, chopped
1 large knob of ginger

(plus 1 Tbsp)

, chopped
2 Tbsp curry leaves
1 large tomato, chopped
1 (mild) long green chili, sliced
2 Tbsp coriander powder
1 Tbsp chilli powder (optional)
1 Tbsp aniseed powder
½ Tbsp garam masala ( Get my Garam Masala Recipe)
1 ½ tsp turmeric powder
salt to taste ( about ½ Tbsp)
2 Tbsp oil ( I use coconut oil)
For stir frying:
2 large  red (purple) onions sliced

2 Tbsp garlic, crushed
1 Tbsp ginger, crushed
2 Tbsp curry leaves
2 Tbsp oil




Method:
Rinse the sliced beef thoroughly till water runs clear. Keep drained.
Add 1 Tbsp each of shallots, ginger and garlic to a small mixer and grind to a paste. Set aside.
Heat the oil in a heavy bottomed pot or pressure cooker.
Add the shallots, garlic, ginger and green chili. Sauté till translucent.
Now add the ground paste and stir well. Sauté lightly.
Add curry leaves.
When the mixture turns a very light golden brown – add all the spice powders.
Stir on low heat, sprinkling a  little water so that the spices do not burn.
When cooked aromatic, add the tomato and cook till the tomatoes are reduced.
Next add the beef pieces and toss well to coat in the masala. Add salt.
Pour in just enough hot water to cover the beef. ( Don't add too much water or you will need to boil it down till the curry reduces)
Pressure cook for 12 steam whistles. On low – medium heat.
There should just a a little gravy left. Simmer the beef till the remaining gravy thickens  and the beef remains moist but not a curry.
Now we will stir fry the cooked beef: Heat the oil in a heavy bottomed wok.
 Add the onions garlic and ginger.
Saute patiently on medium heat till the onions are reduced and a golden brown color is achieved (not brown).
Add curry leaves and cook till they  turn bright green.
Add the cooked beef with the reduced gravy left in the cooker.
Stir fry, tossing till the beef gets a lovely dark brown  color and all the spices and ingredients are  melted into the beef mixture. (about 5 minutes).
Serve with flatbreads or rice.
Indian Beef Roast – Twice Cooked Beef
Sometimes I like to First prepare the beef ahead of time by cooking it with some salt, turmeric and garam masala in just enough water to tenderize without scorching. (As shown in Video). I then continue as above when I need to.
The shallots are essential for the first part of the cooking and must not be omitted in this Indian Beef Roast.
I like to use lots of fresh curry leaves.
I do not use chili powder. I like the mild spiced flavor. However, if you like more heat and color, add chili powder to taste.
Key Ingredients: Beef, Shallots, Onion, Garlic, Ginger, Green Chilli,  Tomato, Curry Leaves, Spices,oil, Salt
Let us know if you tried it – Indian Beef Roast  . Comments from you provide motivation to keep up the driving force behind this blog and keep getting you sought after and perfected recipes. Please do leave a comment. We love to hear from you. Notes: