25 May, 2016
Idli Manchurian |South Indian Chinese Makeover Recipe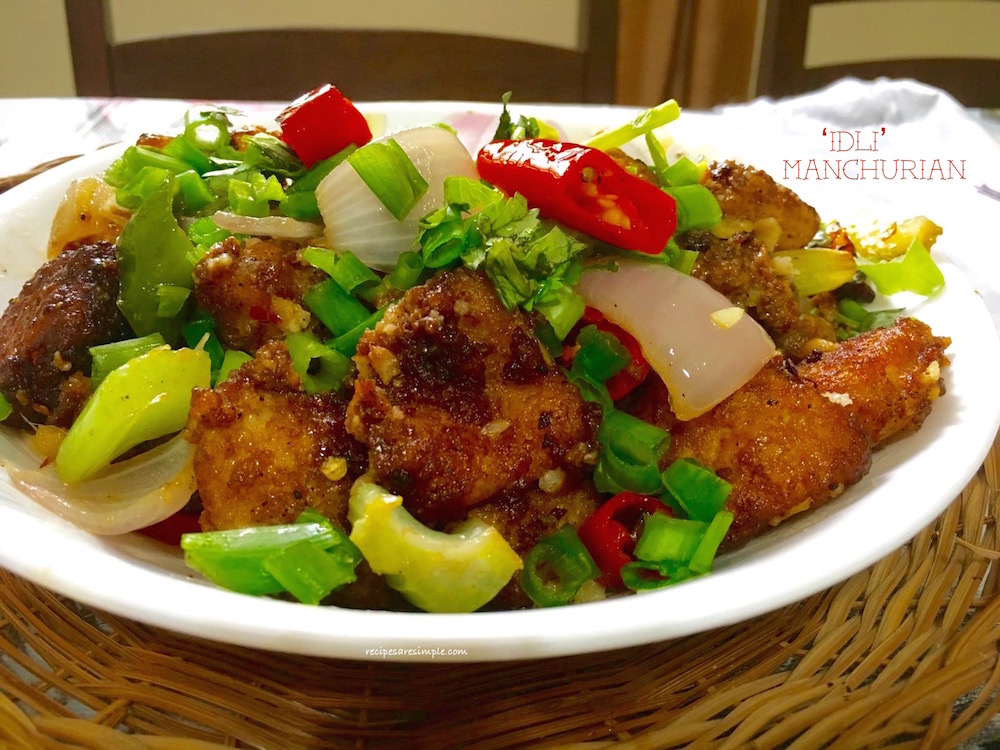 Idli Manchurian
Idli Manchurian is  a great way to give the previous days Idli's a yummy makeover. The staple South Indian Breakfast gets fancy. I love Idli occasionally for breakfast. However no one seems to be interested in having it two days in a row and I always seem to have 8-10 idllis leftover. Hurray.. transform the cold idli's from the fridge into a savory snack or breakfast, the next day. If you are looking for a great spongy, soft , white Idli recipe, here is my favorite Idli Recipe.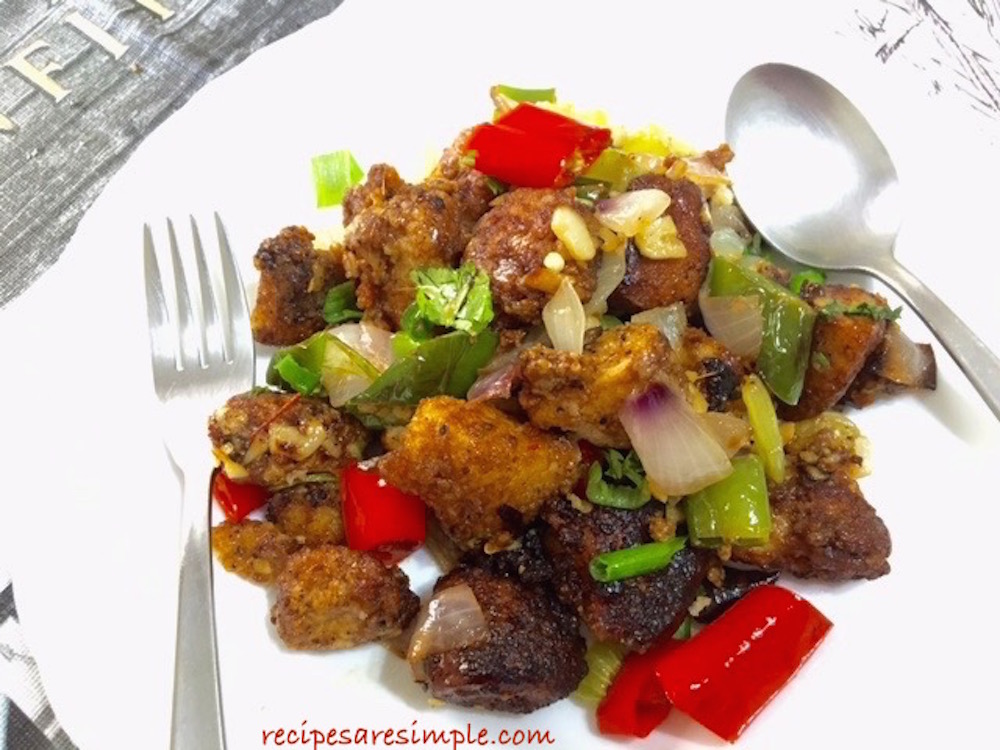 Idli Manchurian
You are here: Home > Breads and Breakfast > Idli Manchurian
 

Recipe Name: Idli Manchurian

Recipe Type: Breakfast / Fusion

Author: Shana c/o Recipes 'R' Simple
Ingredients:
10-12 cold idli's from the previous day
Batter:
1 ¼ Tbsp Dark Soya sauce (darker soy sauce is thicker and less salty than light soy sauce. It also coats the idli better)
2 Tbsp cornflour
2 Tbsp plain flour
¹/8 tsp salt
¼ tsp pepper
water as required
Sauce:
¹/3 tsp black pepper powder
¹/3 tsp white pepper powder
1 ½ Tbsp sweet chili sauce (I use Thai chili sauce)
2 tsp cornflour
¼ cup water
Other:
4 tsp garlic, finely chopped
3 tsp ginger, finely chopped
1 large onion or 2 medium, cut into squares
half a green bell pepper, cut into squares
1 mild green chili, chopped
1-2 mild red chilli, chopped
1 large rib of celery, sliced ( about 1 cup)
2 Tbsp light soy sauce ( lighter, thinner, saltier)
Spring onion greens , for garnish
Method:
Cut the cold idli's into quarters.
Add the dark soy sauce, salt, pepper, corn flour and plain flour and a little water to make a batter. (OR Make the batter first, and add the idli pieces into it to keep the idi from getting crumbly).
The idli pieces will take on the dark caramel color of the soy sauce.
Heat oil for shallow frying. Get it quite hot. Fry the pieces quickly in the oil till they become golden and set aside on kitchen paper towel.
In a non stick pan/ quad: heat 2 Tbsp oil.
Add the ginger and garlic and sauté till aromatic. Add the onion and saute  till soft, followed by all the chillies, bell pepper and celery. Cook till all ingredients are slightly softened but still retaining texture.
Meanwhile, mix together the sweet chili sauce, white pepper powder, black pepper powder, cornflour and water in cup to make a sauce. Set aside.
 Add the fried Idli to the sautéed ingredients and toss well.
Add the prepared sauce and mix well. Also add light soy sauce a Tbsp at a time – adjust to taste.
Stir in some Spring onion greens and garnish with some extra. Serve hot.
Idli Manchurian
Key Ingredients: Left over Cold Idlis, Peppers , Onion, Chilli Sauce, Soy Sauce, Pepper, Spring Onion, Celery, Oil, Flour
Leave a comment if you tried – Idli Manchurian.