11 October, 2016
Iced Honey Lemon Drink – Hong Kong Style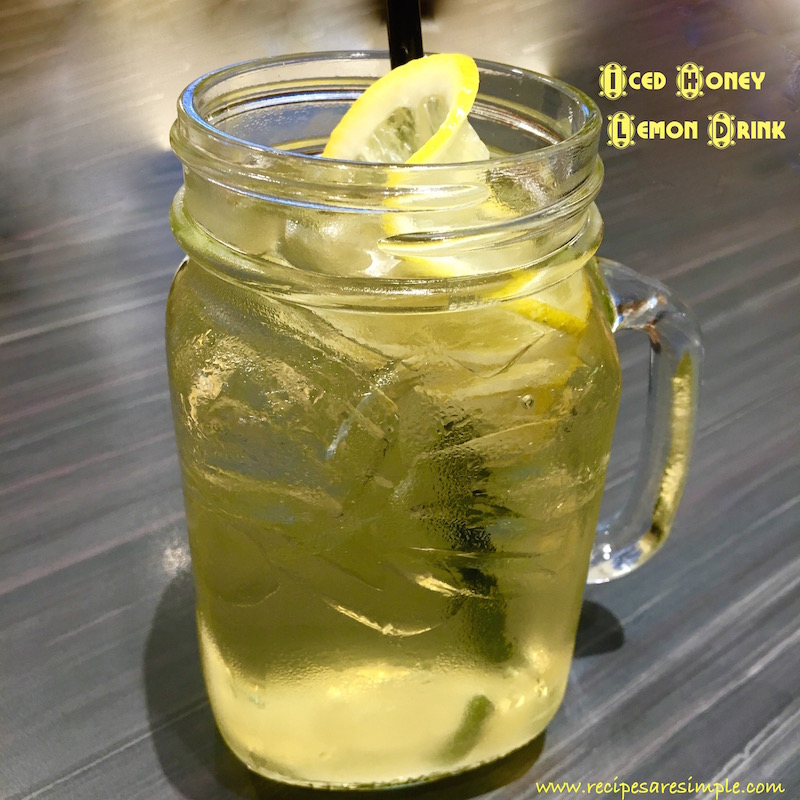 Iced Honey Lemon Drink – Hong Kong Style
This Iced Honey Lemon Drink , is a popular thirst quencher in Hong Kong.  It sure helps to beat the Singapore heat too! This lemonade is sweetened using organic honey. No sugar or sugar syrup is used.
There is an art to the drink. Usually, when served – you have to stir from the bottom of the jug to mix the honey (which may have settled at the bottom) to get the flavor to your liking. If you poke at the lemon slice more, it releases more of the lemon flavor. I noticed that different types of honey make the lemonade look darker or lighter. I prefer light honey or clover honey, but this is a personal choice.
I am on a no sugar diet at the moment, so when I do feel the need for a sweetened drink, I  go to honey to replace sugar. Remember honey is very sweet, so you need less than you would need castor sugar.  Hot Honey Lemon is also good for a sore throat, but in this heat, I prefer the iced version.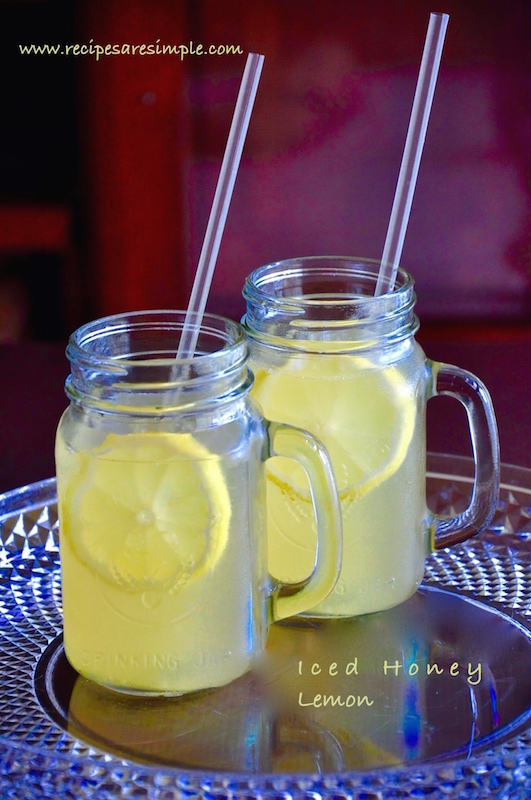 Iced Honey Lemon Drink – Hong Kong Style
You are here: Home > Drinks and Beverages  > Iced Honey Lemon Drink
 

Recipe Name: Iced Honey Lemon Drink – Hong Kong Style

Author: Shana c/o Recipes 'R' Simple
Ingredients:
3 Tbsp organic honey (use a honey that is not too strong in taste, like the darker ones)
¼ cup hot water
¼ cup freshly squeezed lemon juice ( I needed only one large lemon)
¹/8 tsp pure vanilla extract
2 cups cold water
plenty of clear ice cubes
organic lemon slices(thin), mint leaves optional
Method:
Pour the hot water over the honey and stir till the honey is completely dissolved into the solution.
Add the freshly squeezed and strained lemon juice to this.
Top up with 2 cups of cold water and stir.
Add more honey if needed, but remember honey has a strong flavor , so be careful when adding more.
Chill till ready to serve.
Now fill up to 3/4  the serving jugs, with clear ice. Add one slice of lemon and  then fill with prepared cold lemon drink. Garnish if desired.
Serve immediately with straw!
Iced Honey Lemon Drink – Hong Kong Style
If planning to serve later, do not add ice cubes or lemon slice. Leaving the sliced lemon for longer can cause a bitter taste.
Key Ingredients: Lemon, Honey, Water, Ice.
Leave a comment if you tried – Iced Honey Lemon Drink – Hong Kong Style.
<