25 May, 2015
Hungarian Chicken Paprikash – Csirkepaprikas (with dumplings)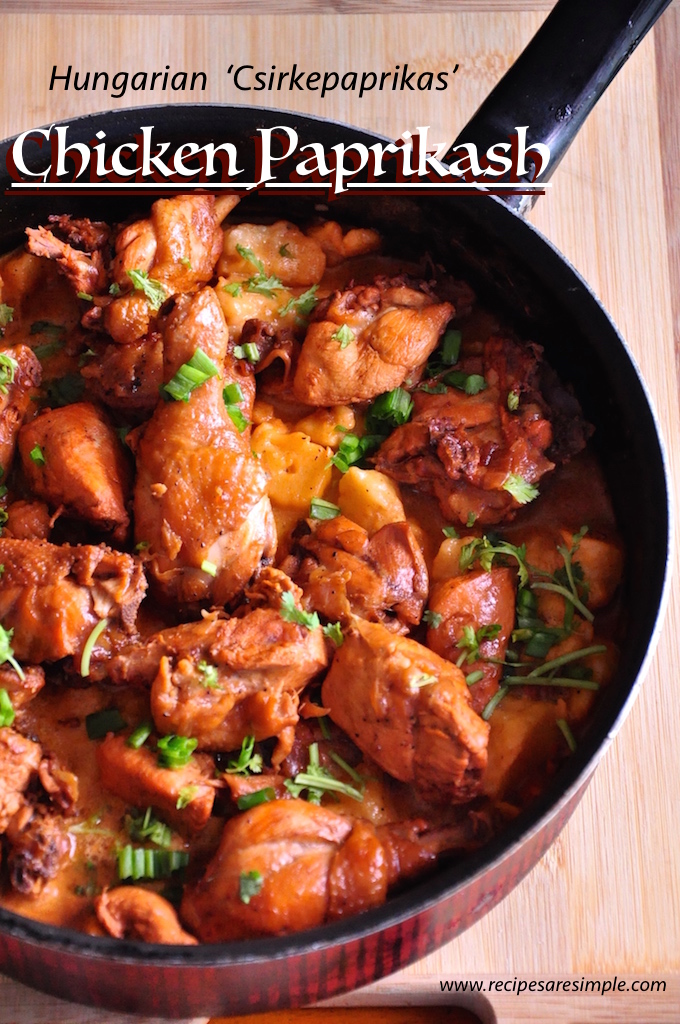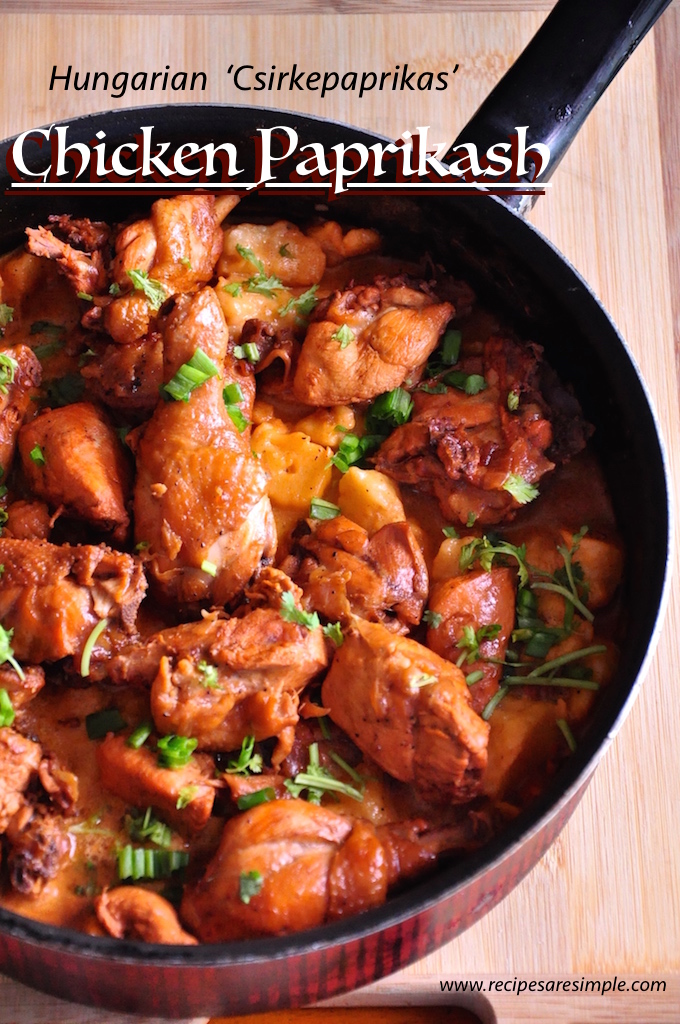 Hungarian Chicken Paprikash – Csirkepaprikas 
Hungarian Chicken Paprikash (Paprikás Csirke) is one of the most popular dishes in Hungary.  This Magyar Dish, consists of slowly cooked – 'bone-in' chicken. The chicken is cooked in a Hungarian Sweet Paprika and Sourcream ( Tejföl / Smetana) based gravy.
If you can not find Hungarian Paprika, use any other good Sweet Paprika combined with some Cayenne if desired.
This dish is very simple in flavors. There is not a lot of spice. Make sure to add appropriate amount of salt. This is essential for dishes that have very few distinguishing ingredients.
I think Chicken Paprikas gets a lot of criticism from those not familiar to Hungarian Cuisine.   If you are one who like a whole lot of bold flavors, this may not be your cup of tea.
I do however, appreciate the simplicity of this dish and all that  all it stands for. It's wonderful to learn how foods came to be in different regions.
In the 16th century when explorers began bringing back new foods from the Americas, food culture was changed immensely all over Europe. Italy and Spain incorporated tomatoes  into their cuisine as a staple forever. Potatoes were embedded into Northern European Cuisine. Turkey began growing and exporting red peppers, which Hungarians found to be perfect for their soil as well. Eventually, it became a major part of their cuisine.
Hungarian dishes traditionally did not make much use of tomatoes, which some people like to incorporate these days into their Paprikash. You can use tomato paste or puree as well.
I am sharing the family recipe of my friend Sandra – for Chicken Paprikas with Dumplings. I am also adding a simple way to spice and flavor it up a notch.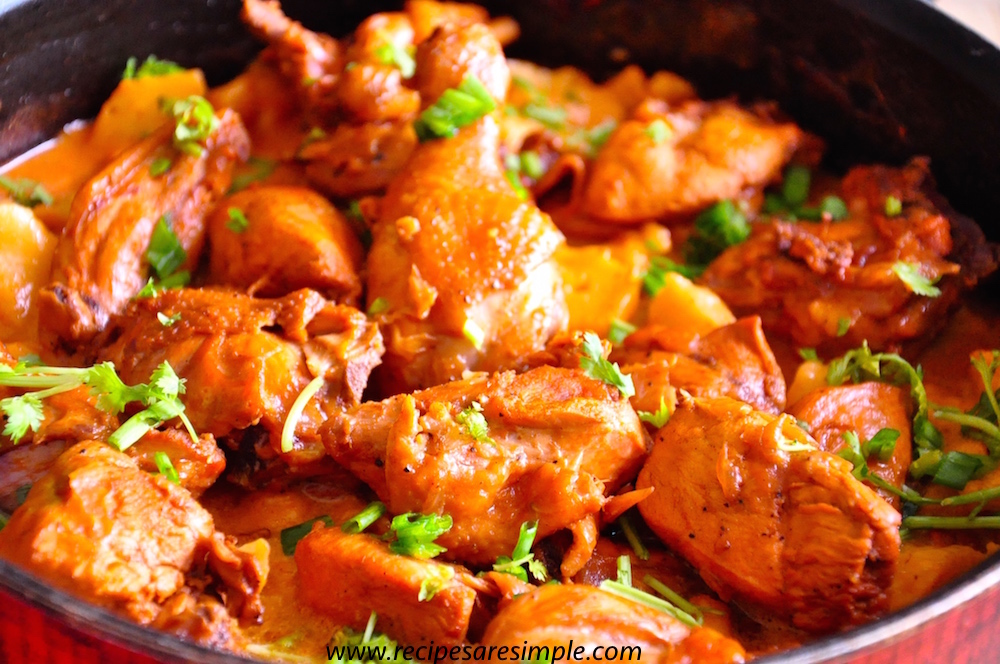 You are here: Home > Chicken  > Chicken Paprikash
 

Recipe Name: Hungarian Chicken Paprikash

Recipe Type: Chicken / Hungarian Dishes

Author: Shana c/o Recipes 'R' Simple
Hungarian Chicken Paprikash – Csirkepaprikas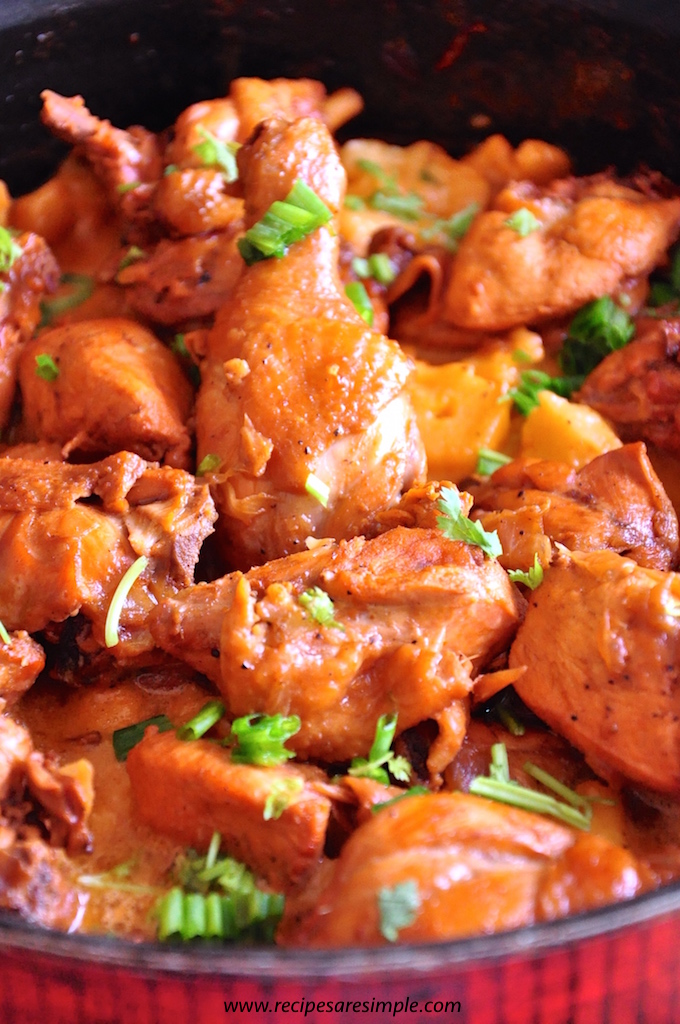 Ingredients: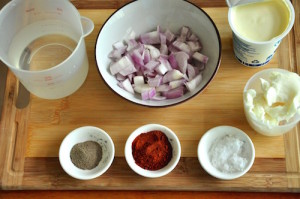 1 kg chicken, cut into pieces

( chicken with bone and skin intact)

1 large white onion, chopped

(I use red onion)

4 Tbsp vegetable shortening

(I prefer oil mixed with chicken fat if possible)

2 Tbsp Hungarian or Turkish Sweet Paprika (

not hot and very aromatic, made from the special type of red peppers)

2 tsp Cayenne (optional)
1- 2 tsp black pepper powder
2 tsp salt

(a good amount of salt is essential)

200 ml sour cream
1 ½ cups hot water
Fresh chopped herbs, cilantro, scallions, dill…
For Dumplings: (You can omit the dumplings and serve over pasta as well)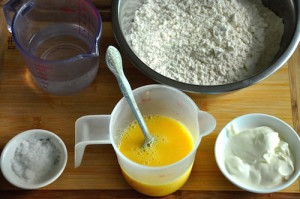 3 cups flour
3 eggs, beaten
3 Tbsp Sour Cream
2 tsp salt
½ cup water
Extra quick gravy to 'spice n flavor' it up:
1 green bell pepper, diced
3 green chili peppers, sliced
4 cloves garlic, smashed
1 cup tomato puree
1 tsp cumin
¼ tsp salt
2 tsp garam masala/ Tandoori Masala / all spice/  Moroccan or Arabian spice mix – whatever you prefer
2 Tbsp cream
½ cup water
2 Tbsp oil



Method:
For Dumplings: If you are serving with dumplings, prepare the dumplings first.
Mix all the ingredients together with a fork till you see no more dry flour.
Bring a pot of slightly salted water to boil.
Dip a spoon in the hot water and scoop up the dough. Drop into the boiling water.  

Traditionally small teaspoons are used. I use a tablespoon to make larger dumplings and cut them up after they are cooked. I find this easier.
Once all dumplings are added, cook for 10 minutes, stirring the dumplings gently after half the time with a wooden ladle.
Drain and rinse with cool water. Cut if needed.

The dumplings when cooked correctly should be tender and bouncy.
For Chicken Paprikash:
Heat the shortening in a wide, flat pan.

The pan should be wide enough to lay the chicken in a single layer.

Add the onion and allow to soften for 30 seconds.

(Add a little garlic for more flavor).

Add the chicken skin side down. Allow to cook undisturbed on high heat for 5 minutes. The skin should gain a nice golden color and the onions should not turn dark.

(note that the skin on chicken n picture below is not brown enough yet. I flipped it over again and forgot to take a picture).

Turn the chicken over for one minute.
Add all the seasoning ( paprika, pepper and salt) and cook for another 5 minutes, stirring well to mix the spices evenly. The color should be uniform.
Add water and bring to a boil on high.
Cover tightly with lid, lower heat and simmer for 10 – 15 more minutes on very low heat (till chicken is tender).
Remove the chicken pieces from the gravy.

(At this stage, you may choose to remove the chicken  from the bone – or leave as it is. I like to remove the skin and bones.)

If the gravy seems thin, you can simmer it briefly till slightly thickened.
Turn off the heat and stir in the sour cream Whisk continuously till the cream is incorporated without any lumps.
Add some more seasoning now if needed.
Turn on the heat again.
Add the prepared dumplings to the gravy now and allow to heat through.
Serve the chicken over the  dumplings.
(I like to cook some extra tri color, whole wheat pasta as well along with the dumplings)
Garnish with fresh dill , scallion or cilantro. You can use a combination too.
For the Extra quick gravy to 'spice n flavor' it up:
Heat oil in a pan and add the smashed garlic.
When just softened, add the green chili and mushroom.
Cook briefly till mushrooms release their liquid.
Add the bell pepper and cook for a minute.
Add tomato puree.
Cook till color becomes bright red.
Wash out the cup of puree with  the water.
Add seasonings and salt to taste.
Lastly add cream and stir through till heated.
Garnish with fresh herbs if desired.
Serve this along with the Paprikas.
Hungarian Chicken Paprikash – Csirkepaprikas
Use only the freshest chicken for this dish.
Salt Salt Salt – is very important in this dish.
When serving, you can serve the chicken with bone intact OR pull apart the chicken meat from the bones when tender, discard the bones and return to the gravy. This is easier to eat over dumplings and pasta. I like to remove the skin too. However when cooking keep the skin and bone intact to keep the chicken tender and juicy.
If you do not have sour cream, thick (hung) yoghurt may be used and add a little lemon juice to the gravy.
Chicken Paprikash is served with rice as well.
You can add some chopped dill or herbs to the dumplings for more flavor too. Not too much though.
Hungarian Paprika comes in different types, hot, mild, sweet etc.. It might be hard to find. Replacing regular sweet paprika gives fine results, I noticed – just a small difference.
Some like to thicken their gravy with flour but being rich with sour cream and dumplings, I do not feel this is called for.
Read more about Hungarian Cuisine.
Key Ingredients: Chicken, Sweet Paprika, Cayenne, Pepper, Salt, Shortening, Onion, Sour Cream, Water. For Dumplings: Flour, Eggs, Salt, Sour Cream 
Let us know if you tried it – Hungarian Chicken Paprikash – Csirkepaprikas  . Comments from you provide motivation to keep up the driving force behind this blog, bringing you more delicious and perfected recipes regularly. Please do leave a comment. We love to hear from you.