12 February, 2014
How to make Idiyappam – String Hoppers – Rice Flour Steamed Noodle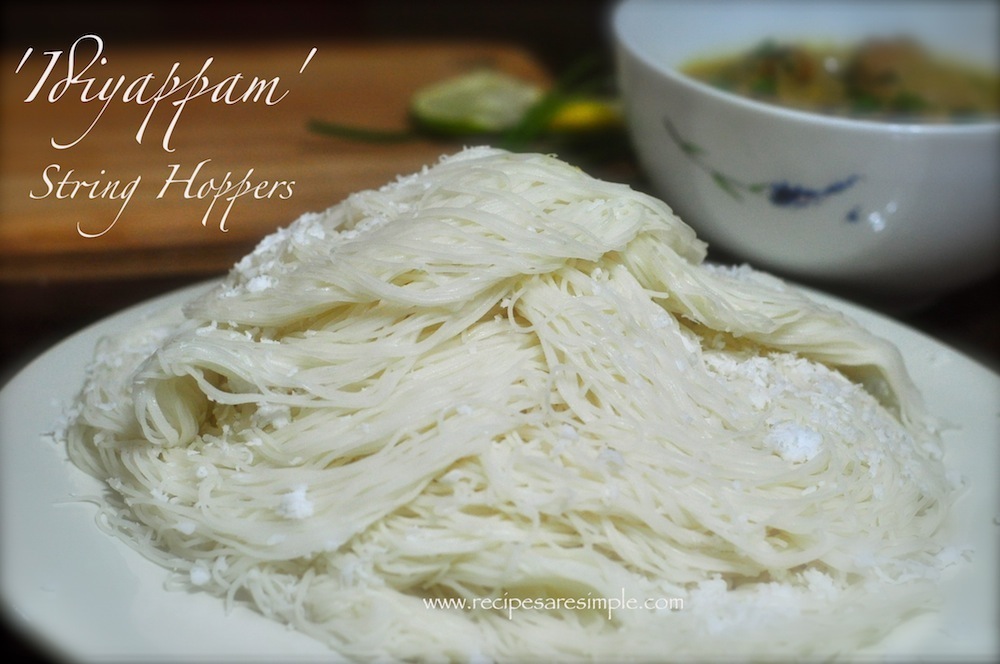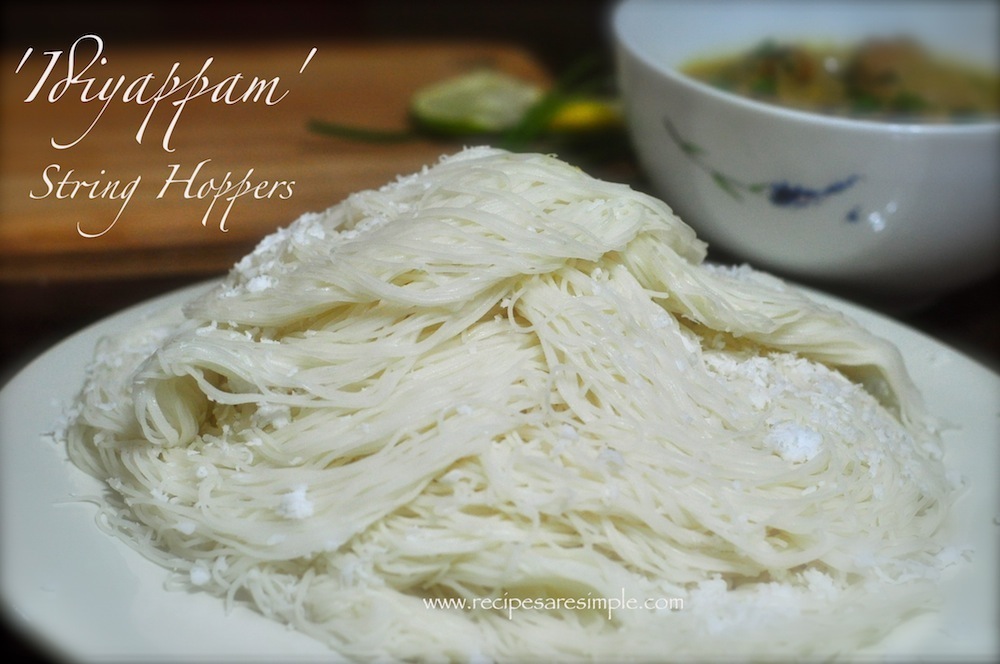 How to make Idiyappam
These thin, laced crepes are made of rice flour which is briefly cooked in boiling water and then kneaded and pressed through a fine 'Idiyappam' or Noodle maker. The delicate  'String Hoppers' as they are also known, are then placed in a tiered steaming rack to be steamed over boiling water  for 5 – 6 minutes. Check out the video tutorial on How to make Idiyappam below.




'Idiayppam Press' comes in different shapes and sizes. I use a Standing Press, which is great for heavy duty cooking.
The Hand Held types are a good option for easy storage and cleaning. The secret to soft light Idiyappam lies in the kneading of the dough. The dough is to be kneaded while still quite hot. My secret for this, is to dump the dough into a food safe temperature resistant bag (Ziploc™ Brand Zip N Steam bags) and place on  a thick kitchen towel and knead using the towel to protect your hands from the heat. Kneading must be done quickly. Using the bag gives you a smooth, tight dough in minutes.  (If you have a mixer with a dough hook, you can use this too.The dough must then be covered and pressed into noodle form quickly, since this dough tends to dry if exposed to air for long. You also have to wash your mould/press before it dries up or it would harden making wash-up super difficult.
All in all, making these delicate breakfast hoppers is not so hard if you make them regularly. First time might take a while. You need a steaming rack or steamer, a press and a pot to cook the dough. Have fun. I love Idiyappam with my Malabar Chicken Kurma  or Egg Curry.
How to make Idiyappam
Recipe Type: Breakfast

Author: Recipes 'R' Simple

Prep time: 20

Cook time: 15

Total time: 

Serves: 4
Ingredients:
2 cups rice flour
2 ½ cups water
1 tsp salt  (omit if using Idiyappam flour with salt added)
1 tsp coconut milk
about 1 cup of grated coconut
You will need – A tiered/ single rack for steaming, A steamer or cooker for steaming, an Idiyappam press.
Method:
Wash the steamer/ racks and Idiyappam Press before hand.
Add the water to a wide mouthed pot/deep pan and heat.
Bring to boil and add salt.
Also add coconut milk.

This keeps the Idiyappam from sticking to the steaming racks later and also make them smoother.

Add flour in one heap to the centre of the  boiling water.
Do not stir at first. Allow the water all around the sides to boil over the heap of flour.
Now, stir vigorously, to blend the  flour with the water. Do this quickly as the water will be absorbed quickly. You want it to be evenly distributed throughout the flour so that there is no more dry flour.
Cover the pan and allow to sit and 'sweat' for

only

5 minutes.
Now you must knead this flour while it is still hot.  My trick is to add all the moist flour into a large heat resistant, food safe bag and place the closed bag on a large kitchen towel.
Now knead using the cloth to protect your hands from the heat.
Knead for about 5 minutes. You should open the bag to find a nice smooth, tight and bouncy dough. ( no more specks of white dry flour). Place the dough in a large bowl and keep covered while working with sections of the dough ( to prevent the dough from drying out)
Now fill the Idiyappam press with enough dough that has been rolled to fit into the hole and press through the tiny holes directly onto the rack used for steaming.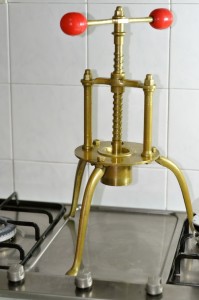 Rotate either the press or the rack/plate, to get an evenly round, thin idiyappam.
Don't make the Idiyappam too thick or it will touch the rack above it and get smashed. Also do not press or touch the un-steamed Idiyappam as it will loose its shape.
Sprinkle grated coconut over each Idiyappam.
Place all the racks in the Idiyappam stand.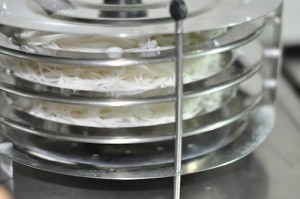 Bring a little water to boil on the bottom of the steamer pot/ cooker etc.. Only enough water to stay below the Idiyappam rack. The bottom tier should not touch the water.
Once you have filled all the racks, insert the stand into the steamer pot/ pressure cooker etc (anything big enough to hold your Idiyappam stand/ rack).
Close the steamer with a lid. The lid should have some kind of vent for the steam to escape from.
Steam the Idiyappam

over 

the boiling water for 5 minutes, and till a steady, strong flow of steam is seen escaping.
Remove the Idiyappam to a casserole dish and continue to press out and steam the remaining dough into Idiyappam.
How to make Idiyappam
Try it and let us know – Idiyappam.
Idiyappam can be served with just about any curry. Vegetable Stew, Egg curry, Chicken Curry etc..
Buy this hand held Idiyappam Maker Now.

Buy this Steamer rack which can be used for Idli or Idiyappam Now.