10 February, 2014
How to Make Doughnuts |Home made Doughnuts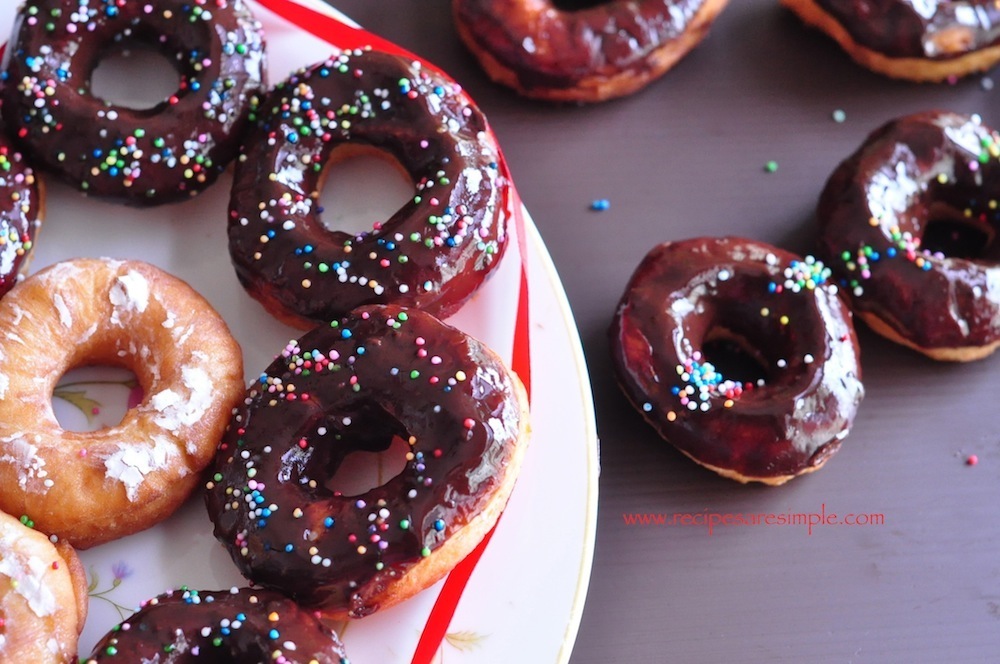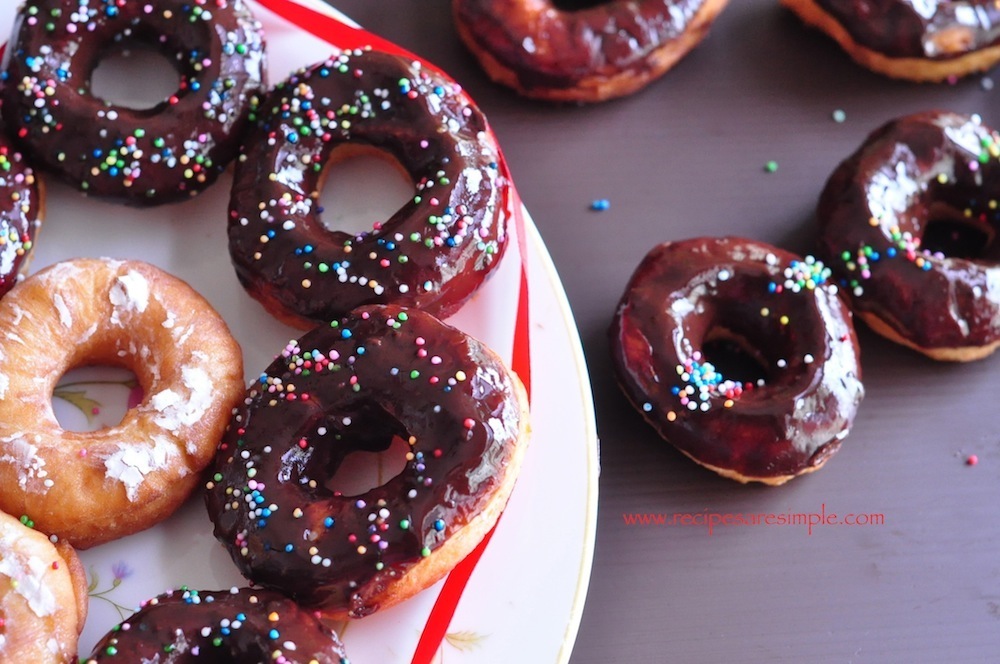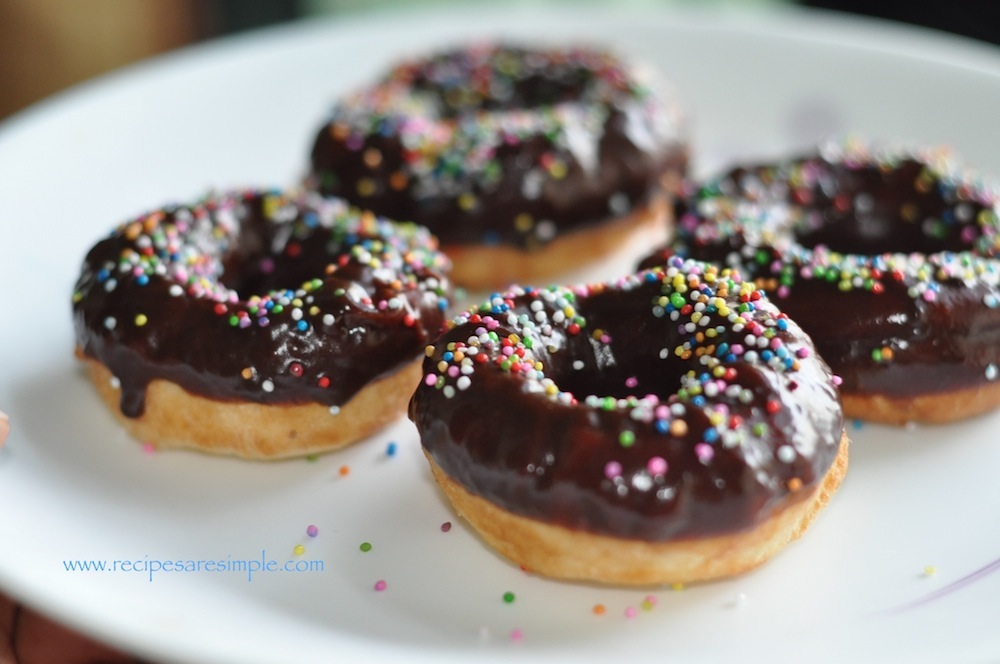 How to Make Doughnuts
What's not to like about these Soft, Chewy Rings of Joy? There are several stories  of How the original Doughnuts contained nuts in the centre, thus the name, and how the centre became a hole when someone poked out the nuts. The hole in the centre, actually helps the doughnuts to cook much more evenly. The unique shape is probably what made them so Popular from the early 1940's. It certainly makes holding the dough nut easier.
I make these doughnuts for my kids who love them. I am always amazed at how these deep fried treats are never oily and they cook so fast. Here's how I make them. We like them with Chocolate Glaze but they can eaten plain or dusted with icing sugar or flavored sugar.
This is my Post for Valentines day. I was looking for something sweet, cute, fun and playful for My Valentine. Check out the video on How to Make Doughnuts.

How to Make Doughnuts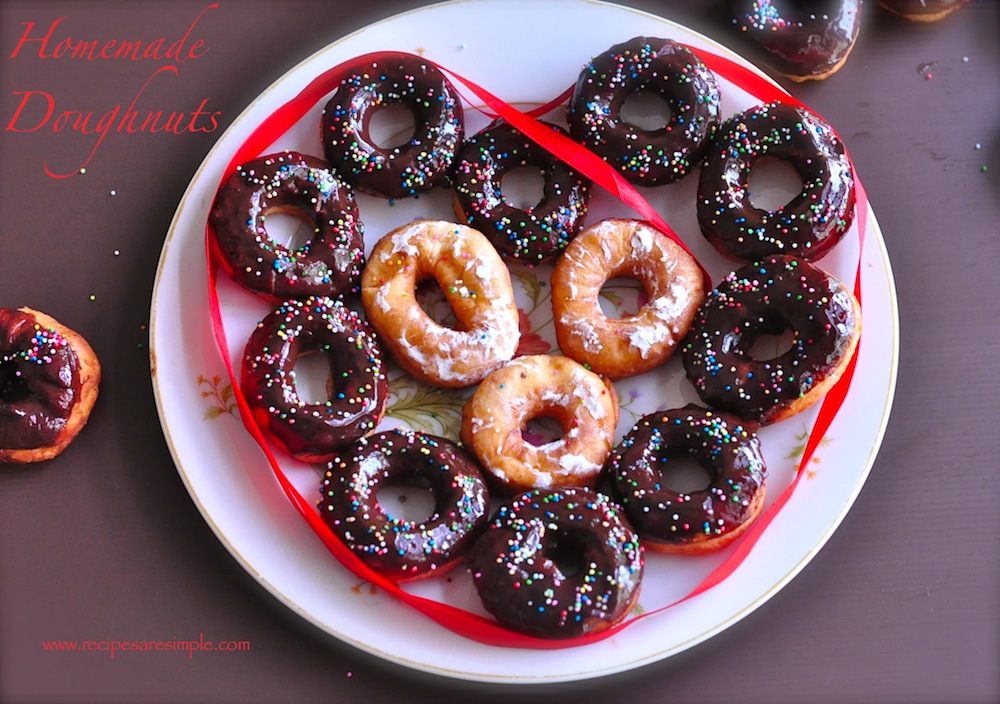 Recipe Type: Dessert

Author: Recipes 'R' Simple

Prep time: 15mins

Rest time:  2 hrs

Cook time: 

Total time: 

Serves: 6

Ingredients:
¼ +¹⁄8 Tbsp Yeast – (Eith Instant dry Or Fast Acting)
¼ cup warm milk
½ cup water
¹⁄8 cup vegetable shortening
¼ cup caster sugar
1 egg
2-3 cups All Purpose Flour
½ tsp salt
¹⁄8  tsp powdered cinnamon
shortening/ vegetable oil for frying
For Chocolate Glaze:
½ cup semi sweet chocolate chips
¼- ½ cup Pouring Cream
Method:
If using Active Dried Yeast

 add to warm milk and allow to sit for 10 minutes till frothy.
 

If using Instant Dried Yeast,

add straight to the flour along with remaining ingredients.
Heat the water with shortening and sugar till dissolved. Set aside untill almost cool.
Add  the yeast  & milk mixture(for

Active Dried Yeas

t) to the melted shortening. ( Or in case of Instant Dried Yeast, add all ingredients straight to flour)
First start off with 2 cups of flour ,add the yeast, milk, melted ingredients, cinnamon, salt and egg to the flour.
Knead well. The dough will be sticky. Add just enough flour to be able to knead.
Allow to sit till in a

greased

bowl, partially covered with damp cloth till the dough doubles in size. This will take 1-2 hours.
Punch down gently and knead again. Roll out into a 15 cm sheet and use a doughnut cutter to cut out doughnuts one at a time.
Heat 1-2 cups shortening/oil for frying.
When hot, drop the doughnuts into the hot fat (one at a time) and it will soon float to the top.
Turn over 2 OR 3 times till golden all over. Remove to a stainless steel colander.
For Chocolate Glaze
Heat the chocolate chips over a double boiler or in the microwave till slightly softened( 10 seconds or so). Add the milk and heat just long enough to melt the chocolate.(Watch it!)  Stir briskly till you get and even dark chocolate glaze.
Dip the doughnuts, half way into the glaze and add colored sprinkles if desired.
Do not  disturb the glaze till set. Place all doughnuts in the fridge till the chocolate sets.
I keep my doughnuts in the fridge.once set keep in tupperware or wraped in plastic wrap.
How to Make Doughnuts
Try it and let us know – How to Make Doughnuts.