10 February, 2015
How to make Bolognese Sauce ( step-by-step guide with .gifs)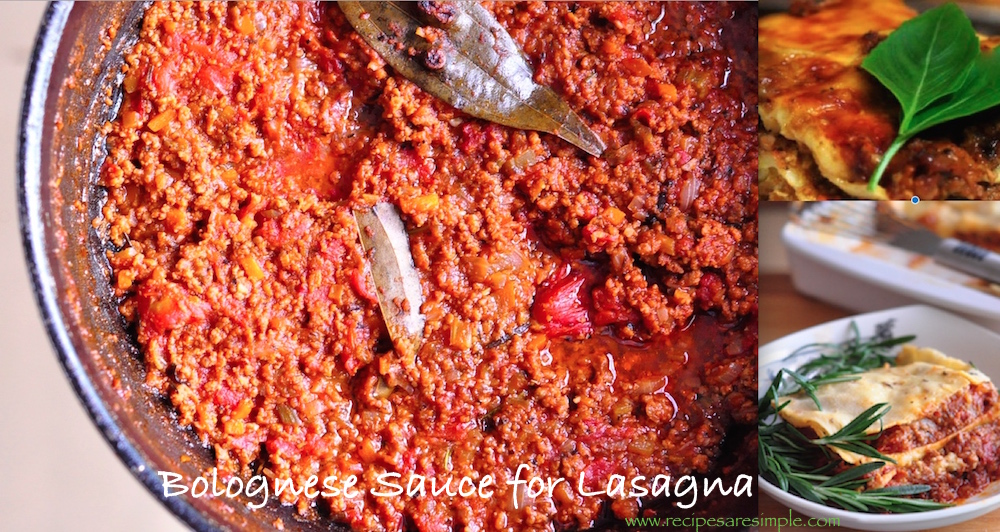 How to make Bolognese Sauce
Perfectly delicious Bolognese Sauce for Lasagna (Lasagne) Recipe, Spaghetti or other types of Pasta. Thanks to Cat for the real Italian 'Sugo Alla Bolognese' Recipe. Layer home made or store bought lasagna sheets with this lovely meat sauce as well as béchamel sauce. The Bolognese Sauce is finely scented with aromatic herbs ( rosemary, basil, sage, oregano). So much better than a jar from your supermarket and  quite easy actually. You can make it a little looser or thicker in consistency, depending on how your intend on using it. I absolutely love the rosemary in the Bolognese Sauce – I would never omit it. Cosi Buono!!! Delizioso!!!
 

Recipe Name: e Bolognese Sauce 

Recipe Type: Pasta / Sauces

Author: Shana c/o Recipes 'R' Simple
You are here: Home > Pasta  > Bolognese Sauce
How to make Bolognese Sauce 
Ingredients:
700 gms  minced beef
1 large onion –

 I use a combination of vidalia and purple onion

1 medium sized carrot, diced finely
1 rib of celery, diced finely
1 large can of peeled tomatoes

(Pelati)

¾ Tbsp mixed dried herbs( rosemary, sage, thyme, oregano) – OR use Italian Seasoning.
3 Tbsp of canned tomato paste

(concentrate)

1 ½ cups store bought apple juice – naturally sweet

 no added sugar – original recipe calls for dry white wine.

1 beef bouillon cube (knorr beef stock)
2 large cloves garlic, finely chopped –

add more if you like garlic

. 

M

ake sure you cut out and discard any greenish part of the garlic

2 bay leaves, fresh or dry
Fresh Rosemary, Fresh Basil, Oregano optional

– use what you have – for garnish.

Salt and Pepper
2 Tbsp Vegetable oil
1 Tbsp Olive oil –

for the final drizzle
Method: (Some browsers may need a few seconds for the .gifs to load)
Heat oil in a skillet or non stick pan.
Add diced onion ↓.
Add diced celery ↓.
Add diced carrot, stir to mix ↓.
Add fresh chopped rosemary (1 tbsp) ↓.
Add ¾ Tbsp of mixed dried herbs (oregano, sage, basil, etc) or use Italian herb seasoning ↓.
Add the minced and drained mince now. Stir well to mix with the vegetables ↓.
Stir – fry till the beef is no longer pink. Juices will be released from the mince. Continue to cook till water juices are almost gone ↓.
Season with ¾ – 1 tsp salt and 1 tsp pepper –  or to taste ↓.
Add cloves ↓.
Add  the apple juice (original recipe uses wine) and simmer ↓.
Also add  a little more fresh rosemary at this point, and  cook till the liquid run s dry ↓.
Now add the tomato paste (I used Hunts Brand) and stir till evenly mixed ↓.
Add finely chopped garlic ↓.
Add 1 cube beef stock, and break into the mixture till dissolved ↓.
Add bay leaves ↓.
Now add the canned, peeled tomatoes (pelati) ↓.
Cook till the tomatoes break  down into the meat mixture ↓.
Wash out the can with 3 cups of hot water and add to the mixture ↓.
Bring to a simmer. Reduce heat to low. Cover and cook for at least 1 hour and unto 3 hours (add more water) till the sauce is nice, red and thickened. You can adjust the consistency to your liking: drier or more liquid, depending on what you are using it for( spaghetti, tagliatelle,
lasagne etc) ↓.
Taste and season with salt or pepper as needed.
Add a little fresh oregano and basil leaves at the end. Finally drizzle a little extra virgin olive oil over the top ↓.
Buon appetito!!!
How to make Bolognese Sauce
I use naturally sweetened apple juice or white grape juice instead of wine in this recipe. It is cooked till it evaporates and provides a good non alcoholic substitute.
If your garlic has any greenish centre, discard this part to prevent indigestion and bad breath.
If your bolognese is too tomato-isn for your taste, you can add a pinch or two of sugar. This balances the flavor perfectly.
Instead of the stock cube, you may use concentrated beef stock ( 1/2 cup), if you have it. Reduce the amount of water used accordingly.
Key Ingredients: Beef, Tomato, Oil, Garlic, Herb, Salt, Pepper, Spices, Beef Stock
Let me know if you tried the – Bolognese Sauce  . Comments from you provide motivation to keep up the driving force behind this blog, bringing you more delicious and perfected recipes regularly. Please do leave a comment.