24 June, 2015
Thai Meatballs in Hot and Sweet Sauce – Yum!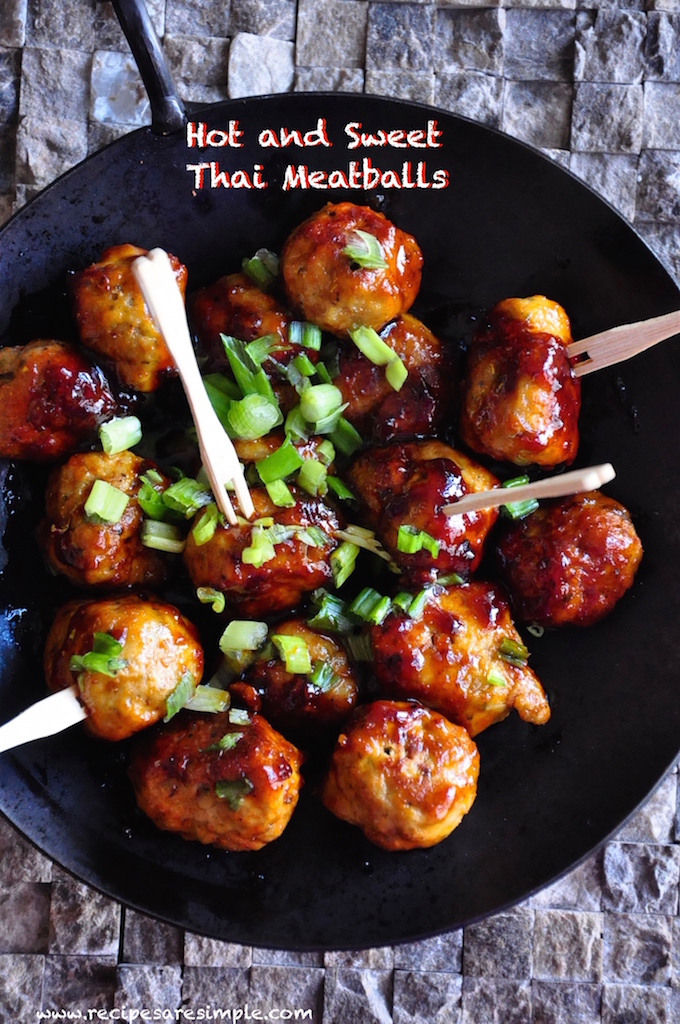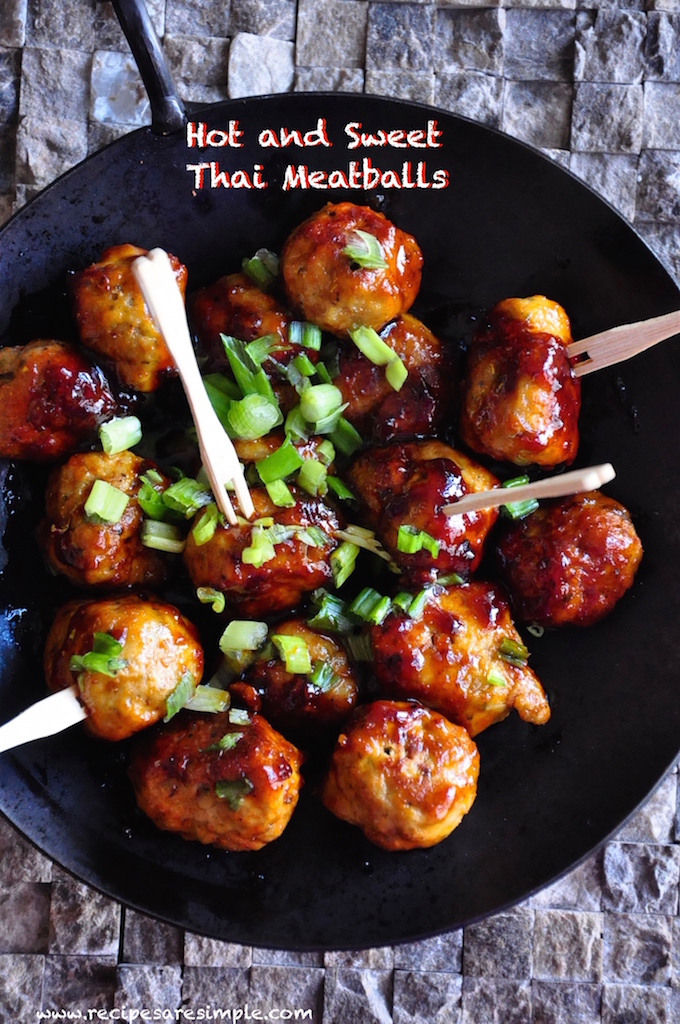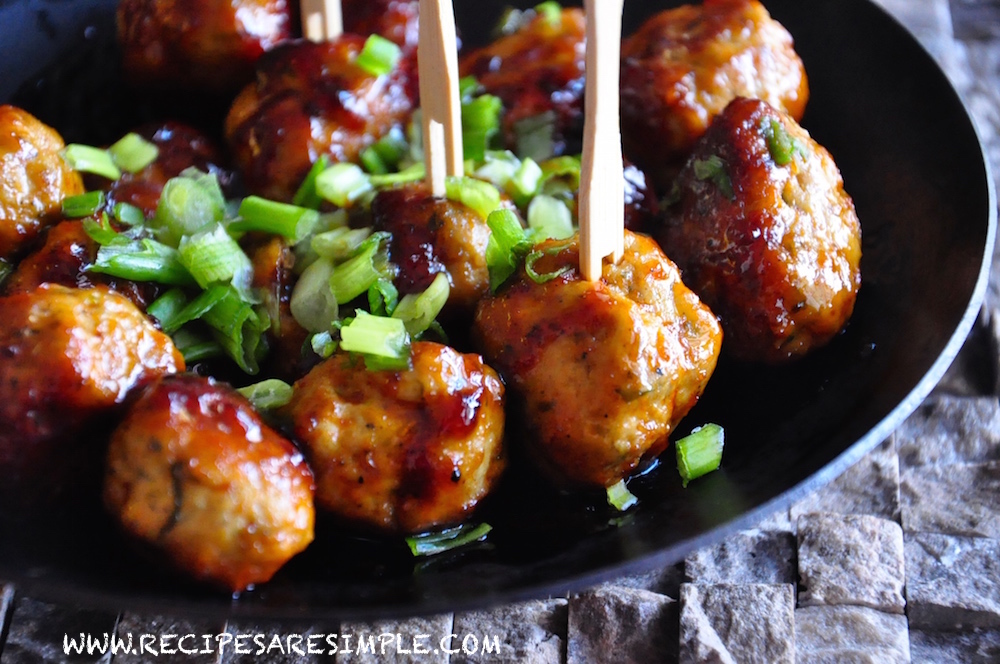 Hot and Sweet Thai Meatballs
These meatballs are so quick and easy to make. Exotic and fragrant Thai meatballs coated in a lovely hot and sweet sauce. I use Sriracha to flavor the sauce. It may be substituted with any hot chili sauce (THAI). The chicken meatballs cook so fast – it's a super yummy appetizer to serve as a snack or appetizer. The different flavors tease and tickle your tastebuds. Natural honey is used to sweeten the sauce to balance the heat.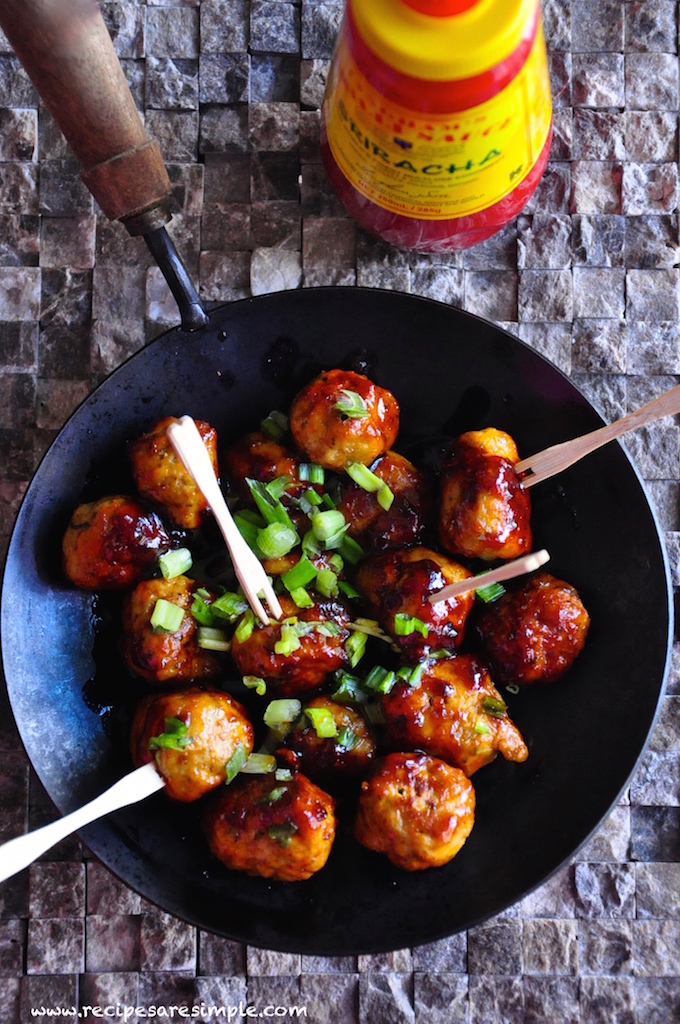 You are here: Home > Snacks& Savories  > Hot and Sweet Thai Meatballs
 

Recipe Name: Hot and Sweet Thai Meatballs 

Recipe Type: Snacks / Appetizers

Author: Shana c/o Recipes 'R' Simple
Hot and Sweet Thai Meatballs
Ingredients:
For Meatballs:
300 gms chicken breast or thigh meat (boneless)
½ tsp garlic powder
3 Tbsp spring onion greens, chopped
2 Tbsp coriander/ cilantro, chopped
1½ tsp light soy sauce
1½ Tbsp lemongrass, slices cut from the bottom half of the stalk
 

1 kaffir lime leaf – remove the middle vein

¼ tsp black pepper powder
For the sauce: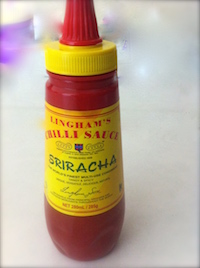 3 Tbsp Sriracha sauce or hot chili sauce
2 Tbsp organic/ natural honey
1 ½ Tbsp lime juice
1 tsp light soy sauce
Other:
4 Tbsp oil for pan frying
spring onion greens for garnish
Method:
Add all the ingredients for the meatballs into a small processor or mixer/grinder.
Pulse process till you get a evenly mixed paste.
Wet your hands and make small meatballs. Wet hands before making each ball, to make the balls smoother.
Heat oil in a shallow non stick pan.
Add the meatballs on medium heat. Tilt the pan to roll once.
Then leave undisturbed for 2 minutes.
Gently flip to get the other side golden.
Do not cook for more than 5 minutes total to keep them moist. (Overcooking will cause the meatballs to be dry tasting).
Check one meatball, by cutting through – make sure inside is cooked.
Remove the meatballs from the oil.
Discard the oil in the pan but do not rinse. Leave a tsp or so oil in the pan.
Mix together all the ingredients for the sauce in a bowl.
Add to the pan and heat on medium heat.
Stir continuously till the sauce turns deep red in color and thickens.
Toss the meatballs in the sauce briefly to coat.
Serve, garnished with spring onion greens.
Hot and Sweet Thai Meatballs
If lemongrass and kaffir lime is unavailable, omit the lemongrass and add a little grated zest of green lime. Do not grate the white flesh of the lime however as this will make the balls bitter. I do however think the lemongrass is a vital ingredient for the exotic scent.
Key Ingredients: Chicken, Coriander  Coriander, Lemongrass, Kaffir Lime Leaf,Garlic, Pepper, Hot chili Sauce, Soy Sauce, Lime, Honey.
Let us know if you tried it – Hot and Sweet Thai Meatballs  . Comments from you provide motivation to keep up the driving force behind this blog, bringing you more delicious and perfected recipes regularly. Please do leave a comment. We love to hear from you.