25 January, 2014
Homemade Granola Recipe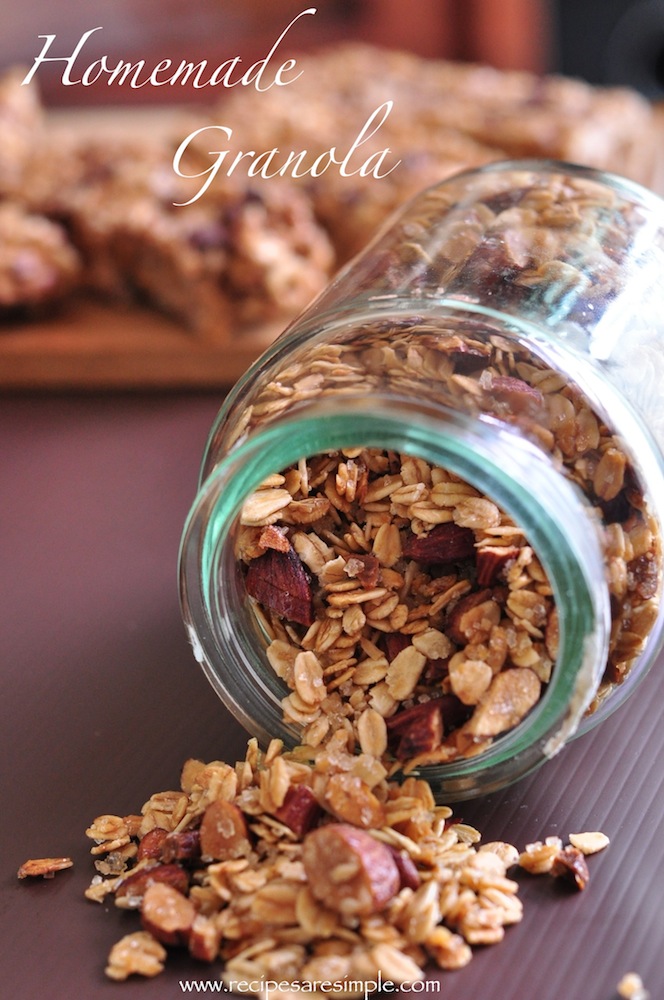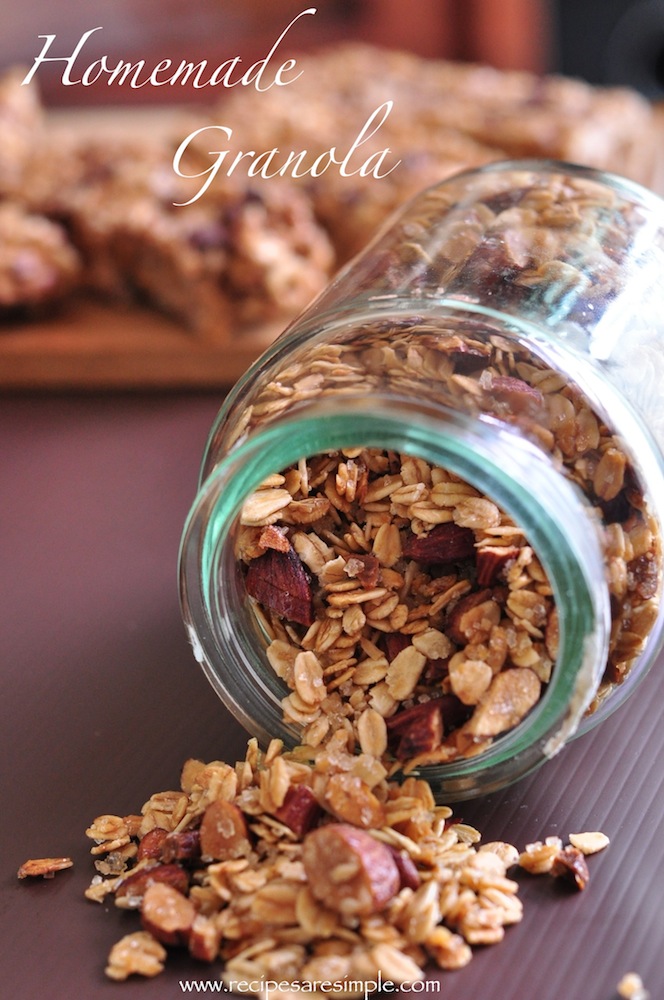 Homemade Granola Recipe
Granola is popular as a breakfast item and also as a snack. It consists mainly of rolled oats, sweetened with honey or other syrup and nuts, raisins or Puffed rice is added. I love munching on this as I start my day (at the crack of dawn) getting everyone ready for school and office. It's also great as a packed snack when you're on the go or on a trip.
If you are having oatmeal as a daily healthy breakfast and want to add some spunk to it. Try adding a sprinkling of the granola over the cooked oatmeal. It adds a nice crunch!
Rolled Oats is a source of fibre as well as antioxidants, vitamin E, magnesium,  zinc, copper, selenium, iron and magnesium.
My favorite Homemade Granola  contains only rolled  oats, sweetener and Almonds. You can also add your choice of dried fruit (like raisins) , Puffed rice cereal, Bits of biscuits, Pretzels Etc… Feel free to experiment, kids would love some m&ms' in their granola. You can add granola to your salads. Make Granola bars. Check out my recipe for S'mores Granola.
This a a lovely simple sweetened granola mixture. If you want to cut down on sugar, you can reduce or omit the brown sugar.

Homemade Granola Recipe
Ingredients:
1½ cups ROLLED Oats – not the quick cooking variety

a bit less than ¼ cup Soft Light Brown Sugar  –

omit if you would like to cut down on the sugar.

3 Tbsp pure maple syrup – my Favorite! Other options are agave nectar, honey or simple syrup)
2 Tbsp sunflower/vegetable Oil
½ tsp salt
½ cup fresh chopped almonds. Make sure they taste good and have not oxidized (gone rancid).

(Almonds must be stored in a cool, dark, dry place to last longer without going bad).

Optional : ¼ cup any  of or a combination of the following : dried fruits of choice, m&m's, pretzel pieces, graham cracker pieces, other nuts- walnuts/pecans etc.  The list goes on.
Method:
Preheat Oven to 250ºF/ 120º C .
Line  Baking tray with cookie sheet/Parchment Paper.
To a deep bowl, add oats, sugar and nuts. Mix.
Add all remaining ingredients.
Mix well with a spatula or wooden spoon, till all the oats are evenly coated with the sugar, oil  and syrup.
Pour the mixture onto the cookie sheet and spread to make an even layer.
Place in the preheated oven and bake for 1 hour- 1 h15 minutes.
(Take out the tray and stir with a fork every 15 minutes or so, to ensure the oats are evenly crisped.
Allow to cool and store in air tight containers.
Homemade Granola Recipe
Try it and let us know – Homemade Granola Recipe.
If adding ingredients like dried fruit or 'm&ms', add them after the baking process, and fold in to the mixture.