17 November, 2013
Home Made Gummies Healthy Recipe with Fresh Juice and Gelatin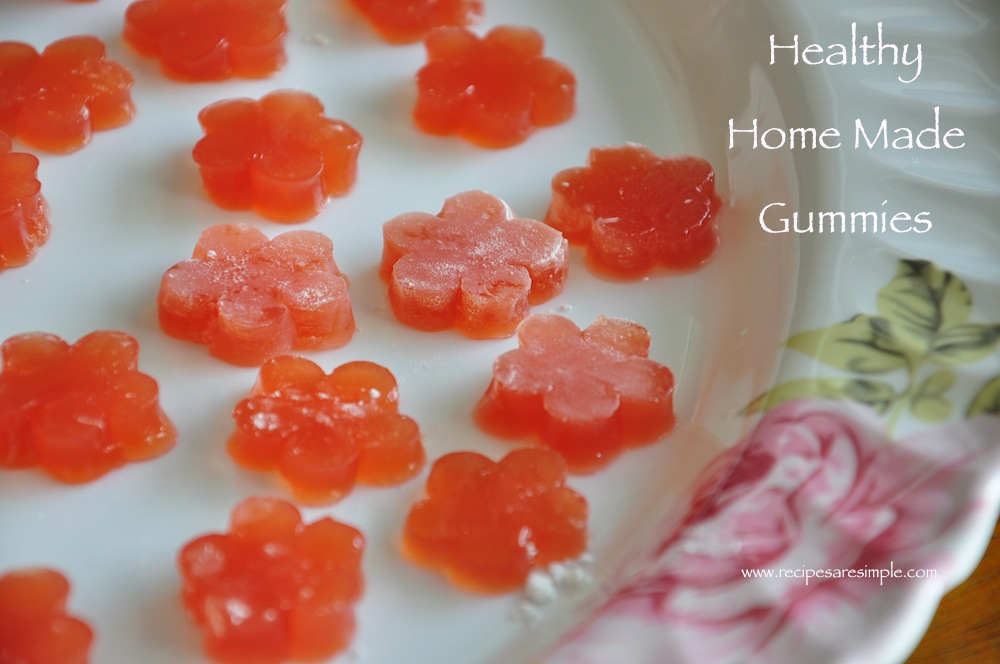 Home Made Gummies  Healthy Recipe with Fresh Juice and Gelatin
Most of us know that incorporating Gelatin into our diets is highly beneficial.  My mom used to make jelly for me as a kid telling me its good for my skin.
Quite simple to make healthy desserts with gelatin actually if you use fresh fruit juice and omit or decrease the amount of sugar used.  I am in the process of discovering some ways to use gelatin to make healthy sweet snacks for the kids.
Did you know that gelatin is good for your skin (helps improve elasticity).  Stop using those collagen creams because it is not easily absorbed by the skin for any real results, incorporate into your diet through gelatin instead!  Helps in the growth of  hair & nails.  Good for  joints. If you've got knee or back trouble, its high time you had some gelatin daily.
Gelatin is not vegan. I use Organic gelatin. However, there is a vegan counterpart for gelatin. It's called agar agar (in powder or grass like strands form ).  It is derived from a type of seaweed.
I shall substitute the agar agar for this home made gummies recipe and update soon. For now I am using the organic ' grass fed' gelatin. It is a grainy powder, 'wheatish' light brown in color.

Home Made Gummies  Healthy Recipe with Fresh Juice and Gelatin
Author:
Prep time:
Cook time:
Total time:
Ingredients:
 2 cups Fresh fruit Juice. Like orange, strawberry, watermelon or mango.

(

You need to juice the fruit first. And then strain it to get a fine clear juice – for fruits like orange and watermelon). For fruits like mango and strawberry,  just puree without straining.
Note that you should use nice ripe and naturally sweet fruits because we want to omit or reduce the amount of added sugar.
1-5 Tbsp organic honey for sweetness. This is optional.
Juice of one lime – optional for a citrus touch. Use lovely fresh limes/lemons.
8 Tbsp organic gelatin.
Optional: a little cornflour for dusting.
oil for light spraying
Method: ( please see notes also)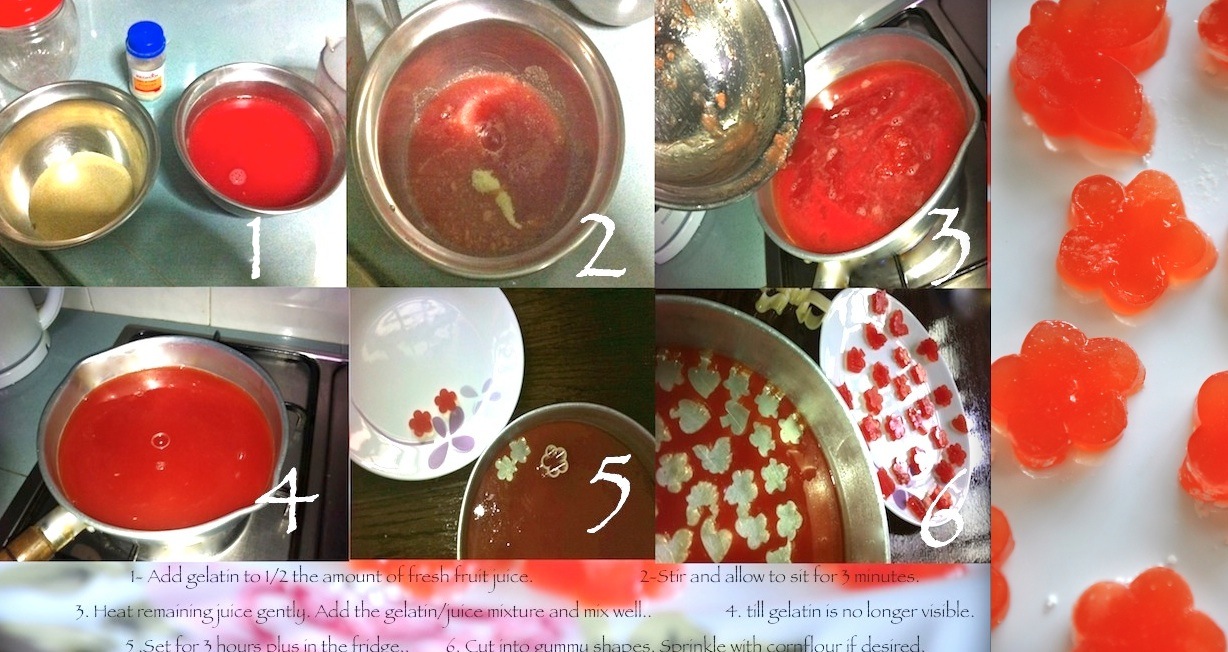 Add the gelatin to half the juice. Stir well and allow to sit for 3 minutes.
Heat the remaining juice in a small sauce pan till just warm. (Do not simmer or boil). Remove any foam that appears on top of the mixture.
Add the gelatin mixture and stir well on low heat till there are no visible traces of the gelatin left.
Remove from heat. Taste.  Add honey and/or Lime juice as needed and to taste.(for mango gummies, loosen the mixture with coconut water or rose water 2 Tbsp per cup of juice)
Pour the juice mixture into tiny silicone gummy moulds OR into a large tray ( the juice, once poured should be around 1/2 " height- as thick as your want your gummies)

( use a very light oil spray to coat the moulds or tray to ease the extraction of gummies)

Allow to set 4 hours or overnight in the fridge. Flip out to peel the gummies from the mould  OR Use a tiny cookie cutter or bottle cap to cut out individual gummies. (I have been known to cut my gummies after only 30 minutes, but allowing it to set more ensures no 'tearing' during the peeling/cutting process.
Optional: Place on a large plate dusted with cornflour and flip over once to prevent any stickiness. Store in the fridge.
You can also dust the gummies with sugar  if you really want to have a bit of sugar in there.
Home Made Gummies  Healthy Recipe with Fresh Juice and Gelatin
Did you enjoy our Home Made Gummies  Healthy Recipe with Fresh Juice and Gelatin ?
Taste the prepared juice and add adjustments to suit your taste. The gelatin has a subtle taste that is best masked with flavors like lemon, honey, coconut water, rose water etc incorporate these natural flavorings into the mixture to get the flavor you desire. Remember your set gummies will taste exactly like the gelatine juice mixture you have prepared.
Since fresh fruit juice and flavorings like coconut water are used, store in the fridge and use within 3 days.
You can also try flavored gelatin combined with 2 Tbsp of gelatin instead of using fresh fruit juice.