11 August, 2014
Home Made Chocolate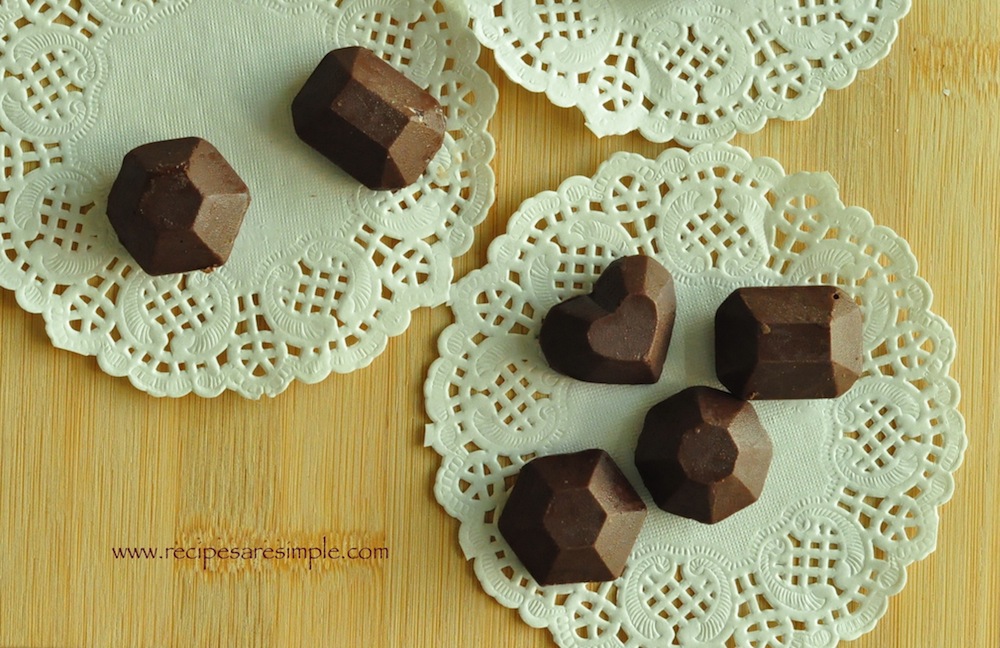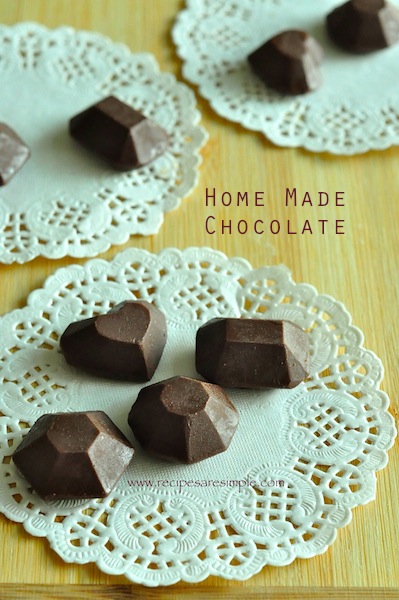 Home Made Chocolate
  Making Chocolate at home is not that hard really. Use really good quality cocoa powder and a fine white milk powder that does not smell too milky. These are a great way to treat your kids, friends or to decorate your cakes or dessert platings. Try adding flavoring like orange zest or vanilla extract. You can also add chopped nuts etc.
Home Made Chocolate
Recipe Type: Dessert

Author: Recipes 'R' Simple

Prep time: 10

Cooling time:40

Total time: 50
Ingredients:
1½ cup milk powder
½- ¾ cocoa powder depending on strength
1 cup sugar
½ tsp baking powder
1 ½ cup water
3½ Tbsp butter
Method:
Sift  the cocoa powder, milk powder and baking powder together into a bowl.
In a saucepan, bring the sugar and water to a boil.
Continue to boil till you reach a 'one thread consistency' ie forms a thin thread when tested between 2 wooden spoons.
Remove the syrup from water and add butter. Stir till melted.
*Stir in the sifted ingredients till smoothly incorporated.
Pour into a lightly greased sponge cake tray or chocolate moulds.
Chill till set.
Cut into squares or invert from moulds.
Keep chilled till served.
Home Made Chocolate
Try it and let us know – Home Made Chocolate .
Do not use heavily scented milk powder like 'Nido', which tends to overwhelm the chocolate with a milky flavor.