8 February, 2014
Hokkien Mee – Fried Prawns Noodle – Singapore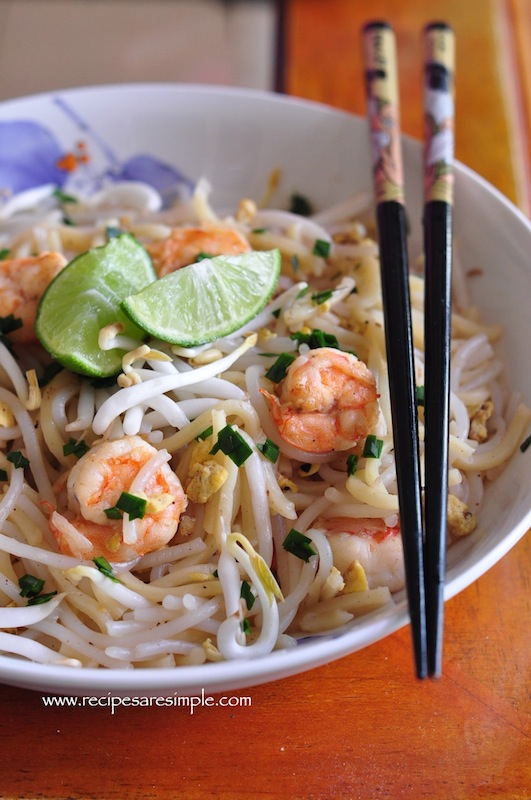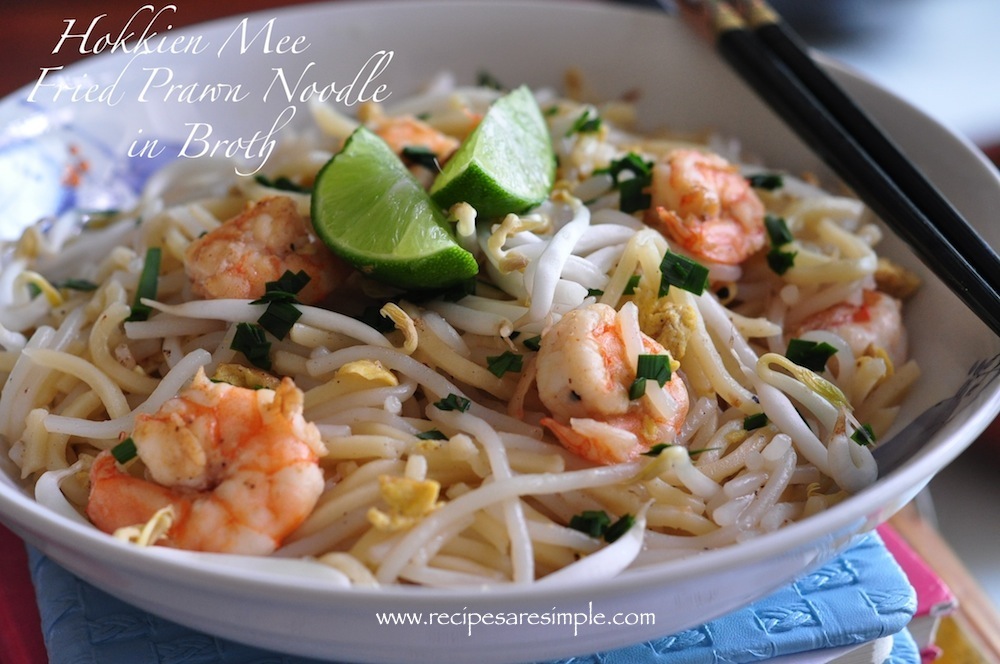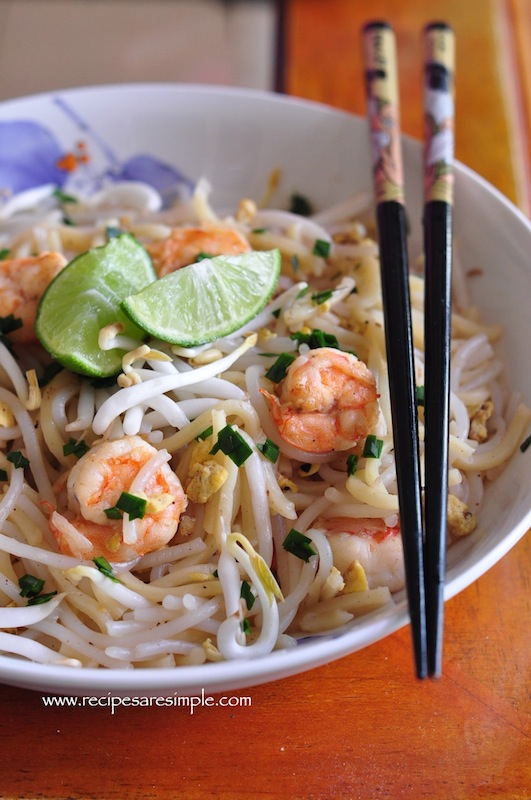 Hokkien Mee
  'Hokkien Mee' refers to Fried Noodles Malaysia or Singapore style. However, 'Hokkien Mee' in Singapore is lighter in color than its Malaysian Counterpart and is referred to as 'Hokkien Hae Mee' whereas the Malaysian Version is referred to as 'Hokkien Char Mee'. That being said, this dish is commonly termed simply as 'Hokkien Mee' in both countries. Although  available containing various other ingredients , 'RAS' version of Singapore Hokkien Mee contains only prawns . This Noodle Dish can  be semi dry or lay in a bowl of broth- this depends on personal preference and you can adjust the amount of broth added to suit your own liking. Personally I prefer more broth. Although the dish may look rather plain, the essence of the prawns in its captured quite nicely and in the quality of the prawns used lies the success of the dish!





Hokkien Mee 
Recipe Type: Pasta/ Main

Author: Recipes 'R' Simple

Prep time: 

Cook time: 

Total time: 

Serves: 4
Ingredients:
250 gms Laksa/ Rice Noodles
150 gms Hokkien/ Egg Noodles
Around 20 large prawns
1  Tbsp garlic, minced to a paste
a few drops of Asian Sesame Oil
a few drops of Green Chili Sauce
2-4 Tbsp Oil
2 Eggs, beaten with a little salt and pepper
1 Extra Tbsp of chopped garlic
1 Tbsp shallots
½ cube Chicken Bouillon Cube (Knorr)
3- 4 cups Water
3 Tbsp Asian Chives (Koo Chai), chopped
½ cup bean sprouts, washed and drained
calamansi lime and chili sambal  to serve – if desired




Method:
 Clean and devein the prawns. Rinse and drain. ( Reserve the shells)
Marinate the prawns in the garlic, green chili sauce and sesame oil .
Soak the noodles in hot water to soften for 10 minutes. Drain. ( If using uncooked Noodles, cook them al dente and drain)
In a medium sized sauce pan, heat oil. Add the reserved prawn shells and stir- fry well till nice and pink  and they emit a lovely aroma.
Add the Water and Stock. (You may use home made stock as well)
Bring to a boil on high heat. Then turn down the heat to low and simmer for 10 minutes.
In a large wok, heat 1-2 Tbsp oil.
Add the marinated prawns when the wok is very hot and stir fry continuously, not allowing the prawns to stick to the wok. Stir fry till the prawns are tender.
Remove to a plate.
In the remaining oil in the wok, add the beaten eggs and scramble lightly. Move to the side of the wok add a tsp or so more of oil to the center of the wok and add the chopped garlic. Allow to turn light golden and now add the drained noodles.
Toss and Fry the noodles continuously on high heat, coating the noodles thoroughly with the eggs and oil.
Add 1 large ladle of the stock ( without the shells) and stir cook the noodles till the stock evaporates.
Now add up to 1 cup of the stock into the wok  and stir. Taste for salt and add if needed.
Cover the wok with a lid and cook on medium low heat for 5 – 7 minutes, Allowing the noodles to steam in the prawns essence.
Serve with as much more stock as you like, topped with chopped asian chives and bean sprout, as well as the lime and chili sambal to use as desired.
Hokkien Mee 
Try it and let us know – Hokkien Mee  .
If you like other seafood such as Calamari / Squid can be used as well.
The Chili sambal is a spicy paste, made of dry and fresh chillies, ginger, garlic, shallots, sugar, fish sauce, lime juice/ vinegar.