6 April, 2013
Healthy Mixed Salad -'Cucumber Orange' Tossed Salad with 'Baby Spinach' and 'Pomegranate'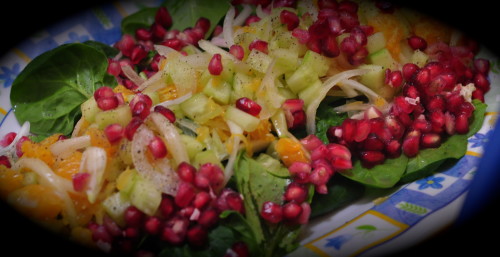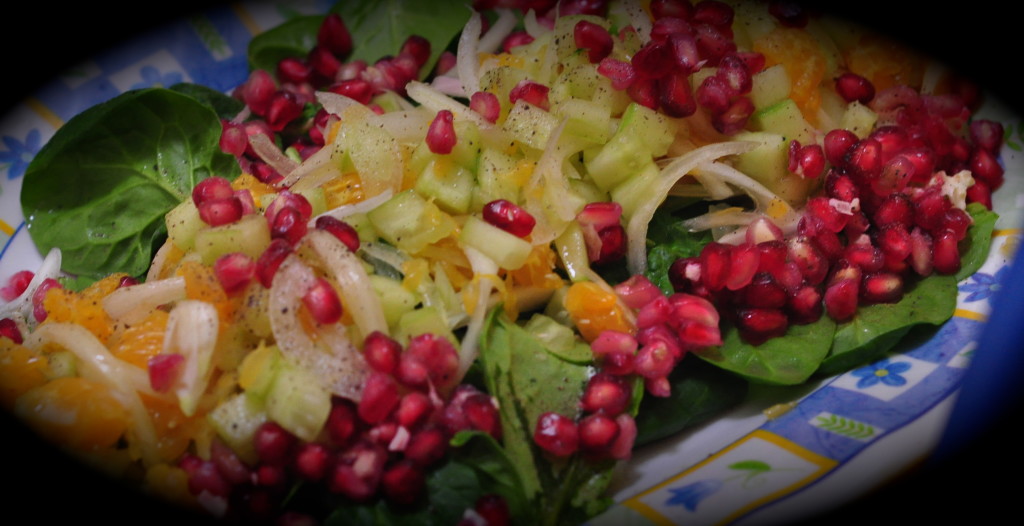 Healthy Mixed Salad
A simple Healthy Mixed Salad  to serve with your meal. The orange and pomegranate lend 'tang' to crunchy cucumbers on a plate of Baby Spinach Leaves.
This Easy to prepare salad not only tastes good but is an immunity booster, containing vitamins A, B5, C, K, antioxidants and fibre.
Healthy Mixed Salad 
Recipe Type: Salads
Author: Recipes 'R' Simple
Prep time: 
Total time: 
Serves: 2
Ingredients:
A large handful of baby

spinach leaves

, washed and drained
½ a large

cucumber

, peeled and diced
1 small

onion

sliced finely
1 large  Juicy

orange

, segmented and fibre removed- cut into 3 pieces
seeds of ½ a

pomegranate 

salt and pepper




Method:
Toss the orange segments with any of its juice  gently with the onion and let sit for 10 minutes.
Add the cucumbers and toss well.
Assemble a plate of baby spinach and line the centre with the tossed mix.
Garnish with the pomegranate seeds and sprinkle salt and pepper to taste.
Healthy Mixed Salad
Notes: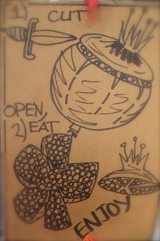 This salad is best served at room temperature. If making ahead of time,  keep all ingredients prepped and do not add the onions till before serving.
The juice from the orange will mellow the onion flavor.You may omit the onions if you don't like them
To seed a pomegranate without cutting through the seeds:
Cut  a thin lid off the crown area and bottom.Then gently score vertical segments all around with a sharp knife.
Peel off the segments and remove any fibre.
Now you can easily remove the seeds.
If you don't mind a little pomegranate spray however,
Just cut through the center, horizintaly.Hold each half, cut side towards your palm.Grip only gently -without squeezing.
Hold above a wide , deep bowl and pound with the back side  of a wide wooden spoon till all the seeds drop into the bowl. Easily remove the few bits of fibre that come attached.
You May Also Like: Quickie -Tossed Salad with Olives and Grapes