29 September, 2016
Harissa | North African Spice Paste
Harissa | North African Spice Paste
Harissa is a North African spice paste, a condiment found everywhere in Morocco and Tunisia. It is also widely used in the Middle East. Popularly used in dips and marinades and can add a spicy kick to just about anything! In mayonnaise, hummus, burgers… the list goes on.
Although there are variations to Harissa, according to region, it is basically a red chilli paste. Fresh chillies or peppers may be roasted and used as well. The type I prefer however, uses only dried, rehydrated chillies. Since not all varieties of dried chillies are available everywhere, I recommend using your favorite. New Mexico and guaijillo chilies are good options. I love these long and mild dried chillies, that I use in most of my cooking. It's the slightly crinkled type as opposed to those deep red shiny dried chillies. Harissa, made with these smells great too!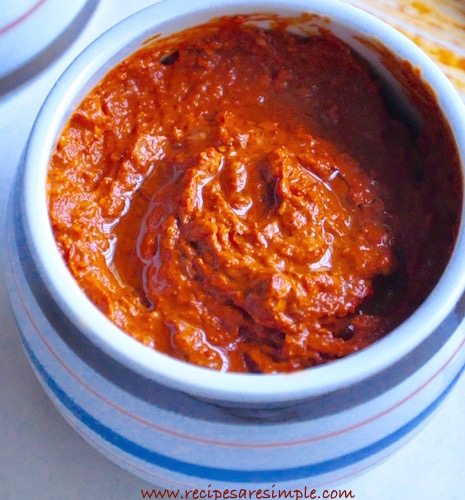 Harissa | North African Spice Paste
You are here: Home > Basics > Harissa | North African Spice Paste
 

Recipe Name: Harissa | North African Spice Paste

Author: Shana c/o Recipes 'R' Simple

Yield: (1 small jar / ¾ cup)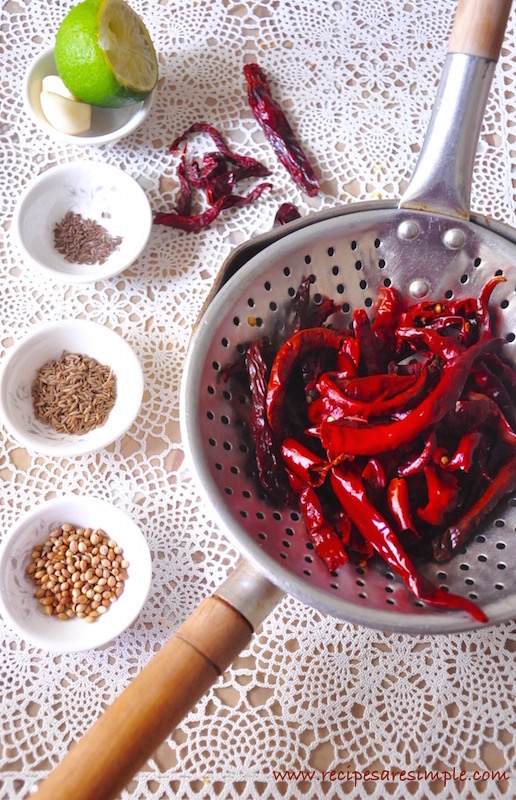 Ingredients:
1 cup dried red chilies, seeded is you prefer and stem removed
1 teaspoon cumin seeds
1 teaspoon coriander seeds
¼ teaspoon caraway seeds (shah jeera)
3 tablespoons olive oil (you may use extra virgin olive oil too)
¼ teaspoon salt
2 large cloves garlic
2 tablespoons freshly squeezed lemon juice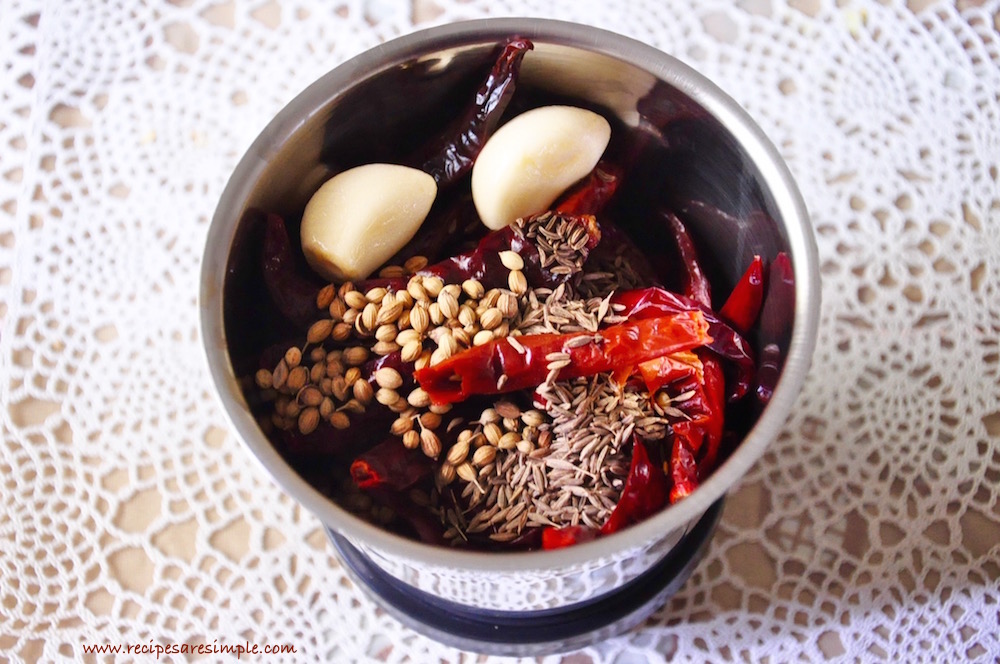 Method:
Add the dried chillies to a saucepan, covered with water and bring to a strong boil. Boil 2 minutes.
Remove saucepan from heat, cover and alloe to sit for 30 minutes.
Strain the rehydrated chillies well and squeeze out extra water.
Add to a grinder blender jar, along with cumin, coriander, caraway, garlic, salt and olive oil.
Grind, scraping down the sides of the blender/grinder a few times. I like my paste extremely smooth.
Store in a small sterile glass jar and pour more olive oil over the top. This prevents spoilage. Each time you remove the top layer from the jar, it's a good idea to pour oil over the top again.
Keep refrigerated. This is a small quantity (about 3/4 cup and will last 3 weeks).
Key Ingredients: Dried Chillies, Cumins seeds, Coriander seeds, Caraway seeds, Garlic, Lime, Olive oil, Salt.
Leave a comment if you tried – Harissa | North African Spice Paste .