27 July, 2013
Exotic Grilled Basil Chicken with Coconut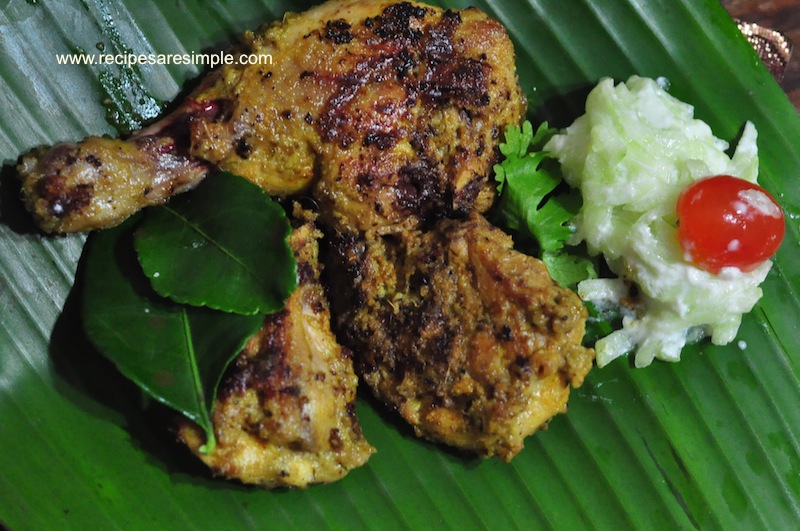 Exotic Grilled Basil Chicken with Coconut
The exotic flavors in this Grilled Basil Chicken combine to give such an aromatic 'lemony' grill preparation. Great if you are looking for something with a 'twist'.





Exotic Grilled Basil Chicken with Coconut
Ingredients:
1 kg/2.20 lb Chicken cut into medium pieces
¼ tsp ground turmeric(powder)
8 shallots
5 cloves of garlic
3 ½ teaspoons fresh  ginger
1 piece of fresh turmeric root, about 2 tsp
3-4 long green chillies- the milder variety or deseed
½ cup loosely packed Basil Leaves (Thai Basil)
2 stalks of lemongrass stalk,(

see info

)
2 leaves of Kafir Lime
1 candlenut
4 tablespoon peanut/sunflower oil
1 ½ cups of unsweetened coconut milk- slightly thick
1 teaspoon salt
3 tablespoons fresh lime juice
½ tsp freshly cracked black pepper




Method:
Rinse the chicken well under cold running water and drain well.
Make gashes on the chicken with a sharp knife.
Marinate with½ tsp turmeric and a 1 tsp salt for 30 minutes
Pound /Grind /Blend the shallots, garlic, ginger, fresh turmeric, lemongrass, basil, green chilly,kafir lime and candlenut to a fine paste – do not add water.
Heat oil in a non stick wok or pan.
Add the ground paste a fry, stirring constantly till it no longer has the raw smell of garlic and ginger and is glistening.
Add salt, coconut milk and simmer. Taste and season appropriately with pepper and add lime juice.
Add the chicken and coat well with the coconut sauce. Cover and allow to cook till the chicken is cooked with a nice coating of the coconut sauce. Keep spooning the sauce over the chicken pieces and do not allow to burn.
It will take anywhere from 15- 30 minutes to cook well. Make sure the chicken is cooked but still firm and not falling off bones, as we still need to grill the chicken.
Remove the pieces from the pan while still moist with sauce.
Grill on a grillpan or outdoor grill, on medium low till you get nice char marks and a lovely aroma.
Serve with Lime wedges and  Salad.